Steve Harvey Shares Emotional Story That Left Family Feud Fans In Tears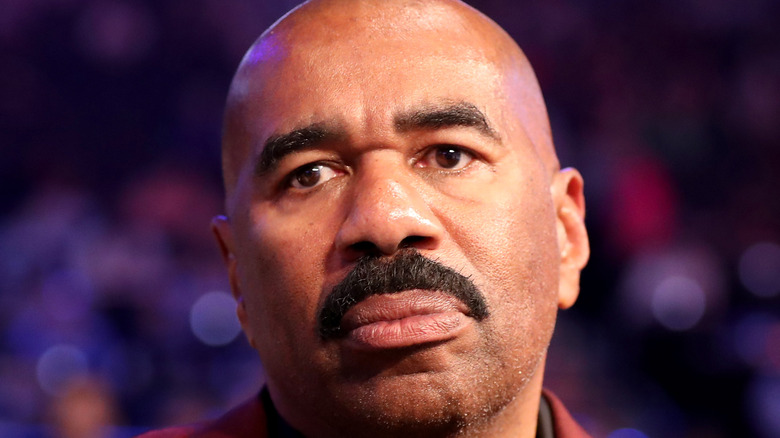 Christian Petersen/Getty Images
Steve Harvey is used to making people laugh. Aside from acting as the lively host of "Family Feud" and the new show "Judge Steve Harvey," among many others, he started his career as a stand-up comic. As the lovable TV personality told Parade, although "there are some heartfelt moments" and "some ridiculousness" on his new courtroom show, "more than anything I use the one gift that I've always had and the one that's gotten me pretty much everywhere in entertainment, and that's my gift of comedy."
Harvey has worked in entertainment forever, but he's far from jaded with the industry. The "Family Feud" host admitted he feels "blessed to have the career that I've had." Harvey doesn't take for granted that he continues to be relevant all these years later either, sharing, "I'm proud of what I have been able to accomplish. More than proud, however, I am grateful, because I know that my success has very much been the result of a lot of grace and favor." 
Moreover, Harvey is thrilled to have had an effect on people. The TV personality only ever "wanted to be a relevant person," so he loves it when fans approach him to share what kind of impact his work has had on them. "I always try to leave my audience with more than a laugh," Harvey noted. Sometimes, in fact, he leaves them in tears.
Steve Harvey moved fans with his remarkable humility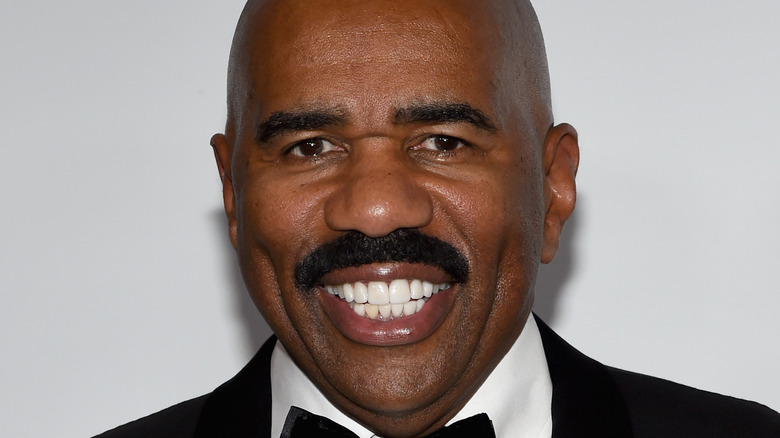 Ethan Miller/Getty Images
Although Steve Harvey is known as a funny-man first and foremost, sometimes he moves his audience in an entirely different way. During an interview with Ellen DeGeneres, via YouTube, the beloved TV star shared that, on a recent family vacation in France, he was shocked when the local DJ started playing the theme tune to "Family Feud." Even more surprisingly, "everybody in that restaurant knew that song, and I started crying."
When one of his daughters wondered why Harvey was getting emotional, he admitted, "Because I'm a hood guy. I'm from Cleveland. I come from nothing." Harvey added, "These people are doing the 'Family Feud' theme song in the south of France. I went to Glenville High School. I have a damn diploma. It just messed me up, man."
Fans watching the clip on YouTube were moved by Harvey's story, with one writing, "Always so humble and never forgets where he came from," while another added, "Steve has worked super hard in life and deserves ALL THE SUCCESS AND LOVE." A third admitted, "What a touching story. I'm not crying, you're crying."
Harvey has been open about all the hard work it took to get where he is today, telling People in 2013 there was a time, after his first marriage ended, that Harvey ended up homeless and living in his car for three years. Thankfully, "even in my darkest days I had faith it would turn around." Now, he inspires others.