Prince William's Diet: What Does He Eat?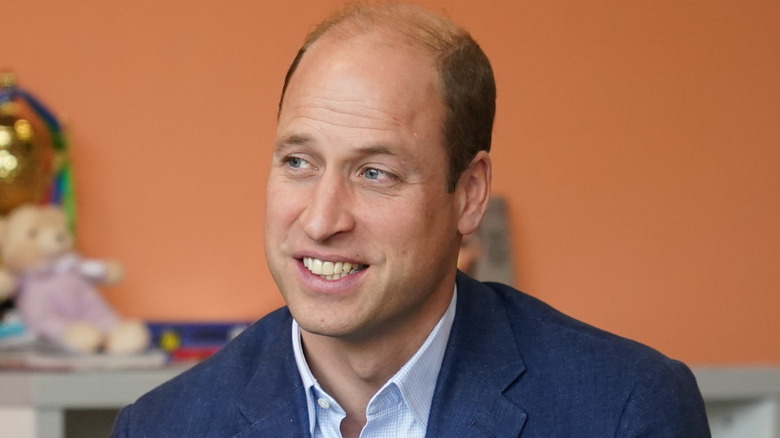 Wpa Pool/Getty Images
As the next in line to the throne, Prince William has a lot to deal with. Much like his father, King Charles III, the royal has spent most of his life preparing for his future role as Britain's reigning monarch. While the job is not easy, Prince William has continuously devoted much of his time to public service, supporting various patronages, and meeting countless organizations that make a difference in society. And he couldn't have done so on an empty stomach.
Even today, not much is known when it comes to British royals and their relationship with food. Sure, it's been widely reported that there are certain ingredients that Prince William and the rest of the family must stay away from. The royal family also likes to keep the menu traditional during the holidays (it might sound boring, but they love it). Not to mention, the strict dining rules imposed by the late Queen Elizabeth II have also been widely reported. 
When it comes to Prince William, however, not much is known about what the future king eats on a regular basis, although he has been pictured trying a variety of foods during his public engagements and international tours with his wife, Princess Catherine. As it turns out, he favors simple home cooking on most days, although he may also opt for takeout, just like everyone else. While his wife enjoys sticky toffee pudding, Prince William also sometimes craves something more indulgent and sweet, and it's worth every calorie.
Simple eggs and toast for breakfast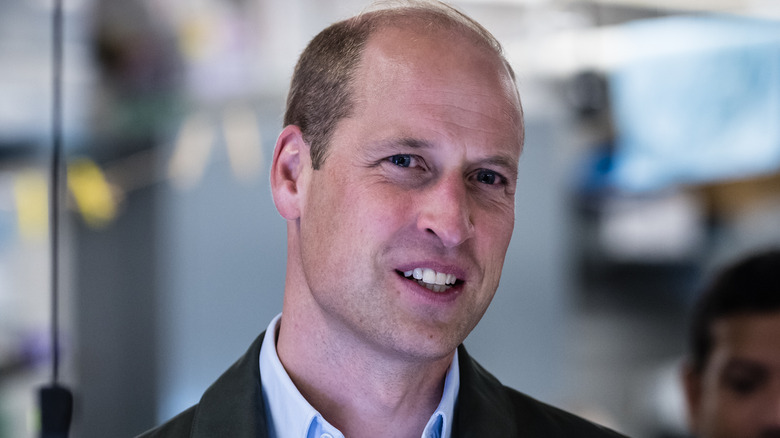 Pool/Getty Images
For many people, breakfast is the most important meal of the day. For Prince William, the meal can also be particularly critical. Just like his father, King Charles III, the prince is reportedly not a fan of lunch when he's doing public engagements. In that case, he would need a hearty breakfast to keep him going throughout the day. Now, the British may love their full English breakfast (the heaping plate of sausages, bacon, baked beans, black pudding, and eggs that is traditionally served with toast) but as it turns out, William likes to keep his breakfast much simpler when he's busy. 
When the royal met with nutritionist Monique Hyland in November 2022, he revealed what he likes to eat as someone filled up a nutrition sheet for the royal. For breakfast, William revealed that he had whole grain toast with butter and two eggs. Like a lot of Brits, he also enjoys a cup of tea with some milk and sugar in the morning (the prince is not a fan of coffee). William also revealed that he finished his breakfast that day with some apple juice, although he didn't clarify if this was something he did regularly. 
"He made the point of all things in moderation. I wanted to say that was very subjective, but I'd already pushed him on asking what he ate," Hyland remarked while speaking with CornwallLive.
Crispy roast chicken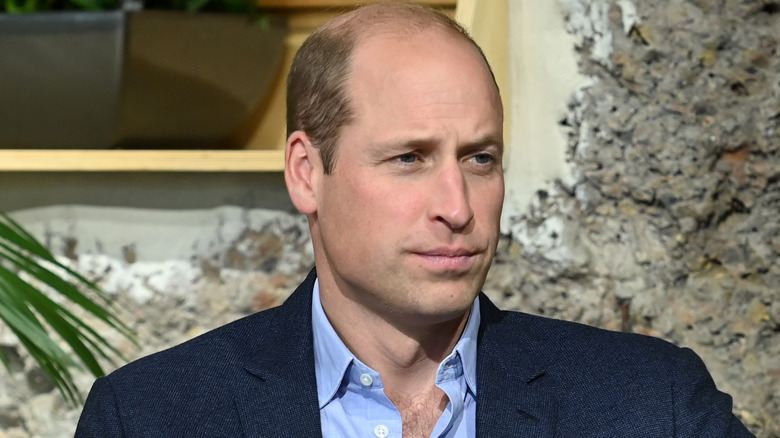 Kate Green/Getty Images
When it comes to comfort food, it doesn't get any better than roast chicken for Prince William. As former royal chef Darren McGrady revealed on YouTube, it was a dish that he enjoyed a lot in his younger days, along with his brother, Prince Harry. Both men also reportedly love their roast chicken with a crispy skin. 
And as it turns out, it's rather easy to get the chicken skin crispy as it roasts. In his video, all McGrady did was season chicken thighs with salt. He then arranged the chicken cuts on a wire rack before putting them in the oven where they bake for around 45 minutes. Later on, McGrady pulls out the tray to reveal a batch of perfectly crispy roast chicken. In the video, the former royal chef also prepared some mac and cheese to serve with the chicken, just like how William and Harry liked it. Their nanny also insisted that they have it with broccoli.
Meanwhile, these days, it is also believed that William continues to enjoy homemade roast chicken. In a 2012 report from Vanity Fair, royal correspondent Katie Nicholl revealed that William's wife, Princess Catherine, enjoys making the dish for supper. Before Harry's marriage to Meghan, the Duchess of Sussex, William's younger brother also reportedly came over for his sister-in-law's roast chicken meal. That said, it is unclear if the princess also serves her roast chicken with mac and cheese.
Lasagna
Bryan Bedder/Getty Images
As former royal chef Darren McGrady may have hinted, Prince William loves a good pasta dish. And while the royal may have enjoyed mac and cheese as a child, it seems that he preferred tomato-based pasta dishes as he got older. During an appearance with William on BBC's "A Berry Royal Christmas," Princess Catherine even revealed that he used to make her Bolognese while they were still attending the University of St. Andrews together (that recipe was even later featured in a recipe book benefiting the homelessness charity The Passage). Since then, however, William has also made it his mission in life to make the perfect lasagna.
Perhaps it all began when William was stationed at RAF Valley while working as a search and rescue pilot. Back then, chef Gareth Matheson told the Daily Post that the royal enjoyed having lasagna whenever he was eating at the base. It seems it also inspired William to learn to make the dish himself, although it wouldn't be as easy to master as his Bolognese. 
During an official visit to the U.S. with Catherine in 2011, William met with Italian celebrity chef Giada De Laurentiis and confessed that he was having difficulty making a good lasagna for his wife. While speaking with Popsugar, De Laurentiis recalled telling the prince to put enough sauce on top to get a good crust. She also reminded him to wait for the lasagna to set before cutting into it.
Lamb burger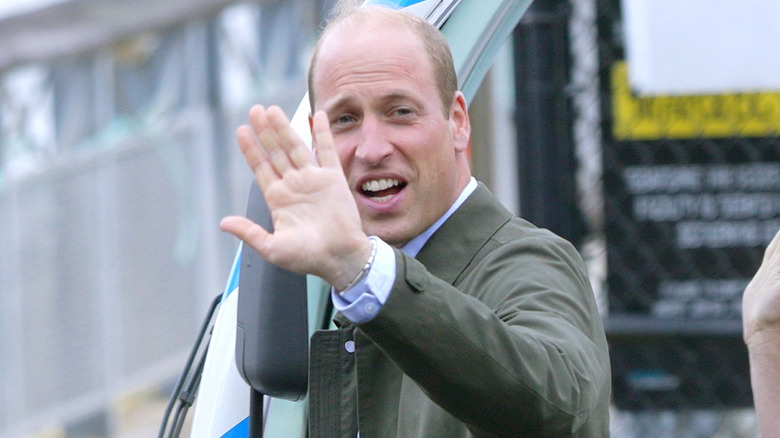 Gotham/Getty Images
Aside from lasagna, Prince William also had another comfort food during his days as a search and rescue pilot at RAF Valley: lamb burger. Chef Gareth Matheson, who cooked for the royal at the officer's mess, told The Daily Mail that it was one of the prince's go-to meals. It was also hearty enough to keep him going while he was on duty without any snacks. "It was William's absolute favorite. Whenever he was on shift he would always ask for it," Matheson recalled. "When he was working nights he would always ask for me to do another one for throughout the night." 
Eventually, Matheson left the base and took William's favorite lamb burger recipe with him. The chef also later shared the recipe at the Royal Welsh Show in Builth Wells. As it turns out, the burger patties are made with garlic, mixed herbs, and paprika. The patties are then served on a brioche bun with Snowdonia cheese, Welsh bacon, and some mint sauce. Following Matheson's revelation, fast food giant Burger King also set out to create their own burger in honor of William. Known as the "Prince William Whopper," the special edition burger featured a lamb patty with cheese, bacon, and egg. The fast food giant even sent one to Kensington Palace, but it's unclear if William got to try it.
Meanwhile, William has also since come to appreciate a good veggie burger after serving it from a food truck. 
Pizza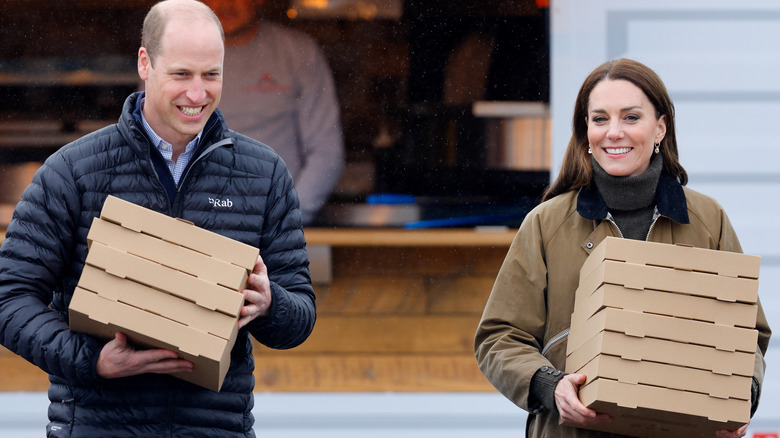 Max Mumby/indigo/Getty Images
If there is a treat that Prince William has loved since he was a child, it would be pizza. He even got into trouble for it at one point. While speaking with People, former royal chef Darren McGrady revealed that William once forged his nanny's note so that the royal kitchen would be tricked into making them pizza. Unfortunately, it didn't work. The nanny found out, and William and Prince Harry were served roast chicken instead. Since then, however, William has enjoyed several pizza slices throughout his life. Sometimes, a little too much. 
When William and Princess Catherine visited the RAF base in Cyprus in 2018, one of the prince's naughty habits came to light. According to Express, William was admiring the décor inside the newly opened recreation facility when he joked, "Keep the pizza off the sofas." In response, Catherine remarked, "You're a nightmare with that."
All jokes aside, though, it seems that the couple enjoys indulging in pizza every now and then. On the day that Catherine gave birth to their oldest son, Prince George, a source told Us Weekly that they had two pizzas delivered from Pizza Express to their room at the Lindo Wing of St. Mary's Hospital in London. Meanwhile, Catherine also once revealed that they make pizza with their children — George, Princess Charlotte, and Prince Louis — at home using a recipe from their favorite celebrity chef, Mary Berry.
Nando's Peri-Peri chicken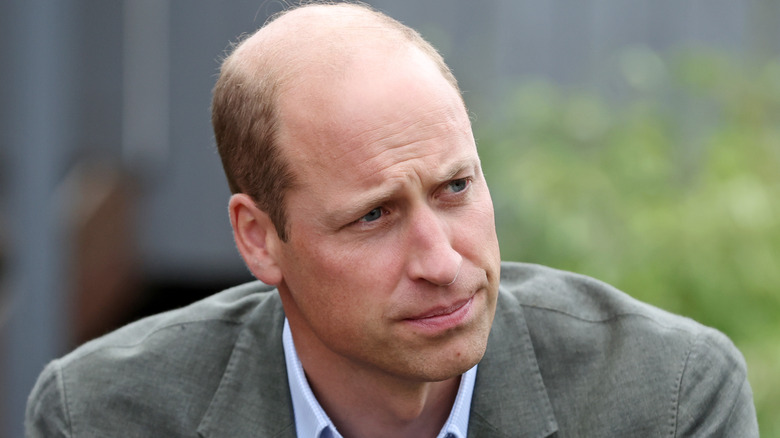 Cameron Smith/Getty Images
Prince William may have had a chef preparing his meals growing up, but there were also times when he would enjoy a McDonald's meal with his mother, the late Princess Diana. These days, however, William has another fast-food joint of choice and that's none other than the South African chain Nando's.
Nando's is one of the most popular fast-food restaurants in the U.K. with 99% of Brits telling YouGov that they are familiar with the brand (just like McDonald's). Whereas other fast-food chains are typically known for their style of deep-fried chicken, Nando's rose to fame for its peri-peri flame-grilled chicken. Peri-peri also happens to be another name for the African bird's eye chili. According to Nando's, this chili is mixed with other ingredients such as vinegar, onion, oil, lemon, and garlic to create its signature sauce. And while William is not exactly a fan of spicy food, the royal can't resist Nando's chicken.
While attending a Commonwealth Heads of Government event in London back in 2018, the royal got to meet Nando's co-founder Robert Brozin and revealed that both he and his protection officer enjoy Nando's food. William also revealed that it was the same protection officer who introduced him to the fast-food brand. Brozin later told The Associated Press that he's not surprised that the future king has tried Nando's. "I was certain they would have tried it because they're so accessible, they're people's people, which is so nice," he said.
Steak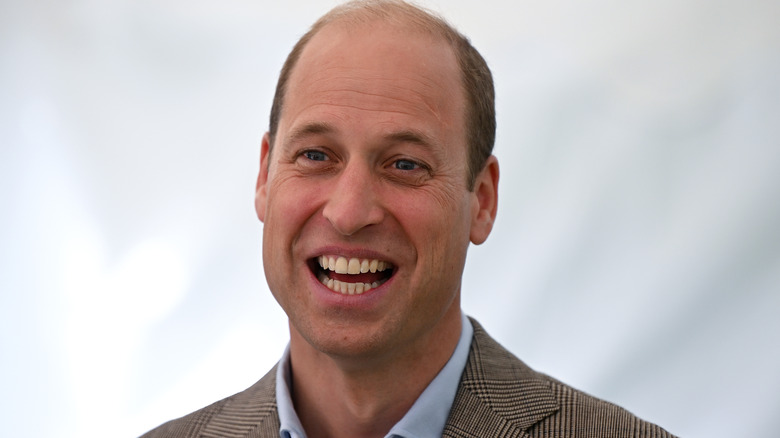 Wpa Pool/Getty Images
Especially after becoming the Prince of Wales, Prince William seems every bit ready to become Britain's sovereign one day. He is handling more royal duties than ever. He has increased his patronages. And he has also mastered the art of diplomacy. Clearly, William is ready for what's to come, just so long as it doesn't involve making meals regularly. That said, this prince knows how to man the grill.
While Princess Catherine usually takes charge of their meals at home, William can be counted on to grill perfect steaks whenever the occasion calls for it. During a visit to the charity Together as One, the prince took part in a cooking lesson and proudly revealed, "I make a mean steak." That said, William also confessed, "My sauces come out quite dry or lumpy. So I have got to work harder on my sauces." According to the team at Martha Stewart, gravy can get lumpy if one adds flour to a stock while it's already boiling. And while some may think that whisking those flour bumps can get rid of the lumps, that trick doesn't usually work. Instead, it's better to pour the sauce through the fine sieve to strain all the lumps. Now, William's steak can be perfect.
Meanwhile, William isn't the only royal who enjoys a good barbecue. In the family, King Charles, Princess Anne, Prince Harry, Meghan Markle, and the late Prince Philip have also been spotted cooking on the grill. 
Mildly spicy chicken tikka masala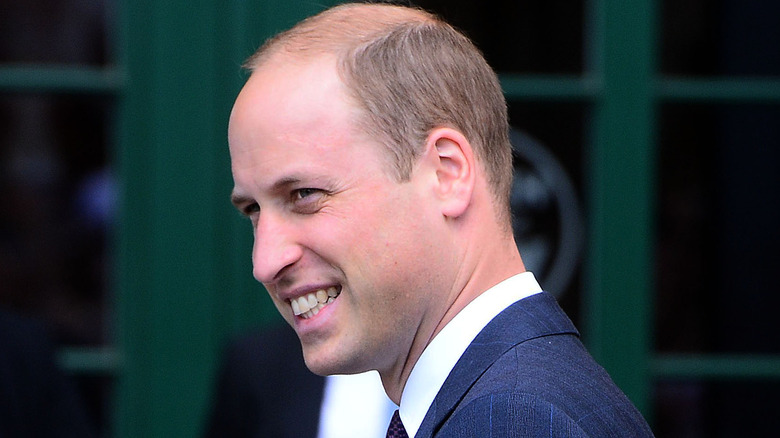 Isaaack/Shutterstock
When they're not cooking at home, Prince William and Princess Catherine enjoy a good takeout meal much like other (non-royal) families. And for this royal couple, it can only be Indian takeout, although they don't order the same thing.
Now, Catherine may be a fan of spicy food, but William prefers something more on the mild spicy level. While speaking on "That Peter Crouch Podcast," the heir to the British throne talked about his favorite takeout meal, saying, "Chicken masala, love that, a bit of flavor — I'm not a vindaloo man, put it that way" (via Hello). As it turns out too, William is not the only one who enjoys this dish in the U.K. In fact, it's one of the most popular dishes in the country.
Back in 2001, Robin Cook, then the British foreign secretary, even declared the chicken tikka masala as the country's national dish when he spoke at the Social Market Foundation in London. "It is a perfect illustration of the way Britain absorbs and adapts external influences," Cook explained in his speech (via The Guardian). He also went on to explain that while the chicken tikka itself is an Indian dish, the masala sauce (made with chopped tomatoes, yogurt, and double cream) had been added to appeal to the British who enjoy having meat with gravy. Thanks to William, chicken tikka masala has gotten the royal seal of approval, too.
Chocolate biscuit cake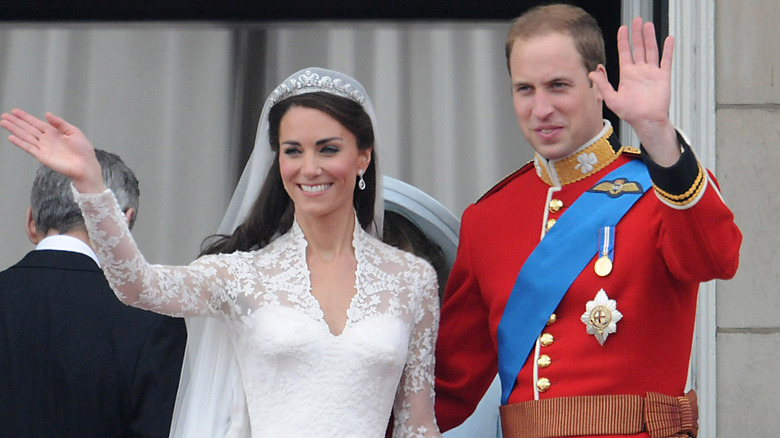 George Pimentel/Getty Images
Fans of Prince William may know that he has quite the sweet tooth, so much so that he likes to save some room for dessert. When he and Princess Catherine visited St. Andrews in 2021, the couple even ordered ice cream from their favorite local haunt, Anstruther Fish Bar, after enjoying the restaurant's haddock and chips. Meanwhile, when William met with nutritionist Monique Hyland, he also confessed to enjoying a brownie with a glass of red wine. And as it turns out, there's another sweet treat that William simply can't resist.
Just like the late Queen Elizabeth II, the heir to the British throne is also a huge fan of the chocolate biscuit cake. It's a no-bake dessert made with sweet rich tea biscuits (typically McVitie's) that have been crushed and mixed with softened butter and chocolate before being placed in the fridge to set. The cake then gets a final coating of chocolate ganache before it is left to set one more time. After this, the cake can be sliced and served. William is such a huge fan of this biscuit cake that it was also served during his 2011 wedding to Catherine, alongside their wedding cake made by celebrated baker Fiona Cairns.
Much like the couple's wedding fruit cake, the chocolate biscuit cake keeps well. The late queen even reportedly took it with her wherever she went and enjoyed having a slice with her afternoon tea.