Why Jeremy Allen White & Addison Timlin's Custody Agreement Was So Revealing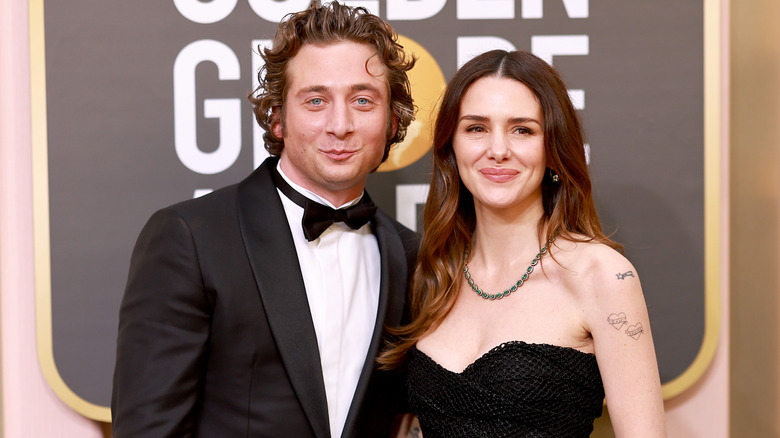 Matt Winkelmeyer/Getty Images
When it comes to breakups and custody battles, sometimes the most telling details are the ones left unspoken, hiding between lines of legalese in court documents — and such is the case for "The Bear" star Jeremy Allen White and his estranged wife, actor Addison Timlin. Although White's soon-to-be ex-wife listed no specific reason for the couple's split, the pair's custody agreement for their two children speaks volumes.
Timlin's initial divorce filing in May 2023 sought primary custody of their daughters Ezer and Dolores, offering White visitation only. However, court records obtained by Page Six found that White quickly responded with a request for joint custody instead. TMZ was the first to report the couple's custody agreement months later in October. The agreement states that White will test for alcohol up to five times a week when caring for Ezer and Dolores.
Additionally, White is required to attend one Alcoholics Anonymous meeting a week, at minimum, along with other therapy sessions. The harsh restrictions around alcohol seem to suggest White has struggled with alcoholism in the past, which was previously undisclosed information.
If you or anyone you know needs help with addiction issues, help is available. Visit the Substance Abuse and Mental Health Services Administration website or contact SAMHSA's National Helpline at 1-800-662-HELP (4357).
Sources close to White blamed his strenuous filming schedule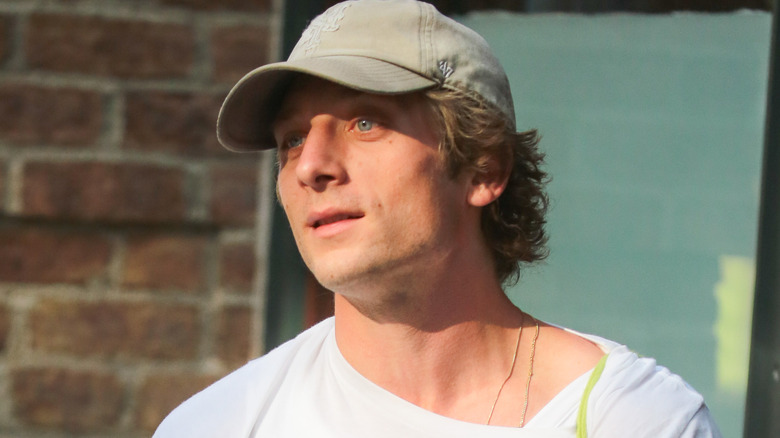 Ignat/bauer-griffin/Getty Images
"Odd Thomas" actor Addison Timlin filed for divorce from "Shameless" star Jeremy Allen White on May 11, 2023, per legal documents obtained by TMZ. Three days later, Timlin shared an Instagram post for Mother's Day in which she wrote, "Being a single mom is not how I pictured it. It is so f***ing hard." She later edited the caption to read, "Co-parent is not how I pictured it," after her use of the term "single mom" was called into question.
White seemed to be just as confused by the Mother's Day post. A source close to the actor told Page Six he was "blindsided" by the social media caption. They reaffirmed that White didn't cheat on Timlin and suggested that the mother of two unfairly punished him for his hectic filming schedule. "Jeremy had no control about where he was filming," the friend said. "He filmed 'The Bear' in Chicago, and any time he could, he came home."
However, the custody agreement's revealing rules surrounding alcohol intake and rehabilitation suggest White's work schedule was not the problem. If White fails his required breathalyzer test, he's permitted one extra attempt to confirm the test's accuracy. If he is found to be drinking while his daughters are under his care, he loses custody immediately.
Jeremy and Addison are trying their best to move on amicably
In the months leading up to Jeremy White and Addison Timlin reaching their custody agreement, the former couple seemed to be coparenting amicably. They hugged while attending their daughter's soccer game in July 2023, and a source later confirmed their good-natured relationship to People. "They are still separated but getting along. They love their children, and all spend time together. When she filed for divorce, she was upset. Things have settled down a bit," the source revealed.
Regardless of the relationship between White and Timlin, it's clear the "Shameless" actor values his connection to his two daughters. In a 2022 interview with InStyle, White gushed about his kids, saying, "I learn a lot from them. I feel like, in a lot of ways, they're teaching me all the time how to be better." Page Six' source, who spoke of White being "blindsided," reaffirmed this notion, telling the site, "He is so involved in those girls' lives. He adores his daughters."
White reportedly has a new girlfriend, Ashley Moore, but it's unclear whether Timlin has begun dating anyone else. The former couple appear to be on speaking terms, though. When Timlin wrote a touching tribute on Instagram for Ezer on her fifth birthday on October 20, 2023, White commented, "Sweetest girl in the world."