Meet Derek Hough's Wife, Hayley Erbert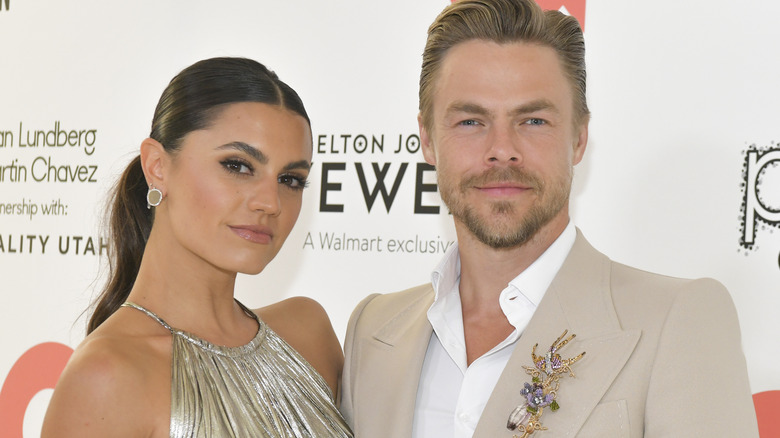 Rodin Eckenroth/Getty Images
Ever since Derek Hough rose to fame as the most winningest dance pro on "Dancing With the Stars" (this was years after his stint as a "Harry Potter" extra) before returning on the show as a judge, fans just can't get enough of him and his dating life. While Hough mainly keeps his relationships and rumored romances out of the spotlight, it eventually became clear that the dance pro has found a partner for life in his now-wife Hayley Erbert Hough, who is a star in her own right. 
Years after the happy couple shared their first kiss onstage, Derek and Hayley tied the knot on August 26, 2023, just a little over a year after announcing their engagement in June 2022. Since then, the two stars have continued to share many adventures together, like jumping into the sea and biking together during their honeymoon in Italy. They also continue to make videos for fans on their YouTube channel, Derek & Hayley x Dayley Life. At the same time, the couple have performed onstage together as Derek continues with Derek's "Symphony of Dance" tour, with Hayley featured as a guest star.
While Hayley may be married to a famous dance pro, she has also made a name for herself. In fact, it appears that she complements Derek pretty well!
Who is Hayley Erbert Hough?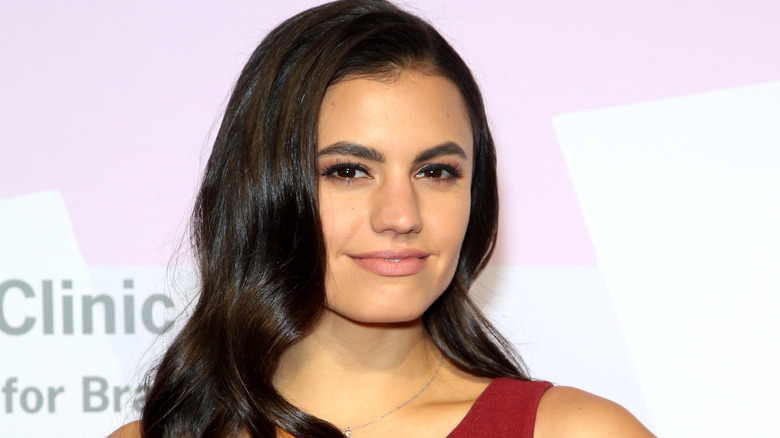 Gabe Ginsberg/Getty Images
Hayley Erbert Hough is a Topeka, Kansas native who has been active in competitions since she was a little girl. During her younger years, Hayley even joined the 2013 Miss Kansas Teen USA beauty pageant and finished first runner-up. Despite placing in the pageant, however, she never returned to the beauty pageant circuit, instead opting to pursue her true passion: dance.
For as long as Hayley can remember, dance was all she could ever think about. When she was younger, she even took lessons at Priscilla and Dana's School of Dance studio in Kansas City, Missouri where she learned contemporary dance. "When I would go stay with her, I would pick her up from school at 3:30 [p.m.] and take her to (dance) class, and we wouldn't get back home until 11:30 [p.m.] or 12 [midnight]," her grandmother Gloria Schmitz even recalled while speaking with the Cove Herald. "We did that a few times a week." 
And while Schmitz probably knew early that Hayley had serious moves, she probably would have never imagined that dancing would make her granddaughter famous one day.
Hayley Erbert Hough is a professional dancer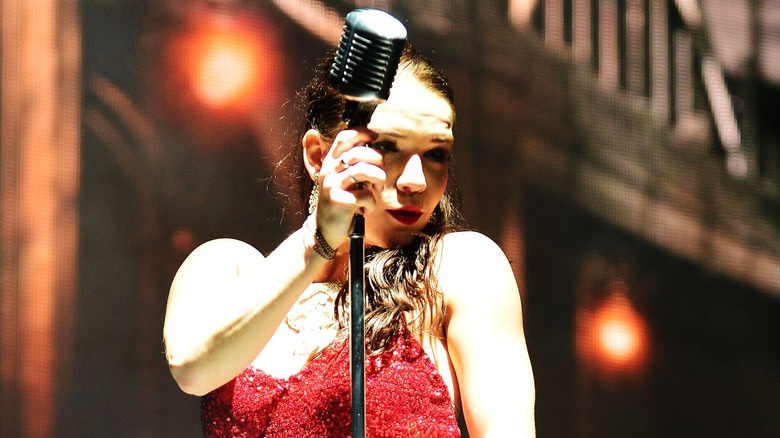 Vallery Jean/Getty Images
Dancing may have just been a hobby to Hayley Erbert Hough as a young girl but as she got older, she seriously thought about turning pro. While attending Washburn Rural High School, Hayley dreamt about competing on the show "So You Think You Can Dance." Despite all the dance lessons she had taken, however, she still wasn't convinced that she was good enough for the show. Luckily, her mom, Debbie Schwartz, eventually persuaded Hayley to put herself out there. Perhaps, to Hayley's surprise, she auditioned and made it on the show. Her grandmother, Gloria Schmitz, even flew to L.A. to watch. "What are the chances of a girl from Topeka and her mother from Copperas Cove actually being on a show like this?" she also told the Cove Herald.
Hayley eventually made it to the show's top six, which landed her a spot on the show's post-competition performance tour. After that, she returned to Topeka where she had already become a local celebrity and offered dance lessons at Radiant Dance Studio. Hayley also visited Priscilla and Dana's School of Dance and held some classes there too. Around that time, she could have also chosen to attend Chapman University where she landed a dance major scholarship. However, Hayley decided to move to Los Angeles instead and see where dancing takes her. "Everything will happen for a reason. Wherever I'm supposed to be, that's where I'll be," she even told The Topeka Capital-Journal in 2014.
She first met Derek Hough on a dance tour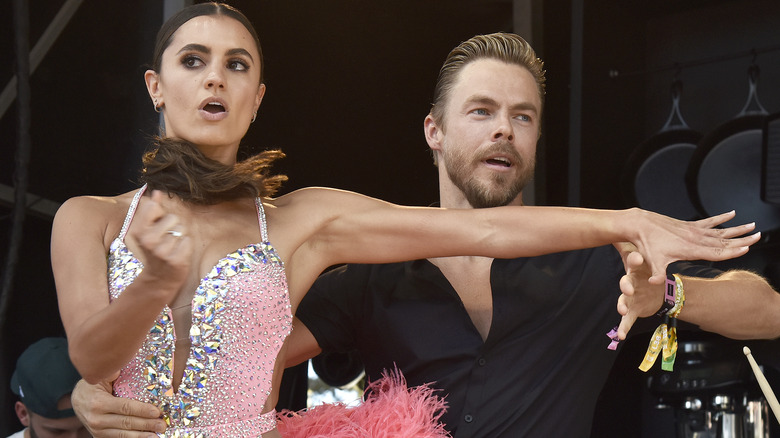 Tim Mosenfelder/Getty Images
Since dancing her way to the top 10 of "So You Think You Can Dance," Hayley Erbert Hough's career has continued to take off. Competing on the show also taught her an important lesson. "You have to constantly be on your game, and you have to keep going, regardless of what you're feeling," she told The Topeka Capital-Journal in the same interview. "It's going to be hard, and it is always going to be hard, but you just have to keep pushing yourself, because you can do it."
After her time on the show, Hayley also found herself reunited with "So You Think You Can Dance" choreographers Napoleon and Tabitha D'Umo (together, the duo is known as Nappytabs) after she became one of the dancers for Derek and Julianne Hough's "Move Live On Tour." The Hough siblings decided to stage a tour together after constant requests from fans who have seen them dance to victory throughout several seasons of "Dancing With the Stars."
While Derek and Hayley got to work together on the tour, it is unclear if there was any spark between them as they toured. Around this time too, neither probably knew that they would be together again soon after.
Hayley Erbert Hough joined Dancing With the Stars during Season 21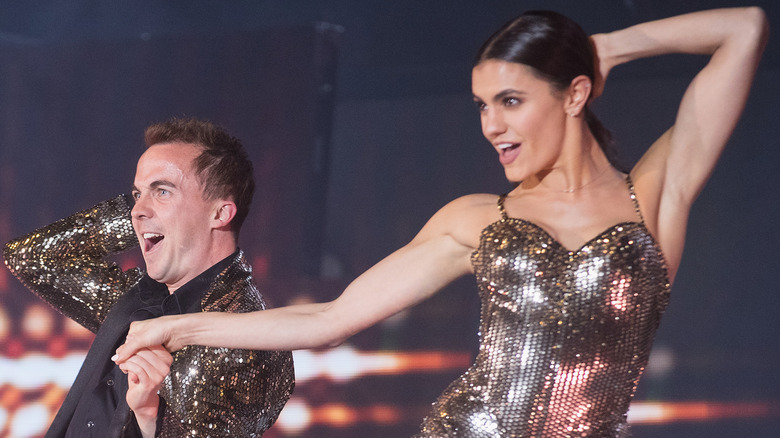 Mat Hayward/Getty Images
While out on the "Move Live On Tour" with Derek and Julianne Hough, Hayley Erbert Hough also found her next gig after producers from "Dancing With the Stars" approached her for their show. "They got my contact information from Derek and Julianne, called me, and set up an interview," Hayley recalled during an interview with The Hutchinson News. She ended up doing her interview right after her dance tour with the Hough siblings. Just a few weeks later, Hayley learned that she was going to be on Season 21.
On "Dancing With the Stars," Hayley first came on as one of the troupe members who are responsible for introducing the pairs competing during the current season. For her, it's the perfect way to get started on the hit show instead of becoming one of the pros straight away. This way, she got to watch the pros (including Derek) at work with the stars first. "You kind of get a feel about how you're supposed to interact and the way you're supposed to teach them," Hayley also told the publication.
Unfortunately, she never got to become one of the dance pros on "Dancing With the Stars." In August 2019, Hayley took to Instagram to announce that she wouldn't be returning to the show after it was confirmed that there would not be any troupe members performing alongside the celebrity contestants and their dance pro partners in that next season.
She started dating Derek Hough soon after joining Dancing With the Stars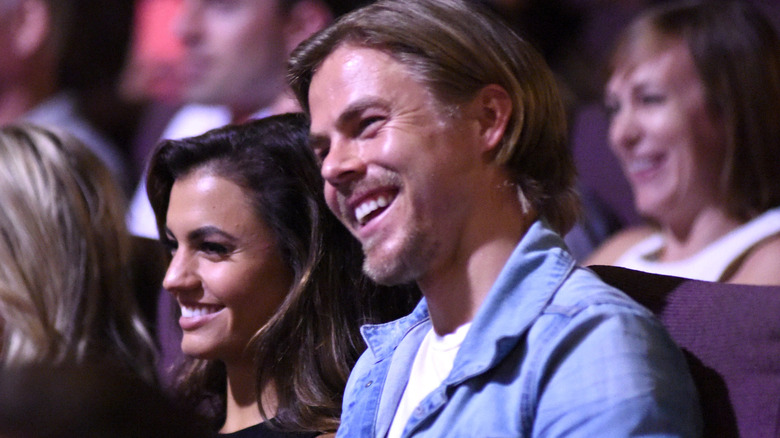 Vivien Killilea/Getty Images
Things may not have turned out as well as Hayley Erbert Hough had hoped while working on "Dancing With the Stars" but in the end, she found love. Reports indicate that Hayley and now-husband Derek Hough started dating when Hayley joined the show in 2015, although they kept their relationship under the radar at that time.
A year later, in 2016, Derek also alluded to having someone special in his life during an appearance on "The Ellen DeGeneres Show." Asked about his thoughts on settling down after serving as the best man for fellow "Dancing With the Stars" pro Mark Ballas, Derek told DeGeneres, "You know, if you would have asked me like about a year ago, or two years ago, I'd probably [have been] like, 'I'm not really looking [for that].' But I'm kind of in a place now in my life, kind of in a transition." He also further revealed that he sees himself married with children in five years. 
On May 4, 2017, Hayley and Derek went Instagram official with their relationship. In a sweet Throwback Thursday post, Hayley shared a photo of the two of them dancing together from three years ago. Just a few months later, she also made her debut on Derek's Instagram. Derek kept the caption simple with a heart emoji and the hashtag for Woman Crush Wednesday.
Hayley Erbert Hough was a mentor on Dancing With the Stars: Juniors
As Hayley Erbert Hough was wrapping up her time on "Dancing With the Stars" in 2018," she also made her way to the show's spinoff, "Dancing With the Stars: Juniors." Hosted by Frankie Muniz and Jordan Fisher, the show featured child celebrity contestants who get paired up with a young pro dancer. Since they're all still kids though, the pairs are also assigned a mentor like Hayley.
On the show, the "Dancing With the Stars" veteran worked with actor Hudson West whose credits include "General Hospital," "Grey's Anatomy," "Modern Family," and the Kevin James-led comedy "Paul Blart: Mall Cop 2." Dancer Kameron Couch came on as West's partner. Meanwhile, other celebrity contestants included "Barbie" actress Ariana Greenblatt (she first rose to fame for her work on "Stuck in the Middle") and reality star Alana Thompson ("Here Comes Honey Boo Boo").
Unfortunately, Hayley's team didn't have much time to show off their dance moves in the competition. West and Couch got eliminated during the second week of "Dancing With the Stars: Juniors" after performing a Pasa Doble to Madonna's "Four Minutes" featuring Justin Timberlake. Despite the great feedback from the judges, the team's score wasn't enough to get them through the next round. ABC also later canceled the show after just one season.
She loves being close to nature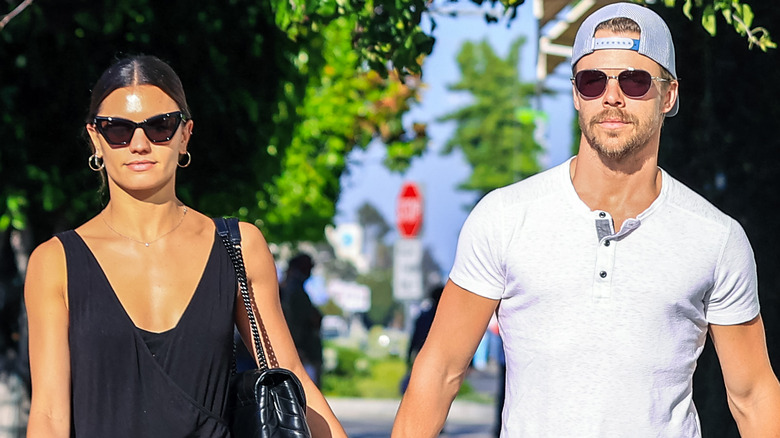 Rachpoot/bauer-griffin/Getty Images
Hayley Erbert Hough, no doubt, spends a lot of time on the dance floor. When she's not practicing her moves though, the celebrity dancer enjoys spending time in the great outdoors with husband Derek Hough. On their days off, the couple would typically take a hike in the woods or even go for a run. At the same time, their YouTube channel also shows the couple going on some outdoor adventures, whether it's trekking in Rwanda, going on a safari in Tanzania, or exploring Yosemite National Park.
Meanwhile, nature was also very much a part of the couple's wedding ceremony as they tied the knot in a redwood forest in Monterey California. Hayley and Derek chose to say their vows right in front of a big tree that was surrounded by several smaller trees. "They drop all the seeds, and it plants kind of like an army of children to protect the mother. The symbolism of it was beautiful," Hayley explained while speaking to People. "We're here, planting our seeds to grow our family."
Hayley Erbert Hough is also talented in the kitchen
It turns out Hayley Erbert Hough isn't just skilled on the dance floor, she's quite a kitchen star too! Sure, her husband, Derek Hough, likes to help out but when it comes to the couple's meals, Hayley is usually in charge. "She is definitely the primary cook without a doubt and the leader in that but it's been one of those experiences where it's brought us together," Derek even told Hello! magazine. Meanwhile, their YouTube channel also has a segment called "Haylz Kitchen" where followers can watch Hayley make sushi, pizza rolls, Catalan chicken, and even ciabatta bread. In a quarantine diary that Derek wrote for USA Today, the "Dancing With the Stars" also revealed that Hayley enjoys making desserts from scratch, including mint chocolate chip ice cream and a baked treat they call S'mores Yumminess. On their channel, Hayley also showed fans how to make a vegan Rocky Road ice cream.
At the same time, Hayley, along with Derek, also enjoy giving their food a little kick as evidenced by their love of hot sauces. In one episode of "Haylz Kitchen," the couple tried out several brands of hot sauce, including the Cajun hot sauce Slap Ya Mama, Colon Cleaner, Satan's Rage, and Mad Dog. And because they couldn't just test out the sauce on one thing, the couple tried them on broccoli, toffee, chips, donuts, and empanadas. In case anyone's wondering, Hayley can handle the heat a lot better than her husband.
Her favorite singer is Celine Dion
Hayley Erbert Hough might be ready to dance to just about any tune but when she's taking some me-time, her go-to artist has always been Celine Dion. On Instagram, Hayley even once shared that she couldn't have gotten through cryotherapy without listening to the Grammy winner on her headphones. And in case anyone is wondering, she and Dion have also already met.
Back in 2018, Hayley and now-husband Derek Hough flew to Vegas to watch Dion perform live during her residency at Caesar's Palace. In another Instagram post, Hayley also revealed that she booked flight tickets to Vegas even before scoring tickets to Dion's show, so it does seem like it was meant to be. Aside from watching Dion perform, the couple also got to meet with her backstage just before her show. "I'm not going to lie, I was so nervous, my hands were sweating and my heart was beating out of my chest," Hayley recalled in her post.
Meanwhile, Derek also posted a video of the meet-and-greet on his own Instagram. In the video, Dion can be heard singing to the couple before the trio starts to dance together. Their meeting, however, had to be cut short since Dion already had to be onstage. Before they left, Hayley can be heard telling her idol, "Have an amazing show." As for Derek, he later said on "The Kelly Clarkson Show" that he would love to dance with Dion on "Dancing With the Stars."
She got engaged after an elaborate plan with a helicopter ride
As it turns out, it's a little tricky to propose to Hayley Erbert Hough. Back when her now-husband Derek Hough thought long and hard about where to do the big moment. In the end, he knew that he had to do it in the home that the couple already shared. "I was like, you know what? We already do all these amazing things," Derek told People. "We travel around the world and have adventures, so we're always so happy to come home and be home, and that's really where our relationship really strengthened and was made concrete."
Once he made up his mind on the venue, however, Derek also knew that he had to find a way to convince Hayley to leave the house for a few hours so that people could secretly come in and transform their space. In the end, he and his good friend, pilot Yark Galland (@iflyheli), hatched a plan. Galland called Hayley, offering to take her and Derek on a helicopter ride for Derek's birthday. During the aerial trip, they decided to fly over Yosemite, one of the couple's favorite places in the world. 
While it was unclear exactly how long their flight lasted, the men managed to get Hayley out of the house long enough to get the couple's space ready for the big moment. When they got home, Derek popped the question while the couple was surrounded by lots of flowers and candles.