Inside Marjorie Taylor Greene's Relationship With Brian Glenn
Republican Representative Marjorie Taylor Greene finalized her divorce from long-time husband Perry Greene in December 2022. Their marriage wasn't the most solid, with rumors of infidelity plaguing their 27-year history. However, after the dust settled, the mother of three was quick to find love again, but this time, in the most bizarre of places: the press.
This development came as a massive shock to many, given Marjorie's strained relations with the media, when Twitter permanently banned Marjorie Taylor Greene, serving as a significant reminder. Speculation about a romantic relationship with right-wing reporter Brian Glenn first emerged in October 2022 and was reported by Daily Mail. However, Marjorie's spokesperson dismissed the claims, labeling the media outlet as "an immature publication that writes about communism."
Nonetheless, the speculation only intensified when it was discovered that Glenn had filed for divorce from his ex-wife three days after Marjorie's ex-husband had filed to end theirs. Despite their insistence on a professional relationship — Glenn was involved in filming her documentary — the pair were frequently seen together. They were spotted at political rallies, entering her residence in Rome, Georgia, and dining at Blossom Hill BBQ in Floyd County, appearing inseparable.
Marjorie Taylor Greene admits she's in love with Brian Glenn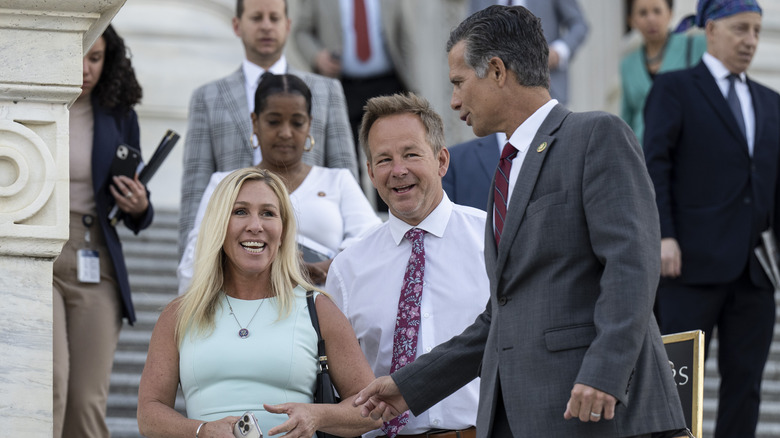 Drew Angerer/Getty Images
In an interview with Semafor in April 2023, Marjorie Taylor Greene acknowledged a growing affection for Brian Glenn. She said: "He's from the industry, so he is a great resource. He's explained a lot, like how things work, and yeah, it's great. So maybe I'm falling in love with the press." She even went on to advise fellow Republican, Florida Governor Ron DeSantis: "Talk to all the press." Something certainly feels different about Greene, and we can't help but point fingers at her new boyfriend.
According to the Daily Mail, the congresswoman and Glenn appeared to have met through work when he interviewed her in June 2022 outside the U.S. Supreme Court. Greene might have caught the love bug that day as she appeared giddy, throwing her arms around him after he whispered in her ear. A month later, the two were seen again, dining at the Penthouse at Mastro's in California.
The pair clearly hit it off, and Glenn went on to repeatedly host Greene on his show at Right Side Broadcasting Network, with the chemistry between the two hard to ignore. After finalizing their divorces, there was no reason to deny their relationship. Sharing similar outlooks on Christian conservative politics, the two certainly look like the perfect match.
Marjorie Taylor Greene defends boyfriend Brian Glenn amidst controversy
Representative Marjorie Taylor Greene, known for strongly defending her often controversial opinions against the media, soon found herself facing a new challenge. Amidst rumors that Donald Trump may choose Marjorie Taylor Greene as his 2024 running mate, her relationship with Brian Glenn drew even bigger attention, and not for all the right reasons.
In May 2023, a video released by @PatriotTakes on X, formerly Twitter, showed Glenn dressed as a woman in a blonde wig, white gloves, and a cardigan. In the video, the reporter said: "I may keep the pantyhose on. It does feel kind of good, actually." This video won't have been damning if not for Greene and Glenn's outspoken opposition to the drag community.
An older post by Glenn surfaced in the same thread, sparking accusations of hypocrisy. However, the couple didn't seem rattled by the aimed attack, with Glenn retweeting the video and Greene responding in her own post, calling "Patriot Takes" morons and the democrats stupid. While many have tagged the congresswoman as a hypocrite for her polarizing views, that hasn't affected her support for her new partner. We certainly hope it doesn't come back to bite her.