The Location Of Matthew Perry's Funeral Has A Heartbreaking Connection To His Time On Friends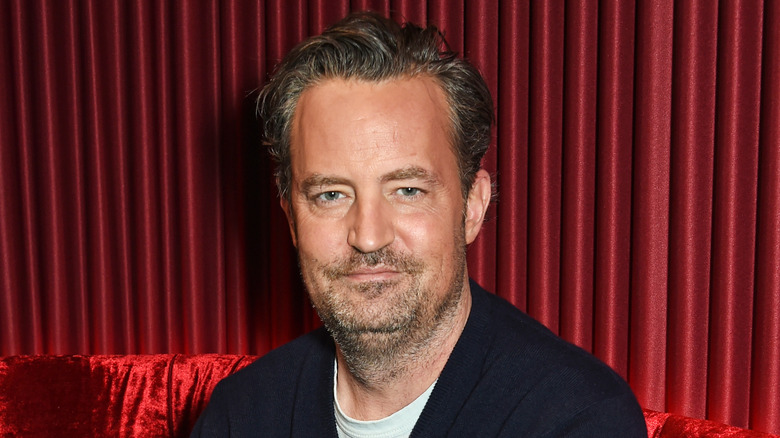 David M. Benett/Getty Images
Actor Matthew Perry was laid to rest by his family and friends on Friday, November 3, 2023, just a week after his death at age 54 on October 28. It seems his final resting place has a heartbreaking connection to his most notable role — that of Chandler Bing on the '90s sitcom "Friends." 
Perry was laid to rest at Forest Lawn Memorial Park in Los Angeles, which happens to be quite near the Warner Brothers studio lot where the cast filmed the series, according to TMZ. In fact, the service for Perry was held at Forest Lawn Church of the Hills, which is across from the studio, The U.S. Sun reported.
Perry's fellow "Friends" castmates — Jennifer Aniston, Matt LeBlanc, David Schwimmer, Courteney Cox, and Lisa Kudrow — were in attendance at the funeral. The actors joined his family, including Perry's mother Suzanne Morrison, father John Bennett Perry, and stepfather Keith Morrison, in mourning the comedic actor at an intimate service, according to TMZ.
Perry's five castmates also had released a statement a couple of days after the "Fools Rush In" actor's death. "We are all so utterly devastated by the loss of Matthew. We were more than just cast mates. We are a family. There is so much to say, but right now we're going to take a moment to grieve and process this unfathomable loss," it read in part. Perry's cause of death was still undetermined as of November 3.
Friends was set in New York, filmed in Los Angeles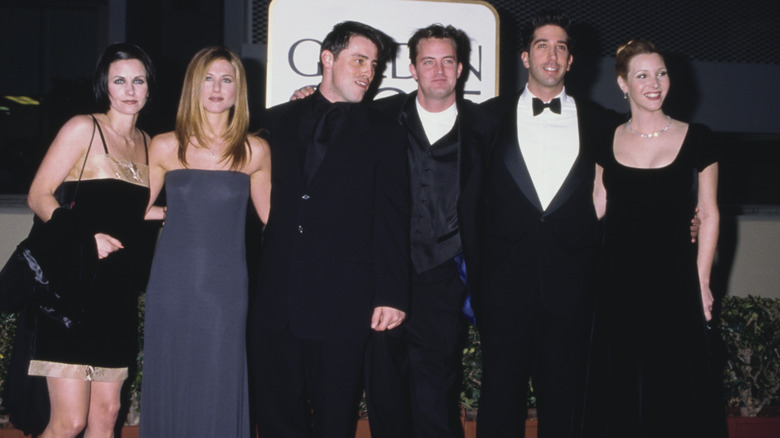 Vinnie Zuffante/Getty Images
While the iconic "Friends" may have been set in New York City, the show was mostly filmed on a soundstage at the Warner Brothers studio, according to The Hollywood Reporter. Some of the establishing shots used during the series, as well as the outside of the apartment building where Rachel Green (Jennifer Aniston), Monica Geller (Courteney Cox), Joey Tribbiani (Matt LeBlanc), and Chandler Bing (Matthew Perry) lived, were real places in New York City. 
However, most of the show's scenes were shot at the studio lot at 3400 Warner Blvd. in Burbank. That includes Central Perk, the cafe where the gang hung out on the daily. Even when the cast members caper about during the opening credits to the tune of "I'll Be There For You" by The Rembrandts, they weren't playing in a real NYC fountain, contrary to popular belief. That was also on the soundstage. Most of the show, especially in the earlier seasons, was shot inside because, as producer Kevin Bright told the Boston Globe, "We find that taking the show out of the studio makes it less funny, even when we shoot on the lot outside" (via Conde Nast Traveller).
As of 2023, the iconic "Friends" sets only exist in memory, as the studio had them taken apart after the series wrapped, according to The Hollywood Reporter. Still, it seems fitting that Perry would be laid to rest near a place that had been so paramount in his life.
Matthew Perry's loved ones started a foundation in his name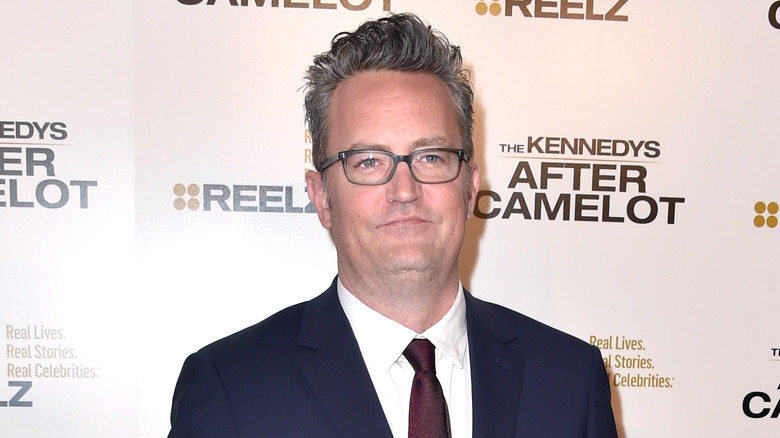 Frazer Harrison/Getty Images
After Matthew Perry's death, his friends and loved ones made his biggest wish a reality as they honored him in a very poignant manner. The website for The Matthew Perry Foundation went live on the same day of his funeral, and the organization honors Perry's "commitment to helping others struggling with the disease of addiction," according to a statement, via CNN. The National Philanthropic Trust will sponsor and maintain the foundation, the news outlet reported.
"We embark on a journey to honor his legacy by establishing the Matthew Perry Foundation, guided by his own words and experiences, and driven by his passion for making a difference in as many lives as possible," the organization's statement read.
The foundation's website, which is now accepting donations toward its mission, also includes a quote that has been much shared in the days after Perry's death. In November 2022, Perry had related his vision for his legacy during an appearance on the "Q With Tom Power" podcast. "When I die, I don't want 'Friends' to be the first thing that's mentioned — I want helping others to be the first thing that's mentioned. And I'm going to live the rest of my life proving that," he said. "Addiction is far too powerful for anyone to defeat alone. But together, one day at a time, we can beat it down."
If you or anyone you know needs help with addiction issues, help is available. Visit the Substance Abuse and Mental Health Services Administration website or contact SAMHSA's National Helpline at 1-800-662-HELP (4357).