All The Times Queen Camilla Has Sported Queen Elizabeth's Favorite Tiaras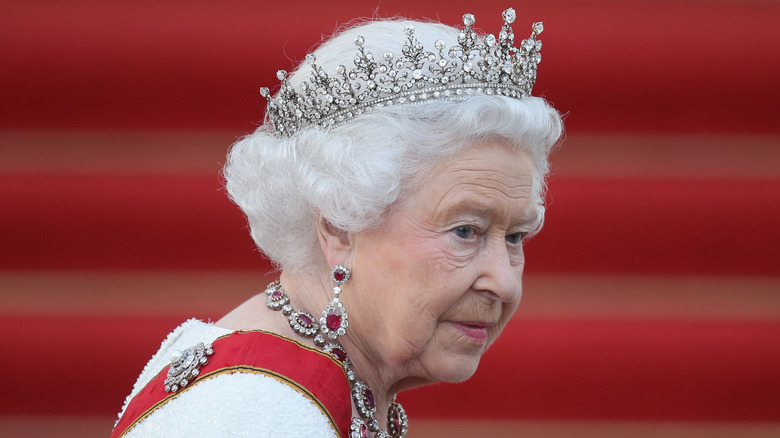 Sean Gallup/Getty Images
Over the course of her long life and 70-year reign as Britain's longest-reigning monarch, Queen Elizabeth wore a dazzling array of jewels as she conducted her royal duties and attended high-profile events. As part of those accessories, Elizabeth had an extensive tiara collection, glittering with diamonds and breathtaking, colorful gems like rubies, emeralds, and sapphires. Besides wearing these diadems herself, the late queen was also generous in lending her pieces to other members of the royal family for special occasions, like weddings and official state events.
Tiaras are an essential accessory for formalwear, and Queen Camilla has had some outstanding tiara moments since she married King Charles in 2005.  While Camilla wore a crown at Charles' 2023 coronation, like Elizabeth often did, Camilla wears a tiara for fancy-dress occasions too. Since Elizabeth's death in September 2022, Camilla has honored her late mother-in-law by wearing Elizabeth's jewelry. In the wake of her increased royal responsibilities, Camilla is also making some significant style statements by making thoughtful selections from Elizabeth's tiaras. For instance, when Camilla wore the Girls of Great Britain and Ireland tiara at an October 2023 event, jewelry historian Lauren Kiehna informed The Telegraph, "Seeing Camilla wear the tiara for the first time felt almost like another coronation moment, as she takes up the jewelry mantle of the late Queen." Here's a look at the moments Camilla has worn some of Elizabeth's favorite tiaras. 
The Belgian Sapphire tiara heralded Camilla's new royal role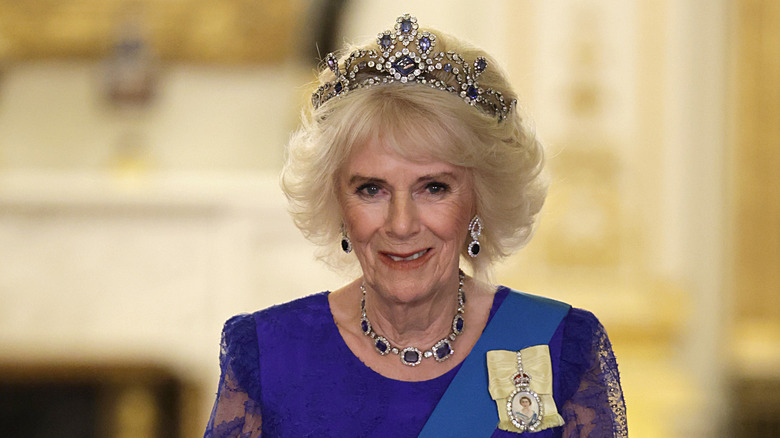 Chris Jackson/Getty Images
For her first state banquet after becoming Queen consort, Camilla stepped out in Queen Elizabeth's Belgian Sapphire Tiara in November 2022. She paired the tiara with a brilliant blue dress, along with Elizabeth's matching sapphire necklace and bracelet.  Two weeks later, Queen Camilla wore all three sapphire accessories and a black dress to a Diplomatic Corps event. 
In 1963, Queen Elizabeth had the tiara and bracelet made to coordinate with a sapphire necklace and earrings that her father, King George VI, had given her when she married Prince Philip. The tiara's gems were originally from a necklace that belonged to Princess Louise of Belgium. Trapped in a difficult marriage to Prince Ferdinand Philipp of Saxe-Coburg and Gotha, Louise left her husband for Count Geza Mattachich.  After a duel that both men survived, Mattachich ended up in prison for four years on forgery charges. When Louise refused to go home to her husband, he had her placed in an asylum. Seven years later, Mattachich helped her escape to Paris. Throughout her adult life, Louise experienced significant money difficulties. As a result, much of her jewelry collection was sold. 
Queen Elizabeth was apparently a fan of this dazzling blue tiara. She wore it, along with the rest of the set, on a 1992 overseas tour, as well as for state visits from the leaders of China in 2015 and Columbia in 2016. 
Camilla wore one of Elizabeth's most iconic tiaras for an appearance in London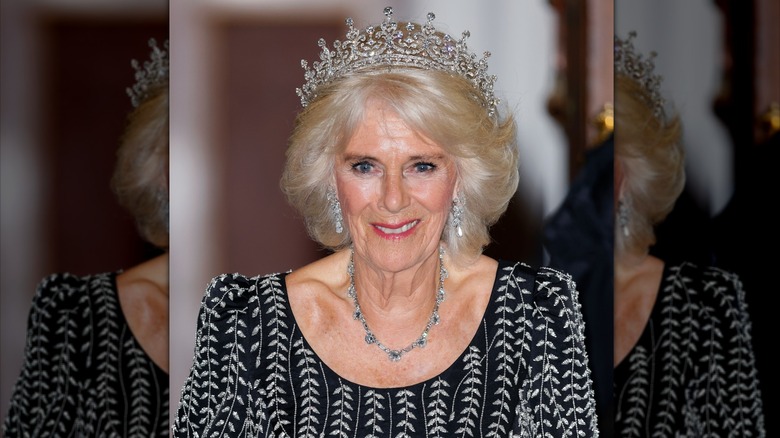 Max Mumby/indigo
In October 2023, Queen Camilla appeared at a royal event in London wearing one of Queen Elizabeth's signature accessories: the Girls of Great Britain and Ireland tiara. This tiara was Elizabeth's go-to choice for countless royal events and official portraits. It was purportedly one of the late queen's favorites, since it was said to be comfortable as well as stunning in appearance. 
This tiara's lengthy name is a tribute to the committee of women who led the fundraising efforts to buy the tiara as a present for Queen Mary's 1893 wedding. From the start, the piece had impressive styling options. Besides being worn as a tiara, it had two different frames and could be transformed into a coronet or necklace. Mary also made some design choices of her own. In this case, the queen had the tiara's base taken off, and she substituted 13 diamonds for the original 14 pearls that crested its top. These pearls were then reused in the Lover's Knot tiara, which Catherine, Princess of Wales, wore in 2022 at her first state dinner after receiving her title. 
In 1947, Mary gave the Girls of Great Britain and Ireland tiara to Queen Elizabeth for her own wedding. Like her grandmother, Elizabeth didn't wear the piece for her nuptials. However, she did wear it on numerous other occasions, and allegedly nicknamed the piece "Granny's tiara" to honor her grandmother. 
One of the Queen Mother's iconic tiaras is frequently worn by Camilla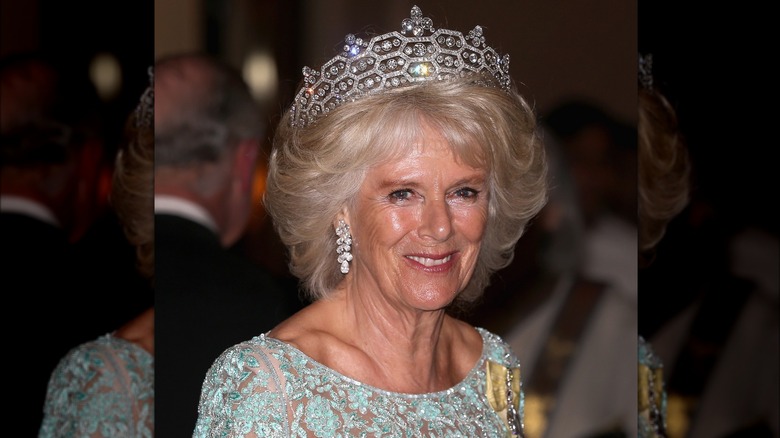 Chris Jackson/Getty Images
Although Queen Camilla has been wearing some of Queen Elizabeth's favorite tiaras, Camilla's tiara of choice is frequently the Greville tiara, which was beloved by the Queen Mother. Also called the Boucheron Honeycomb Tiara, Camilla first wore it at a state dinner in 2006. Between April 2013 and March 2023, Camilla wore this scintillating tiara six times, including during events like the Commonwealth Heads of Government Meeting, the 2019 State Opening of Parliament, and during King Charles' overseas tour of Germany. 
Queen Elizabeth inherited the Greville tiara from the Queen Mother when she died in 2002, but she was never seen wearing it. The Queen Mother herself inherited the tiara, along with a sizable jewelry collection, from Dame Margaret Greville in 1942. Greville had a close relationship with the Queen Mother, and considered her a surrogate daughter. 
Created in 1921, the Greville tiara features an eye-catching design of interlocking hexagons that enhance the piece's beauty and makes it less heavy for the wearer. The platinum setting for the stones is also lightweight. The Queen Mother first started wearing the piece in 1947, and she wore it to numerous events for the next 50-plus years. She also contributed some diamonds from her own collection and had them added to the top of the tiara.