What We Know About Hallmark Star Katrina Bowden's Divorce From Ben Jorgensen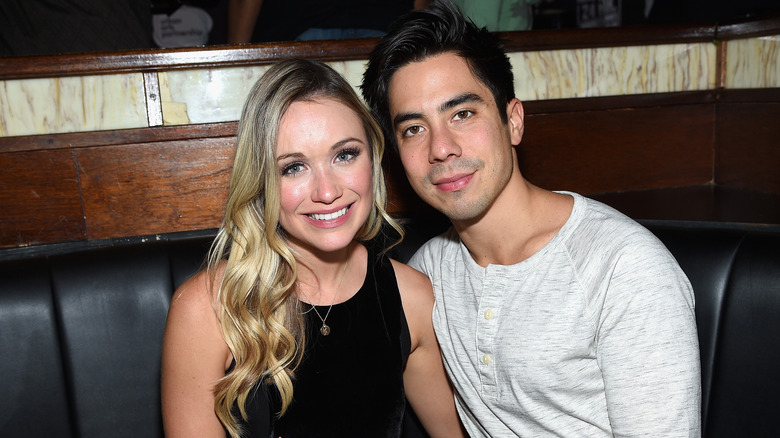 Dimitrios Kambouris/Getty Images
If only life could be like a Hallmark movie: You meet your soulmate, fall in love, and live happily ever after. Unfortunately, fate doesn't work that way for even the stars of the network's infamous romance movies. Just ask Katrina Bowden.
The "Love on the Slopes" actor filed for divorce from her then-husband, Ben Jorgensen, in December 2020. The news of the split was shocking due to the couple's solid relationship history. Friends-to-lovers, Bowden and Jorgensen met when she was in high school. Life pulled them apart for a little while, but they found their way back to one another in 2011, dating for two years before getting married in 2013. So, when they officially announced their separation almost 8 years later, fans wondered what went wrong.
Jorgensen and Bowden initially kept pretty quiet about the details of their divorce. However, the musician eventually opened up about how the ending of their relationship strongly influenced his art, providing insight into what went wrong between the pair.
Quarantine may have been to blame for Katrina Bowden and Ben Jorgensen's split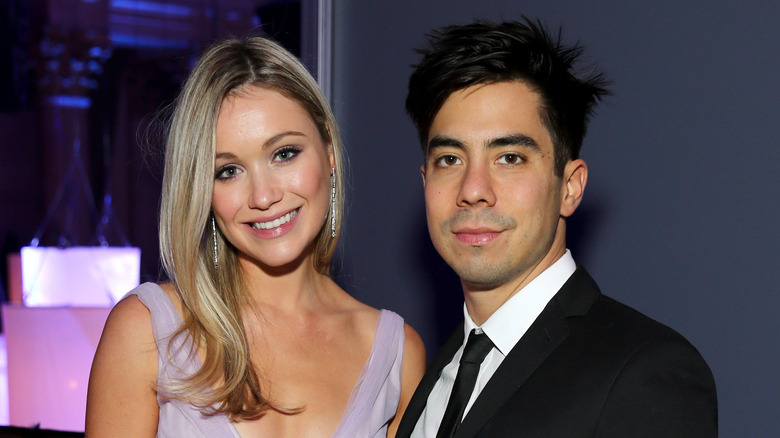 Neilson Barnard/Getty Images
The COVID-19 lockdown was difficult for many people, including Ben Jorgensen and his former wife, Katrina Bowden. Jorgensen told New Noise Magazine, "My marriage of 8 years blew up in my face and completely fell apart." Jorgensen also divulged that during quarantine, he felt the creative spark to write a new album, "The Rain Museum," and wholeheartedly threw himself into the creation process. Indeed, his real-life relationship woes ended up influencing a few of his songs.
However, Jorgensen probably would have rather kept his marriage intact than have a newfound source of inspiration for his music. He explained, "So in the middle of this pandemic situation, I had no one to turn to ... All I had was this album. Originally, this album wasn't really gonna be about me; it was gonna be about resurrecting this thing from the past, just to do it. It suddenly turned into, like, a really personal album about what I was going through."
Sadly, the musician struggled with his breakup from Bowden. He reportedly severed all ties instead of remaining on friendly terms. Jorgensen also began drinking alcohol during this period before eventually realizing he was using it as a crutch instead of facing things head-on, according to Heavy Metal Therapy. Fortunately, a glimpse at his Instagram in 2023 shows he now appears very happy with his new girlfriend, Kailey Cost.
Katrina Bowden has remained tight-lipped
Ben Jorgensen channeled his emotions resulting from his divorce from Katrina Bowden into his music and shared his healing process along the way. Meanwhile, his ex, Bowden, has kept her side of the story under lock and key. The "30 Rock" actor never divulged what happened between her and her former husband. However, when she shared an Instagram picture of her and now fiancé Adam Taylor in October 2021, it was evident she had moved on.
In September 2023, Taylor, a musician and part of the band Iration, popped the question. He and Bowden were on vacation in Positano, Italy, when he got down on one knee. Bowden shared the romantic scene in her Instagram photos, writing, "Happy to announce ... we are no longer dating." "The Bold and the Beautiful" alum followed up with a peek at her perfect diamond engagement ring, noting in a comment, "I cried like an absolute loser ... also the ring blinded me so my eyes were in pain. Happiest most perfect day of my life."
It doesn't seem likely that Bowden will open up about what went wrong in her marriage with Jorgensen anytime soon. While we may never know what went down between the two, neither appears to dwell on the past, so perhaps it's best we move on, too.