Who Is Kevin McCarthy's Wife, Judy?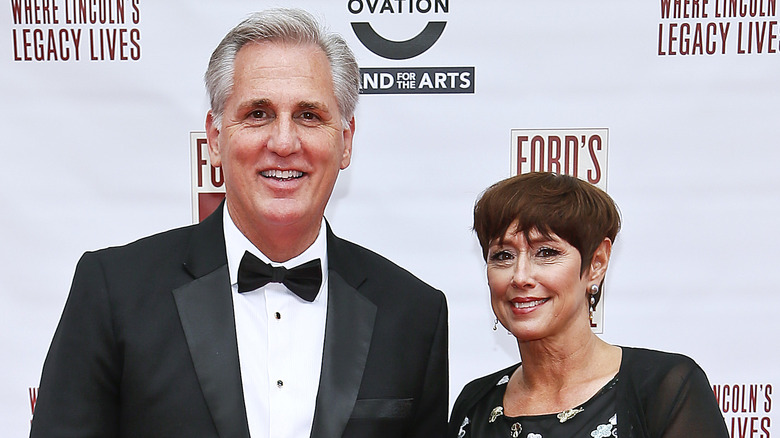 Paul Morigi/Getty Images
In October 2023, Kevin McCarthy's tenure as Speaker of the House of Representatives ended when he was voted out by his peers just months after his election in January. The unusual end of the Californian politician's term as Speaker heightened public interest in his complex relationship with Donald Trump and his personal life — especially because he was the first American speaker to be ousted. Despite the brevity of his speakership, Kevin's marriage to his wife, Judy McCarthy, has been a constant, spanning over three decades.
They tied the knot on August 29, 1992, and have raised two children: Connor and Meghan. Kevin's political career has inevitably placed him under the microscope, while Judy has preferred to maintain a more private life. Nonetheless, she has been a visible figure during key moments, offering support at his campaigns and rallies. However, Judy wants everyone to know she's her own woman, not just a politician's wife.
Judy McCarthy is her own person and a Christian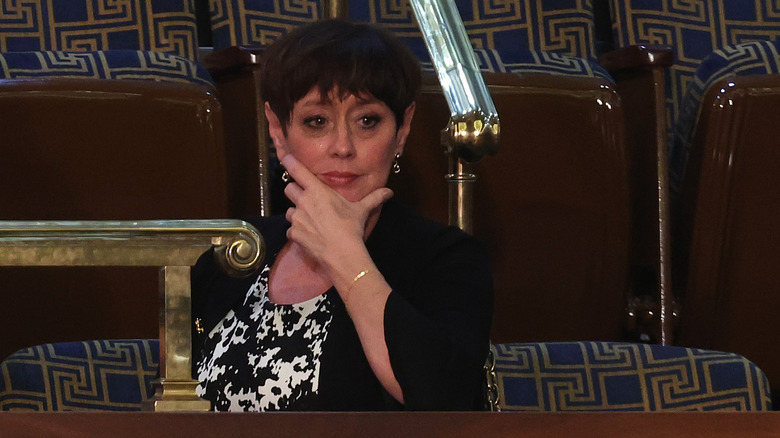 Win Mcnamee/Getty Images
Judy McCarthy (née Wages) was born in Frazier Park, California, on December 6, 1964, as the youngest of four children. Her father, Harvey Wages, worked at National Cement, and her mother, Sharon, was a homemaker. Judy's family, growing up, wasn't wealthy but was tightly knit, with solid values passed down from her devout Baptist mother. She attended Bakersfield High School, where she met her future husband, Kevin McCarthy.
Judy has remained religious and humble despite her husband, Kevin's, prominence in American politics. In her interview with the Bakersfield Californian, she clearly expressed her identity: "I am not the politician's wife. I am my own person and a Christian." Although Judy has never held a political office herself, she hasn't been shy about advocating for Christian rights. She voiced her concerns in a chat with Right Wing Watch in 2014, emphasizing that while many causes garner sympathy, Christians often do not. She highlighted, "They don't want you to have a right to be a Christian."
Judy McCarthy had to be flexible for her husband's career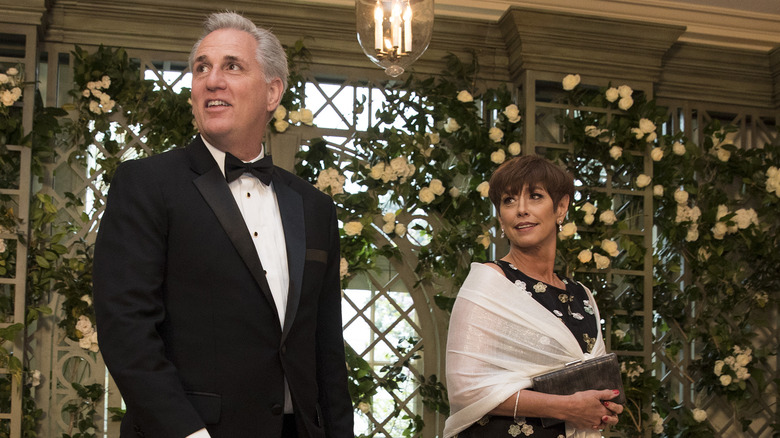 Aaron P. Bernstein/Getty Images
Little is known about Judy McCarthy's professional background. In the '90s, she partnered with her brother, William Wages, in his construction company, Vortex. She has also been active in the California Republican Party, assisting with fundraisers, and she currently serves as a trustee at the Ford Theater in Washington, DC — infamously known as the site of former President Abraham Lincoln's assassination. Yet, her primary commitment has been to her family. In her interview with the Bakersfield Californian, Judy shared insight into the family's strategy for balancing her husband Kevin McCarthy's political career, saying, "We always made sure that one of us needed to be flexible."
With Kevin's demanding roles, Judy has often been the one to provide that flexibility, managing the household and even driving their daughter Meghan to doctor's appointments amid her battle with Lyme Disease. Judy has continued to stand by Kevin despite controversies ranging from an alleged affair with Renee Ellmers to getting slammed for reading Doctor Seuss. Friends and acquaintances have also described Judy's personality as based firmly on her faith, family, and friends. While Kevin may have had challenges in his political career, he appears to have chosen the perfect partner to stand by his side.