The Reason Kevin McCarthy Is Getting Slammed For Reading Dr. Seuss Isn't What You Think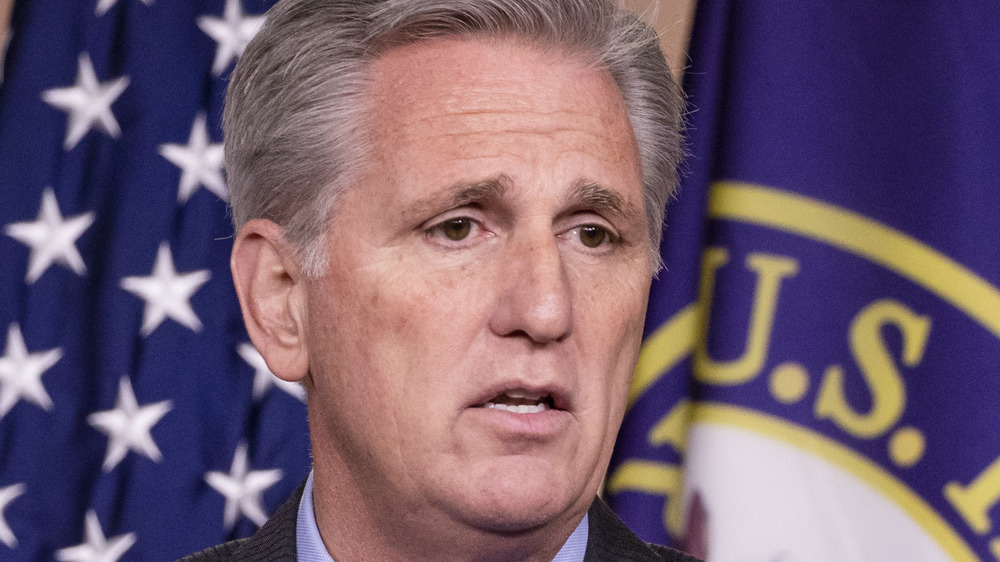 Samuel Corum/Getty Images
The recent announcement that Dr. Seuss's estate is suspending the publication of six of his books was met with immediate outcries of "cancel culture" and "censorship." It was the topic of a lively debate on The View, and the subject of one of Donald Trump Jr.'s ongoing lectures on how the left is destroying America. Outraged readers hurried to snap up copies of the books, and so many tried to sell them on eBay that the auction site removed the listings (per Forbes).
House Minority Leader Kevin McCarthy (R-CA) decided to express his own views on the subject by posting a video of himself reading the Seuss classic Green Eggs and Ham on his Twitter and Instagram accounts. He captioned it, "I still like Dr. Seuss, so I decided to read Green Eggs and Ham. RT if you still like him too!" The post got tens of thousands of likes and retweets, including one from Ted Cruz, who called it "inspired leadership." However, it also got tons of clapback by users who pointed out that McCarthy's choice of book was not, in fact, one of the six titles being shelved by Dr. Seuss Enterprises. (The books in question are On Beyond Zebra!, And to Think That I Saw It on Mulberry Street, McElligot's Pool, The Cat's Quizzer, If I Ran the Zoo, and Scrambled Eggs Super!) Among the representative replies was one from Rosanna Arquette: "The Dr. Seuss foundation is cancelling a few ignorant racist books because it's bad for children's minds and lives. That book is not one of them."
The debate over the books goes on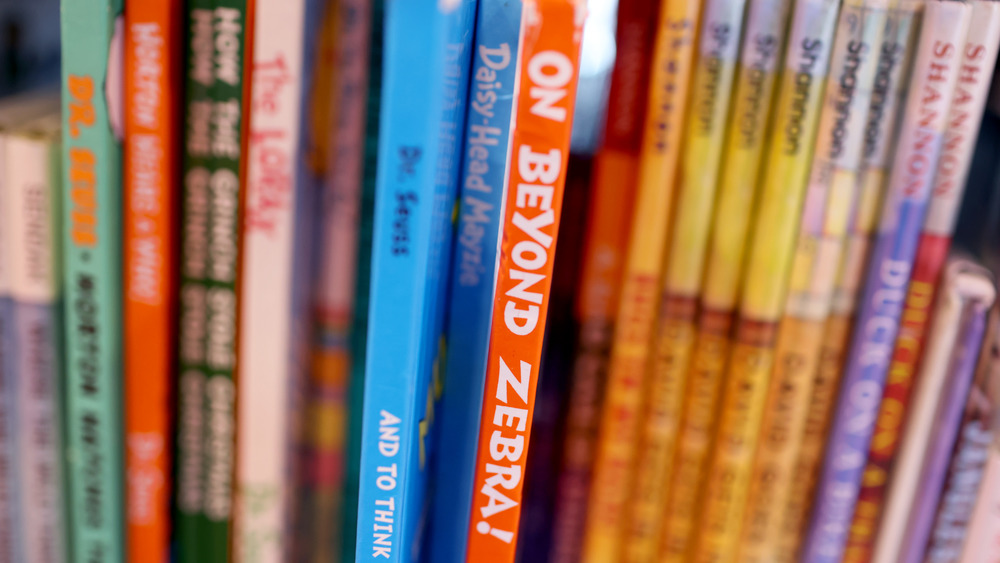 Scott Olson/Getty Images
Of course, Dr. Seuss also wrote many books with positive messages: The Lorax (saving the environment), How the Grinch Stole Christmas! (anti-commercialism), Thidwick the Big-Hearted Moose (standing up for yourself). He even addressed racism in The Sneetches. Maybe that's why it's so hard to accept that some of his works are objectionable. For example, If I Ran the Zoo contains a picture of barefoot, monkey-like African men with exaggerated features, and another of Asian men "who wear their eyes at a slant." The Cat's Quizzer asks the question, "How old do you have to be to be a Japanese [sic]?" Some of Rep. McCarthy's respondents accused him of deliberately choosing an inoffensive book for his video, knowing that it might look bad if he showed one of the shelved books.
Children's literature professor Dr. Philip Nel recently told Esquire that outcries like McCarthy's and Trump's are calculated to direct anger at liberals and nonwhite communities, rather than start a productive dialogue on racism and literature. "Fox could take that and say, 'Let's reflect on that. Why would we feel attacked if someone was critical of a childhood favorite?'," he says. "Instead, they say, 'Let's amplify the anger here, and make it about the critique rather than listen to the critique.'" He also points out that the six books aren't being burned or banned; Seuss Enterprises simply isn't publishing new copies. "But I would say to people who find the framing of cancellation useful: What sort of culture are you defending?" Nel asks. "What is it that you're afraid will disappear?"