Whatever Happened To Reba Star Scarlett Pomers?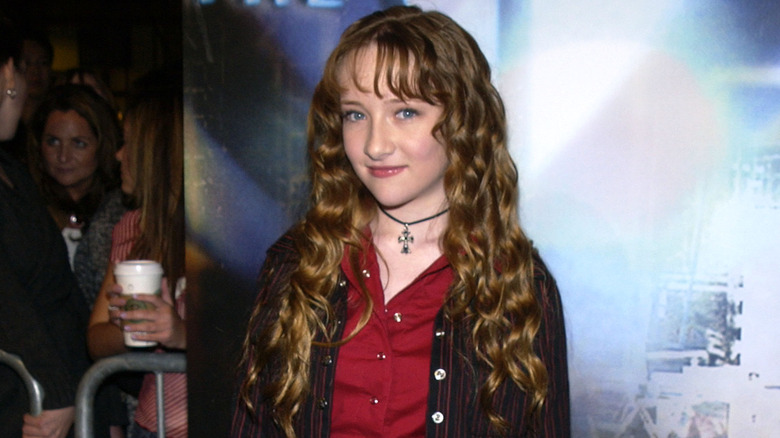 Jean-paul Aussenard/Getty Images
The following article mentions an eating disorder.
Long before she was a judge on "The Voice," Reba McEntire was just about everyone's favorite TV mom. In the early 2000s, the country music legend starred in the popular WB TV series "Reba." In the beloved sitcom, McEntire played a single mom of three kids. As the titular character's middle child, Kyra Hart, Scarlett Pomers regularly brought the laughs thanks to her quick wit and sarcastic delivery. When it came to being part of the hit show, Pomers told Kriselen.com, "I love being part of a family who all work together to make the show as entertaining as we can."
Despite Pomers being only around 13 years old when she starred on "Reba," it was far from her first TV role. In fact, by that time, she had been steadily acting since she was a toddler, beginning with TV commercials. Pomers even appeared in the critically acclaimed film "Erin Brockovich" in 2000, and had a recurring role on "Star Trek: Voyager" from 1998 to 2001. As she later explained on E!'s "Child Star Confidential," "Growing up in front of millions of people ... it was something that I've been doing for so long, it's just been part of my life."
While Pomers remained in the public eye for a while after "Reba" ended in 2007, it seems that she later disappeared from Hollywood completely. So whatever happened to Scarlett Pomers? Let's break it down.
Scarlett Pomers briefly left Reba due to an eating disorder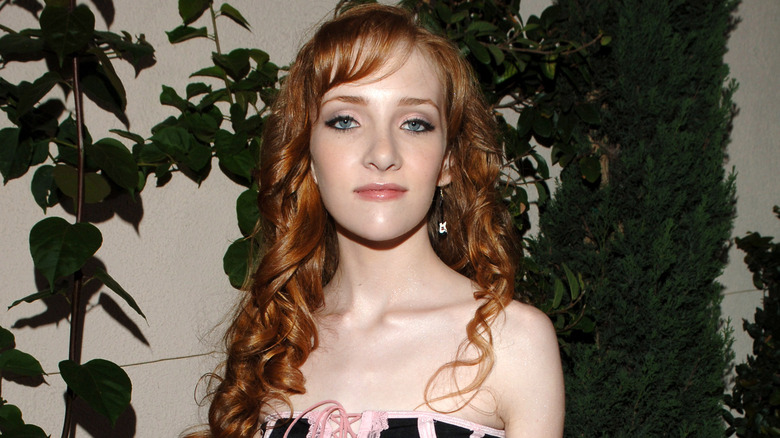 L. Cohen/Getty Images
Chances are that if you watched "Reba," then you noticed that Scarlett Pomers was barely featured on the 5th season of the show. At the time, she was hospitalized for anorexia, after her weight dropped to 73 pounds. "The Babysitters Club" actor shared on "Child Star Confidential" that her eating disorder began when she was 16 years old. Yet she didn't think she had a problem until she found herself hiding her eating and exercise habits. "You know in the back of your mind that ... you're hurting yourself, but at the time it's something you really can't stop on your own," she said.
Though she'd landed a main part on a successful sitcom, Pomers still worried about her career; "Reba" wouldn't last forever, and show business is a fickle and uncertain world. Her weight, however, was something she thought was within her control. She told People, "It was very stressful, and my weight became something I centered on. I became obsessed." On top of that, Pomers was obviously on TV, so she had the extra pressure of feeling that she had to fit the unrealistic body standards perpetuated by the media.
Pomers did clarify that no one involved with "Reba" ever told her to lose weight. Her co-stars, however, noticed that she was struggling, especially when her personality changed. "I was very depressed and withdrawn and nothing like I've been," she said.
Scarlett Pomers opened up about her eating disorder recovery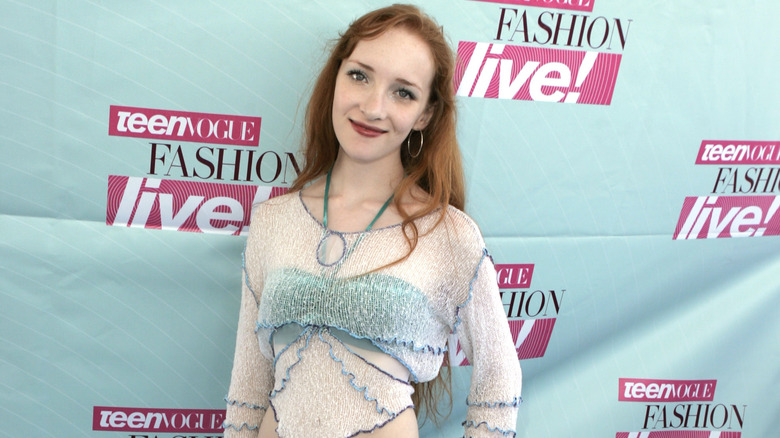 J. Vespa/Getty Images
Scarlett Pomers was fortunately able to get treatment for her eating disorder. The "Judging Amy" actor told People that she took this life-changing step after her loved ones and even some studio execs approached her with their concerns. While Pomers said that angered her at first, she started seeing a therapist once a day. However, she eventually left "Reba" to seek in-patient treatment by going to a rehab facility for two months. "I was away from my family, my home, my work. I just went, 'This isn't worth it. I have to get better,'" she recalled.
Pomers then decided to go public with her eating disorder, because she wanted to get ahead of any speculation or rumors regarding her absence from the series. She also wanted people to know that she was getting help. She told Girls Health, "I began doing every interview, TV talk-show, and radio program I could to get the word out that this is not a glamorous 'Hollywood' fad, but a deadly mental illness." Pomers even started the nonprofit Arch-Angels to raise money for people who suffer from disordered eating but can't afford treatment.
After rehab, Pomers stayed on track by regularly seeing a therapist, doing yoga, and spending time with family. As she said on "Today," "An eating disorder is a long-term battle ... I think I will fight it for a long time."
The Reba star parted ways with her acting career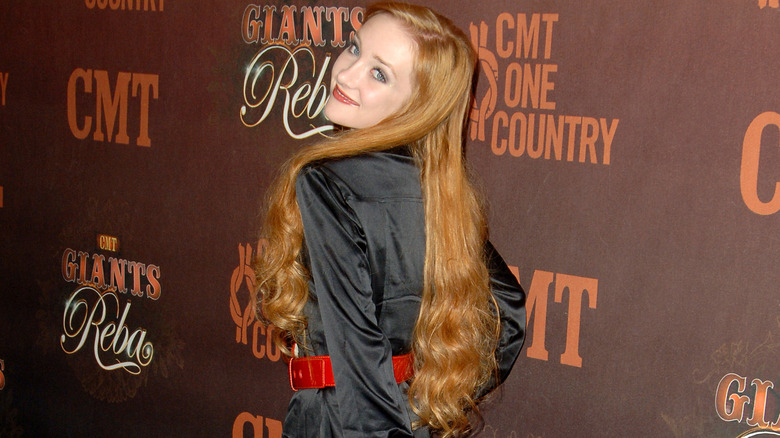 Jon Kopaloff/Getty Images
Though her career took off at an early age, Scarlett Pomers eventually stepped away from acting. Her acting credits on her IMDb end in 2007, with her role on "Reba." That same year, she did tell Creation TV that she was going to be in a feature film called "The Kentucky Fried Horror Show." However, it appears as though she didn't have a major role in the flick.
Regardless, by 2014, Pomers told StarTrek.com that she was "pretty much" done with acting all together, but that once in a while she did some voiceover work. She had a good run though: She worked consistently ever since she got her start as a toddler. "I could walk and talk from a really early age, and wasn't afraid of anyone," she told Guitar International, adding, "Commercial agents love little kids like that."
While "Reba" made Pomers famous, she told Girls Health in 2007 that the Disney Channel movie "A Ring of Endless Light" was her favorite on-set experience. "We shot for six weeks in Australia and saw what a beautiful country it is," she recalled. With that said, from the looks of Pomers' Instagram these days, she mostly reminisces about "Reba." Since 2020, she's posted old photos from her time on the show, which suggests that she does miss it.
Scarlett Pomers pursued a music career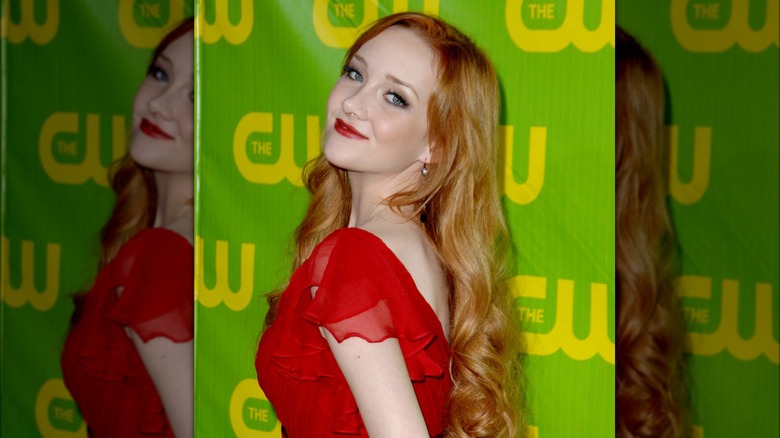 Jon Kopaloff/Getty Images
While Scarlett Pomers found success as a child star, she decided in her teens that she wanted to pursue rock music professionally, too. It was apparently something she had been interested in since she was a kid. As she said in Guitar International, "I started taking singing lessons when I was about six, but wasn't really bitten by the music bug until I was about 11 or 12." That's also around the same time that Pomers was given her first guitar, and when she told her mom that she was ready to put more effort into her music career.
Pomers went on to form a rock band during a hiatus from "Reba," and began working on her album, where she said she co-wrote a lot of the songs. She gushed to Kriselen.com, "Music is such an exciting challenge for me right now .... I am so lucky to be learning and working with the talented people."
Three years after "Reba" ended, Pomers' debut EP, "Insane," came out. She started playing for live crowds when she was still a teenager, and it wasn't long before her band, Scarlett, was getting booked at iconic venues like The Roxy in Los Angeles and the Knitting Factory in New York City. The former actor embraced this new chapter. As she said on E!'s "Child Star Confidential," "That's really my favorite part, the performing, being on stage and singing the songs to the crowd and ... entertaining people."
The Star Trek: Voyager actor became a professional photographer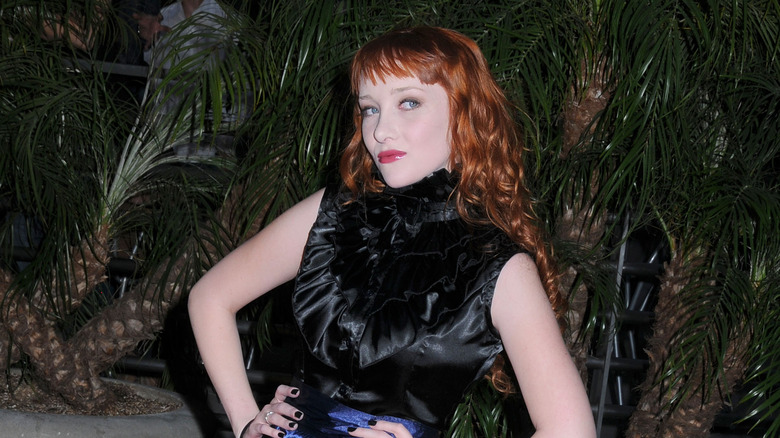 Barry King/Getty Images
Taking photos is a big part of Scarlett Pomers' life. In her aforementioned chat with StarTrek.com, she shared that she was as a professional photographer. At the time, she was working in both fashion photography and snapping pictures of bands. While Pomers' work with musicians mostly consisted of promo shoots, she did photograph some concerts too. As much as she loves music, she admitted to StarTrek.com that she usually preferred working on the fashion side of things. "With fashion and other kinds of shoots, I can be a little more creative and have more say on the concepts whatnot," she said.
Pomers seemed to have aspirations of being a professional photographer since at least 2009, considering that's when she tweeted about a forthcoming photography website. She later posted about her work on her Facebook page. Pomers even appeared in some of the photos she took. In 2010, she wrote on Facebook, "Two of my self-portraits are in this month's Gothic Beauty magazine(Issue 31), used in ads by clothing designers Retroscope Fashions and Kambriel!"
These days, Pomers shares the occasional snapshot on her Instagram. Since 2020, the "A Ring of Endless Light" actor has uploaded a few artsy photos that appear to be self-portraits. It is unclear though, as Pomers doesn't give much context in her captions. 
Scarlett Pomers eventually decided to keep music to herself
Scarlett Pomers eventually decided she wasn't interested in pursuing a music career. As she told StarTrek.com in 2014, "I still do music, but I do it mostly for myself and not for money, not for a living." Though she'd decided to pull back from being an active professional musician, she was still having fun creating music and experimenting with new sounds. "I'm working on an industrial metal project with my best friend," she said, adding, "I also started learning how to play mandolin a couple of years ago, so I'm writing songs for that, too." 
Much like music, writing has long been a part of Pomers' life. "I'm always writing, whether it's journals, short stories, or poetry," she told Guitar International in 2005. "When I started pursuing my music career, I began using my poetry for song lyrics." Whether she's making music for herself or a record label, it's clearly an important creative outlet for the former actor. 
So, could Pomers one day dive back into the music industry? Only time will tell. That said, in 2023, she shared what looks to be a newer photo of herself with a guitar. For all we know, she may be entertaining the idea of putting her pro musician hat back on.
Scarlett Pomers sold jewelry that she made
Scarlett Pomers' artistry and creativity seemingly knows no bounds. When speaking with StarTrek.com in 2014, "The Secret World of Alex Mack" actor opened up about her work as a jewelry designer. Her interest in making jewelry led her to open an online store called Mermaid's Lure, where people could buy custom pieces that she designed. "It's a hobby I like and other people liked what they saw when I was wearing it out, so I started making it and selling it," she said.
Pomers promoted her business by creating a page for Mermaid's Lure on both Facebook and Instagram. There she showed off her creations either alone or on different models. Most of the jewelry Pomers posted consisted of big crystals or stones. Many also had a whimsical element like a charm of a moon, unicorn, or seahorse. Pomers even gave them fun names like "Princess of the Sea," "Princess Serenity," and "Helios pendant."
Alas, it looks like Pomers' jewelry design company may be no more: The most recent posts on the Mermaid's Lure page are from 2017. At the time, she wrote on Facebook, "Keep an eye out for new products very soon!" However, as of 2023, the link to her online store no longer exists. Pomers may still be making jewelry for fun though, considering that she looked to be wearing one of her necklaces in an Instagram selfie that she posted in 2021. 
Scarlett Pomers is still part of the Star Trek family
Fans might know Scarlett Pomers best from the TV series "Reba," but she was on another popular show before that too. From 1998 to 2001, Pomers appeared on "Star Trek: Voyager" as Naomi Wildman. Despite being the only kid on a set full of adults, Pomers seems to recall that time fondly because of how friendly her co-workers were. In her aforementioned chat with StarTrek.com, she noted Ethan Phillips, who played Neelix, has a strong sense of humor and was a great scene partner. She's also said Jeri Ryan, who played Seven of Nine, was so nice and professional.
Pomers even attended "Star Trek" conventions years after her time on the show ended. Speaking with Creation TV at a 2007 event, she shared how much she loved being part of the "Star Trek" family. Pomers gushed, "It's been a great experience. Just coming to the conventions, it's been so much fun." 
Nowadays, Pomers sure seems to be sentimental about her time on "Star Trek: Voyager." She's shared photos of herself in character on her Instagram since 2021. She also posted a throwback photo of herself doing the Vulcan salute. "My favorite picture ever when I was little," she wrote. 
Would Scarlett Pomers be open to a Reba reunion?
It appears that Scarlett Pomers is just as proud of her time on "Reba" as she is of "Star Trek: Voyagers." In 2023, for example, she wrote in an Instagram, "It's an honor to work on movies, especially Star Trek Voyager & Reba." She's even posted multiple photos of herself from when she was on the show or at "Reba" events. Alongside a clip pulled from what Pomers called her favorite episode, she wrote, "I rewatch these all the time #reba."
Pomers isn't the only former "Reba" star who still has love for the sitcom. Fellow series alumni like Steve Howey, JoAnna Garcia Swisher, and Melissa Peterman have all expressed interest in returning for a reunion. Many of them have remained close friends too, which would presumably make the project all the more delightful. And don't worry, the show's star, Reba McEntire, would be more than eager to do something with the original "Reba" team, too. "I really want to work with the people that I got to work with during that six and a half years," she on "The Bobby Bones Show" in 2022. "We wanted to get back together like a reunion and have fun, so hopefully that will happen one day."
Though Pomers bid Hollywood farewell shortly after "Reba" took its final bow, it doesn't seem like she's shut the door on the TV series for good. Maybe one day we will see her back on our screens with the rest of the "Reba" cast.
If you need help with an eating disorder, or know someone who does, help is available. Visit the National Eating Disorders Association website or contact NEDA's Live Helpline at 1-800-931-2237. You can also receive 24/7 Crisis Support via text (send NEDA to 741-741).