The Rumors Surrounding Reese Witherspoon & Kevin Costner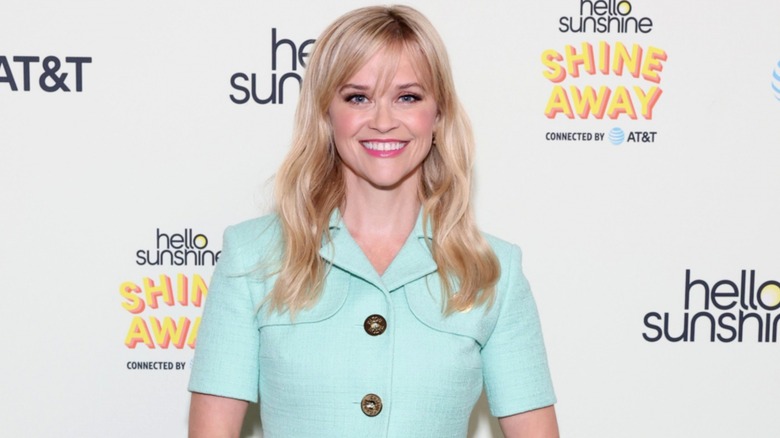 Monica Schipper/Getty Images
What, like it's hard to believe superstar Reese Witherspoon could be hanging out with superstar Kevin Costner? It's the stuff of dreams and gossip mills, to have two A-list actors dating each other. And to have two celebrities as highly successful as the "Legally Blonde" and "Field of Dreams" duo are? That's out-of-this-world good stuff. 
As both are recently divorced, it was inevitable someone would eventually pair them together, if only for their popularity both on- and off-screen. The duo also has a lot in common, making them a compatible match to ponder. In their careers, both have won Oscars (she for "Walk the Line," he for "Dances With Wolves"), and Primetime Emmys ("Big Little Lies" for Witherspoon, "Hatfields & McCoys" for Costner). In their personal lives, each has been married and divorced twice, and both are single parents, with the "Wild" actor mother to three, and the "Yellowstone" actor the father of seven kids. 
Rumors began swirling in early November that Witherspoon and Costner, who are about two decades apart in age, were secretly dating. Reportedly, the couple was keeping it on the down low until the two were on more solid relationship ground, but theories about their alliance hit the internet nonetheless.
It wasn't meant to be — the rumors have been shot down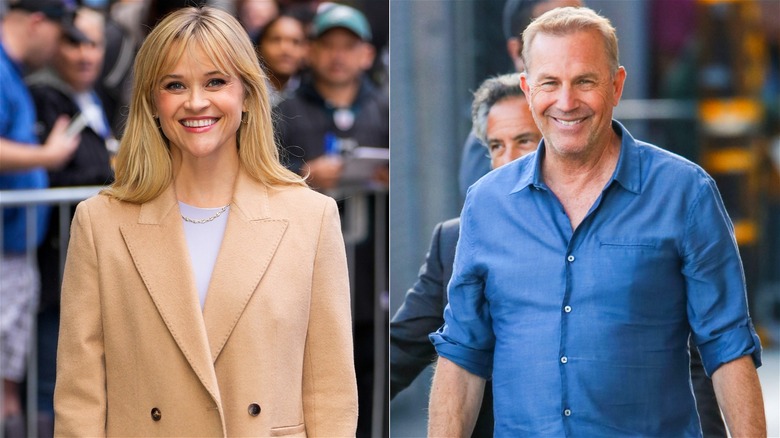 Gotham & Bg017/bauer-griffin/Getty
Singletons Reese Witherspoon and Kevin Costner were paired together as the newest romantic Hollywood couple when an unnamed source came forward to reveal underground info to the Australian magazine New Idea. "They've crossed paths many times ... but neither of them have been single, so it's always been professional," they said. "Now they're both open to love, sparks are flying!" 
Allegedly, the couple started with random texts about a movie script, which turned into daily non-showbiz communication, which then escalated to meet-ups and secret dates. Costner's partners have mostly been out of the limelight, but he did date supermodel Elle Macpherson, and there were rumors of a Halle Berry dalliance.
Witherspoon is no stranger to spending cuddle time with other actors; she was previously married to Ryan Phillippe and had relationships with Jake Gyllenhaal, Jeremy Sisto, and a handful of other leading men. Earlier this year, the producer and actor of "The Morning Show" was paired with another famous face, that of former NFL quarterback Tom Brady. In April, they were rumored to be seeing each other, but the affair was quickly dismissed by reps from both camps, with one source noting the two had never even met.
As it turns out, while Witherspoon and Costner have met, their relationship is also being denied by the Hollywood powers that be. Witherspoon's rep made an official and succinct statement to Page Six. "This story is completely fabricated and not true." 
There's still a chance for true love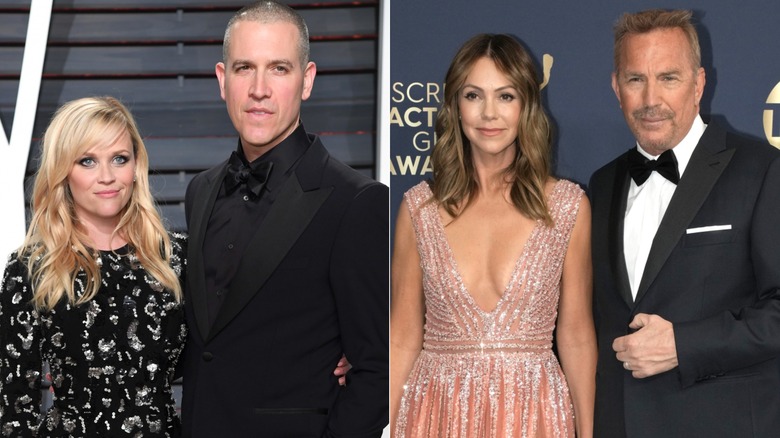 Karwai Tang & Jeff Kravitz/Getty
It might not be true love for Reese Witherspoon and Kevin Costner, but it's easy to see why fans jumped on the bandwagon, rooting for a romance between these two crazy kids. Both are newly single, and the world is eager to see them happily embedded in coupledom once again.
Witherspoon split from her husband of almost 12 years, Jim Toth, calling it quits in March 2023; their divorce was finalized just months later in August. Costner and his wife, Christine Baumgartner, went through a messy divorce after 19 years of marriage; they separated in April 2023, with paperwork finalized in September 2023.
Costner hasn't indicated he's on the lookout for another companion, but his romantic history would indicate he's a serial monogamist, with his first marriage lasting 16 years, and his second almost 20 years. 
Witherspoon has shared she's taking time for herself post-divorce but is a big fan of love and romance. During an interview with Vanity Fair about her rom-com "Your Place or Mine," she explained why the movie was significant for her. "Women in their 40s deserve stories, too. It's important to know that life doesn't stop after 40," she declared. "Our movie is about a single mom in her 40s getting second chances and finding love."