Matthew Perry And M. Night Shyamalan's Drunken Night Together Was Full Of Twists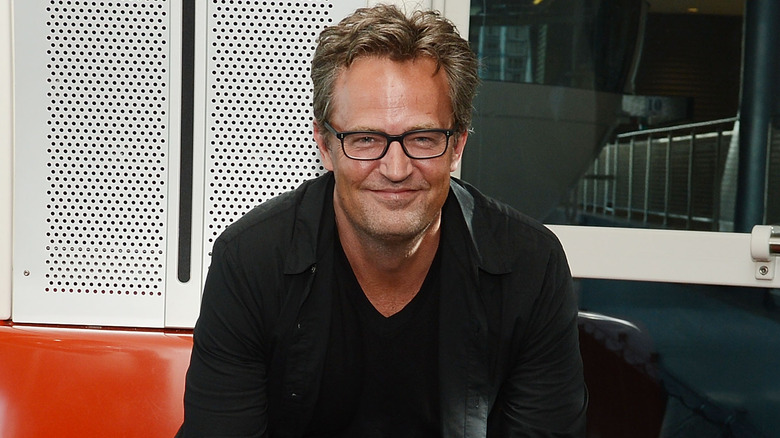 Denise Truscello/Getty Images
After his meteoric rise to success on "Friends," Matthew Perry was presented with numerous opportunities for meeting all kinds of celebrities, whether it was on set or a night out. When he was working on "The Whole Nine Yards," Perry and Bruce Willis formed a strong friendship that included wild partying as well as profound, heartfelt conversations. 
In addition, Perry's friendship with Willis led to the "Friends" star connecting with film director M. Night Shyamalan. In 2000, when Willis received a People's Choice Award for his performance in Shyamalan's film, "The Sixth Sense," he asked Perry to attend the ceremony and present him with the award. Perry briefly met Shyamalan backstage at the event.
Perry explained on "The Graham Norton Show" in 2016, six months after the award ceremony, he and the director crossed paths when Shyamalan happened to enter a bar where Perry was hanging out with some friends. They greeted each other, and Shyamalan joined the group. They enjoyed a couple hours' worth of conversation, and Perry was impressed with how much Shyamalan appreciated his humor. The two men then went to a different club and kept partying. Given their strong rapport, Perry suggested that they should work on a film together, only to have Shyamalan look at him quizzically. Eventually, a friend of Perry's came over and revealed some jaw-dropping news: The man wasn't Shyamalan.  However, Perry's story is more complicated than just mistaken identity, as the real Shyamalan explained in 2021.
Perry and Shyamalan actually did hang out together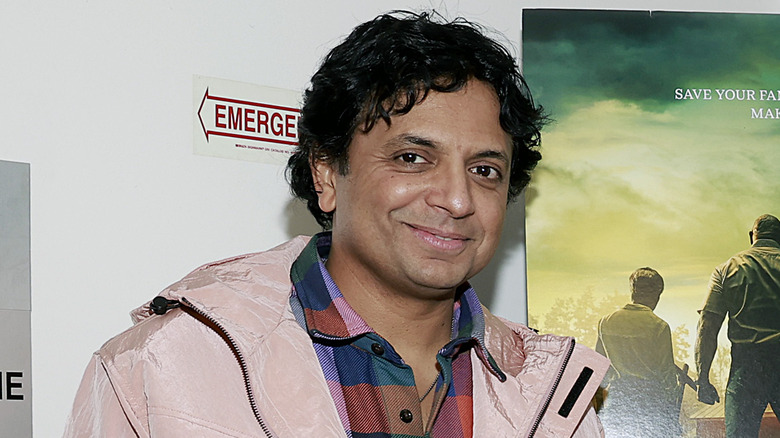 Jason Mendez/Getty Images
Director M. Night Shyamalan is renowned for creating startling plot twists in his films. In the case of his encounter with Matthew Perry, life imitated art. When Shyamalan appeared as a guest on "The Graham Norton Show" in 2021, he told his side of the story about what happened that night with Perry. "We did hang out. We had a great time and he was very funny," Shyamalan recalled.
According to Shyamalan, he and Perry did spend time together at that first bar. However, when Perry wanted to change locations and keep partying, Shyamalan was tired and ready to call it a night. In addition, there was another individual in the bar who kept trying to insert himself into Perry and Shyamalan's conversation. The director believes the mix-up occurred when he went home and the determined fan accompanied Perry to the next club. Like Shyamalan, this man was also Indian, which could explain why, in Perry's inebriated state, the actor didn't realize a switch had been made. After Perry's friend informed him of his mistake, "He second-guessed himself that we actually had this evening together," Shyamalan surmised.
As for Perry, he later learned the actual identity of the Shyamalan look-alike. The man he partied with at the second place worked as a restaurant maître d,' which was why he was startled by Perry's request that they collaborate. 
Perry understood the feeling of being in awe of an actor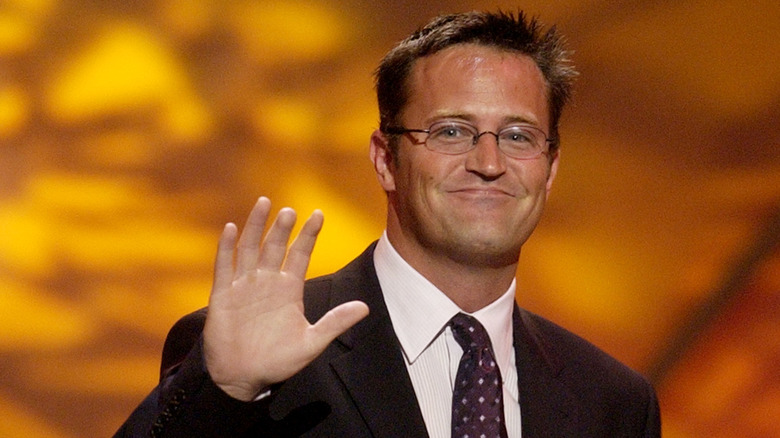 Michael Caulfield Archive/Getty Images
Like the enthusiastic "Friends" fan who resembled M. Night Shyamalan and was determined to hang out with Matthew Perry, the actor empathized with the feeling of being dazzled by a celebrity. When Perry joined the cast of "The Whole Nine Yards," even though he was a household name and acting on "Friends," he felt he needed to do more than just be himself to become friends with his co-star Bruce Willis.
"Bruce laughed at all my dumb jokes – he seemed to enjoy the spectacle of a younger, funny guy paying his due respect and keeping up with his drinking (if only he knew)," Perry wrote in his memoir, "Friends, Lovers, and the Big Terrible Thing." Unfortunately, Willis had a reputation for intense partying. Meanwhile, Perry was struggling with addiction and resorting to combining quantities of alcohol and Xanax to make it to the set the next morning.
Despite their strong bond, as the years went on, Perry and Willis didn't get many opportunities to spend time together. However, Willis remained in Perry's thoughts, and he expressed his admiration and concern for his friend in the wake of Willis' devastating health struggles with aphasia, later diagnosed as frontotemporal dementia.  Likewise, while Shyamalan voiced his desire to spend time with Perry again, it's not known if they were able to meet up before Perry's untimely death on October 28, 2023.
If you or anyone you know needs help with addiction issues, help is available. Visit the Substance Abuse and Mental Health Services Administration website or contact SAMHSA's National Helpline at 1-800-662-HELP (4357).