Tragic Details Of Frances Bean Cobain's Life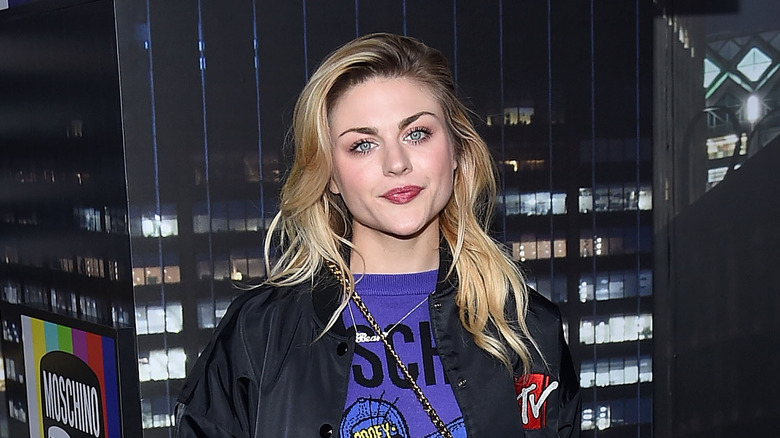 Jamie Mccarthy/Getty Images
Trigger warning: This article contains mentions of drug addiction and suicide.
The early '90s was a brilliant time for grunge music, and Nirvana's frontman Kurt Cobain was at the height of his career when he got together with Hole frontwoman Courtney Love. While the way their relationship began remains unclear, some believe them to have met as early as 1989 and, after Love pursued Cobain for some months, they made their relationship official by the end of 1991. When the couple tied the knot in Hawaii in February 1992, Love was already pregnant with their daughter. On August 18, 1992, Frances Bean Cobain was born, but being the only child of two tempestuous rock stars wasn't going to be easy.
To give one idea of what Frances Bean was born into, one music executive described Love and Cobain's relationship to Vanity Fair just weeks after she was born. "Courtney and Kurt are the '90s, much more talented version of Sid and Nancy. She's going to be famous, and he already is, but unless something happens, they're going to self-destruct. I know they're both going to be big stars. I just don't want to be a part of it," he said.
Over the years, Frances Bean has grown up and managed to overcome countless hurdles, but it was far from easy. Between her father's devastating suicide and parents' drug use, custody battles, and difficult divorce, her life has been marred by tragedy from the get-go.
Courtney Love used drugs while pregnant with Frances Bean Cobain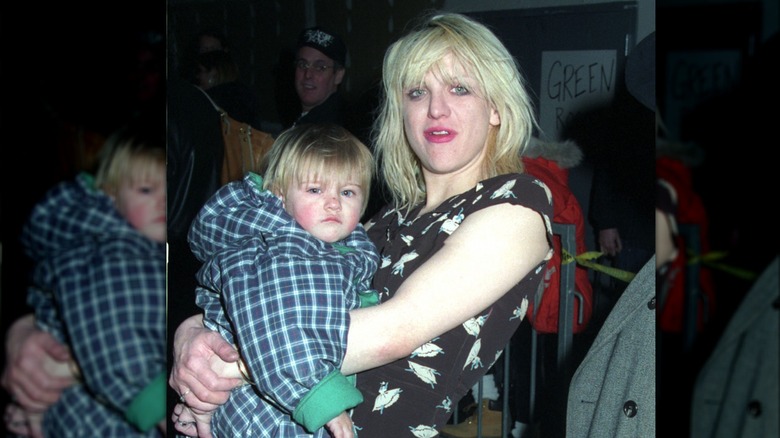 Jeff Kravitz/Getty Images
Since she hit the limelight, Courtney Love has been a controversial pop culture figure known for her contentious statements, drug use, and arrests. It was widely believed that she was the one to introduce Kurt Cobain to heroin because they used drugs together and were in and out of rehab. In September 1992 Vanity Fair profile on Love and Cobain's relationship, questions emerged regarding her pregnancy with Frances Bean.
Love claimed that they had gone on a "binge" in January of that year, and a business associate also spoke of the incident, saying, "It was horrible. Courtney was pregnant and she was shooting up. Kurt was throwing up on people in the cab. They were both out of it."
For years afterward, Love denied ever using drugs while pregnant, but she finally set the record straight in 2011 while speaking with The Fix. "I used heroin in the first three weeks of my pregnancy — but so f***ing what?! I didn't even know I was pregnant at the time. I also took a few puffs on a cigarette when my belly was out to here, but most of those nine months, I walked around with nicotine patches all over my body," she said.
If you or anyone you know needs help with addiction issues, help is available. Visit the Substance Abuse and Mental Health Services Administration website or contact SAMHSA's National Helpline at 1-800-662-HELP (4357).
She was removed from her parents' custody as a baby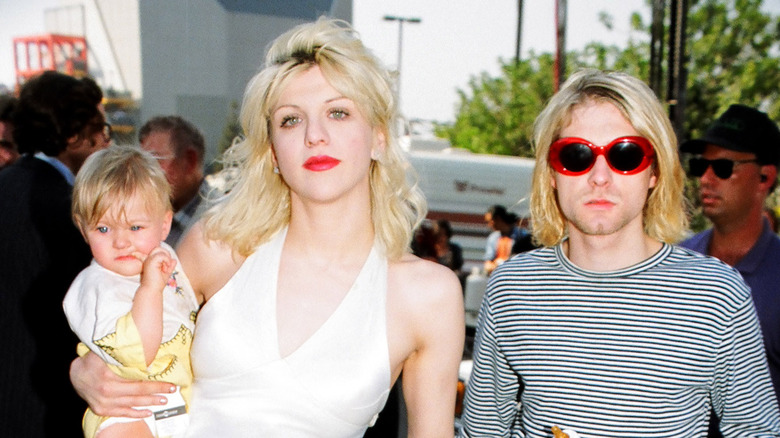 Jeff Kravitz/Getty Images
The Vanity Fair article had surfaced when Frances Bean Cobain was only a couple of weeks old and, upon reading the allegations of Courtney Love's drug use while pregnant, she and Kurt Cobain issued a statement. "We unequivocally deny this. ... As soon as Courtney found out she was pregnant, she immediately contacted an obstetrician and a doctor specializing in chemical dependency and has been under their care since then and has been assured that she can expect to have a healthy baby," it read.
However, the profile had already caught the attention of child welfare officers and an investigation was launched. Frances Bean was taken from her parents' custody when she was just a few weeks old, but the case was eventually dismissed and she was returned to Love and Cobain after a short time. Sadly, this was only the first time Love would lose custody of her daughter.
Kurt Cobain ended his life when she was a toddler
In March 1994, Kurt Cobain had been struggling with his fame, drug use, and chronic stomach pain when he checked into a hotel in Rome. In what was later determined to be a suicide attempt, he overdosed. After a few days in the hospital, he was allowed to return home to recover. After a handful of frightening incidents, Cobain's friends and family held an intervention for the Nirvana frontman and insisted he check himself into rehab. Sadly, on April 5, 1994, Cobain killed himself, leaving behind his wife and daughter.
Frances Bean Cobain wasn't even 2 years old when her father ended his life, and it stuck with her forever. In a 2014 interview with The Guardian, Lana Del Rey made a statement about wishing she were dead, and Frances Bean was quick to comment about it on X (formerly known as Twitter). "[T]he death of young musicians isn't something to romanticize. ... I'll never know my father because he died young & it becomes a desirable feat because ppl like u think it's 'cool.' ... Well, it's f***ing not. Embrace life, because u only get one life. The ppl u mentioned wasted that life. Don't be 1 of those ppl," she wrote.
If you or someone you know is struggling or in crisis, help is available. Call or text 988 or chat 988lifeline.org.
Frances Bean Cobain dealt with her mother's drug addiction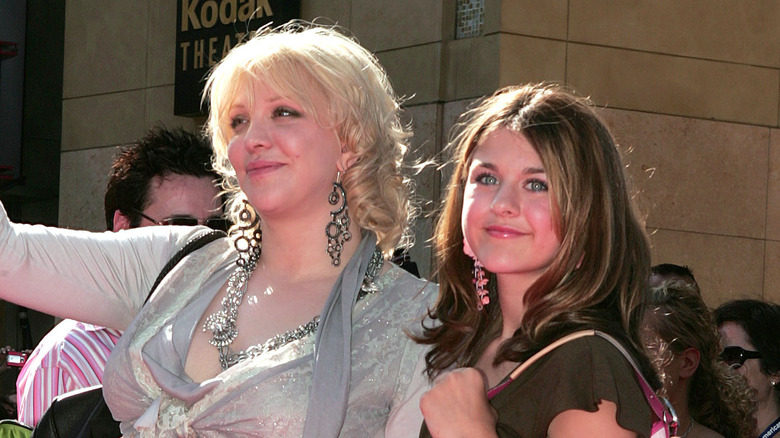 Christopher Polk/Getty Images
In October 2003, when Frances Bean Cobain was just 11 years old, Courtney Love had a rough night filled with breaking and entering, an arrest, and overdose of OxyContin. Thankfully, she wasn't present when Love smashed the windows of her boyfriend's home, nor was she there when Love was arrested, but she was at home with her nanny when her mom overdosed. Cobain made the Hole singer a cup of green tea while they waited for the ambulance. As Love told People afterward, "That's the only time my daughter has ever, ever, ever pitched in on one of my little crises. I made it fun. I said it was going to be gross and I was going to have to make myself throw up, but it was going to be okay." As a result, Cobain was temporarily placed in the custody of her paternal grandmother, Wendy O'Connor.
After many years, Cobain spoke on an episode of RuPaul's podcast "What's the Tee?" about how she views Love's behavior now, saying, "She doesn't know how to sit with herself because she's so deeply empathetic and so intelligent that when she has to just sit inside her skin, she doesn't know how to handle that. So, she's highly self-destructive as a result of not knowing what to do with all that information and feeling."
She didn't love her life in the spotlight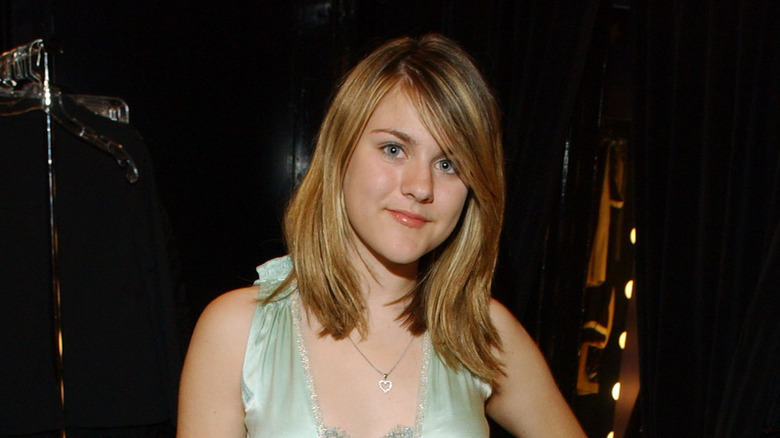 Amy Graves/Getty Images
The cameras were on Frances Bean Cobain as soon as she was born. When her father died, the public was eager to know how well Courtney Love was going to take care of her, and with that came unwarranted tabloid attention and fame at a very young age. In 2006, a then-13-year-old Cobain spoke with i-D Magazine about her dissatisfaction with the spotlight. "I wish our lives weren't so hustle and bustle and tabloid and all that stuff wasn't going on. Sometimes, I wish I wasn't so much home alone and that it wasn't about nannies and chauffeurs. ... But then my friends say, 'Gee, I wish I had your life.' Sometimes, I think, 'Gee, I wish I had your life, too.' We all play that game," she said.
This was something Cobain felt for many years, and fans of her parents became obsessed with her when she was still a child. In speaking with Harper's Bazaar in 2008 about the thousands of fan sites about her that populated the web, Cobain explained, "These people are fascinated by me, but I haven't done anything. I'm famous by default. I came out of the womb and people wanted to know who I was because of my parents."
Courtney Love lost custody of Frances Bean Cobain again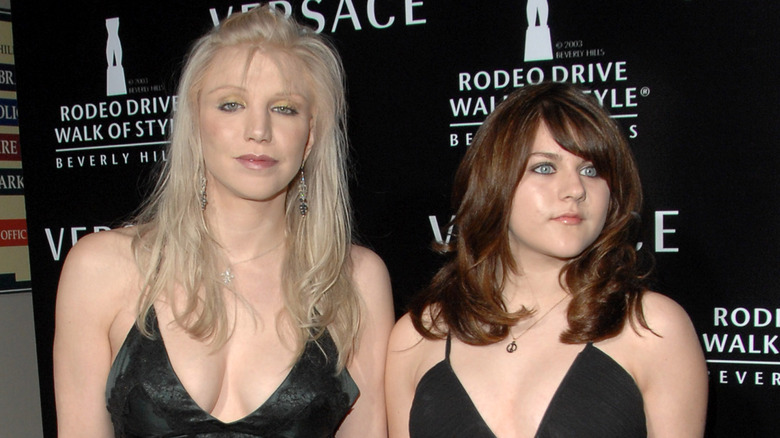 Jon Kopaloff/Getty Images
Frances Bean Cobain's grandmother was her legal guardian from 2003 until 2005, following Courtney Love's arrest and overdose. She returned to her mother's custody as a teen, but just a few years later, she went back to living with Wendy O'Connor and her aunt Kimberly Dawn Cobain.
In 2009, Love's lawyer spoke with People about the case while the guardianship hearing was pending, explaining that the change in custody had nothing to do with his client's drug use. "Courtney's been clean for years and is perfectly fine. This is simply about Frances preferring to live with her grandmother at this time. Frances is 17 and a strong-willed child, and this is a decision she made on her own," he stated. Although the public knew little about the reasons for Cobain's decision to live apart from her mother, Cobain had built a case that would soon become headline news.
She filed a restraining order against her mom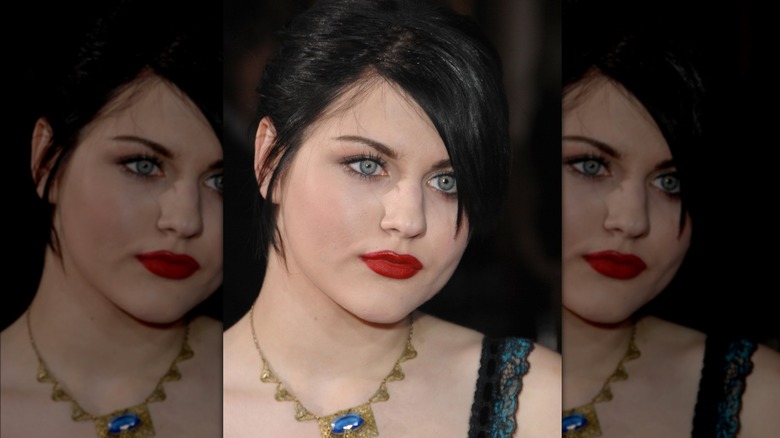 Steve Granitz/Getty Images
The relationship between Frances Bean Cobain and Courtney Love has been tumultuous for years, but everything came to a head when the rock star's daughter filed a restraining order against her mom in December 2009. The court documents detailed a physical altercation between the two, as well as unstable behavior on Love's part, as Cobain cited, "'She rarely eats. ... She often falls asleep in her bed while she is smoking, and I am constantly worried that she will start a fire (which she has done at least three times) that will threaten our lives."
Cobain also claimed that her mother was surviving on just drugs, sugar, and cigarettes, and that she was the reason two of the family pets died. A cat, she claimed, died after becoming trapped in Love's hoarded clutter, and their dog allegedly died after ingesting some of the singer's pills. In addition to her mother's drug use and frightening habits, Cobain detailed how Love had become obsessed with exposing supposed fraud, saying she would spend a lot of her time raging about it "She slams doors, breaks things, stomps around the hotel or apartment, and spends hours on the phone, yelling," she said. The judge granted Cobain the restraining order, which extended to her paternal grandmother, her aunt, and her dog Uncle Fester.
Frances Cobain Bean publicly feuded with Courtney Love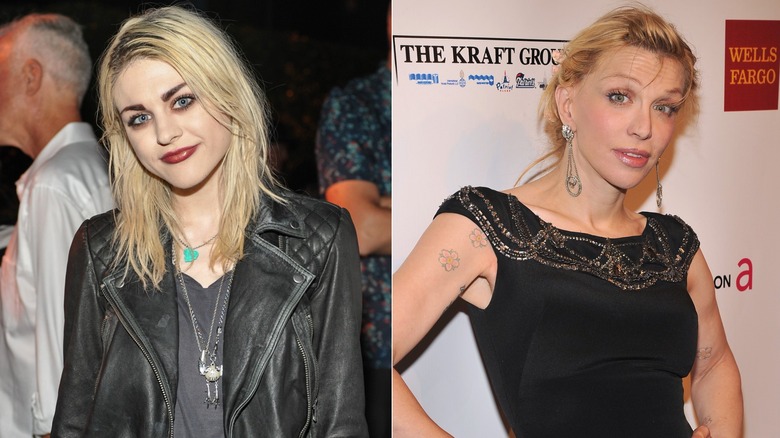 Theo Wargo/Getty & Stefanie Keenan/Getty Images
Now an adult, it seemed that Frances Bean Cobain was keeping her distance from Courtney Love and her life was on the up. She became engaged to musician Isaiah Silva, exhibited her art at a gallery in Los Angeles, and began a modeling career, making a name for herself that was separate from her parents' legacy. But unfortunately, in April 2012, Love popped up again in Cobain's life, taking to X (formerly known as Twitter) to make a series of shocking allegations about Nirvana drummer and Foo Fighters frontman Dave Grohl.
The Hole singer claimed that he had "hit on" Cobain, whom he had known since she was a baby, saying, "I'm not mad at her, him I am about to shoot, dead." Grohl's representative denied the accusations, calling them "upsetting, offensive, and absolutely untrue," and Cobain issued her own statement against the allegations, too. "While I'm generally silent on the affairs of my biological mother, her recent tirade has taken a gross turn. I have never been approached by Dave Grohl in more than a platonic way. I'm in a monogamous relationship and very happy," it read.
Their public feud became ammunition for the gossip columns and, shortly thereafter, Love tweeted her apology to Cobain in a brief post. "Bean, sorry I believed the gossip. Mommy loves you," she wrote.
She went through a messy divorce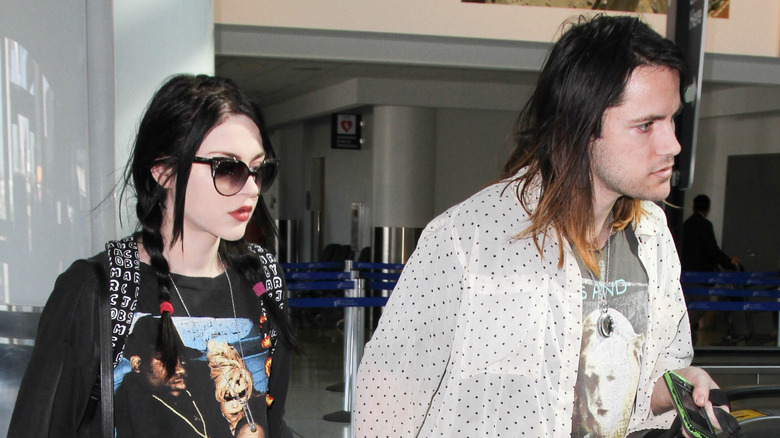 Gvk/bauer-griffin/Getty Images
Frances Bean Cobain was 22 when she married The Eeries singer and guitarist Isaiah Silva in 2014. In speaking about her reason for tying the knot so young while on RuPaul's podcast "What's the Tee?" in 2019, Cobain explained, "I met a guy when I was 17 and newly emancipated from my mother. [He] gave me a sense of, like, normalcy and stability." The couple were married for less than two years, filing for divorce in March of 2016. But being the daughter of Kurt Cobain made splitting assets a little tricky.
While Silva didn't receive any of Cobain's father's $450 million estate, he did end up walking away with a valuable possession. Silva claimed Cobain gifted him her dad's famous Martin D-18E guitar, which was played during Nirvana's 1993 "MTV: Unplugged" performance, but she denied giving him the instrument. Nevertheless, the judge awarded Silva the guitar. Clearly, though, it had little sentimental value for the musician: He sold it at auction in 2020 for $6 million.
Frances Bean Cobain had a near-death experience in 2017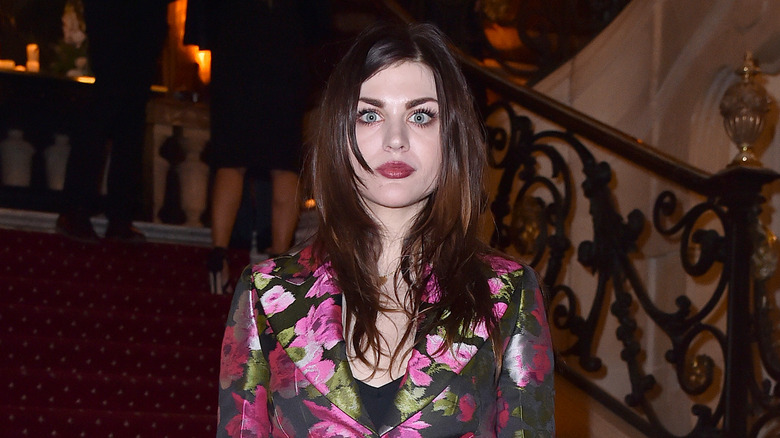 Jacopo Raule/Getty Images
In late September 2017, an Air France flight from Paris to Los Angeles was flying at 37,000 feet when one of its four engines failed. The plane made an emergency landing in Canada, and all of the passengers and crew were safe, but to those onboard, it felt like it could have been the end. Frances Bean Cobain wasn't initially meant to be aboard this flight, but she rebooked her tickets the same day so she could get home sooner.
A week later, she shared her experience on Instagram. "I have woken up everyday for the past week just grateful to wake up. When I felt the plane tilt, saw the wing directly in front of me catch fire, and basically came to grips with my own mortality I made a deal with myself. I promised myself that if I made it through, that I would no longer try to escape the moments of my life," she wrote. Thankfully, this experience had a positive outcome as it changed Cobain's entire outlook on life and set her off on a journey of self-improvement.
She dealt with her own addiction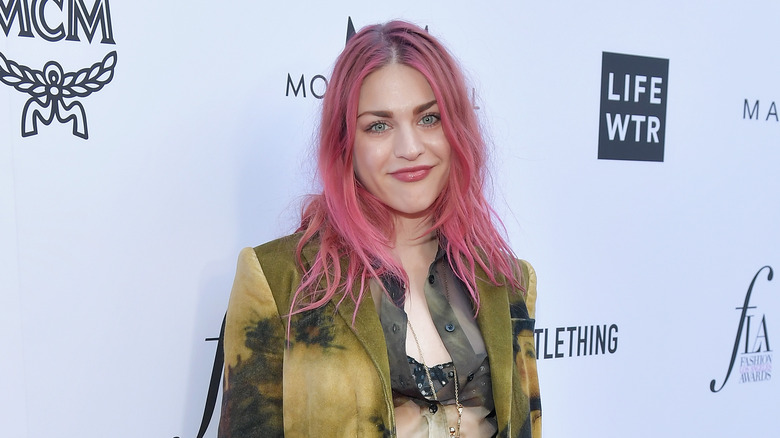 Neilson Barnard/Getty Images
Few people knew that after watching her mother struggle with drug addiction for many years, Frances Bean Cobain had been struggling with her own sobriety. That is, until she shared an intimate Instagram post in February 2018. While in Oahu, Hawaii, with then-boyfriend Matthew Cook, she posted a photo with the, "It feels significant here, now because it's my 2nd sober birthday. ... The fact that I'm sober isn't really public knowledge, decidedly and deliberately. But I think it's more important to put aside my fear about being judged or misunderstood or typecast as one specific thing."
Cobain went on to elaborate on how becoming sober has been far from easy for her, stating, "Self-destruction and toxic consumption and deliverance from pain is a lot easier to adhere to." However, she recognized that for the sake of her personal relationships and her own well being, getting sober was the right choice for her. Cobain added optimistically that sharing her story could in some way help those who may be going through something similar.
Frances Bean Cobain feels guilty for inheriting her father's fortune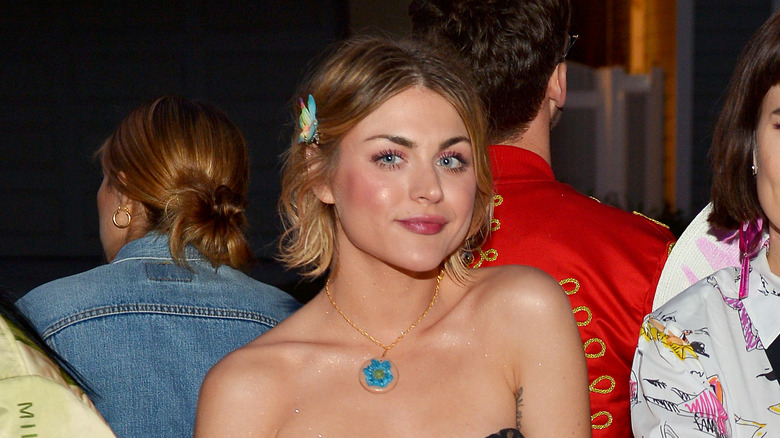 Donato Sardella/Getty Images
Before she had even been born, Frances Bean Cobain's parents were worth millions, and when her father died, she and Courtney Love inherited his fortune. A trust fund had also been set up for the rock stars' daughter, and at the age of 18, Cobain gained access to 37% of her father's estate. Having a seemingly endless supply of money just handed to you may sound like a dream come true, but even with an allowance of $100,000 per month, Cobain has struggled with her relationship to money.
In 2019, while speaking on RuPaul's "What's the Tee?" podcast, she explained, "My relationship to money is different because I didn't earn it, and so it's almost like this big, giant loan that I'll never get rid of. And it's like I have almost a foreign relationship to it or like a guilt because it feels like money from somebody that I've never met let alone haven't earned myself." Cobain added that because she was taught to live extravagantly, it took her getting sober to learn: "No matter how much money you think you have, it's not permanent."
She never thought she'd make it to 30
From her traumatic childhood to her frightening near-death experience and drug addiction, Frances Bean Cobain had lived through a lot before she celebrated her 30th birthday in August 2022. This isn't lost on her, and she shared her pride and triumph at overcoming so much and making it to her third decade in a candid Instagram post.
"I made it! Honestly, 20 year old Frances wasn't sure that was going to happen. At the time, an intrinsic sense of deep self loathing dictated by insecurity, destructive coping mechanisms & more trauma than my body or brain knew how to handle, informed how I saw myself and the world; through a lens of resentment for being brought into a life that seemingly attracted so much chaos and the kind of pain tied to grief that felt inescapable," she wrote. Cobain added that it was her near-death experience in 2017 that brought her "radical gratitude," and now, she couldn't be prouder to be where she is today.
Today, the model is living life to the fullest and hasn't let her tragic past obscure her bright future. In October 2023, Cobain tied the knot with skateboarder Riley Hawk (son of skateboarding legend Tony Hawk) in a private ceremony, and the two look as happy as can be.