The Sweet Connection Courtney Hope's The Bold And The Beautiful Role Has To Her Late Grandmother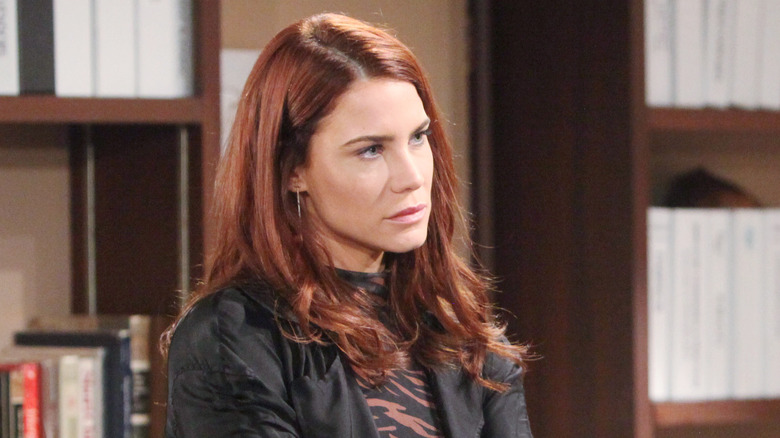 Howard Wise /jpistudios.com
Actor Courtney Hope had a special bond with her grandmother the same way her character, Sally Spectra, is forever connected to the matriarch of her family, Shirley Spectra. Daytime television fans might know Sally as the sultry fashion designer who has been caught up in a Newman love triangle on "The Young and the Restless," but before then, she was stitching, sewing, and creating runway looks on "The Bold and the Beautiful." 
Sally eventually moved from Los Angeles to Genoa City because of a broken heart. She was devastated when her boyfriend, Wyatt Spencer (Darin Brooks), left her for his high school sweetheart, Flo Fulton (Katrina Bowden). Well, it certainly didn't take long for Sally to pack up her suitcases along with the pieces of her broken heart, just to have it broken all over again when she and Adam Newman (Mark Grossman) lost their baby on "Y&R." Hope told Soap Opera Digest that her character was never really a bad girl like her grandmother Shirley Spectra, but just sometimes put in a bad place. She told the publication, "Sally's actually never been a villain. She does things with pure intentions, but they just always went terribly wrong."
And while Sally Spectra's relationship with her grandmother isn't nearly as wholesome as Hope's real-life bond to her grandma, the sweet connection between her "B&B" role and her grandmother is just as interesting.
Courtney Hope's grandmother was a huge B&B fan
Courtney Hope considers herself very lucky because she's very close to her family (which she loves sharing on her Instagram account). Landing the role as Sally Spectra on "The Bold and the Beautiful" was not only a dream come true for Hope, but maybe one for her late grandmother as well. In an interview with Soaps.com, Hope explained that her grandmother was a huge fan of daytime television, so much so that she would never miss an episode of "All My Children." Hope's grandmother even moved to Los Angeles with her when she began auditioning for soap roles. Hope says that on the anniversary of her grandmother's death, there was a particular photo that made her quite emotional. She explained, "It was this photo of her from 2011 at my aunt's house, and she's baking cookies at Christmastime — and in the background the TV is on and it's got Don Diamont's [Bill Spencer] face on "The Bold and the Beautiful" and I'd never noticed before. And I was crying. I know she had a hand in me getting this part, even though she's not here."
Even though Hope's grandmother is no longer with her, she is definitely with her in spirit in more ways than one. In fact, Hope says that she learned that her relationships with those whom she cares about the most have helped her form an even better relationship with herself.
Courtney Hope says losing her grandmother taught her a valuable lesson
Courtney Hope might not have a lot in common with her on-screen character, Sally Spectra, on "The Bold and the Beautiful," but if there's one thing they share, it's the connection they have with their grandmothers. Shirley Spectra was influential for Sally (per Soaps In Depth), just like Hope's real-life grandmother was for her.
Hope often takes to her Instagram account to share some of her deepest and most honest feelings with her social media followers, as she did back in May 2023. In one particular post, Hope said that she was so scared of losing her loved ones that she lost a little of herself in the process, too. The actor put it this way, "I wish someone had told me that loving someone so deeply and putting others first is only noble when you are taking care of yourself, as well, in the process." We're sure Sally would agree with her.