Awkward King Felipe Moments Caught On Camera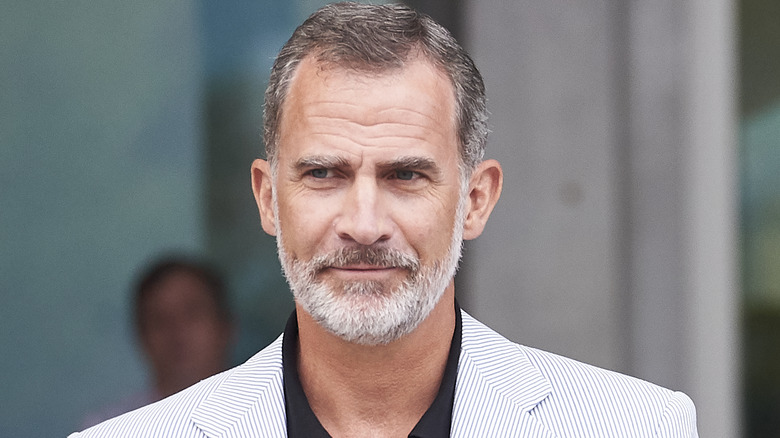 Borja B. Hojas/Getty Images
King Felipe VI has spent his entire life in the spotlight. Born in 1968 and declared heir to the throne in 1986 when he turned 18 years old, Felipe had to quickly learn that a member of the Royal Household of Spain must grow up in a sea of press and flashing cameras. The public's interest in the future king grew when King Felipe competed as an Olympic athlete in the 1992 Summer Olympics in Barcelona and, 12 years later, made waves yet again when he married the first commoner to become queen in Spanish history, Queen Letizia. After weathering the barrage of scandals in tax evasion brought on by his father, King Juan Carlos I, Felipe assumed his father's throne in 2014. 
Because the Spanish royal family has fallen in and out of favor with the public throughout the years, there is no doubt that Felipe feels a unique pressure to represent his country well. Whether he is carrying out official duties abroad, hosting events in the grand castles of the Spanish monarchy, or simply walking down the street with his wife or daughters, Princess Leonor and Infanta Sofía, King Felipe rarely goes through his day unseen. Although he and other European royals may follow a strict protocol designed to maintain their air of majesty, royally awkward moments will inevitably slip through the cracks. What's unique about being royal, however, is that these awkward moments are usually caught on camera for all to see.
When he awkwardly kissed Queen Elizabeth II's cheek
King Felipe VI and the late Queen Elizabeth II shared quite a unique bond as fellow monarchs and descendants of Queen Victoria. Following the death of Prince Philip in 2021, Felipe fondly addressed his distant cousin as "Aunt Lilibet" when offering his condolences in a letter to the mourning monarch. Sweet as the affection may be, it was the very same sentiment that led to an awkward moment between the Spanish king and the British monarch years earlier. 
In July 2017, King Felipe and Queen Letizia arrived in London for the first official state visit of a Spanish royal in 30 years. As is custom, they traveled to Buckingham Palace to meet their hosts, Queen Elizabeth and Prince Philip. In a greeting that appeared to take Elizabeth by surprise, Felipe kissed the cheek of his distant cousin before also kissing her hand. Abruptly, the smile that the queen previously wore fell away and was replaced with a rather serious and uncomfortable expression. 
According to Express, Felipe reportedly broke major royal protocol when he kissed Elizabeth on the cheek. Royal etiquette deems that, as a woman, the queen should have been the one to initiate the kiss and not Felipe. However, some people in the comment section of the YouTube clip were quick to defend the King of Spain, saying that their familial bond justified the familiar greeting. Regardless of the technicalities, the moment was undoubtedly cringeworthy.
An awkward embrace with King Charles III and Queen Camilla
While the King and Queen of Spain were visiting London in 2017, King Felipe VI experienced yet another awkward greeting with the Windsors. Although King Felipe and Queen Letizia share a close bond with the British royals, their reunions can still have their fair share of cringe. This particularly awkward meeting happened to be caught on video when King Charles III and Camilla, Queen Consort, visited the Spanish monarchs at their hotel just moments before they left for Buckingham Palace. The first greeting between Felipe and Charles was perfectly seamless — but then the stumbling began.
After Felipe greeted and shook the hand of his distant cousin, he suddenly seemed to freeze when it came time to greet Camilla. After what appeared to be a failed embrace, Felipe awkwardly kissed her cheek before chuckling nervously. Not far from this cringeworthy greeting, Charles and Letizia shared an awkward moment of their own when they too seemed unsure whether to embrace each other, shake each other's hands, or greet each other with a kiss on the cheek. These awkward exchanges seemed to be caused by the ladies' big hats that made it challenging to give a kiss on the cheek.
The royal confusion led to a delightfully uncomfortable moment that Vogue was quick to shine a spotlight on, claiming that the clumsy curtsies and shy smiles demonstrated by these powerful monarchs prove that "they're finally just like us!" 
An uncomfortable moment during a speech
When King Felipe VI succeeded his father, he inherited a monarchy that had fallen far from the public's graces. When the scandalous reign of King Juan Carlos I ended with his abdication in 2014, the monarchy's approval had fallen to a dismal 3.72 out of 10 (per El País). Because of a financial scandal involving Infanta Cristina and her husband as well as a controversial hunting trip in Botswana by the former king, the future of the Spanish monarchy looked uncertain. The troubles of King Juan Carlos multiplied in 2020 when allegations of corruption were raised and the disgraced king relocated to Abu Dhabi in self-exile.
Just four months after the former king left Spain, citizens tuned in to King Felipe's 2020 Christmas speech. Speculation around if and how the King of Spain would acknowledge his father's latest scandal grew. Sure enough, the mood turned awkward about 11 minutes into the 15-minute-long speech when Felipe began speaking on Spain's "ethical values." The camera began to slowly zoom in on the king's face as he claimed that "some principles that bind us all without exceptions; and that they are above any consideration, of any nature, even personal or family ones" (per Casa Real). This strong statement, paired with the king's solemn delivery, was received by audiences as a not-so-subtle jab at the disgraced King Juan Carlos. 
Getting caught in family tension
Many of the relationships within King Felipe VI's family are rather complicated. Beyond the rift between Felipe and King Juan Carlos I, there have also been reports of rising tension between Queen Letizia and her mother-in-law, Queen Sofía. Spanish publication El País claims that the "deteriorated" relationship between the two Spanish queens began with the births of Felipe and Letizia's daughters and has only become increasingly strained throughout the years. This speculated rift was confirmed by Letizia and Sofía themselves when tensions between them flared in April 2018 as the family gathered for Easter Mass on the island of Mallorca. 
Not long after the service concluded, Queen Sofía appeared to pose for photographers with her granddaughters Princess Leonor and Infanta Sofía as they exited the cathedral. However, this seemingly harmless photo op did not seem to please Queen Letizia who decided to stand in front of the cameras and effectively block any photograph from being taken. Then, Letizia began ushering her daughters away from their grandmother and even attempted to physically remove Sofía's hand from Leonor's shoulder. As the women exchanged inaudible but tense words, they began drawing the attention of other attendees including King Juan Carlos who awkwardly observed from afar. King Felipe then appeared to step in to resolve the conflict, speaking intently to Letizia before the clip abruptly ends, leaving global audiences shocked at the dramatic scene. 
When he almost took a royal tumble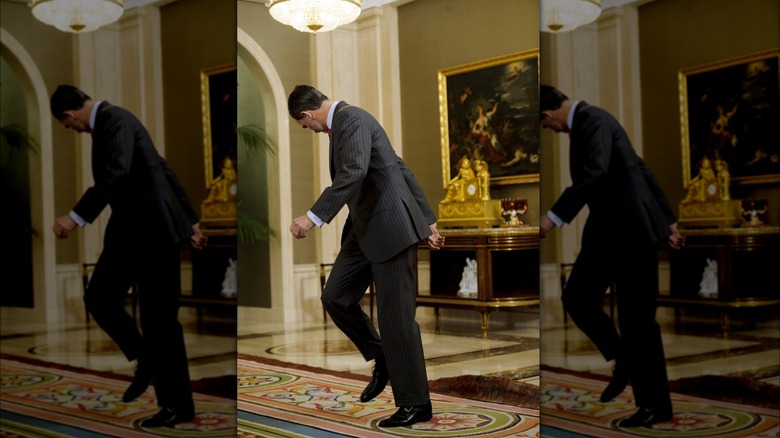 Juan Naharro Gimenez/Getty Images
In April 2018, just a few days after the tension between Queen Letizia and Queen Sofía on the island of Mallorca went viral, King Felipe VI was hosting leaders from around the globe in Madrid at the historic home of the Spanish monarchs, the Palacio de la Zarzuela. Perhaps it was the pressure of hosting world leaders in combination with the viral Easter moment that led Felipe to quite literally stumble as he made his way through the halls of Zarzuela. Or perhaps he was feeling rushed to join his guests for an official photocall. Whatever the reason, the usually dignified King of Spain temporarily lost his footing and tripped over a carpet right in front of the cameras.  All things considered, the blunder was relatively small, and Felipe was quick to regain his composure. The confidence with which Felipe continued walking ensured that the world leaders who awaited him would never imagine that the King of Spain had narrowly avoided a royal tumble just moments before.
Although he surely felt some degree of self-consciousness at the unfortunate stumble, perhaps King Felipe might have liked to know that he was not the only royal to lose their footing in front of the press. Even Catherine, Princess of Wales, experienced an awkward moment of her own when she tripped in front of the cameras. Like the Spanish king, however, she effortlessly brushed it off as only a true royal can. 
Looking confused as he joined musicians on the street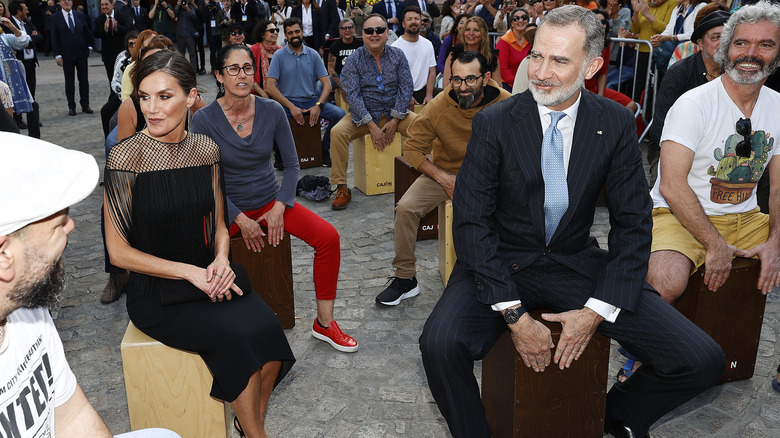 Carlos Alvarez/Getty Images
In March 2023, King Felipe VI and Queen Letizia traveled to the Andalusian city of Cádiz in support of the ninth annual Congress of the Spanish Language. During this annual symposium, events and lectures were held to celebrate the evolution and significance of the Spanish language and, as part of the event, the Cádiz City Council organized a gathering of musicians and volunteers to play a traditional box instrument known as a "cajon." A huge crowd gathered outside the Gran Teatro Falla in a "cajoneada" when they were spontaneously joined by the King and Queen of Spain (via YouTube). 
Queen Letizia was first to reach her cajon and smiled politely as she waited for her husband to join her. Two musicians led the rest of the group from the stage as King Felipe sat down on the musical box, looked around for a moment, and then timidly began to play. Though he easily matched the tempo of the group, he appeared to be out of his element as he giggled nervously and exchanged polite yet confused glances with Letizia who sat beside him with folded hands. After playing for about half a minute, Felipe stopped playing and awkwardly waited for the song to conclude. Afterward, he applauded the gathering and shook the hands of the lead musicians, who appeared to beam with pride at the chance to celebrate the tradition of flamenco with the King of Spain himself.
An awkward greeting with Princess Mary of Denmark
There's something about official state visits to other European countries that seems to bring the awkwardness out of King Felipe VI, for he experienced yet another awkward greeting with a fellow royal when he and Queen Letizia traveled to Copenhagen to visit with the Danish royals. Like the House of Windsor, the Danish royal family is distantly related to King Felipe and consequently, has developed their own bond with the Spanish House of Bourbon. In November 2023, the royals reunited for an official visit during which the economic and cultural relationship between Spain and Denmark could be given a "boost" (per Casa Real).
When the King and Queen of Spain stepped off the plane, they were greeted warmly first by the reigning monarch, Queen Margrethe II of Denmark, and then by Crown Prince Frederik who embraced King Felipe with enthusiasm. However, the awkwardness began when Felipe was welcomed by Princess Mary of Denmark. After greeting each other with a polite kiss on each cheek, Mary bowed deeply in front of Felipe who appeared to become uncomfortable at the gesture. Although the smile never left his face, Felipe seemed quick to help Mary back to her feet by supporting her forearm with a firm hand. The awkward moment passed quickly and both royal families continued with their outing, appearing glad to be in each other's company.
When a toast didn't go according to plan
Even in awkward moments, King Felipe VI and Queen Letizia make a solid team. One of these moments came in October 2023 during the third European Political Community (EPC) Summit which was hosted by the Spanish government in Granada. On one evening, the King and Queen of Spain hosted a gala in the stunning palace of Alhambra. During the gala, Felipe planned to present a toast to an audience of prominent guests including the President of Ukraine, Volodymir Zelenski, and French President Emmanuel Macron. As Felipe poised himself to deliver his speech, Letizia noticed that something was wrong: she had nothing to toast with.
While King Felipe thanked everyone for their attendance, Queen Letizia subtly tried to signal to staff members that she was missing a glass. However, she was left standing empty-handed as Felipe's speech concluded. As the King of Spain turned to Letizia, he finally realized that something was wrong. Laughing at the awkward slip-up, he offered his own glass to her and they raised the glass together. All Queen Letizia could do was awkwardly shrug as Felipe took a sip of his drink. Although the toast didn't go according to plan, it all seemed to work out in the end as the couple walked away from the microphone, side by side.