Details About John Stamos And Rebecca Romijn's Relationship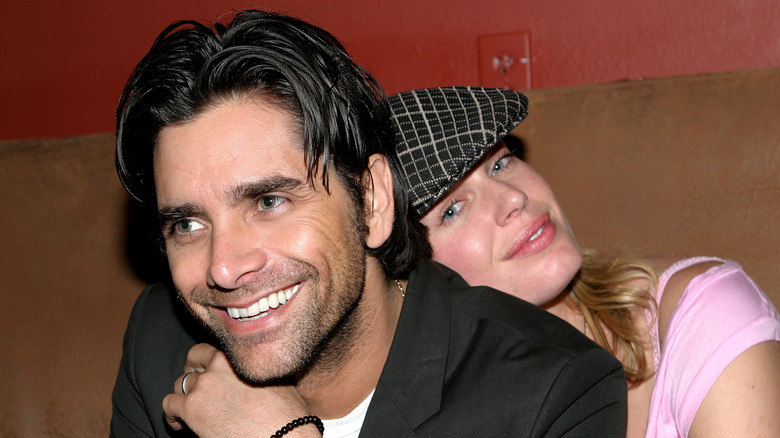 Randall Michelson Archive/Getty Images
As everyone's favorite uncle on the hit sitcom "Full House," John Stamos stole the hearts of people everywhere by balancing his swoon-worthy good looks with a slight goofiness and happy-go-lucky charm. In sharp contrast to his character, Uncle Jesse, Stamos' life has been filled with tragic details, including a painful divorce from model-turned-actress Rebecca Romijn. The actor talks about all of it, the good, the bad, and the ugly, in his 2023 memoir, "If You Would Have Told Me." He spares no details, including some brutal confessions about his ex-wife Romijn. Stamos told The New York Times that writing the book was the first time in his life that he had been completely truthful. "It wasn't the way I was raised. My dad was like, 'Don't talk about politics. Don't talk about religion. Keep it light. Keep it surface-y. Be Dean Martin.'"
Stamos ignored his father's advice and mined some deep topics. Many of his revelations were jaw-dropping, especially those he devoted to the Romijn years. The ridiculously photogenic couple seemed to have it all, but when the cameras were off, it was a vastly different story.  After six years of marriage, the pair called it quits, and Stamos went down a spiral of devastation that he said derailed him for years. He told People: "My first marriage was shattering to me. I was shattered for way too long, too."
They met at a Victoria's Secret fashion show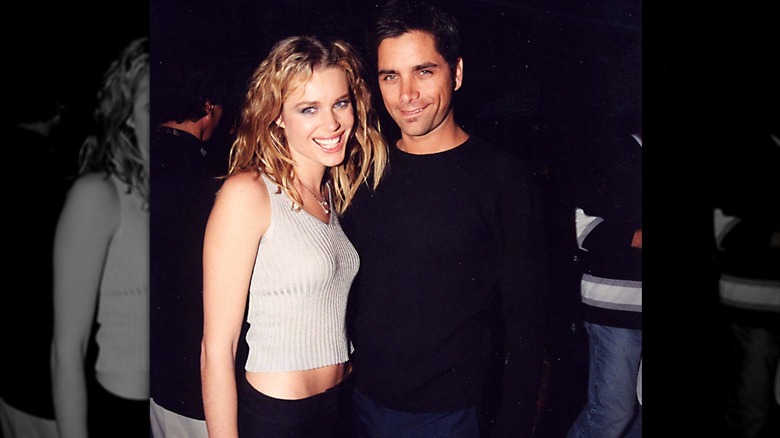 Jeff Kravitz/Getty Images
A lot of people probably dream of going to a Victoria's Secret fashion show and leaving with a model, but for John Stamos, that dream came true. Stamos was attending the lingerie giant's show in 1994 with his "Full House" wife Lori Laughlin when he saw his future wife, Rebecca Romijn, strutting her stuff on the catwalk. Of course, he didn't know the beautiful blonde with the flawless figure was going to be his wife at the time, but maybe Laughlin did. Stamos claims in his memoir (via ET) that Laughlin teased him at the show for his obvious infatuation. "As each leggy beauty walks down the runway, she shoots me a knowing look and maintains a little smirk," he writes. After swapping digits at the show's after-party, Stamos and Ramijn went on their first date to Disneyland. 
That Disney date was the start of what appeared to be a magical relationship that eventually led to marriage. But what about his on-screen spouse, Laughlin? Coincidentally, Laughlin played another Rebecca, Rebecca "Becky" Donaldson, who married Stamos' character Jesse Katsopolis. Although Stamos has admitted that they toyed with the idea of dating, the two never left the friend zone in real life. Still, Stamos' affection for his co-star is clear in his book, in which he describes her as "one of the few women I have spent day after day with and still always look forward to seeing her again."
The naked truth about how John Stamos proposed to Rebecca Romijn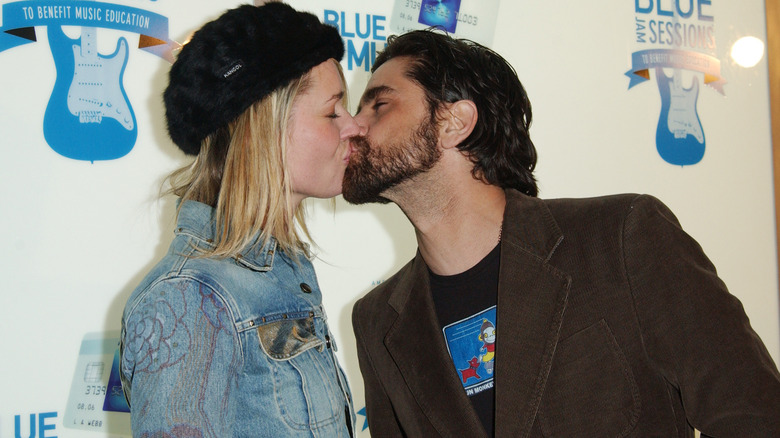 Jon Kopaloff/Getty Images
John Stamos bared his soul (and a lot more) on Christmas Eve 1997 when he proposed to his then-girlfriend Rebecca Romijn. After what might have been an X-rated moment, Stamos said he asked the "X-Men" star to spend the rest of her life with him while wearing nothing but the love in his heart. The decision was so spur-of-the-moment that he didn't even have a diamond to seal the deal. In an excerpt from his book (via Today) he recalls that fateful night, writing: "It's a spontaneous moment, so I don't have a ring. She gets a cigar band around her finger." 
Stamos eventually put a real ring on it, a four-carat emerald cut, to be specific, and the two exchanged vows in 1998 at the legendary Beverly Hills Hotel. The bride was beautiful in Badgley Mischka, and the couple seemed blissfully happy. The "Ugly Betty" star even began hyphenating her last name to Romijn-Stamos. 
With such a romantic start, you'd think the Hollywood hotties would live happily ever after, but the honeymoon was short-lived. They quietly separated in 2003, although they continued to appear together for publicity purposes. It seemed the pretense became too much, and they announced their separation formally in 2004 before Stamos filed for divorce in 2005. His official reason was irreconcilable differences, but thanks to the release of his memoir, we now know there was more to the story. 
Rebecca Romijn's rising star was too much for John Stamos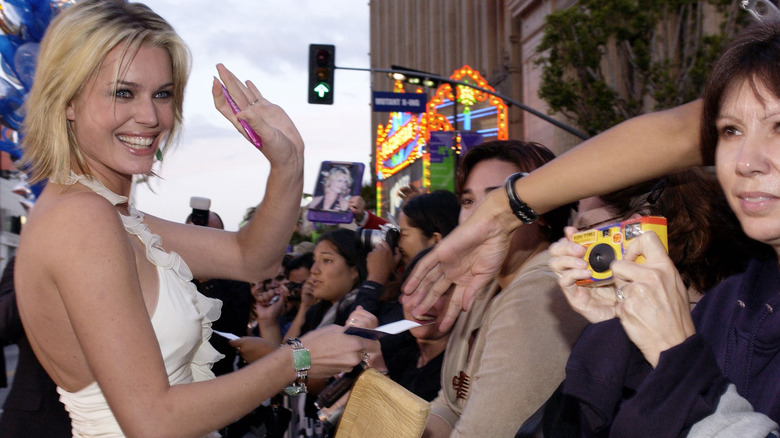 Chris Weeks/Getty Images
Rebecca Romijn has undergone a stunning transformation over the years and, when she met John Stamos, she primarily worked as a model. When she decided to try her hand at acting, the transition was virtually seamless and she landed some pretty impressive roles, including becoming part of the "X-Men" franchise.  In sharp contrast, Stamos' acting career was at a standstill due to the role that had made him a big star. Try as he might, he could not escape the pigeonhole of Uncle Jesse and "Full House," and it frustrated the actor, who at one time begged his agent to get him off the show. He told The New York Times that his role of a lifetime was both "a blessing and a curse," adding, "It's always killed me that that's what everybody knew me from, that mullet-headed ding-dong."
While Stamos did later go on to perform on Broadway and returned to television on "E.R." and "Big Shot" he says that during his marriage, his focus was on helping his wife live out her acting dreams. "My team is watching me pour a lot of creative energy and time into Rebecca's career, but they remain supportive, waiting for me to wake up and get back to my own thing," he says in "If You Would Have Told Me" (via Today). As Romijn's career gained momentum, the two began to drift apart. He writes, "We're trying new things and growing, but not together."
John Stamos hints at Rebecca Romijn's infidelity in his memoir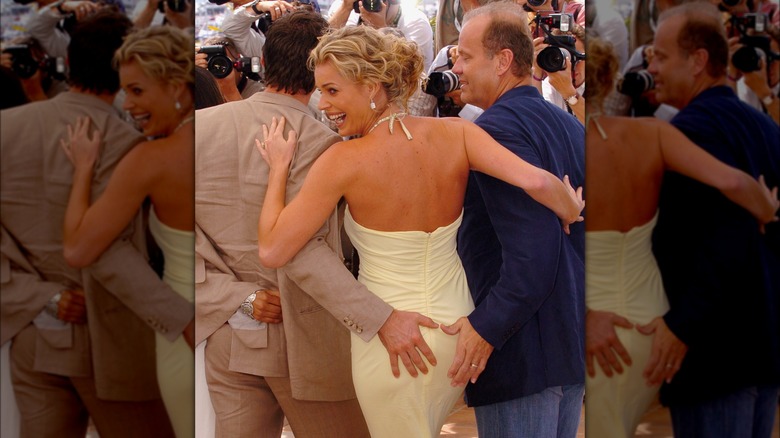 David Lodge/Getty Images
The general perception is that it was their different career paths that drove John Stamos and Rebecca Romijn apart, with Romijn leaving her less successful partner. Stamos told People that, while this is "humiliating" for him: "I don't blame her for it. It was just the perception that people took, and maybe they weren't wrong. She was doing great at that time and I wasn't." In his book, "If You Would Have Told Me," Stamos alludes to another reason for the breakup: infidelity. 
While he doesn't come out and say that Romijn was unfaithful, in one passage (via ET) he describes the growing distance between them and paints a vivid picture of a woman who is distracted and sneaking around, allowing the reader to draw their own conclusions: "She smiles at me a little less, doesn't look me in the eyes over dinner, takes phone calls in the other room. Whispers behind doors. She makes a trip to the store seem clandestine." In another passage (via Page Six), he expresses his feelings of betrayal, writing: "Betrayal starts as a sinking feeling in your stomach, grows into a suspicion that clouds your every thought, and by the time you find out the truth, it's uniquely horrible at first but also expected, like you've been waiting for something bad to happen."
John Stamos revealed the devil in the details of his divorce from Rebecca Romijn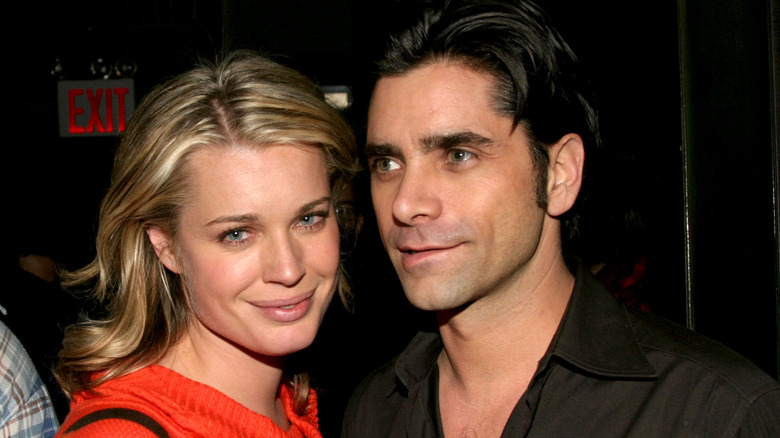 Bruce Glikas/Getty Images
It's a fine line between love and hate, and John Stamos experienced the entire gamut of those emotions during his relationship with ex-wife Rebecca Romijn. He goes from referring to her as his "best friend" in the pages of "If You Would Have Told Me" to accusing her of being Satan himself. In his interview with People, he shared, "In my mind back then, she was the Devil, and I just hated her." That's a pretty strong statement and one that has been often quoted since the release of his book. 
As with most things in life, however, hindsight is 20/20, and Stamos admitted to People that he has since realized that Romijn did try to work things out and that she cared about him. He also acknowledged that he was not blameless in the implosion of his marriage. "You start thinking, it's like, 'Oh, she wasn't the Devil. Maybe I was as much to blame as her.'" He also pointed out that you have to grow through what you go through, and he hopes it is that message that resonates with readers. "If I didn't go through all the things, all the heartache," the "Scream Queens" alum said, "I wouldn't be who I am today. That's what I hope people take away from it." For her part, Romijn has refused to publicly comment on her ex's very public diss.  
It was an empty house when John Stamos filed for divorce from Rebecca Romijn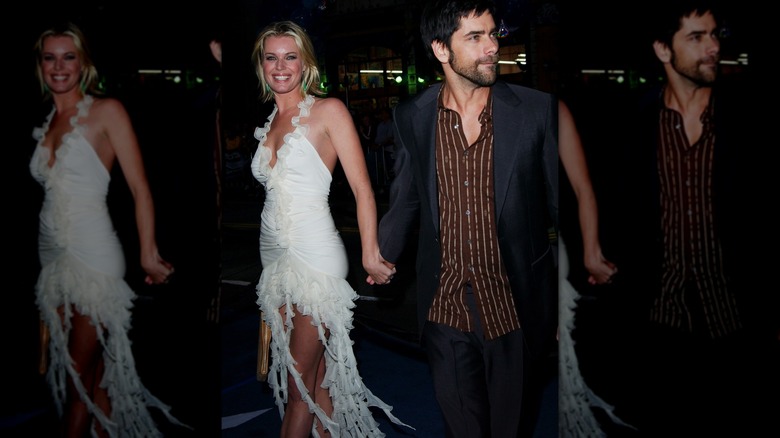 Jon Kopaloff/Getty Images
Divorces are never easy, but divorces that play out in the public eye make for an extra level of discomfort. "I'm heartbroken and feel like a failure. I thought I'd be the dad of three kids by now and grow old with Rebecca. ... I want that soulmate by my side through thick and thin, happy and dark times, for better and for worse. This is thin, dark, and the worst," Stamos confesses in his memoir (via Today). Romijn shared that sentiment. "Going through a divorce is terrible, it's awful," she admitted on "The Talk" in 2022 (via People). "Divorce feels like a failure and there were a lot of things that I had to let go of that were very sad."
However, the show must go on, and it was business as usual the day after the divorce announcement with Romijn attending the Los Angeles premiere of her movie, "The Punisher."  While she may not have had much to say in regard to the news, her co-star John Travolta spoke up, telling USA Today (via People), that he didn't see it coming. "But you can't judge until you know the situation," he added. "I've known John for a few years, but I just met (Rebecca) for the first time on this film."
John Stamos tried to drown his divorce sorrows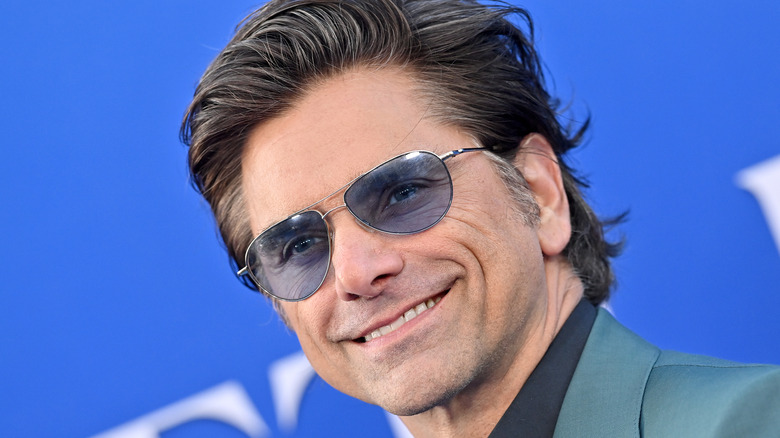 Axelle/bauer-griffin/Getty Images
Following what John Stamos described to People as a "very painful" divorce, Stamos turned to alcohol, and it nearly cost him his career and his life. His book, "If You Would Have Told Me," opens with the now infamous tale of a night in June 2015 when he drove blindly drunk down Rodeo Drive, swerving and weaving in and out of traffic. Police later found him passed out in his Mercedes and sent him to the hospital after slapping him with a misdemeanor DUI. That was enough to convince Stamos that it was time to get his act together. Thanks to the love and support of friends like the late Bob Saget and his "Scream Queens" costar Jamie Lee Curtis, Stamos was able to get sober. He entered a rehabilitation program in July 2015 and has been sober ever since. 
The "Grandfathered" star spoke with Howard Stern about the experience, saying: "I could have hurt somebody, it was really stupid and ignorant of me. And I hated myself for that. It was a bad, bad thing. So I said to myself, I have to stop this up and down, up and down, I have to." Stamos blamed not only his divorce but also the recent deaths of both of his parents for his downhill spiral. "I derailed over the years. I never really got back on track," he explained.
If you or anyone you know needs help with addiction issues, help is available. Visit the Substance Abuse and Mental Health Services Administration website or contact SAMHSA's National Helpline at 1-800-662-HELP (4357).
Both John Stamos and Rebecca Romijn live happily ever after but not with each other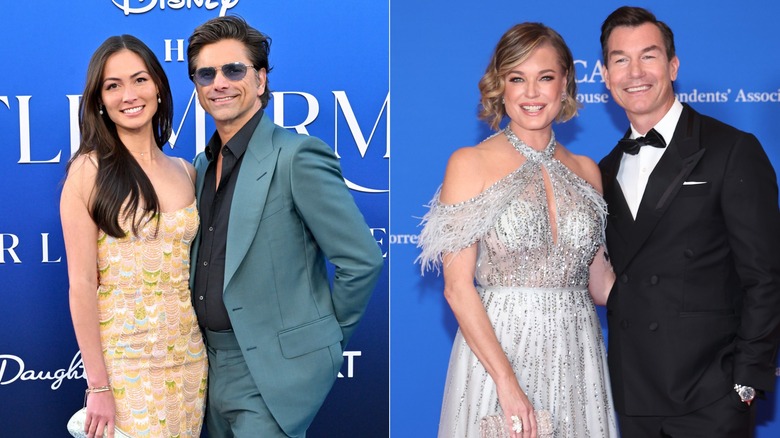 Axelle/bauer-griffin & Paul Morigi/Getty
The second time's the charm for the former couple. Post-divorce, both John Stamos and Rebecca Romijn went on to find love, happiness, and children with other partners. Romijn married fellow actor Jerry O'Connell in 2007, after meeting him at a Maxim Hot 100 party in Las Vegas. Together, they have twin daughters, Charlie and Dolly. 
Stamos met his wife, model and actress Caitlin McHugh, on the set of "Law and Order: SVU" in 2011, but didn't reconnect until 2015 and that's when things got serious. About two years after they began dating, McHugh discovered that she was pregnant. Stamos popped the question at Disneyland, this time fully clothed — it is a family theme park, after all! In an interview with People, Stamos said: "The [pregnancy] happened. Then I said, I better have a ring on her finger because it's the right thing to do, and I wanted to marry her anyway." Being an old-fashioned guy, Stamos called her parents to ask for their blessing, and the couple made it official on February 3, 2018. Their son, Billy, arrived just two months later, making their family complete. On "On Air With Ryan Seacrest," Stamos gushed: "You know, people are probably sick of me saying I've always wanted a kid, but it just happened. I guess I was waiting for the perfect wife, which I have."
Rebecca Romijn said she won't read John Stamos' book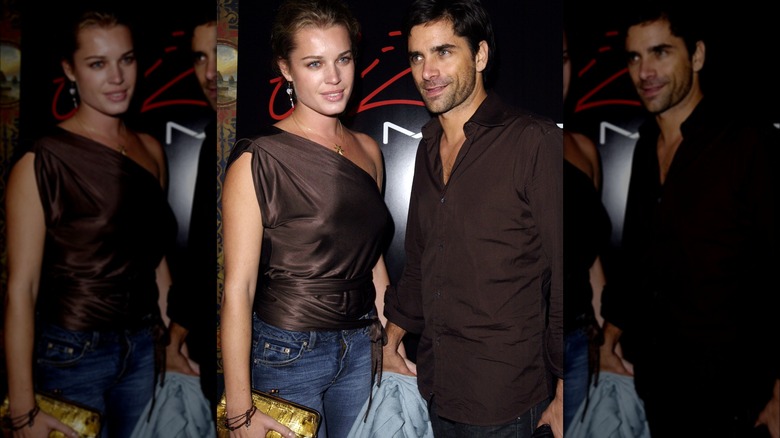 J. Vespa/Getty Images
There's one person who won't be reading John Stamos' memoir. Well, make that two: his ex-wife, Rebecca Romijn, and her husband, Jerry O'Connell. In an appearance on Andy Cohen's Sirus XM Radio Show, "Radio Andy," O'Connell told the host that any curiosity the couple had about it went out the window after they heard Stamos being interviewed on "The Howard Stern Show." He said: "I think those are the only parts we were interested in our house, and we got to them, and they were talked about, I don't really need to hear about the casting process of famous sitcoms. That's not something that really interests us."
Apparently, their twin daughters, Charlie and Dolly, feel differently. The girls caught wind of the name-calling and insults and O'Connell told Cohen that they have questions. "But it's pretty crazy when, you know, your kids come out for breakfast and they go, 'Hey, mom, your ex has a book out and called you the devil. What are your thoughts?'" The kids are another reason that O'Connell said that he and Romijn refused to jump into the media frenzy surrounding the book. In an episode of "The Talk," he said: "There's children involved, teenage children who read everything on the internet. So you don't want to feed that fire."
Rebecca Romijn said marriage to John Stamos wasn't all bad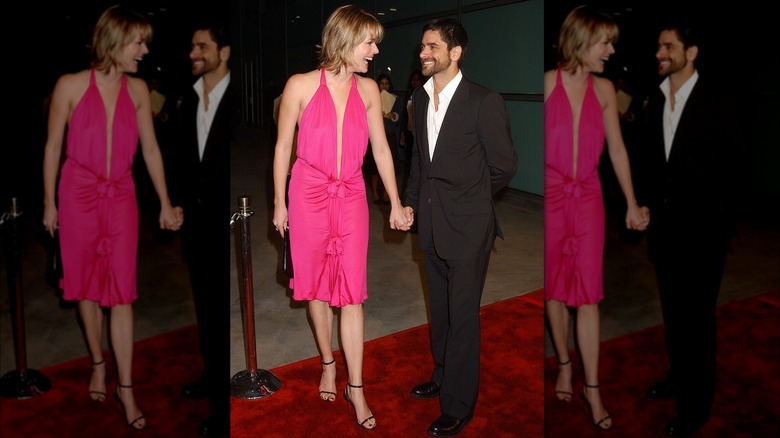 Gregg Deguire/Getty Images
John Stamos clearly had a lot to get off of his chest when it came to dishing the dirt on his marriage to Rebecca Romijn, but she has had nothing but kind things to say publicly about her ex in the past. In an interview on "The Talk" in 2022, Romijn spoke to her husband, host Jerry O'Connell, about her first husband and the pain of going through a divorce. Romijn was separated but not yet divorced from Stamos when she began dating O'Connell, and he said in the episode (via ET) that he saw firsthand the toll the situation was taking on his new girlfriend. However, he pointed out that when Romijn discussed her ex, she focused on the fun times more than the unpleasant years. 
Romijn admitted to the struggle of her marriage and subsequent divorce from Stamos and how she had to reconcile the good with the bad, saying: "I have a lot of fond memories of him. A lot of things about him that I miss. But yeah, it's tricky. It's a very hard decision to come to when you decide to end a marriage. It was heartbreaking." With the release of "If You Would Have Told Me," one can't help but wonder if those memories are still as "fond."