Tragic Details About Kerry Washington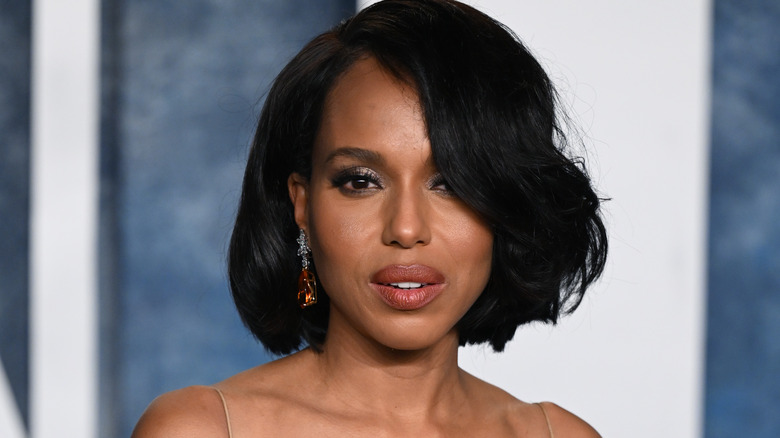 Karwai Tang/Getty Images
The following article contains references to substance use, eating disorders, suicide, racism, and sexual assault.
Though she has enjoyed an illustrious career on both the big and small screens, for many fans, Kerry Washington will forever be immortalized as the indefatigable Olivia Pope. Much of the "Scandal" protagonist's appeal lay in her strength and resilience in the face of stark adversity. Considering the palpable passion with which Washington imbues her performance, it should come as little surprise that the actor herself has had to overcome considerable obstacles behind the scenes.
Like Olivia, Washington is a trailblazer, becoming the first Black woman to lead a prime-time series since the 1970s. But getting to this esteemed position in her career has been no easy feat. Throughout the years, the star has been inundated with tragic setbacks, many of which she divulged in her 2023 memoir, "Thicker Than Water." Some of these misfortunes led to her suffering from imposter syndrome when she became successful. "It's exhausting to walk in the world and feel like your authentic, true self is not acceptable ... to put on a mask, or a façade, in order to maintain appearances," she told The Guardian. "It's stressful. And the more you play those roles that are in contrast to your authenticity, the more unacceptable your true self seems."
Though such hardship could very well have proven impediments to Washington's success, she persevered and has gone on to discuss her struggles in great detail to help others.
Kerry Washington discovered that her dad wasn't her biological father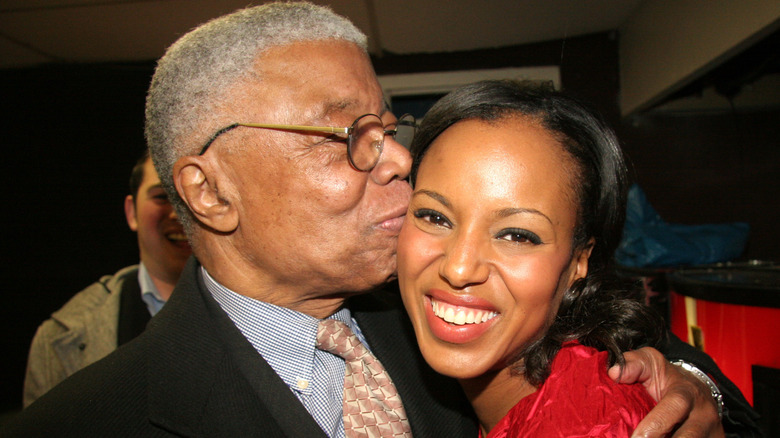 Johnny Nunez/Getty Images
Kerry Washington was raised in the Bronx by education professor Valerie Washington and real estate agent Earl Washington. But over 40 years later, Kerry discovered that Earl wasn't her biological father. Her parents had been struggling to conceive, so they went to a sperm bank where Kerry was conceived via an anonymous donor (to this day, she has no idea who her birth father is).
The actor was first told the news in 2018. She was set to star in "Finding Your Roots" when her parents became apprehensive over the idea that she would have to provide the show with a DNA sample. Subsequently, they finally told their daughter the truth. "I've always had this weird disconnect with my dad, but I thought that was my fault," Kerry explained to The New York Times. "I thought I wasn't a kind enough person. But the idea that I was not his never occurred to me. It was just, why can't I be better to him?"
At first, she was angry at her parents, asking them how long they were intending to keep the secret from her. In time, however, she has learned that Valerie and Earl were simply trying to protect her. "There's a phrase, 'You're as sick as your secrets,'" she told People. "I think there's some truth in that. There's so much healing and liberation in the truth and not feeling like we have to hide."
She was sexually abused as a child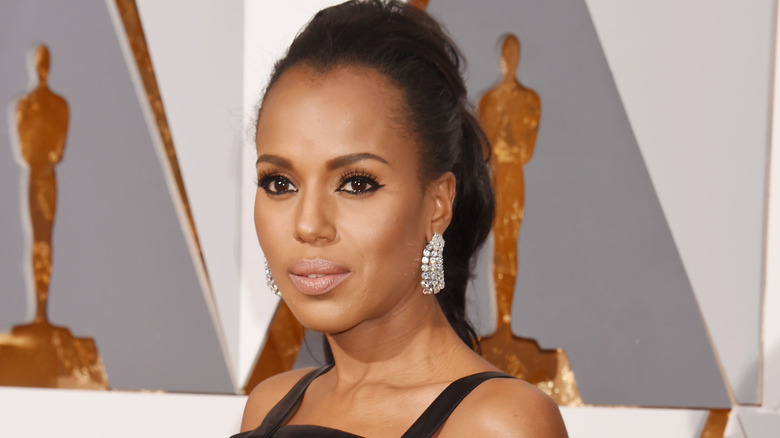 Jeffrey Mayer/Getty Images
When Kerry Washington was 10, she was repeatedly abused by a young boy, who was a family friend, during a series of sleepovers. She described the perpetrator as "the Frozen Boy" due to the fact that he was gaslighting her into believing that she had simply imagined the abuse (when confronted, he claimed that Washington was crazy); that is until she caught him molesting her one night.
Ultimately, she opted not to tell anyone about the abuse out of fear of ruining the boy's life and instead lived with the trauma for the rest of her childhood and into her adult years. Speaking to The Guardian, the actor acknowledged that, of all her multiple traumas, the sexual abuse was the most painful to open up about. "I haven't shared this because I want people to like me," she said. "I shared this because I want our culture to embrace honesty and vulnerability. I want that to be OK in our culture."
By openly discussing the abuse decades later, Washington has said that she is trying to heal her inner child. "That little girl made the choice to not tell anyone," she told "Good Morning America" in 2023. "I have a great deal of compassion for where the choice came from ... [I] feel so sad that she carried the burden of that on her own for so long. And so, I wanted to make a choice to tell a truth that she couldn't."
Kerry Washington struggled with an eating disorder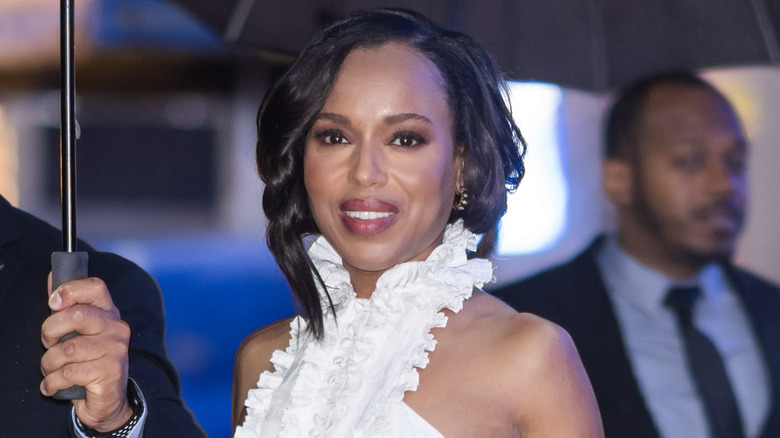 Gotham/Getty Images
While Kerry Washington was studying at university, she developed an eating disorder. "My relationship with food and my body had become a toxic cycle of self-abuse that utilized the tools of starvation, binge eating, body obsession, and compulsive exercise," she wrote in her memoir, "Thicker Than Water" (via The Guardian). In an interview with Essence, she described food as both her coping mechanism and her best friend during this dark period in her life.
The disorder became so severe that Washington felt suicidal. "I could feel how the abuse ... was a way to really hurt myself," she told "Good Morning America." "As if I didn't want to be here. Like, it scared me ... that I could want to not be here because I was in so much pain." Following a sit-down with a concerned dance teacher, Washington acknowledged she needed help. She went to therapy and, though she concedes that her body image struggles are ongoing, she is currently in recovery.
Speaking to The Hollywood Reporter, Washington attributed her negative body image to an obsession with perfectionism, as well as the impact of being sexually abused and family trauma. She argued that her illness was exacerbated by entering the Hollywood sphere, where women are routinely judged by their looks. "I definitely don't blame Hollywood, but I have chosen a profession where it is a playground full of opportunity to work on it and continue to liberate myself from it," she explained.
Her beloved dog died
Donato Sardella/Getty Images
Kerry Washington was devoted to her beloved dog, Josie B. As she explained to Allure in 2017, the pooch was pampered and frequently treated to spa days. "I'm very envious of my dog's spa schedule," she joked. "She gets a deep condition once a week. I'm lucky if I get a deep conditioning once a week." 
In 2019, she divulged on Instagram that Josie played an instrumental role in healing her heart and calming her down, an admission that's all the more poignant considering the tragic revelations that have surfaced since the release of Washington's memoir in 2023. "I didn't grow up with a dog so this angel has taught me soooooo much about the art of the cuddle," the actor wrote. "And making time for cuddles is definite self care." Josie also frequented the "Scandal" set. In 2015, Washington told People that her co-star, Joshua Malina, fell in love with the pup during her visits.
In May 2021, Washington was devastated when Josie died. "She was a witness to my life and to my journey and me to hers," she wrote on Instagram. "My heart unfolded when I met her and she will always live in the very fabric of my being. Last night Josie crossed over and transitioned into a world beyond this one. And a piece of my heart went with her." In tribute to her furbaby, Washington donated to the animal shelter Wags and Walks in Josie's name.
The actor experienced panic attacks for years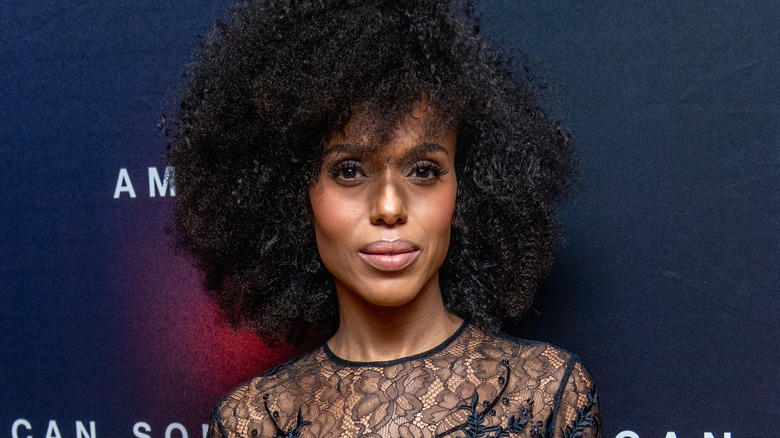 Roy Rochlin/Getty Images
Kerry Washington was raised amidst considerable familial discord. Dissatisfied with the directions their lives had taken, her parents were constantly arguing. At night, Washington lay in bed and could hear her parents' disputes in vivid detail, something that she found deeply distressing. "I had the sense that I was the only thing keeping them together, or that I had to try to be," she reflected in "Thicker Than Water" (via Oprah Daily). "I was supposed to deliver them to happiness, to avoid triggering in them any emotion even close to disappointment. So, when they fought, I took it as my failure."
Subsequently, she began suffering from severe panic attacks from the age of 7. "As they slammed doors and shouted obscenities at each other, I could feel the tension between them, vibrating through the wall," she wrote in her memoir (via The Guardian). "I developed panic attacks at night." Even on nights that her parents didn't argue, Washington was overwhelmed by a feeling of impending dread, fearing that the arguments could commence at any moment. Accordingly, these anxieties manifested in insomnia.
One night, Washington got out of bed to confront her parents over their quarrels. Her mother burst into tears when she saw her. "Watching me enter the stage in the middle of their war was a final stab at my mother's already wounded dreams," she reflected. Dreaming of a better life, these difficulties at home propelled Washington to become a high-achiever.
She watched her father struggle with substance misuse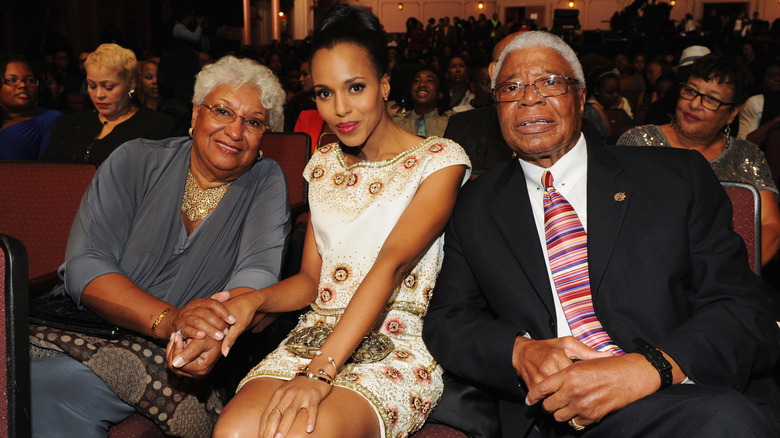 Bryan Bedder/Getty Images
On the surface, the Washingtons seemed like the idealized American family. "We were perceived as a happy, easy, working-middle-class, successful, 'perfect' family," Kerry Washington explained to The Guardian. "And there was a lot of joy and happiness at home. But there was a lot more complexity as well." Depressed with unrealized dreams and aspirations, Earl Washington began drinking heavily. As Kerry revealed in her memoir (via Oprah Daily), Earl's substance misuse struggles led to him exhibiting a coldness toward his wife and daughter. One night, Valerie Washington even expressed her fear that Earl might kill her by electrocuting her in the bathtub. "She was married to a man who seemed incapable of solvency and whose partying and drinking were a source of heartache," she reflected.
When Kerry was a teenager, Earl's problems were exacerbated when the IRS began investigating him over alleged tax evasion and involvement with drug dealers; thanks to a character reference written by his daughter, he was able to avoid imprisonment despite pleading guilty.
Soon, Kerry began to struggle with substance misuse issues herself. "I come from a legacy of addiction — it runs very deep in my family," she told The Hollywood Reporter. Elaborating on these difficulties, she told The Guardian that she was attempting to maintain the outward appearance of an ambitious, high-functioning good girl, all the while taking risks with drugs and alcohol beneath the façade. Since recovering, Kerry now avoids alcohol entirely.
The actor has been subjected to racism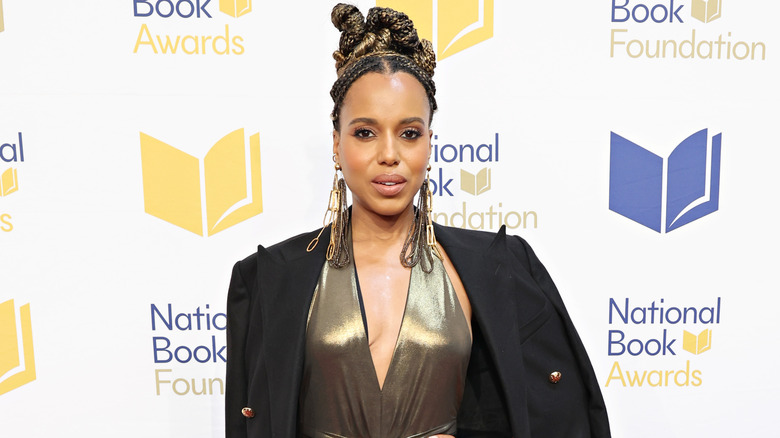 Cindy Ord/Getty Images
As a Black woman working in an arguably white-centric industry, Kerry Washington has been subjected to racist discrimination and stereotyping. As she explained to The Guardian in 2013, she lost out on work in the past due to execs not envisioning a Black woman in certain roles.
Accordingly, she was constantly relegated to playing the white girl's best friend in the early stages of her career, a trope that she now rejects. "It's not that I wanted to be the star of the film," she explained in her memoir (via Entertainment Weekly). "I wanted my characters to be in a story of their own. I didn't want to be an accessory to a white woman's journey."
Moreover, from a young age Washington learned that, as a Black woman, she could not rely on the police to protect her. Despite all her success as an actor, she has said that these feelings have not dissipated in recent years. During an appearance on "Jemele Hill is Unbothered" (via Insider) in 2020, she discussed the anxieties she experiences on a daily basis as a Black mother. Specifically, she explained that she feared that a white person would call the cops on her children. "No matter what I do, no matter how many Emmy nominations, I am still scared at times to scooter in neighborhoods with my kids where I feel like somebody could call the cops," she said. "Because that cop may never have seen 'Scandal.'"
She suffered a miscarriage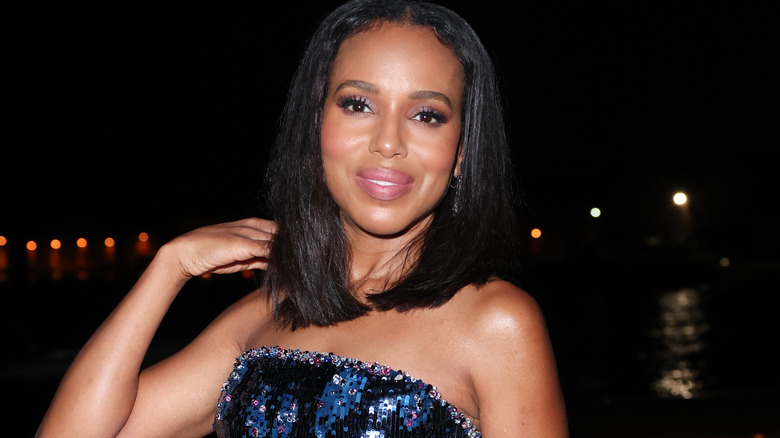 Jacopo Raule/Getty Images
In 2013, Kerry Washington married Nnamdi Asomugha in a secret ceremony. The couple has three children, including a daughter from Asomugha's previous relationship. In a chat with the Associated Press in 2016, Washington hinted at having some difficulties during her two pregnancies but declined to elaborate when pressed further.
But in her memoir, an extract of which was published by Time, Washington revealed that she suffered a miscarriage. She emphasized the importance of discussing her loss, hoping that doing so would help other women. "So much of our reproductive journey is cloaked in secrecy and shadows — silences that compound, making us feel more alone," she explained. "Until I had a devastating miscarriage and shared about it with friends, I had no idea how many women have weathered that same loss and long to talk about it, but don't." Her mother, Valerie Washington, had also suffered a stillbirth when she was married to her first husband.
The actor has also opened up about having an abortion in her 20s, something which she was made to feel ashamed of. Fearful that she would be found out, she used a fake name when attending her appointment. In time, however, she realized she had no reason to feel guilty, and she now advocates for women's reproductive rights. "It's just so important to me that abortion is not a bad word, and that my abortion is not another thing on the list of things that I'm ashamed of," she told People.
Kerry Washington faced death threats over her political views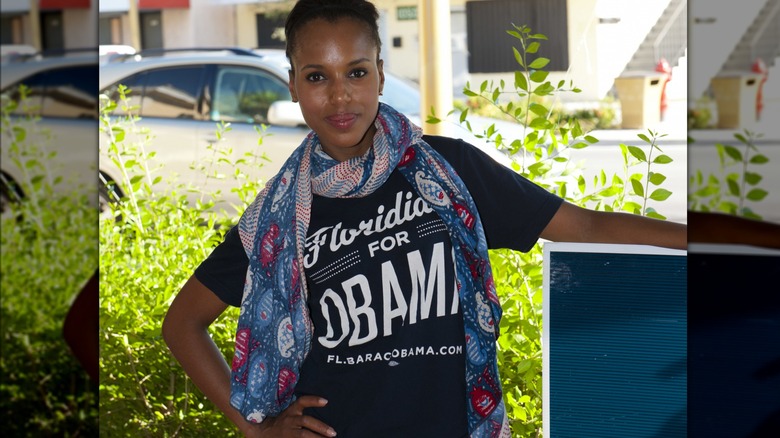 Michele Sandberg/Getty Images
A supporter of Barack Obama, Kerry Washington spoke at the Democratic National Convention in 2012, something which she declared was the most daunting professional experience of her life. But her political activism was met with backlash.
As she explained to The Hollywood Reporter the following year, some "Scandal" viewers began spewing racist and sexist comments on social media, and even directed death threats toward Washington. "It was shocking that me speaking at a convention incited all this anger," she said. "Thank God for block on Twitter ... I would never block somebody for disagreeing with me. But the threats to my life ... that's not so good."
But she has refused to tone down her impassioned beliefs. Addressing the death threats in a sit-down with Harper's Bazaar in 2023, Washington said that her activism is vital, as she needs to feel like a part of the solution to social injustice. "Some of it is selfish," she explained, "because, for me, I find that when I'm in despair about the state of the world — and the attacks on human rights, equity and justice — plugging into activism and community helps to alleviate that despair." Moreover, during her appearance on "Jemele Hill is Unbothered" in 2020, she rejected the notion that she ought to keep her political views to herself; rather, she argued that her visibility as a celebrity leads to greater responsibility as an activist.
She was devastated over the death of Lynn Shelton
Lynn Shelton was an acclaimed director and producer, famed for her work within low-budget indie productions. She directed several episodes of the Hulu miniseries "Little Fires Everywhere" before dying in May 2020, at age 54. Having fallen ill several days before her death, Shelton's partner, podcast host Marc Maron, initially thought that she had strep throat. However, it later transpired that she had undiagnosed acute myeloid leukemia, a type of aggressive blood cancer with a generally poor prognosis.
Kerry Washington worked with Shelton on "Little Fires Everywhere," the director's final project before she died. Sharing a photo of herself cuddling Shelton on Instagram, the actor said that she was devastated by her untimely death. "You walked into my life and immediately changed me for the better," she wrote. "What an inspiration! ... A co-conspirator. A light. Thank you for your shining example. And your shimmering grace. I am heartbroken."
In an essay for The Hollywood Reporter, Washington paid a poignant tribute to the late director. She recalled how Shelton compiled a lookbook of images from her favorite films and artworks, which encapsulated the aesthetic she envisioned for the miniseries. "Lynn's lookbook stayed in my trailer the whole time we filmed as a reminder of the glorious vision we were pursuing," Washington revealed. "Since the news of her passing, it sits on my desk and I look at it every single day. The loss of Lynn is devastating."
Kerry Washington survived a tsunami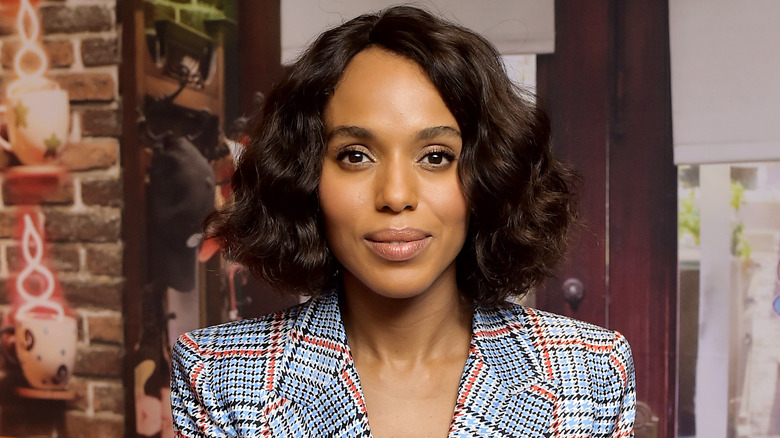 Stefanie Keenan/Getty Images
In 2004, the Indian Ocean tsunami killed 230,000 people across Southeast Asia. At the time, Kerry Washington was enjoying rapid success following her supporting role in Oscar-winner "Ray." But she found herself in the midst of a deep depression, worsened by the perils of fame and the fact that her mom had recently been diagnosed with breast cancer. When the tsunami hit, she also happened to be making a fleeting stop-off in Bangkok, visiting family with her then-fiancé, David Moscow, during their vacation to Thailand. Speaking to Essence, she admitted that she was unsure about making the detour to Bangkok, but something in her gut told her to go.
While Bangkok was also affected by the tsunami, Washington woke up to the news that the village she was initially supposed to visit had been devastated. Subsequently, she revealed that the tragedy gave her a new perspective on life. "As scared as I might be about all the unknowns in my life, I'm alive," she reflected. "I should embrace the adventure rather than have it put me in a corner and shut me down."
As traumatic as the ordeal was, it also enabled Washington to trust her instincts in the future. "As women of color, we're constantly feeling like we have to make choices for other people ... What will make 'them' happy?" she added. "But when I decided to stay in Bangkok for that night, it didn't feel like I was 'supposed to.'"
If you or anyone you know needs help with an eating disorder, addiction, may be the victim of child abuse, or has experienced a hate crime, contact the relevant resources below: