Meghan Markle Might Be Writing A Children's Book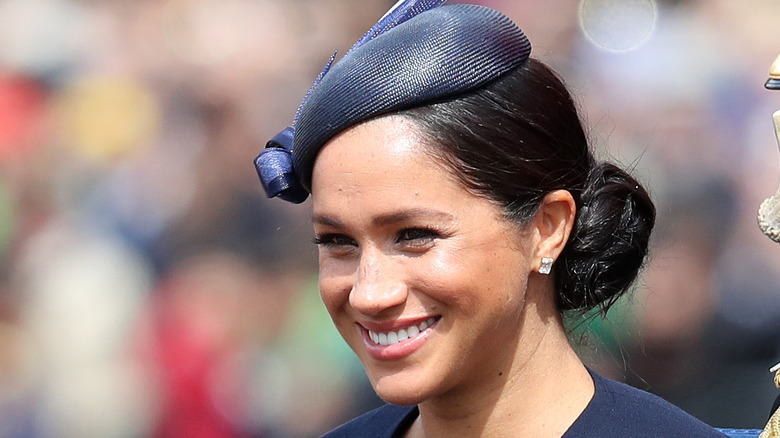 Chris Jackson/Getty Images
We may receive a commission on purchases made from links.
Fans of Meghan Markle have wondered what she's going to be doing now that her acting days are long behind her. While she's settled into her new royal lifestyle with her husband, Prince Harry, and her son, Archie Harrison Mountbatten-Windsor, Markle is still staying busy in her professional life. On August 2, 2019, The Sun reported that Markle is planning on writing a children's book. Well, maybe. While it'd be strange for a source to make up a story like this, Markle has yet to officially confirm this project. 
One anonymous source told the tabloid: "The plans are in the very early stages and won't be formally announced for some time. But she's very excited about the possibility and is passionate about the idea of a work of fiction for children."
While we'll hold off on getting too excited until the project is officially announced, Markle writing a children's book seems like a logical career move. After all, the Duchess of Sussex is no stranger to writing. Markle previously authored a lifestyle blog called The Tig, which she shut down after her relationship with Prince Harry went public. She also recently guest-edited the upcoming September issue of British Vogue. It's pretty easy to picture her writing a children's book and reading it to baby Archie.
The anonymous source revealed that Markle is "excited" about the upcoming project, but that we shouldn't expect the potential book to be a salacious tell-all. "She loves animals and her rescue dogs so it's very likely they will be incorporated into the story," said the insider. 
Markle wouldn't be the only royal to have dabbled in literature. Back in 1980, Prince Charles published a children's book called The Old Man of Lochnagar. A few years later, in 1989, Sarah Ferguson, the Duchess of York (a.k.a. Fergie), released Budgie the Little Helicopter. The book would become the first in a series and was also developed into a television show in the 1990s. Princess Michael of Kent has also authored several books, including The Anjou Trilogy, a historical fiction series set in France.
It's likely that the proceeds of any book Markle writes will be donated charity. Given Meghan Markle's long history of activism, and her husband's commitment to the environment, that charity may be one focused on the conservation of the planet.