Here's How Much Money Bretman Rock Is Worth Now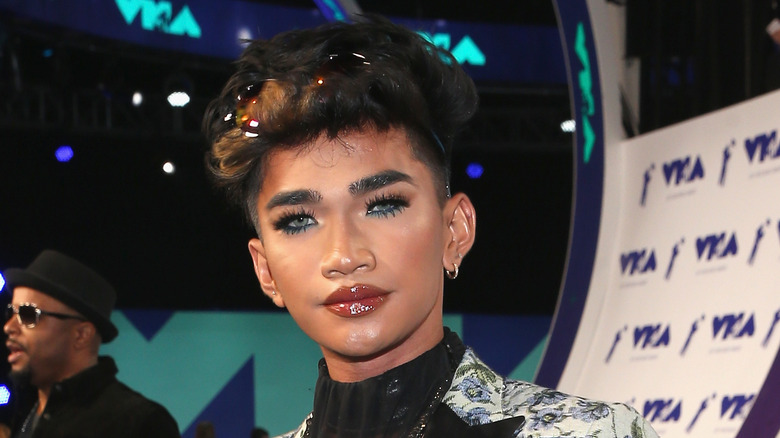 Phillip Faraone/Getty Images
Beauty vlogger Bretman Rock shot to fame seemingly overnight, with a YouTube following of almost 6.5 million subscribers to date. In 2017, Time magazine named Rock one of the 30 Most Influential Teens in the world, alongside the high-profile likes of Olympic snowboarder Chloe Kim and Stranger Things star Millie Bobby Brown. At the time, the super-popular Youtuber was quoted as saying, "I think the universe is taking quite good care of [me]." He appears to have been right, as the Filipino-born vlogger's star continues to rise exponentially.
It's difficult to pinpoint exactly how much social media stars are earning, particularly those who make the majority of their money from YouTube, with its notoriously tough business practices. According to Celebs Details, Rock is currently worth around $500,000, though it's worth noting that they also put his YouTube subscriber count at 1.9 million, which we know is no longer accurate. Nailbuzz puts the YouTube star's net worth much higher, at approximately $1.2 million. They note that, thanks to Rock's massive YouTube subscriber count, he has accumulated over 350 million views thus far, which should generate around $2,400 per day or about $900,000 per year in revenue. 
According to Nailbuzz, YouTubers earn $2 to $5 per 1000 monetized views (after the streaming site takes its own cut, of course). Advertisers must bid a minimum of 1 cent per view, but bigger companies can target ads on the top 5 percent of content across the site. There's also YouTube Red to consider, for which viewers pay a monthly fee to watch premium content as well as regular YouTube videos without ads. Plainly speaking, the longer viewers watch someone like Bretman Rock's videos, the more money he makes.
The Hawaii-based beauty vlogger also earns extra income through his Instagram, where he originated, which regularly features sponsored content. Rock also recently partnered with Morphe for his own line of highlighters, and with ColourPop for a makeup collection. Although it's difficult to say exactly how much money Rock is earning, it's safe to say the sky's the limit for this young entrepreneur.