The Reason Chip And Joanna Gaines Don't Own A TV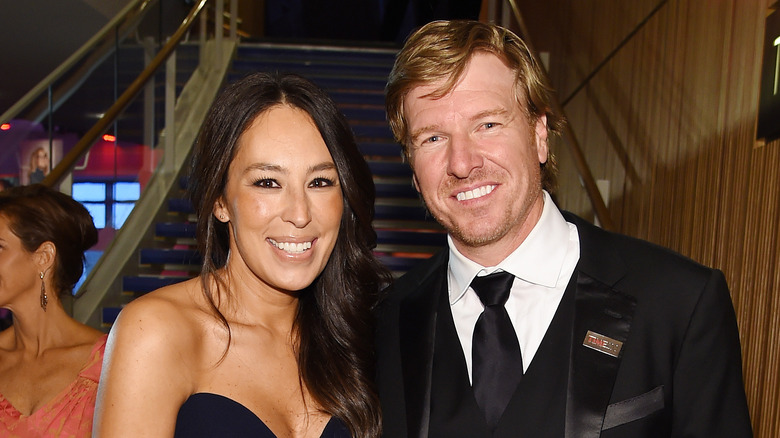 Larry Busacca/Getty Images
Even if you aren't a fan of HGTV, you've probably heard of Chip and Joanna Gaines. The couple are two of the best known reality stars today, and, even though their HGTV show Fixer Upper has wrapped, they're planning on launching their own network in 2020. You'd think that a TV power couple like Chip and Joanna would have TVs in every room of their gorgeous home, but they don't even have one.
The reason that Chip and Joanna Gaines don't have a television is actually pretty admirable. As with everything they do, it's all about their family, and their kids come first. The Fixer Upper couple wants to limit their kids' screen time, and part of this means not having a TV in the home. Joanna told Southern Living (via People) that she and Chip also limit the Gaines kids' iPad use. "Our rule for the iPad is that the kids can use it a certain amount of time every other day," said the Fixer Upper star. "It's contingent on them doing their chores and homework. I try hard to make it not the thing they look forward to every day. I don't want them focusing on that."
Joanna added that limiting screen time has helped to nurture her kids' creativity. "It's funny when I say, 'No iPad games,' and then see the things they create and invent on their own," she said. "I'm like: 'That! That's the stuff right there, kids.'"
While Chip and Joanna may be famous, they're determined to give their kids as normal an upbringing as they can and want to keep them grounded. Chip told USA Today that part of the reason they ended Fixer Upper was because the family "needed a break from this reality."
Joanna added that, while she and Chip are enthusiastic about their upcoming network, the Gaines kids are only going to be as involved as they want to be. "The kids are very aware of what this is and why we're doing it," she said. "If the kids want to be on it, they'll be on it... we would gladly welcome it, but we'll leave it up to them."