Are Chip And Joanna Gaines Having Another Baby?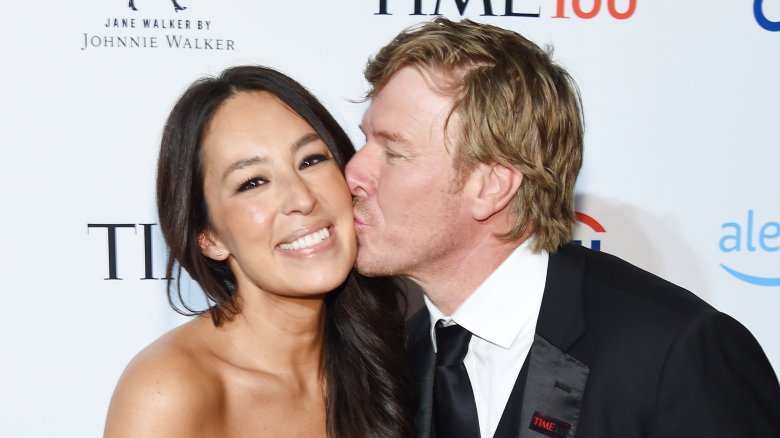 Larry Busacca/Getty Images
There's no doubt that things are looking great for Chip and Joanna Gaines. They run a successful business, have a gorgeous home, and are raising five amazing kids. They're also working on a major new venture with their own network that is set to launch in 2020. With all of this going on in their lives, they're probably too busy to add to their family any time soon... or are they?
It seems that the Fixer Upper couple has been joking about the possibility of adding to their family for quite some time now, although they haven't officially committed to anything. One of the things Chip said he was looking forward to about Fixer Upper ending was having more time to add to their family. "We had four babies right before the show started and then we've had zero babies since the show started," Chip told ABC News in October 2017, right before the final season of Fixer Upper premiered. "For me, I'm really excited to go back and try to maybe... try to make some more babies."
It makes sense that Chip and Joanna held off on having more kids while filming Fixer Upper. Filming the show with four kids wasn't easy. "There were seasons where we were really dragging babies to some extent into scenes to try to create this thing or that thing," Chip told USA Today in April, hinting that the children weren't always thrilled about being brought along for the ride. 
The Fixer Upper star added that the decision to end the show wasn't just to hopefully expand their family, but also to give the children they already had a break from the hectic lifestyle. "Jo and I just realized we needed a break from this reality, and we needed to step back," he said.
Not long after the final episode of Fixer Upper aired in April 2018, Chip and Joanna welcomed their fifth child, Crew, in July. The couple's other children are Drake, 16, Ella, 12, Duke, 11, and Emmie, 9. 
Now, just a year after the birth of Crew, Chip has hinted that he and Joanna might be ready for yet another little one. "There's a running joke with the people that run in our circles where any time things are going well between Joanna and I, at the end of that statement, I'll sarcastically say — used to be sarcastically — 'No. 5, No. 5,'" said Chip on September 6 at the Chip & Joanna Gaines Spotlight at Inbound (via Us Weekly). "Well, now we've got five children. So now, sarcastically, I would say, 'No. 6, No. 6,' when things were going well."
If the couple do decide to add to their family, their new bundle of joy won't be living the extravagant lifestyle that we might expect of the child of a rich and famous celebrity couple like the Gaineses. Chip and Joanna believe in raising their kids to be down to earth, and don't even have a television in their home as they believe in limiting screen time. As Joanna told Southern Living (via People), they don't want their kids growing up glued to a screen. "Our rule for the iPad is that the kids can use it a certain amount of time every other day," she said. "It's contingent on them doing their chores and homework. I try hard to make it not the thing they look forward to every day. I don't want them focusing on that."
According to Joanna, this seemingly strict parenting has helped to cultivate her kids' creativity, and it's probable that any new addition to the family would also benefit from her parenting style. "It's funny when I say, 'No iPad games,' and then see the things they create and invent on their own," said Joanna. "I'm like: 'That! That's the stuff right there, kids.'"
It's evident that Chip and Joanna Gaines are great parents and are raising some great kids. Chip seems eager to add to their brood, but it looks like Joanna is the holdout. Chip admitted at the September 6 event that his wife isn't quite on the same page as him when it comes to making another baby. "Maybe," said Chip. "We have different answers."