Is Little People, Big World's Tori Roloff Invited To Bindi Irwin's Wedding?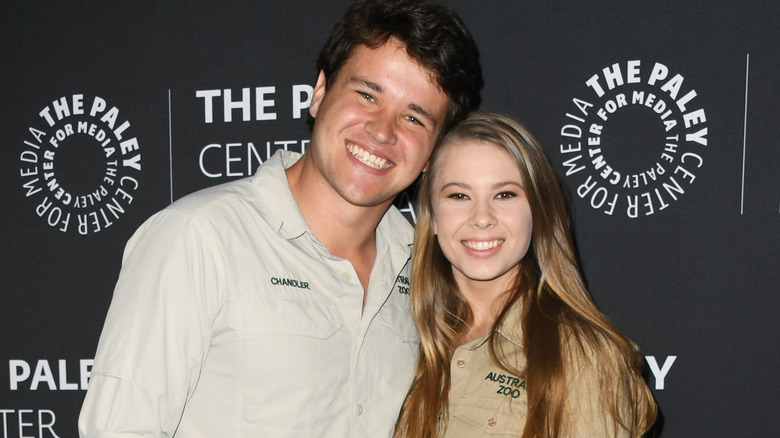 Jon Kopaloff/Getty Images
Bindi Irwin took to Instagram on September 29 to share a sneak peek of her stunning wedding dress. Fans were predictably excited for the glimpse of the dress, and their enthusiasm was evident in the comments. There was one comment, though, that stood out, and had us all wondering if Irwin's guest list includes a certain reality TV star. 
"I can't freaking wait," Little People, Big World star Tori Roloff wrote in the comments of the Instagram post (via In Touch Weekly). Her sister-in-law, Isabel Rock, also expressed her excitement for Irwin's upcoming nuptials, replying to Roloff with, "Girl has good taste!"
Will Tori Roloff really be attending Bindi Irwin's nuptials?
While the comment might make it seem like Roloff and Irwin are tight, or at least that Roloff is invited to the wedding, there doesn't seem to be proof that the two celebrities even know each other. It looks like Roloff, like so many of us, is just a fan of the young conservationist.
We can't blame her for wanting to be at the wedding, which sounds pretty epic. On September 30, Irwin and her fiancé, Chandler Powell, appeared on Good Morning America and revealed that their wedding will be held at the Australia Zoo, which holds a special significance for the young couple. "It's where we met, it's where we got engaged, it only makes sense to have it at the Australia Zoo," said Powell. 
Irwin added that there will be "lots and lots" of animals present at the wedding, including a koala bear that Irwin plans to walk down the aisle. "We may be setting some new trends for weddings from here on out," she said.
Bindi Irwin's dress holds a special significance
As excited as Tori Roloff might be for Irwin's wedding, no one is more excited than Irwin herself. She revealed that her wedding dress isn't just pretty, but is also a nod to her parents' wedding and just one one of the ways Irwin is honoring her late father, Steve "Crocodile Hunter" Irwin on her special day. 
"It's really special," Irwin said of the gown. "I love it so much because it kind of mimics my mom's beautiful dress so I found something that paid tribute to her beautiful wedding dress and I'm thrilled."