Here's The Next TV House The Property Brothers Want To Renovate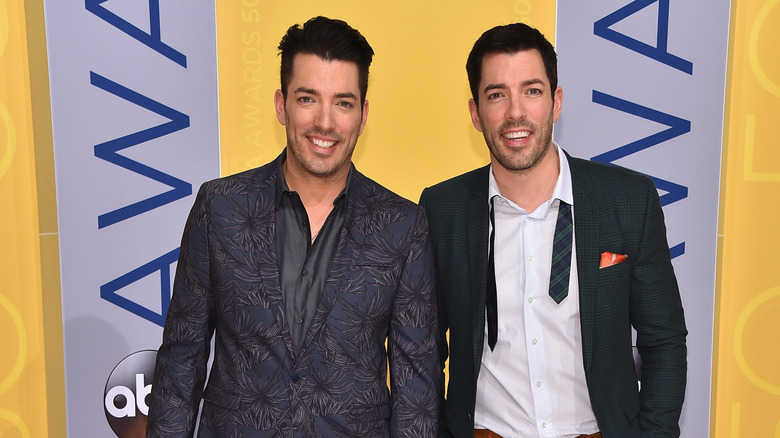 Michael Loccisano/Getty Images
The Scott brothers have been bitten by the nostalgia bug. On the heels of HGTV's recent A Very Brady Renovation, Drew and Jonathan Scott have set their sights on another classic TV home to make over. 
A Very Brady Renovation saw the Property Brothers, along with a whole host of other HGTV stars and the six original Brady Bunch kids (yes, even Maureen McCormick and Barry Williams were there), renovate the original Brady home, taking the house we all saw in the show's exterior shots, and actually redesigning the interior to replicate the Brady Bunch soundstage, complete with those iconic floating stairs. By the end, it felt as is we'd stepped into a time machine to the '70s.
So where do Jonathan and Drew want to take viewers in their time machine next?  
Drew and Jonathan want to renovate the Golden Girls house
If the Scott brothers have their way, the next trip down memory lane will involve Blanche Devereaux, Dorothy Zbornak, Rose Nylund, and Sophia Petrillo. During a recent episode of The Kelly Clarkson Show (via People), Jonathan dished on what their next ideal makeover would be, saying, "We're thinking next, Golden Girls house."
Though the Golden Girls called Miami, Florida home, the ladies' beige bungalow with its lush, green gardens that viewers saw in exterior shots is actually located in Brentwood, a neighborhood in Los Angeles, California. There is just one small problem with Drew and Jonathan's plans, though — the home isn't currently for sale. The house is estimated to be worth about $3 million, which is similar to what HGTV ended up paying for the Brady home. And as it turns out, the Property Brothers actually had plans to buy the Brady home themselves. 
"So originally, we were going to," Drew told Clarkson (via House Beautiful). "We were putting an offer on the house... Lance Bass was putting an offer on the house as well, and there were a few people that were going to bid on it. We were going to put an offer in, then HGTV said, 'Hey, we are going to put in an offer, we would love to restore the home,' and we said, 'Okay, know what, let's work together on this' and that's why we did it."
It stands to reason that if Drew and Jonathan were willing to pony up the cash for the Brady Bunch house, maybe they'd be willing to do the same for the Golden Girls house. Now all they need to do is sweet-talk those current owners, and all our dreams of pastels, wicker furniture, and palm decor will be realized.