The Untold Truth Of Kendra Scott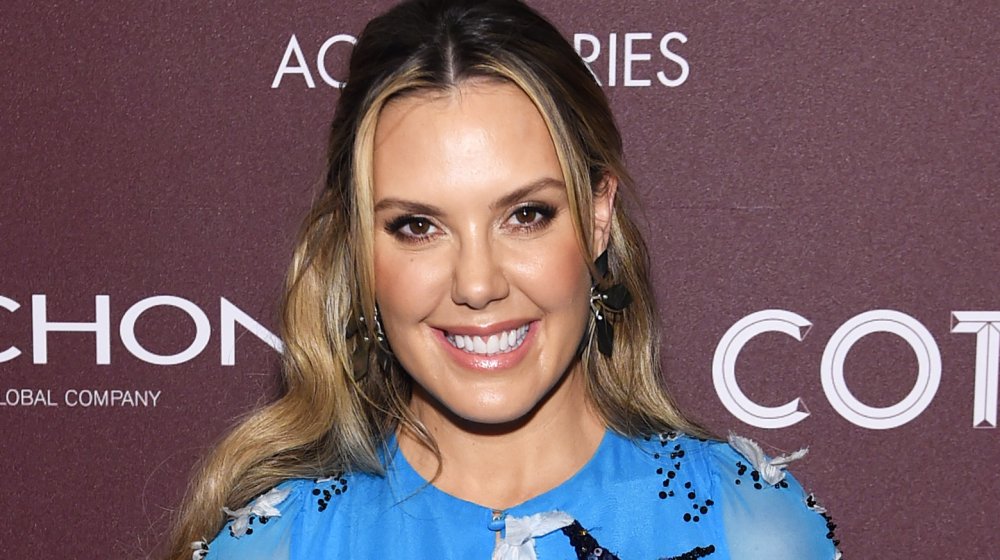 Jamie Mccarthy/Getty Images
Kendra Scott may be a household name now, but the famed jewelry designer wasn't always so successful. While many of Scott's designs — which include everything from earrings and bracelets to necklaces and rings — are now iconic, it took a while for the Texas-based powerhouse to get to where she is today. These days, Kendra Scott jewelry can be found everywhere from local boutiques to big-name department stores, such as Nordstrom. Scott has appeared in big-name publications like Forbes and Marie Claire and has even gone on nationally televised interviews to talk about her biggest passions and business tips. 
Basically, Kendra Scott has found herself on top of the world, and, with an estimated net worth of $550 million, according to Forbes, Scott's jewelry empire has clearly done quite well. Of course, that isn't to say that Scott's success happened overnight or that the fashion mogul has nothing interesting in her past. In fact, the untold truth of Kendra Scott is more fascinating than you might think. 
Before designing jewelry, Kendra Scott got her start with another accessory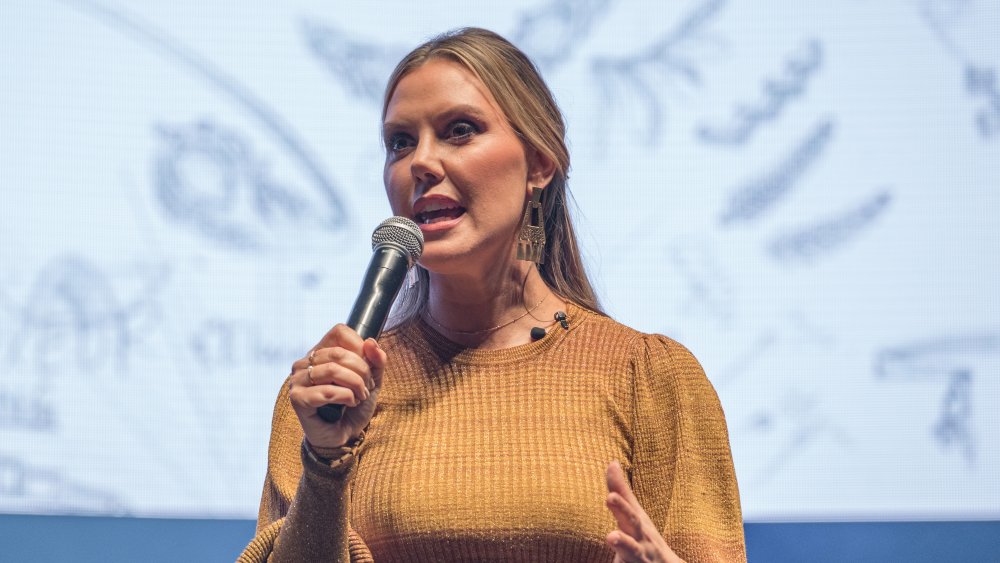 Rick Kern/Getty Images
Though Kendra Scott's name is now synonymous with her signature earrings and incredible flagship store in Austin, Texas, Scott actually started her career by designing another accessory: hats. According to Forbes, Scott started designing hats after her stepdad, Rob, passed away from brain cancer when she was only 19. According to the website, some of Rob's final words to Scott were to "do good," which Scott took to heart. 
After her stepdad passed, Scott launched Hatbox, a hat company that specialized in hats for both men and women, but especially those undergoing cancer treatments. Scott had Hatbox for five years before she had to eventually shut it down, and even though it was hard for her, she stayed positive. "How do you stay open when things go very bad? How do you stay open to what's next?" Scott recalled thinking at the time. "There's always an opportunity for growth. You have to be open to it." Obviously, she was open to it and has been on the up and up since. 
Kendra Scott didn't start designing jewelry until she was pregnant
After Kendra Scott closed down Hatbox, she soon turned her attention elsewhere, but she didn't actually launch her jewelry company until she was a mom. In an interview with Forbes, Scott explained that she realized her passion while she was pregnant. "It wasn't until 2002 when I was pregnant with my first son that I realized I wanted to turn my love of jewelry into a business," she said. "And when I saw an opportunity in the industry to create beautiful gemstone designs at an attainable price, I seized it." 
Having kids didn't slow Scott down. In fact, it might have helped her out. According to Inc., Scott brought her son with her to boutiques when she first started her jewelry line, and convinced the stores to carry her designs. Though Scott didn't get started with her jewelry until she was a mom, once she got going, nothing could slow her down. 
Kendra Scott has quite a philanthropic side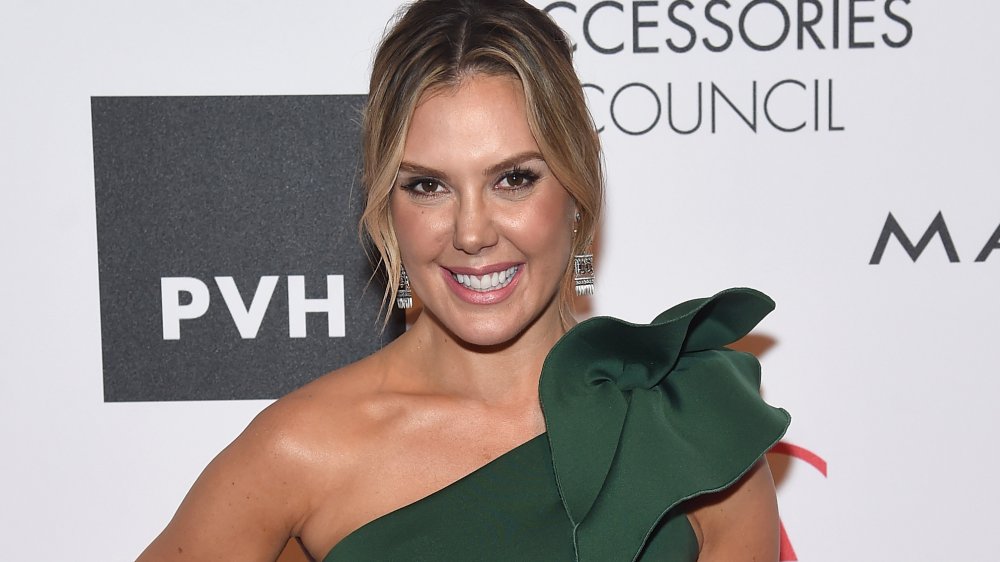 Jamie Mccarthy/Getty Images
Though celeb Kendra Scott might be a brilliant and hardworking businesswoman, wife, and mother, she's also super passionate about several philanthropic causes.  In fact, one of the jewelry designer's most recent philanthropic outreach programs centers around empowering young women. In September 2019, Scott launched the Kendra Scott Women's Entrepreneurial Leadership Institute at the University of Texas at Austin, according to her website. 
The institute focuses on fostering women's entrepreneurial spirit. "UT's Kendra Scott WEL Institute seeks to establish a community of diversity, inclusivity, and empowerment, redefining leadership and entrepreneurship through a gender-enlightened lens," Scott's website notes. The institute's main goal is to create a "pipeline of courageous, creative female leaders who will change the world," something Scott feels very strongly about. As a total boss lady herself, it's no wonder Scott wants to make sure plenty more young women can start their own businesses and follow their dreams.
Jewelry designer Kendra Scott is passionate about raising awareness for breast cancer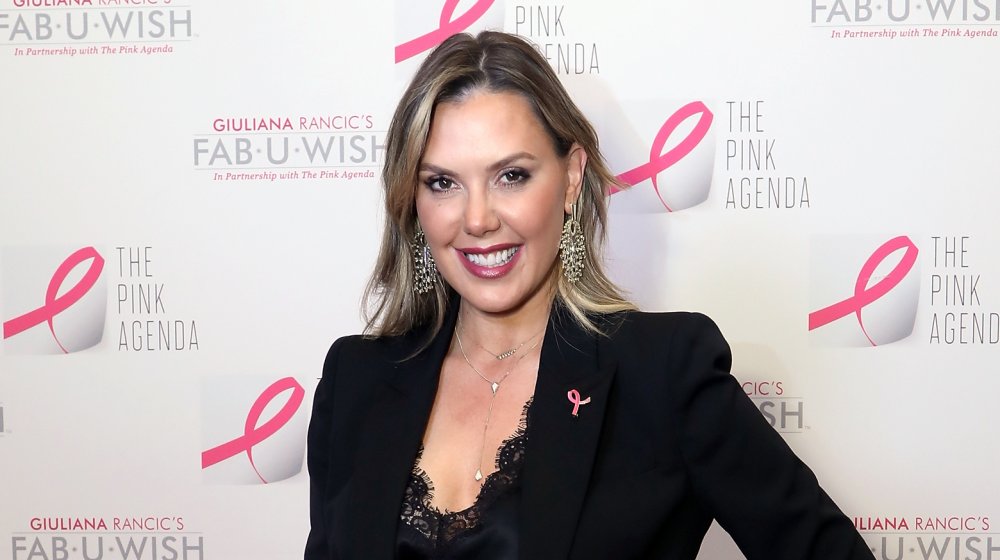 Anna Webber/Getty Images
Kendra Scott isn't just passionate about helping young girls succeed in the business world and beyond. The woman also works hard to support breast cancer awareness and has launched an entire program to give jewelry to women diagnosed with breast cancer. "Since 2016, we have invested over $793,000 for breast cancer research and support, and gifted 39,000 pieces of jewelry to women undergoing treatment through our Buy One, Gift One program," noted the Kendra Scott website. 
Scott's passion for breast cancer research stems, in part, from her friend Holly Rothell Kitchen, who passed away in 2016. Scott honored Kitchen with a $250,000 research grant to the Breast Cancer Research Foundation. 
Kendra Scott works super hard — that much is obvious. But it's also obvious that part of the reason she works so hard is so that she can give back, too. 
Kendra Scott thanks her family for much of her success in the fashion industry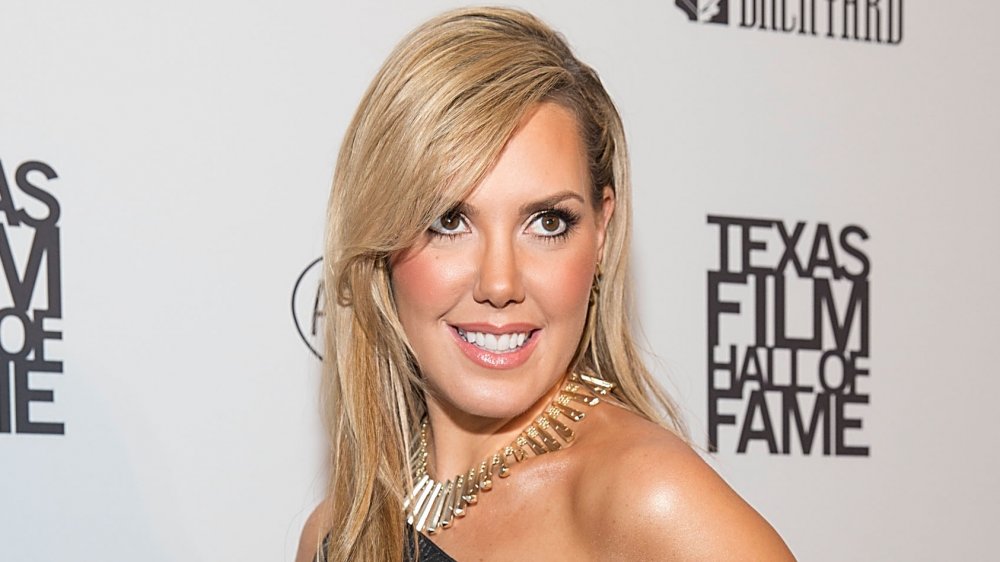 Rick Kern/Getty Images
As Kendra Scott didn't start designing jewelry until she became pregnant, it's no wonder that the mom of three is super family-oriented. In fact, in a March 2018 interview with Marie Claire, Scott explained that she really owes so much of her success to her family. "With three sons and a growing company, there are definitely days where I wonder, Can I do this?" she told the magazine. But when those moments of self-doubt have crept up on Scott, she had one thing pushing her through: her support system. "There have been high points and low points over the years, but I'm surrounded by a loving and supportive family, both at home and at work," she continued. "They have gotten me through the toughest of days." 
Scott is so thankful for her family that the businesswoman even names family as one of her company's three core values, and it's clear that she has a family at home and in the office, which is pretty incredible. 
Kendra Scott's success isn't based on her location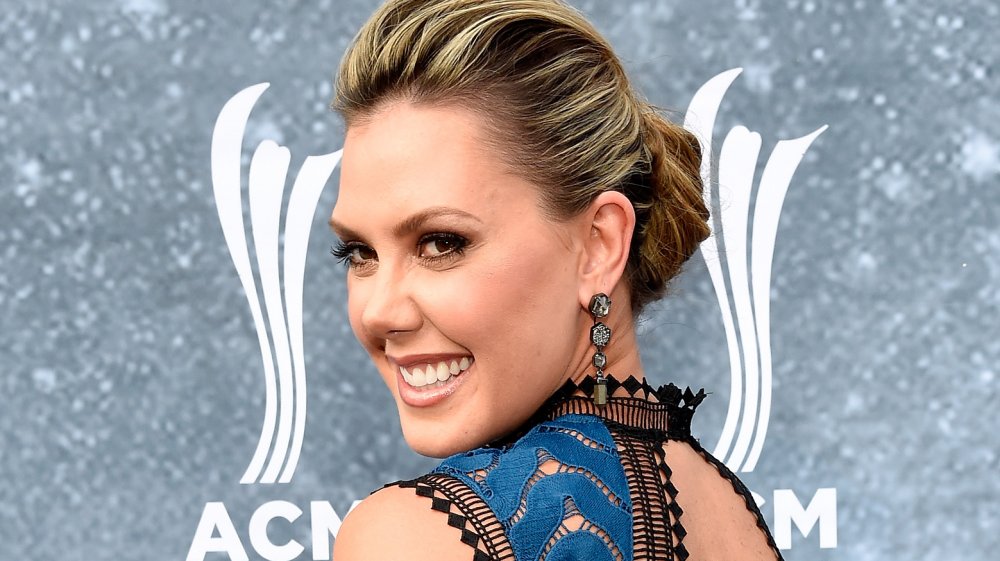 Rick Diamond/Getty Images
The fashion industry is just one of many that seem to be centered in New York City. So many designers, fashion magazines, and huge companies are headquartered in the Big Apple that it almost seems impossible to get a start anywhere else. However, Kendra Scott's huge success proves that location isn't all that important when you have a great vision and hard work on your side. 
In an interview with Inc., Scott revealed that many naysayers told her she wouldn't make it in the fashion and jewelry world if she didn't move to New York. "When I started this, I had people tell me I had to get out of Austin and move to L.A. or New York City to be a legitimate fashion brand," she explained. But she didn't. And now, based in Austin, Texas, Scott wouldn't have it any other way. 
"Austin has become such a big part of our brand and we have a very unique perspective of our design because we're influenced by this really cool city that we live in," Scott told ABC News. "It really has given us an advantage." Clearly, Scott's risks have paid off.
Kendra Scott's company struggled during the recession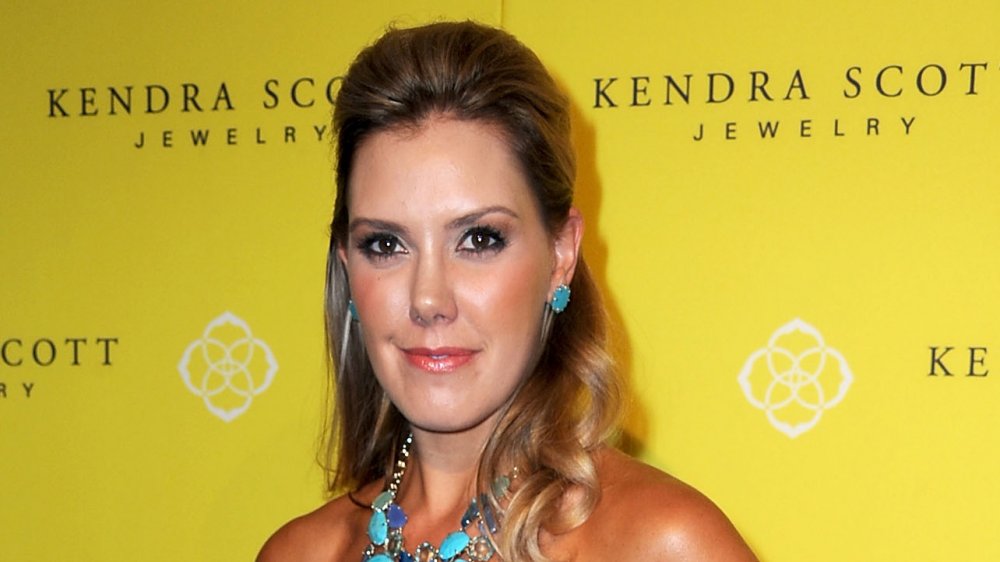 Valerie Macon/Getty Images
In 2019, Kendra Scott was named as one of Forbes magazine's richest self-made women, with an estimated net worth of $550 million, which is definitely no small feat. At No. 40, Scott was listed behind Rihanna and Madonna, but ahead of the likes of Vera Wang, Celine Dion, and Beyoncé. Yes, Beyoncé. However, that isn't to say that Scott hasn't gone through her fair share of hard times. 
During the financial recession in 2008 and 2009, Scott's business seriously struggled. "There were so many ups and downs through this journey," the mogul told CNN's The Boss Files. "There were many times that I thought I was going to lose my business. I had no investment capital. I was carrying it all on my shoulders. Bootstrapping it literally." The recession hit her so hard that Scott had to cut down on costs, such as staff. "We kind of did what we had to do to survive," she explained. "We were a very lean team of seven." Not only did Scott survive the recession, but she's also totally thrived since then. Nothing can get this wonder woman down, that's for sure. 
Kendra Scott feels strongly about women-run businesses
It's no secret that Kendra Scott is a powerful woman and that the self-made millionaire has come a long way since launching her company. Because Scott has surrounded herself — and her business — with strong, brilliant, and hard-working women, she feels strongly that businesses should all empower women. 
"I think when women join forces, when they hold hands, they're unstoppable. I can attest to that," Scott emphasized to CNN's The Boss Files. "I'm living in this Utopia at Kendra Scott where we are women-owned, we're women-operated, but then you go outside of that and you see some of the reality of what's happening in other corporations, and honestly, it is disappointing." Not only does Scott think that businesses should center on women, but she also told Marie Claire that she thinks women are capable of anything. "I believe the opportunities for women today are endless," she told the magazine. Scott supports women, and that's something that makes her and her company so incredible. 
Kendra Scott has three very specific core values that influence how she runs her company
According to Forbes, Kendra Scott's jewelry sales surpass $350 million each year, which is no small sum. But money isn't everything to Scott, and the successful businesswoman always makes sure her company is focused on three core values: family, fashion, and philanthropy. Scott feels so strongly about those three core values that she told Forbes she wouldn't hire someone who didn't also believe in them. 
"We look for people who will be a good cultural fit for our Kendra Scott family, have a genuine passion for what they do every day and have a heart for giving back," Scott explained to Forbes. "If they believe in the same core values as we do, I know they will thrive as a part of our team." Scott emphasizes those core values by producing quality, creative designs, allowing her workers paid parental leave, and providing "paid philanthropy days," per Forbes. Working for Scott sounds truly amazing, and her three core values are distinctly essential for her.  
Kendra Scott never graduated from college
While juggling motherhood, Kendra Scott started her jewelry company from her spare bedroom with only $500 back in 2002, according to a 2018 interview she did with Forbes. Scott beat the odds in more ways than one — including the fact that she is a woman and mother and the fact that she doesn't live in New York City — when it comes to the success of her business. But one notable obstacle proved to not actually be that much of an issue: Kendra Scott didn't graduate from college. 
"I didn't have formal training," the famous jewelry designer explained to ABC News. "I didn't finish college. I mean, really, all the things that people said you have to do to have a successful business, I didn't do the right way," Scott continued. There are so many people out there who don't have the opportunity to go to college, and Scott is proof that you can still make things in your career work, as long as you work hard and don't let anything get in your way. 
Kendra Scott's jewelry is seen on the hottest celebs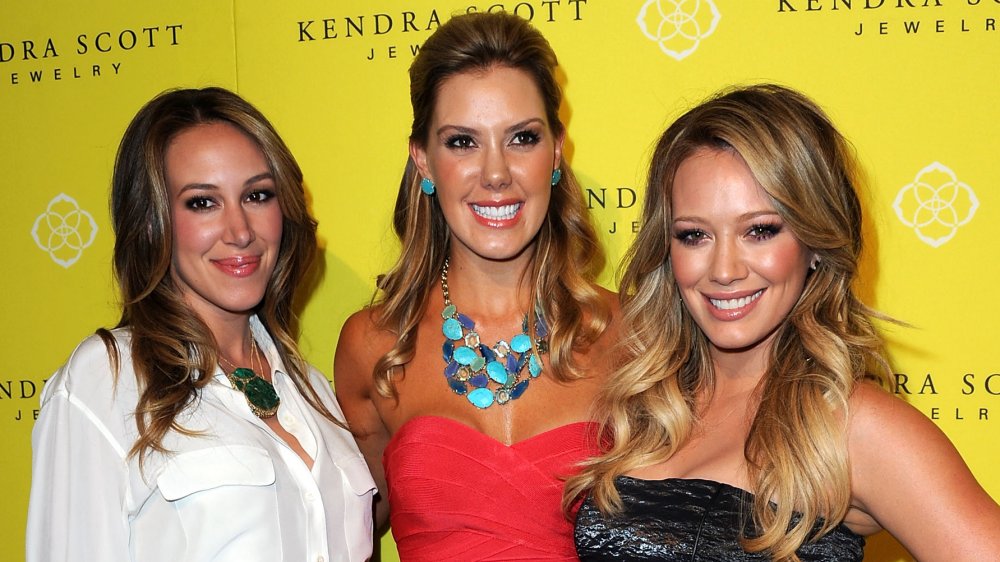 Valerie Macon/Getty Images
Even though Kendra Scott might be a household name, back when she was just getting started designing jewelry, Scott could only dream of having her designs worn by the rich and famous. Now, though, celebrities like Emma Roberts, Gigi Hadid, and Priyanka Chopra have all been spotted wearing Kendra Scott jewelry, and it's something of which Scott is intensely proud. 
In an interview with The Dallas Morning News, Scott explained that all those celebrities who wear her designs seriously help with the business. "We've had so many supporters," Scott said of celebs like Kate Hudson and Jessica Alba. Though Scott's success is founded on more than just celebrity endorsement, it still doesn't hurt to have stars pictured wearing a Kendra Scott bracelet or pair of earrings. For a woman who started designing jewelry in her spare bedroom, having A-list celebrities wear her pieces is a pretty huge glow-up. 
Kendra Scott has a heart for kids
Kendra Scott participated in a number of charitable outreach programs, but one of her biggest philanthropic efforts is the Kendra Cares Program. The program focuses on children in the hospital and those who take care of them. Kendra Cares gives "patients and their caregivers a break from their everyday to design their own piece of customized jewelry at no cost," according to the Kendra Scott website. She explained in an Instagram post that "what began at a single hospital has grown into a nationwide creative arts program that has touched the lives of thousands." 
Scott doesn't just want to hand out money to help people, but rather she wants to actually help those in need, especially children. "We don't just write checks, we show up," she told Marie Claire. She noted, "We have the means to change lives for the better, and that's a gift I don't take for granted. This dream of mine acts as a platform to do something even more impactful — to make a positive impact on my community." Scott has a heart for charity, especially when it comes to kids, and she's determined to make a difference. 
Kendra Scott's divorce led to her eventual happily ever after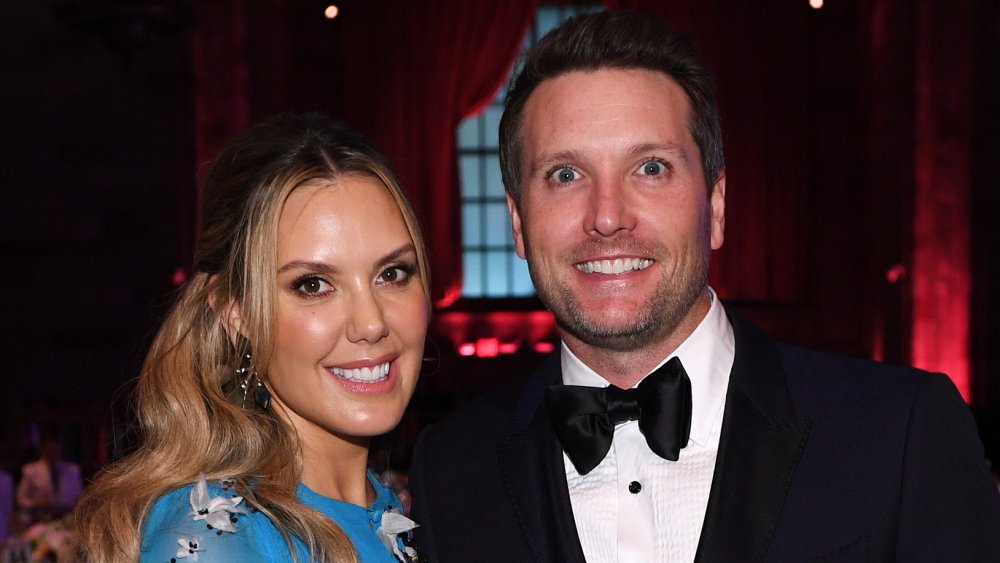 Dimitrios Kambouris/Getty Images
Kendra Scott may value family above most other things in life, but the mom, wife, philanthropist, and designer wasn't always lucky enough to have a supportive spouse by her side. According to Inc., Scott had gotten divorced when the recession hit, leaving her as a single mom of two struggling to keep her business afloat. 
Fortunately, Scott managed to find the happy ending she deserved and not just in the business world. Scott married again in 2014, to Matt Davis, and, in an interview with Brides, she clearly couldn't be happier. "From the moment we met, we knew it was meant to be," she gushed to the magazine. "We were at dinner with separate groups of friends, locked eyes across a crowded restaurant, and took each other's breath away." Scott definitely went through some tough times, but she came out the other side of her struggles just fine. 
Kendra Scott believes in work-life balance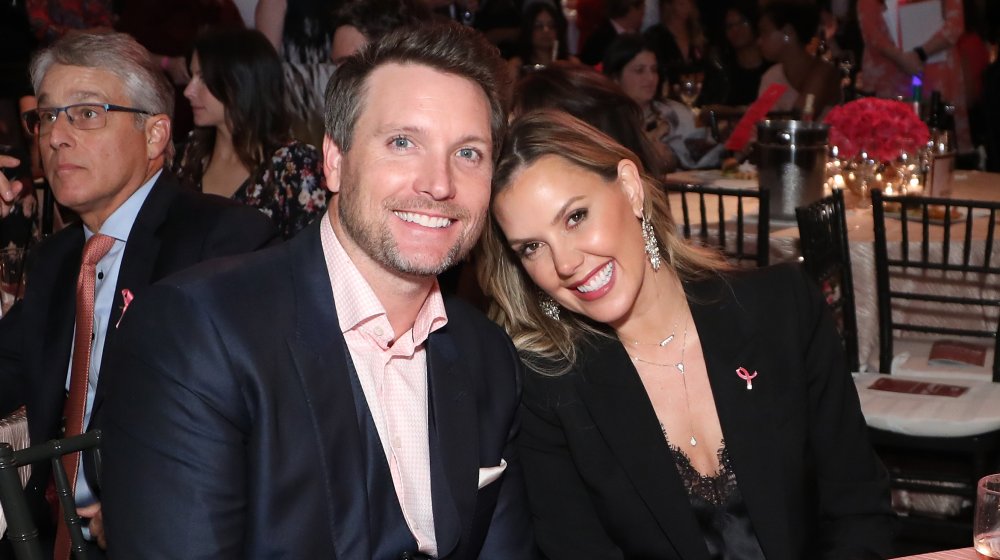 Anna Webber/Getty Images
No one knows quite how to juggle all that life throws at you like Kendra Scott, who is a wife, mother, and businesswoman. In fact, Scott is so passionate about being a working mom that she wants to ensure all of her employees are able to be there for their families and their coworkers. In an interview with Forbes, Scott explained that she worked hard to make sure all her employees had a healthy work-life balance. "I am proud to uphold a culture that supports a healthy work-life balance for the women — and men — in our office," she said. 
Scott went on to explain that the benefits package she offers includes paid parental leave, an in-house nail bar, a smoothie bar, and paid time off to volunteer in the community. Kendra Scott may be a famous jewelry designer, but it is clear that this woman is also so much more than that. She cares about the lives of her employees and their families.