The Real Reason Tinsley Mortimer Is Leaving RHONY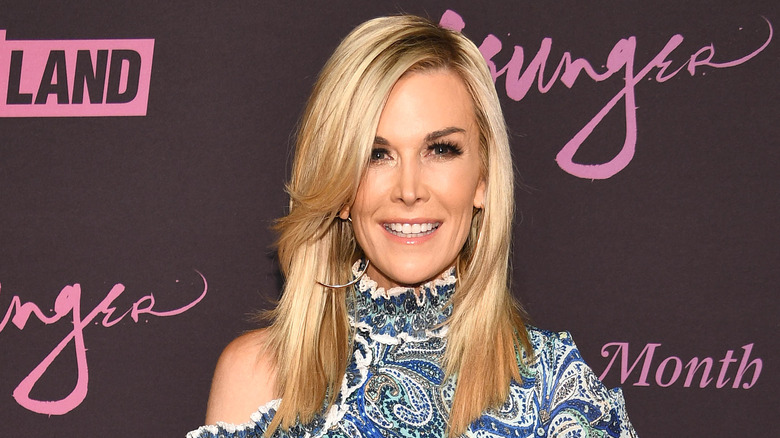 Dimitrios Kambouris/Getty Images
After months of speculation, Tinsley Mortimer's departure from The Real Housewives of New York has been confirmed by her co-star, Luann de Lesseps. Rumors had been circulating since November that she would be quitting the show and moving to Chicago, especially after her now-fiancé, Scott Kluth, popped the question with a gorgeous ring.
On December 7, during a performance of her cabaret show, de Lesseps said that Mortimer stopped filming RHONY after getting engaged. "She seems very happy and I want her to be happy and get married," she said (via People). "That's what she wants to do. She's very traditional. She wants to have a baby. It's time."
Why did Tinsley Mortimer leave RHONY?
According to an insider, Kluth issued an ultimatum to Mortimer. "Scott gave her an ultimatum: 'me or the show,' and she chose him," the source told People. "He loves the limelight but hated the negative effect the show had on their relationship. And Tinsley, she's desperate to make the relationship work and was on the outs with the group as it was."
Mortimer ended up choosing Kluth. "It was much easier for her to walk away from the friendships she was never going to have to fight for the relationship she always wanted," said the source.
RHONY had come between Tinsley Mortimer and Scott Kluth before
The distance between Kluth, who lives in Chicago, and Mortimer, who lives in New York, had long been a strain on their relationship, as was Mortimer's involvement with the Real Housewives franchise. "My life is my life," she told People in June when the couple were taking a break and seeing other people. "The show is an important part of my life. I understand that there are people that don't always want to be exposed to that and I can't assume that they would. It's a give and a take."
She added that RHONY contributed to her breakup with Kluth. "He tried," she said. "It was just too much for him."