The Reason Peter Weber Almost Turned Down The Bachelor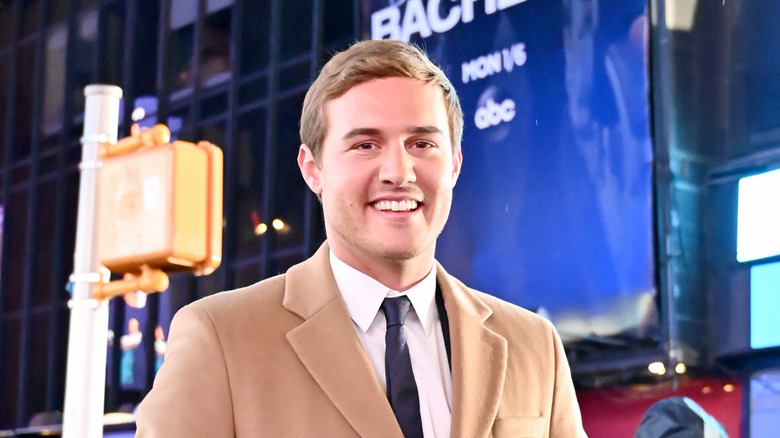 Astrid Stawiarz/Getty Images
It may be early on in Peter Weber's Bachelor season, but it's already clear that his season is going to be a memorable one. Weber came very, very close to not being the Bachelor, though, and we aren't talking about casting choices. Before he was announced as the Bachelor, Pilot Pete had all but decided to turn down the job if it was offered to him.
Naturally, this has something to do with Hannah Brown, who captured his heart on The Bachelorette. Although Peter didn't end up winning the show, his feelings for Hannah lingered. When she broke things off with her one-time fiancé Jed Wyatt, Peter held out hope that they'd be able to rekindle their romance.
Peter was prepared to try again with Hannah Brown
"At [After the Final Rose], I was prepared to give it a shot and I knew there was a chance for The Bachelor, and I was gonna say no to the show," he said on the Bachelor Happy Hour podcast (via E! News). "'Cause I saw her for the first time after the show... She said that she actually moved out to close to where I was living. I was like, 'Let's meet up.' We had agreed and I honestly got excited, and [thought] maybe this isn't over yet."
Once he saw Hannah ask Tyler Cameron out on TV, though, he knew that it was truly over between them. "I was like, 'What the hell?!'" he said of the moment that Hannah asked Tyler on a date. "So right there, I'm done, over it and moving on."
He added, "It hurt, 'cause I was not expecting that."
Unfortunately, it looks like their love was not to be in spite of Hannah showing up on Peter's Bachelor season to try to work things out. "Honestly, I did not expect for her to show up that first night," said Peter. "Maybe some time throughout the season, but not that first night. That was a complete shock to me."
Hannah might not be destined for Peter, but we hope he will be able to find true love. Fortunately, there's a long and wild season of The Bachelor ahead of us, so there's plenty of time for another romance to unfold for Peter.