The Truth About Jane Fonda And Dolly Parton's Relationship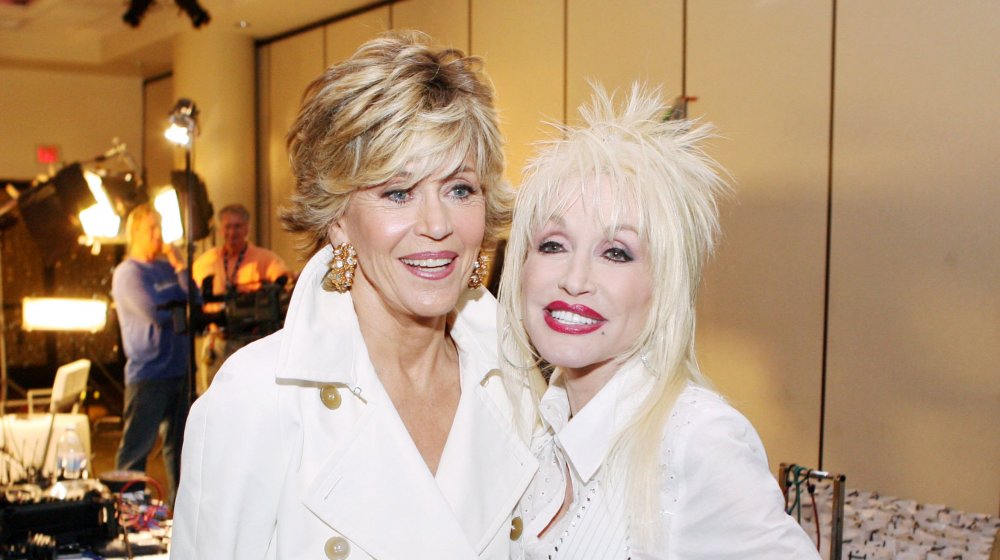 Kevin Winter/Getty Images
It all started with 9 to 5, the iconic and boundary-pushing 80s work-based comedy starring Jane Fonda, Dolly Parton, and Lily Tomlin that also spawned the country legend's unstoppable earworm of the same name. In the four decades since, the three ladies have remained close, but Fonda and Parton in particular share an unbreakable bond.
They may be two very different people but these gals have remained in each other's corners for 40 years, with Fonda even recently popping up in A&E documentary Biography: Dolly to extol the virtues of her long-time pal, and her impact on the music industry. Parton, meanwhile, respects Fonda's dedication to the cause even if she won't be stomping the streets in her cowboy boots alongside her any time soon.
Jane Fonda and Dolly Parton have been close for decades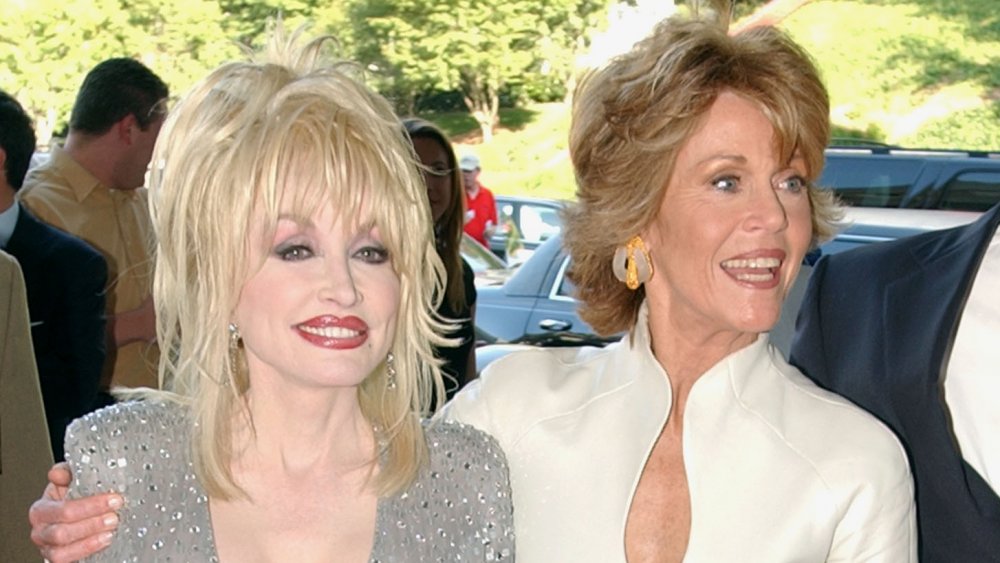 Erik S. Lesser/Getty Images
Fonda choked up while discussing her friend in Biography: Dolly, admitting, "Through her songs she opens her arms wide and embraces such a broad swath of people that don't always feel seen, and it's why people love her." The actress went on to note that fans travel hundreds of miles to see Parton, which Fonda claims is unprecedented even for the world's biggest stars.
It was Parton's music that made Fonda think of her for a role in 9 to 5, according to an interview with Stephen Colbert. She heard her on the radio and suddenly realized Parton would be perfect, "Playing a secretary, in a movie that among many other things is going to touch upon sexual harassment."
The singer was thrilled to accept the role, but only if she got to write the movie's titular song too. Fonda recalled the first time she and Tomlin heard it, revealing,. "[Parton] used her long nails as a washboard and she sang "9 to 5" and Lily and I looked at each other and we had goosebumps."
Their differences bond Jane Fonda and Dolly Parton together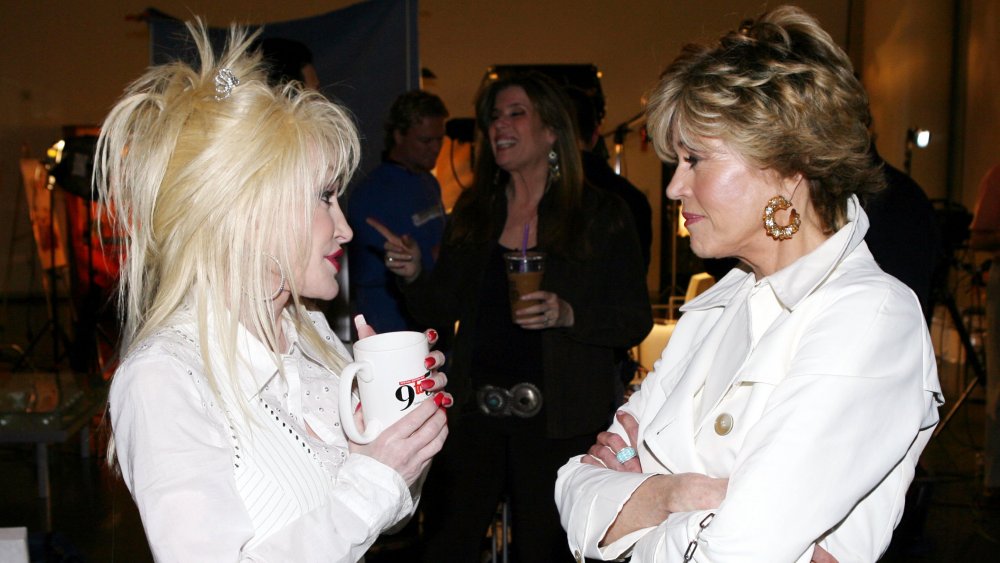 Kevin Winter/Getty Images
After Parton was criticized for not making enough of a political statement at the Emmy Awards, Fonda defended her friend in the press. "Dolly is a person of heart and spirit. She's not a political person, but we need more like her. She is profound and she has a really, really huge heart," she gushed to The New Yorker.
Parton has been equally supportive of Fonda, telling The View how much she respects the actress's commitment to activism. "She's always been out protesting something all of her life. I wouldn't get out in the streets, but I kinda contribute in my own way. I'm an entertainer and I do it a little different," she said proudly.
Fonda may be a better influence on Parton than vice versa, however, as the actress told James Corden in an interview that the drunkest she's ever been was during a tour with the country legend, when Fonda indulged in some of Parton's cousin's finest moonshine. "I didn't know I was drunk! I was drunk for 10 days and didn't know it," she laughed.