Inside The MyPillow Guy's Relationship With His Ex-Wife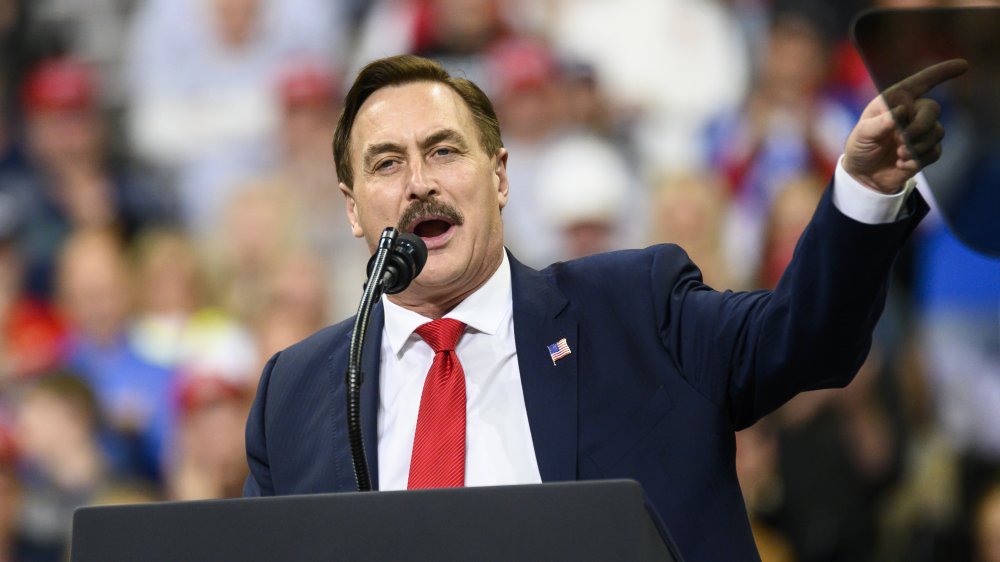 Stephen Maturen/Getty Images
Michael Lindell, aka the MyPillow guy, is the founder and creator of MyPillow Inc. He's also a good friend of President Trump and a magnet for controversy. In fact, the Better Business Bureau revoked the company's accreditation and lowered its rating to an "F" after a raft of complaints about the company's seemingly never-ending BOGO (Buy One Get One) promotions (via USA Today). 
The CEO has made some dodgy claims about his supposed miracle pillows over the years, claiming they could cure a whole host of sleep-related disorders, including sleep apnea and insomnia. As a result, in November 2016, MyPillow Inc. had to pay a reported $1 million fine for false advertising, according to NBC News. Aside from making dubious claims about his product, the self-professed "sleep expert," who has no formal medical training, has also endured a difficult and tumultuous love life. He had a rocky divorce from his first wife, whom he was married to for more than 20 years, according to The Wealth Record, while his second marriage lasted just two weeks.
The MyPillow guy's ex-wife accused him of being boring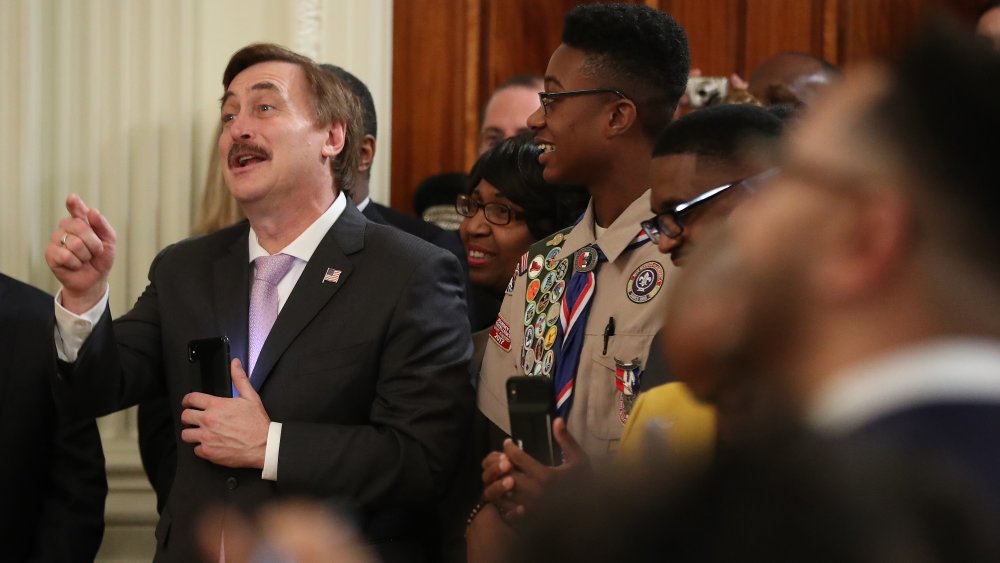 Chip Somodevilla/Getty Images
As reported by Star Tribune, Lindell divorced his second wife, Dallas Yocum, just a couple weeks after they tied the knot in 2013. As the MyPillow creator recalled, he told Yocum she was "distant" and "distraught" while they were out together. "She looked at me while I was driving and said, 'I don't love you. I never loved you. You're boring. We don't have anything in common, and you've ruined the last two years of my life,'" Lindell claimed his ex-wife told him.
Yocum also complained about living in Minnesota with Lindell, far away from her loved ones — even though, according to the Trump supporter, a number of her family members actually relocated there and were working for MyPillow at the time.
Mike Lindell's second marriage lasted just two weeks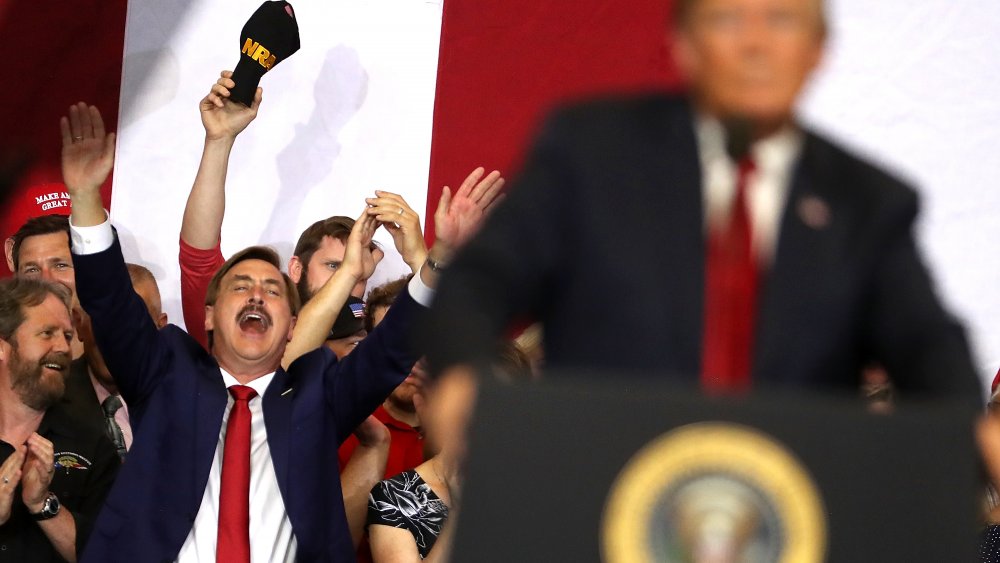 Justin Sullivan/Getty Images
Lindell filed for divorce from Yocum in mid-July, following their June wedding in 2013. The MyPillow CEO admitted that, when he looked back at photographs of the couple during their two year relationship, "She doesn't have the same look I have, that's for sure." Lindell took it all in stride, however, assuring Star Tribune that he was gaining strength with each day that passed.
"I have not [gotten] angry," he insisted, noting he was simply sad about what had happened. Lindell, who has a strong Christian faith and has credited God with getting him to finally quit his addiction to crack cocaine (via CNBC), told Star Tribune that his faith got him through once again, describing his coping mechanism as "a lot of prayer."
The divorce blindsided the MyPillow guy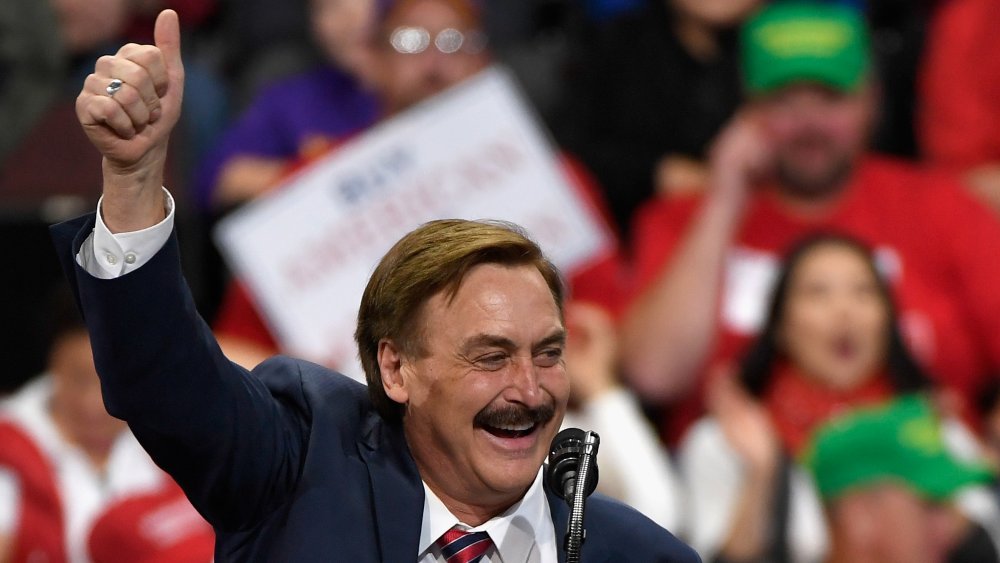 Hannah Foslien/Getty Images
Still, Lindell definitely didn't see the break-up coming, describing himself as "blindsided" by Yocum's behavior to Star Tribune. He even flew to see her in the middle of the night after Yocum stopped responding to him. "Then people started telling me stuff out of the woodwork," he said. "People told me at the wedding she told people, 'I'm not going to be married very long. This is very short-lived.'"
According to Lindell, "Everybody's got a story about how something wasn't quite right. She didn't have that gleam in her eye, she didn't have any stories to tell." At least there was a prenuptial agreement in place, so Lindell's massive fortune was safe. Yocum did, however, reportedly take the wedding ring with her, which Lindell said "was worth a lot." She was also on company payroll, according to Lindell, in spite of not actually working for them.
The MyPillow guy has found love once again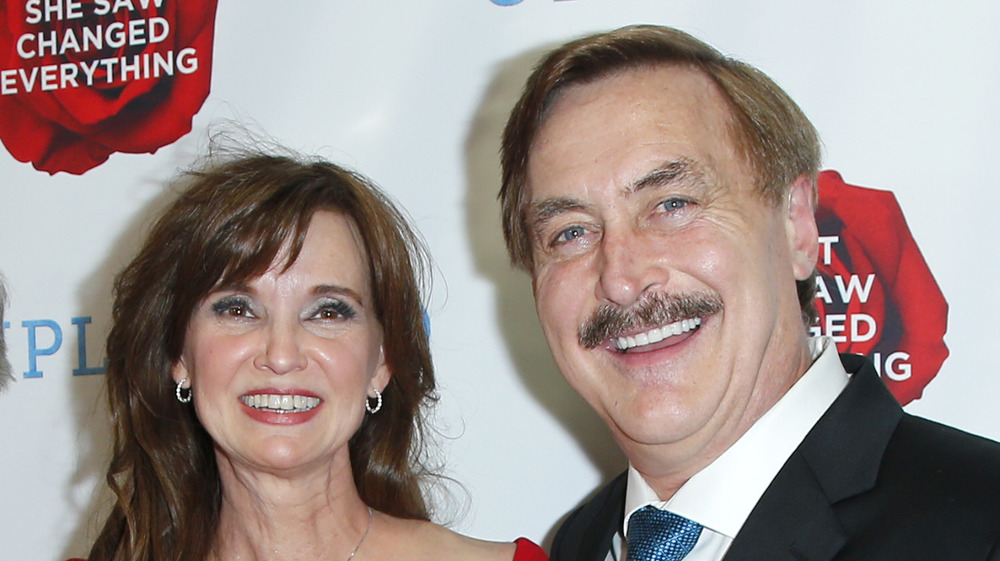 Maury Phillips/Getty Images
By all accounts, Lindell has been very unlucky in love. As Bloomberg notes, his first marriage broke up due to the MyPillow CEO's drug addiction. Lindell even lost their family home over his issues. Thankfully, over a decade on from getting clean, the self-made businessman is in a much better place. Although he endured another divorce, Lindell eventually came out the other side, finding happiness with girlfriend Kendra Reeves. In an interview with the Salvation Army's SA Connects, the Minnesota native credited Reeves with turning his life around. 
The two met in 2014 and she encouraged Lindell to rely on his faith more. "I would say, 'Well, I believe in God.' But it was different with her. I was watching her, and I said, 'Wow, I want what she has.' I didn't have that relationship with Jesus that she did," he told the outlet. After attending a spiritual retreat a few years later, Lindell rediscovered his faith and everything changed dramatically for him. 
It's unclear whether the couple is still together, however. They didn't publicly confirm a breakup, but Reeves has disappeared from Lindell's social media. 
Jane Krakowski is not dating the MyPillow guy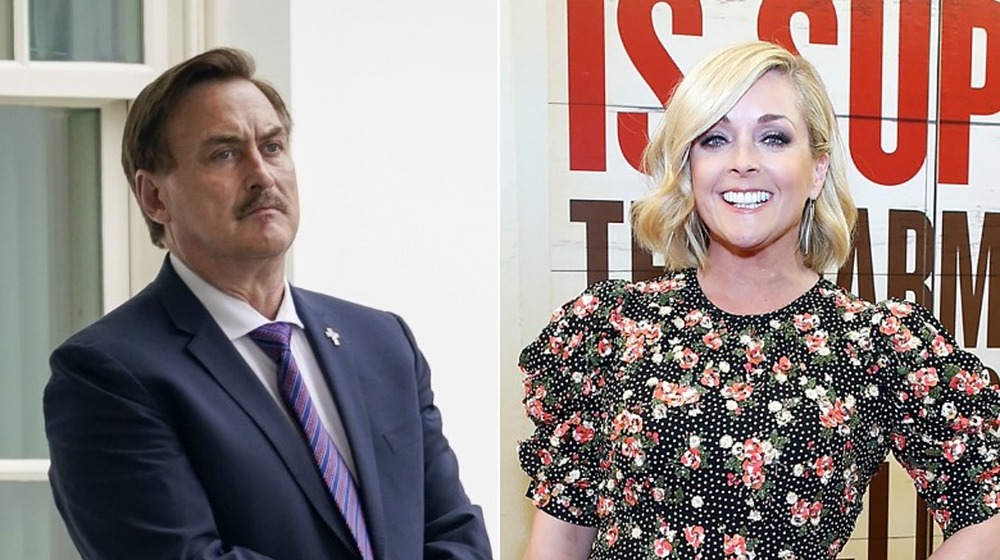 Drew Angerer, John Lamparski/Getty Images
The MyPillow guy may have finally found the right woman, but in early 2021 reports swirled that he'd been romantically involved with  somebody else along the way — someone entirely unexpected. The Daily Mail alleged Lindell had previously enjoyed a nine-month-long fling with 30 Rock star Jane Krakowski. Her friends reportedly found the whole thing hilarious. Krakowski, herself, shared in the hilarity, releasing a statement to People that she had never met the MyPillow CEO. "She is not and has never been in any relationship with him, romantic or otherwise," Krakowski's rep advised. 
The statement cheekily added, "She is, however, in full-fledged relationships with Brad Pitt, Regé-Jean Page, and Kermit the Frog and welcomes any and all coverage on those." 
Lindell was less amused, with the Daily Beast reporting he'd hired an attorney to sue the Mail for the story. "I'm not just going for a demand letter or a retraction," Lindell said. "I want to go after them with a lawsuit because they have damaged my integrity as a Christian and my network to help addicts everywhere." Hopefully his faith can help him get through this difficult time, too.