The Necklace That Got Meghan Markle In Serious Trouble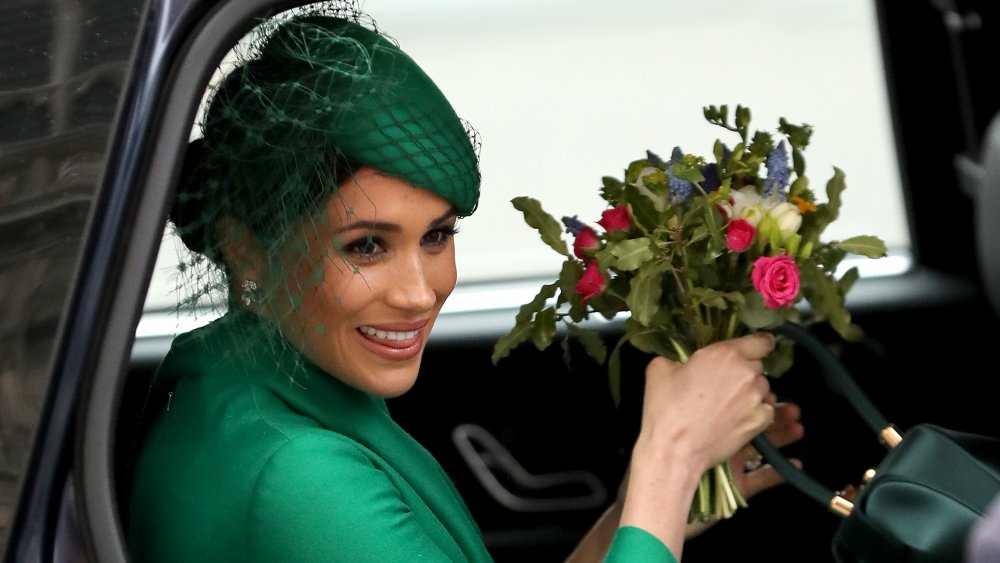 Chris Jackson/Getty Images
Meghan Markle is frequently heralded as one of the most glamorous and fashionable women in the world. And, when she was briefly part of the British royal family, it became widely known that the former actress wasn't a fan of the strict dress code she had to follow, likely because it stifled her personal style. Markle and her husband, Prince Harry, exited royal duties earlier this year, and in the months since have moved to the U.S. and refashioned themselves as a laid-back, do-gooder couple focused on raising their son, Archie, away from the public glare.
However, although their time as official members of the royal family was short-lived, certain tidbits about it continue to gain traction on both sides of the pond. The latest revolves around a piece of jewelry that reportedly caused quite a bit of bother for Markle with the rest of the royals.
Meghan's necklace was deemed inappropriate
According to People, a new tell-all book, Finding Freedom: Harry and Meghan and the Making of a Modern Royal Family, penned by veteran royal journalists Omid Scobie and Carolyn Durand, advises Markle caused outrage for having the gall to wear a necklace deemed inappropriate. It was December 2016, during the early days of her romance with Prince Harry, and Markle was photographed wearing a delicate 14-carat gold chain with the initials "H" and "M." The jewelry is believed to have been a gift from Harry, costing about $240, revealed The Sun.
As claimed in an excerpt from Finding Freedom, palace aides were furious with Markle's choice of jewelry, (via People). They argued that, "Wearing such a necklace only served to encourage the photographers to keep pursuing such images — and new headlines." Although Markle took their advice onboard, she was reportedly frustrated and upset. Although she understood their intentions were good, the book states that Markle felt, "The surreal experience of having someone from her boyfriend's office tell her what kind of jewelry to wear or not to smile at a photographer was too much."
The royal family frowns upon attention-grabbing jewelry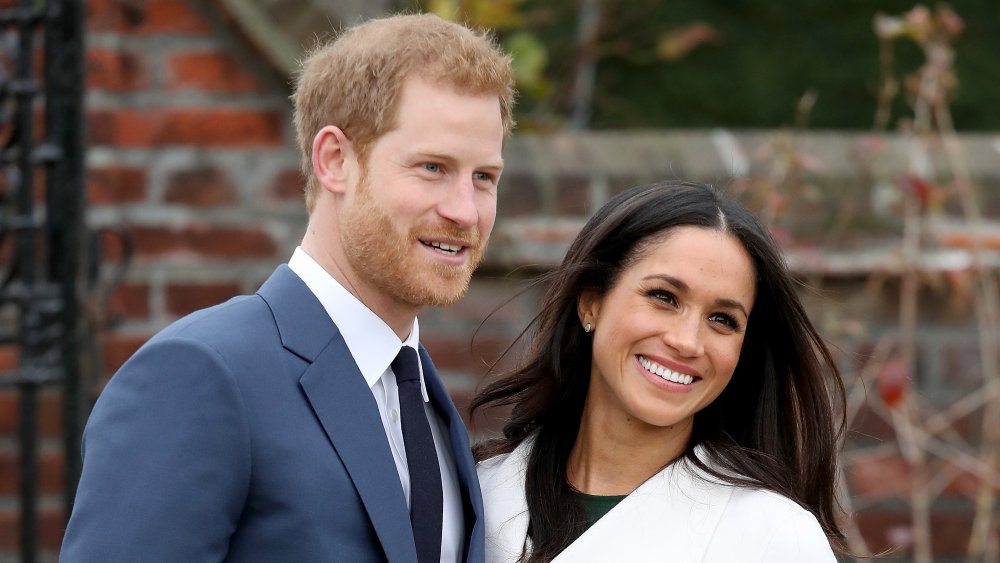 Chris Jackson/Getty Images
Per Finding Freedom, the duchess "felt damned if she did and damned if she didn't." (via People). She soon called a friend to complain about how, if she ignored the paparazzi, Markle was deemed "cold," but by being friendly she was accused of egging them on. E! News suggests the palace took issue with the necklace because it brandished the couple's initials, but also because Markle revealed at one point that she calls Prince Harry "H" as a nickname.
A spokesperson for the couple advised, "The Duke and Duchess of Sussex were not interviewed and did not contribute to Finding Freedom. This book is based on the authors' own experiences as members of the royal press corps and their own independent reporting." Finding Freedom is due to be published in the U.S. on August 11. Aside from inflammatory jewelry choices, the book also covers how their relationship first began and why they decided to exit the royal family.