Kamala Harris Is Unrecognizable In Throwback Photo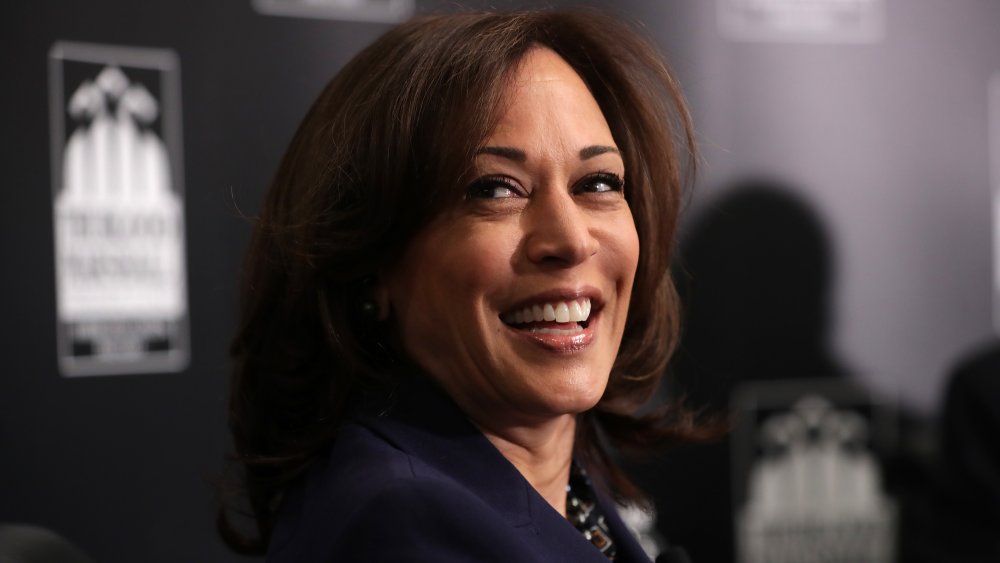 Chip Somodevilla/Getty Images
It's an incredibly busy and exciting time for Kamala Harris, who made history as both the first Black woman and first Asian American to be included on the presidential ticket for a major party as Democratic nominee Joe Biden's choice for VP. As The New York Times advises, the California native was the former attorney general for her home state as well as the former district attorney for San Francisco. Harris was elected to the Senate in 2016. She ran for president herself previously, attracting a fervent fan-base thanks to her progressive stance on key issues, including healthcare and the economy. Her focus is on marginalized groups such as women, people of color, and low-income families. 
A skilled speaker and debater, Harris is being championed for her recent speech at the DNC, with The Guardian noting she's enjoying a major moment right now, one that is meant to bolster support for Biden as the November election rears its head. "That I am here tonight is a testament to the dedication of generations before me. Women and men who believed so fiercely in the promise of equality, liberty and justice for all," she advised the DNC.
Kamala Harris' throwback photo has an edgy, cool vibe
Social media was abuzz with support for Harris, but users had another reason to discuss the boundary-pushing politician after a stunning throwback shot was posted of her (via Twitter). The photograph, which appears like it could easily have been plucked from a chic fashion shoot, shows a pensive Harris, with an edgy cropped haircut, wearing a stylish black coat, the collar confidently popped. 
"Young Kamala Harris looks she's an editor for New York Magazine's The Cut," quipped Derek Guy, who shared the photo, referencing the fashion counterpart of the hip NYC publication. "She looks like Anita Baker c. 1986. Wow," swooned one user, while another noted the photo boasted, "Serious hip Gen X teen movie vibes." One fan seemingly got hot under the collar himself, admitting, "I wanna be her intern."
The VP nominee's fans are pretty well-known, referring to themselves as the KHive, a moniker that references Beyonce fans, who are collectively known as the Beyhive. Vox notes how tweets from long-time Harris supporters typically garner millions of impressions. They see their heroine as the best chance at beating Trump, because Harris is more practical and has a less contested track record than Biden. She's particularly beloved by young people, and especially young people of color, who understandably take enormous pride in Harris's groundbreaking ascent to the upper echelons of politics. 
On the basis of her throwback photo, however, it seems Harris could have had an entirely different trajectory as a Miranda Priestley-type magazine editor, teen actress, or even a supermodel.