The Truth About Mike Pence's Brother, Greg Pence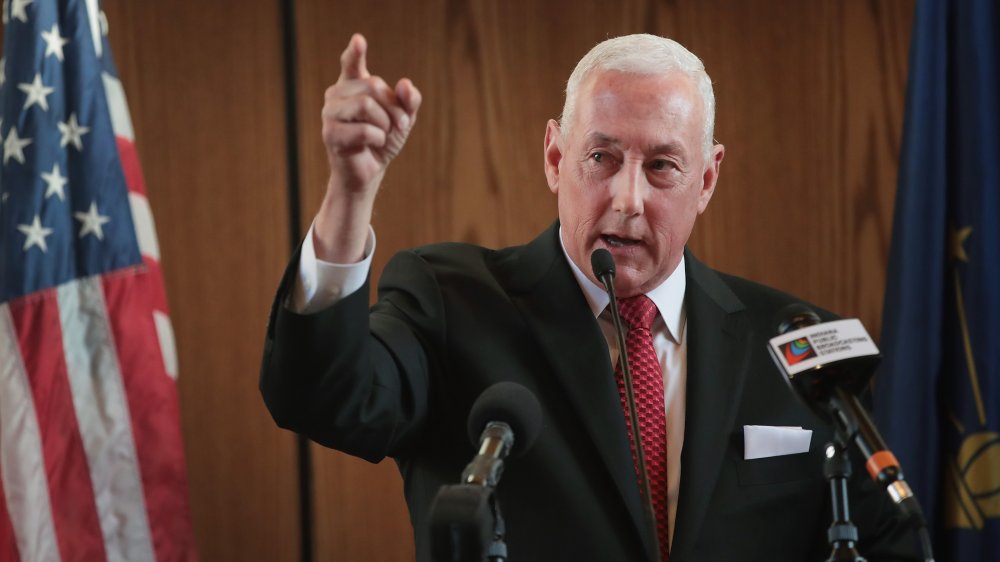 Scott Olson/Getty Images
Greg Pence looks so much like his younger brother, Mike Pence, that in 2016 he served as a decoy for the vice president (via Politico). In 2019, after the ex-marine won the House seat for Indiana's 6th Congressional District, it was Greg's turn to go to the Hill (via Congressional Veterans Caucus). In hindsight, the odds were stacked in his favor. For one, it's a seat that his brother, Mike, occupied for 12 years. He also raised an astonishing 2.76 million dollars towards the election efforts. His top, Democratic opponent? Only $70,408 (via Center for Responsive Politics). In 2020, Greg is running a similarly big-budget re-election campaign, having raised $2 million, much of it from the oil and gas, construction, defense, real estate, and finance industries (via Center for Responsive Politics). 
The 63-year-old has a Facebook page dedicated to celebrating NASCAR, local, Indiana industry and agriculture, and law enforcement. He's got an MBA from Loyola University, and worked in the oil industry for the majority of his life, for the petroleum explorer Unocal Corporation, Marathon Oil, and as president of the Kiel Brothers Oil Company (via Vote Smart). His pastor, Rev. Clement Davis, noted that he's "never heard him be anything other than a gentleman" (via The Washington Post). That may be true, but what else do we know about Greg Pence?
Greg Pence is a big fan of Donald Trump
In late 2018 and early 2019, Greg Pence was catapulted into the limelight for spending thousands of dollars at the Trump International Hotel in Washington D.C. According to Forbes, the Pence family indirectly funneled a great deal of money to the Trump family. Meanwhile, USA Today condemned the freshman congressman for spending thousands of campaign funds on personal lodging expenses at the hotel, which the campaign quickly re-designated as fundraising event costs. 
In the political arena, that's about as controversial as Rep. Pence has gone. In 2018, a Republican challenger, Jonathan Lamb, criticized Pence for not "tak[ing] a position, really, on anything" (via The Washington Post). Instead, he stuck to "bread and butter" Republican platform issues. As FiveThirtyEight documents, on the floor of the House, Pence has behaved similarly. He has voted 100 percent in accordance with Trump's positions, 100 percent of the time. He's solidly pro-life and backs the right to bear arms (via Vote Smart). And in the midst of nation-wide protests and calls to defund the police, Greg Pence penned an op-ed calling such initiatives "irresponsible and downright dangerous" (via Indy Star).  
Greg Pence has been part of some controversies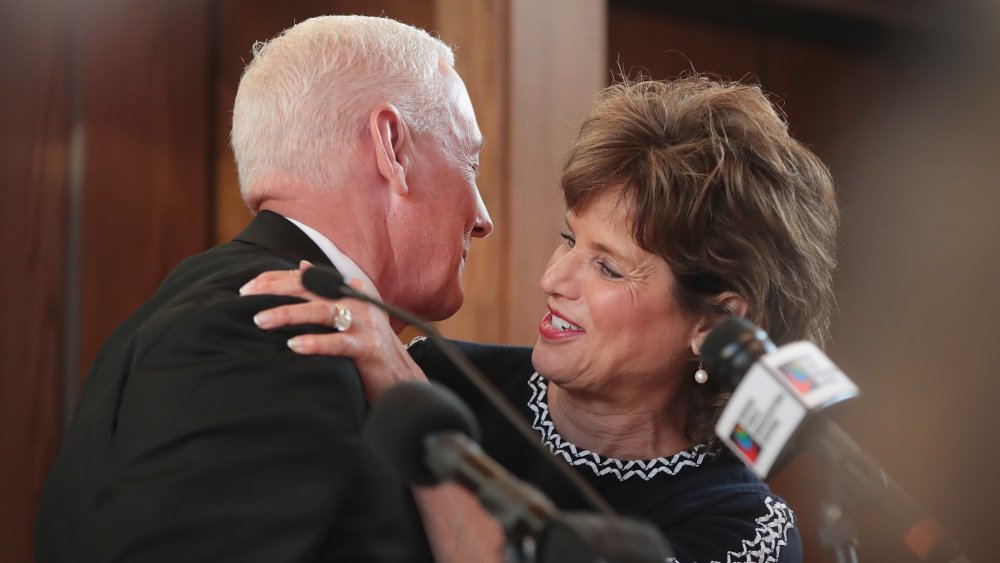 Scott Olson/Getty Images
On his website, Rep. Pence portrays himself as "understanding the challenges of building and growing a business." He's certainly met his fair share of challenges. As revealed by The New York Times, while he was president of The Kiel Brothers Oil Company, the company filed for bankruptcy. The State of Indiana fined the company for $8.4 million in environmental damages. Pence, himself, was sued by a local bank for $3.8 million in related debt and settled for pennies on the dollar. He resigned from the board of directors of the same bank after announcing that he could not repay his loans. In an even more puzzling twist to the story, in the aftermath, Pence was appointed deputy commissioner of the Indiana Department of Environmental Management, the very agency that had sued The Kiel Brothers Oil Company. He held the position for less than three months. 
As strange as that story is, in 2020, Greg Pence was caught up in a bigger controversy. This one surrounds an antique mall in Edinburgh, IN, that Pence owns with his wife, Denise (via The Washington Post). The 2,000 square-foot mall hosts 600 vendors who pay rent starting at $189, plus commissions for each sale. Some merchants sell objects celebrating offensive caricatures, such as "Mammy" biscuit jars. While Pence has denied actively managing the mall, in a 2018 interview with Roll Call, store manager, Joyce Bishop insisted, "He knows exactly what's going on here."