The Stunning Transformation Of Chelsea Clinton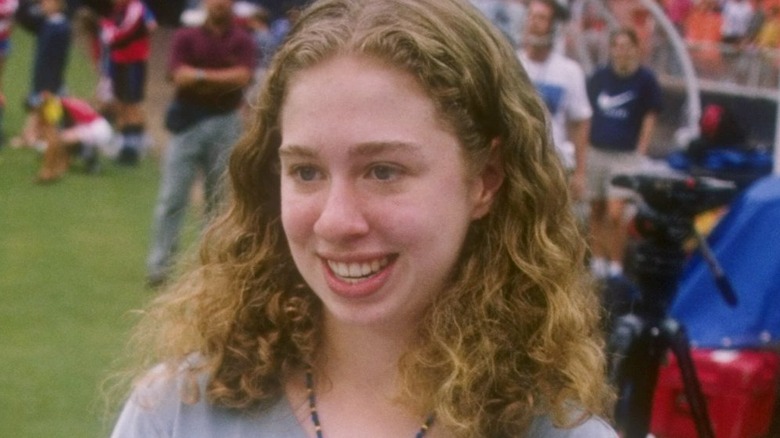 Rick Stewart/Getty Images
We may receive a commission on purchases made from links.
Chelsea Clinton could have had the unique honor of being the First Child for a second time if mother Hillary Clinton had become president of the United States. Alas, that opportunity never came to fruition, but if it did, she'd have been following in the seriously stylish footsteps of Malia and Sasha Obama (unsurprising, considering they have Michelle as their fashion role model). Over the years, Chelsea slowly but surely came into her own fashion sense, blossoming from an early loungewear enthusiast into a woman who makes pretty solid sartorial selections. Here's the style transformation of Chelsea Clinton, from childhood until today.
Early on, Chelsea Clinton was all about keeping it casual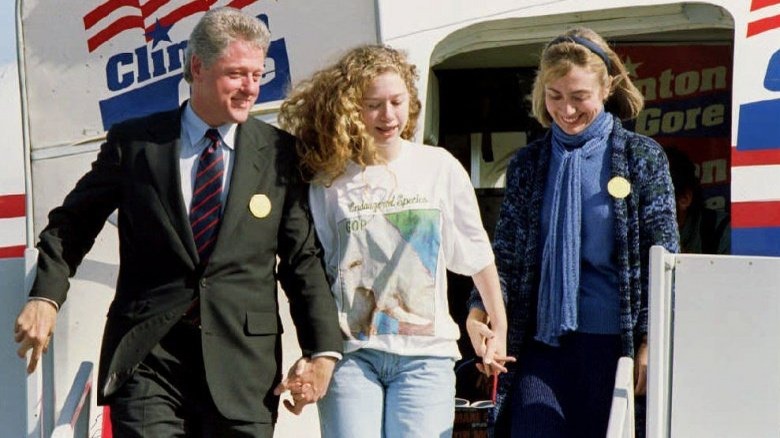 Getty Images
When her father, Bill Clinton, was first running for his eventual seat as the 42nd POTUS, the then-12-year-old Chelsea Clinton was regularly seen sporting her go-to garbs: a simple T-shirt and denim jeans. Here, when she joined her political parents on a trip to Arkansas to await the results of his inaugural election cycle in their home state that night, she stepped off the plane wearing a loose-fitted tee with boyfriend jeans, and her no-fuss, no-muss approach to curl management was on full display. The littlest Clinton did slip in a touch of her own ethical leanings in that moment, however, because the shirt she wore displayed her enthusiasm for endangered species protection, a cause for which she's actively worked as an adult.
When official business was afoot, Chelsea Clinton glammed it up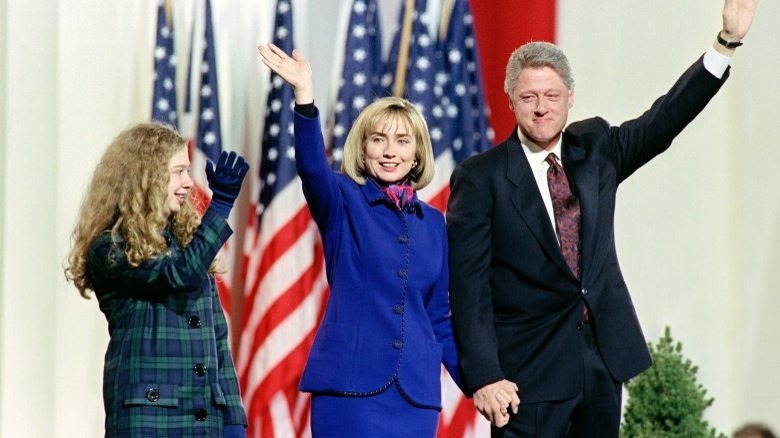 Getty Images
After Bill Clinton was announced as winner of the nation's biggest night, Chelsea Clinton ditched her low-key digs for something a little more stately as she joined her father in accepting his new role as Commander-in-Chief, and her own as First Daughter. Not only did she tame her mane into tighter tendrils, but she also donned a classic plaid coat and gloves to match the timelessness of her parents' own ensembles.
Growing up and into her own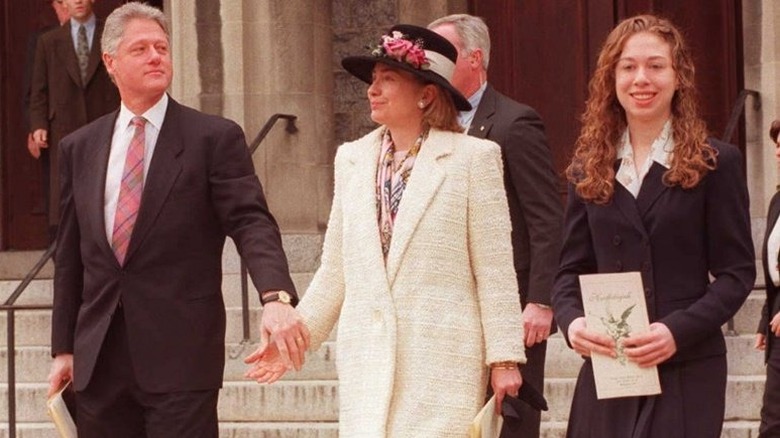 Getty Images
As time progressed, Chelsea Clinton began to adopt her own sense of style. Here, when she was still just 15, she attended Easter services with her parents at Washington's Foundry Methodist Church and looked positively ready to enroll in law school, just like her folks once did, in her smart black dress suit with a collared white shirt beneath.
Even Chelsea Clinton's low-key travel gear got an upgrade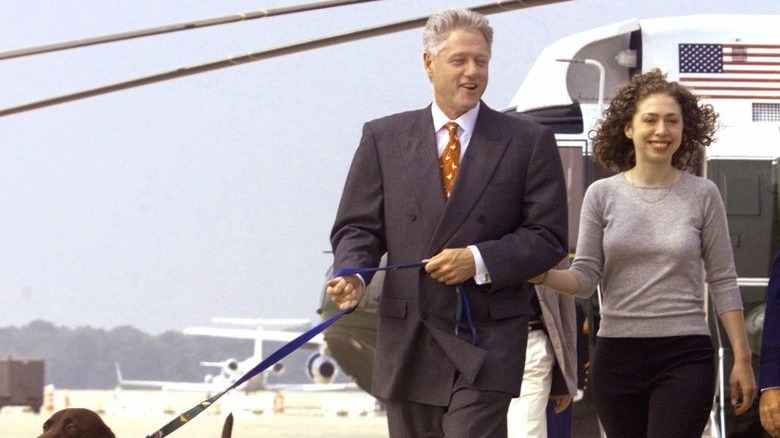 Getty Images
Here, in 1996, Chelsea Clinton joined her father on the runway to board Air Force One (with Buddy the dog!) for a family getaway at Martha's Vineyard. Not only had she found an excellent stylist to give her locks a little color punch, but she also decked herself out in casual business style with a classic gray cashmere sweater and some snappy dress pants that made her look all grown up already.
Pretty soon, Chelsea Clinton started playing with pantsuits, too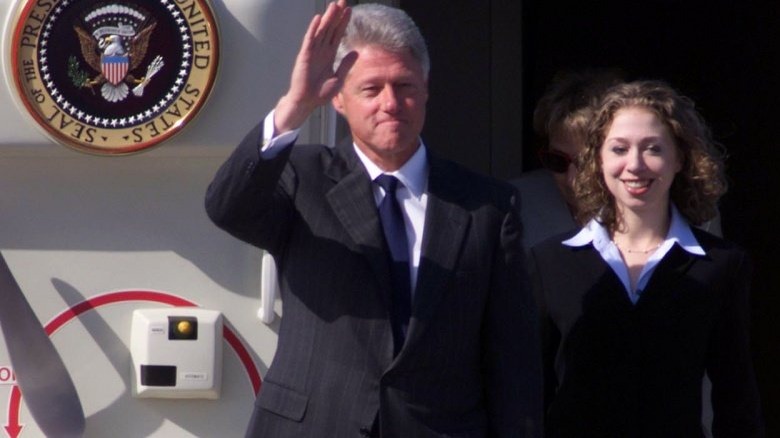 Getty Images
On Twitter, Hillary Clinton's bio declares her to be a "pantsuit aficionado," among her many other distinctions, but the former FLOTUS-turned-presidential candidate isn't the only member of the Clinton family who's big on trotting around in trouser combos. Here, during a trip to New Zealand for the 1999 Asia-Pacific Economic Cooperation conference, Chelsea Clinton stepped out in a blazer suit that was so akin to what her mother had been known to wear, it could've easily been borrowed from her closet.
Chelsea Clinton had a thing for embroidered cardigans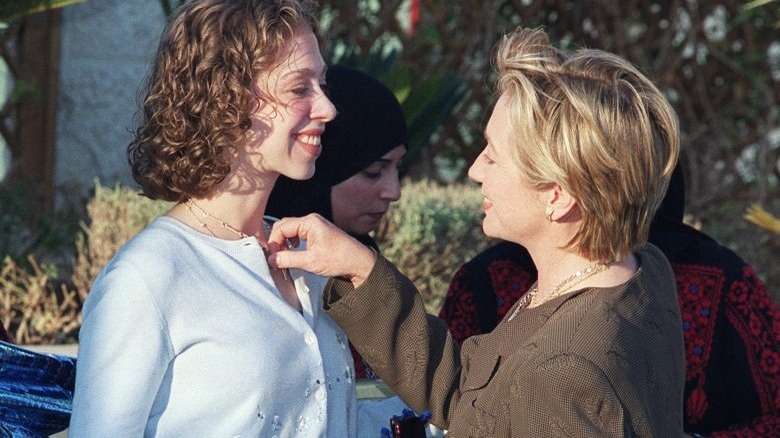 Getty Images
When Chelsea and Hillary Clinton headed to Jordan in 1999 for a meeting with its princess and to launch their lengthy European tour, Chelsea maintained her typically professional aesthetic, but her button-up sweater had just enough sewn-in ornamentation to make it just as appropriate for taking tea as it was for a meeting with royalty. Versatility is key when you're on the move, right?
Eventually, Chelsea Clinton started to work a little more flair into her wear
Getty Images
In this shot from a tennis match at the 2000 Olympic Games in Sydney, Australia, Chelsea Clinton was repping a lot more sass with her look than usual, including an arm-baring blouse and knee-length pencil skirt. The real kicker of the ensemble, though, was the rad pair of sunglasses she wore that made the then-student of Stanford University look like the cool college kid that she was at the time.
Chelsea Clinton started to have fun with her hair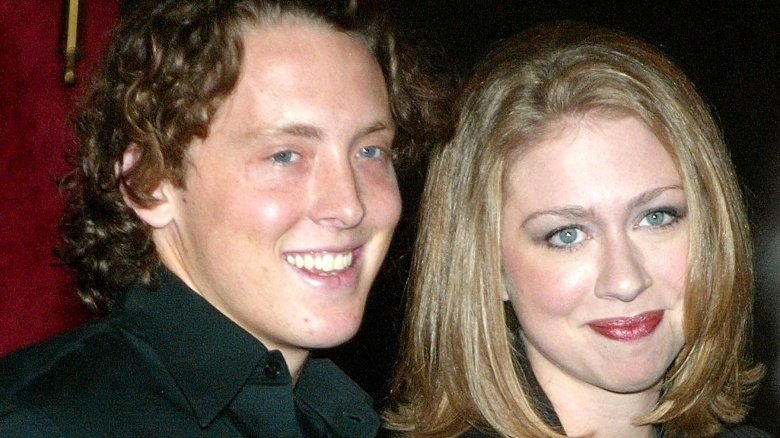 Getty Images
Once Chelsea Clinton enrolled in graduate school at Oxford, she began to experiment with a new 'do and debuted some newly-straightened and lightened locks, as seen here at the 2002 premiere of "Red Dragon" (which she attended with her then-boyfriend, Ian Klaus). At the time, Clinton was rubbing elbows with fashion bigwigs like Donatella Versace and pop culture icons such as Madonna, which might've inspired such a bold change to her signature appearance. Whatever it was, though, the frizz-free look was (mostly) there to stay.
Chelsea Clinton's accessorization game began to strengthen over time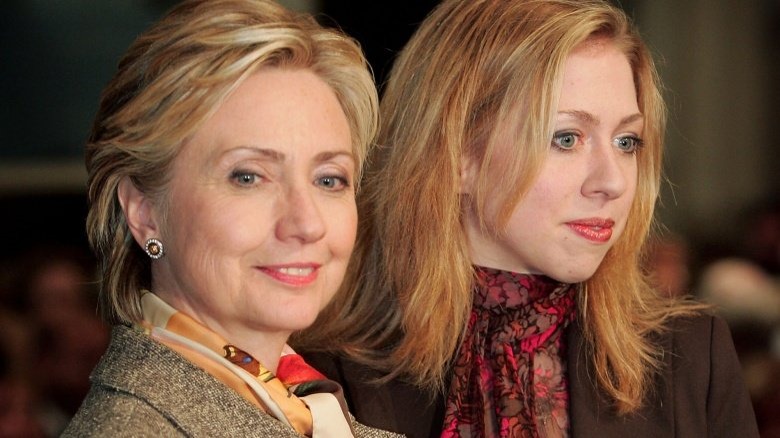 Getty Images
Chelsea Clinton's modesty modality never went by the wayside, but she did start to cycle in some key accoutrements to her outfits, like with this savvy neck scarf that perfectly complemented her brown blazer during her father's 2004 speaking event at the Little Rock Arts Center. She also earned some major snaps for subtly coordinating with her mom's similarly earth-toned get-up at the event.
At some point, Chelsea Clinton became kind of a dame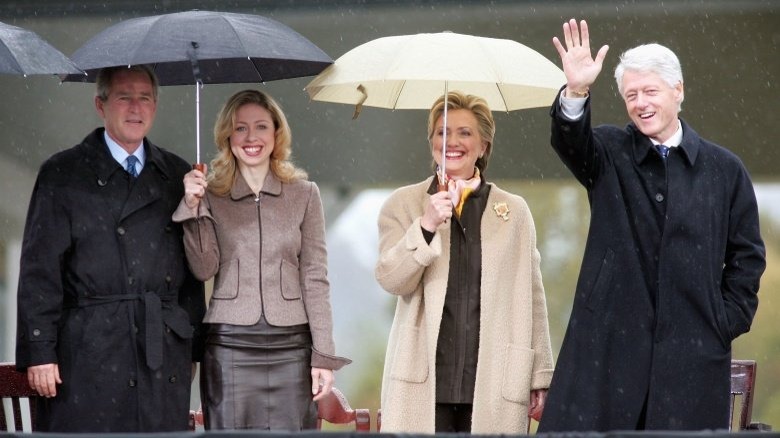 Getty Images
By the time Chelsea Clinton had reached quarter-centurion status, her look had evolved from relatively matronly to outright ravishing, as with this flattering skirt suit she wore to the opening of Bill Clinton's presidential library in their home state in 2004. Her classically-curled coif was the perfect fit for the scalloped collar of her pretty little blazer, and the fact that she matched it with a nervy leather skirt for such a high-profile affair was all the more exciting.
Even Chelsea Clinton's campaign clothes went up a big notch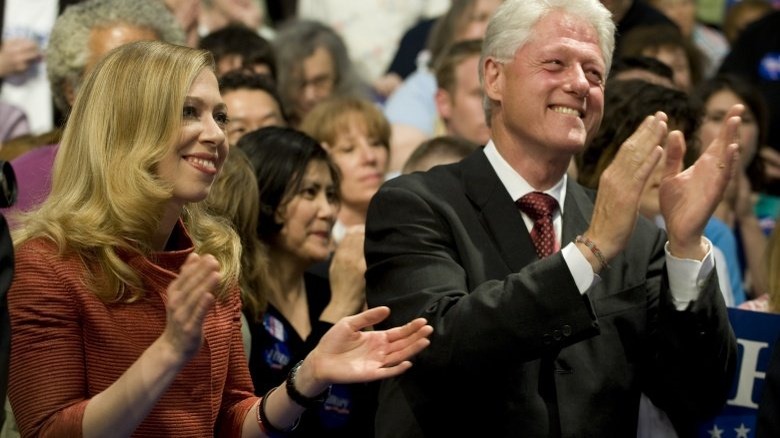 Getty Images
When Chelsea Clinton hit the trail in support of her mother's first bid for the hot seat in 2008, she rocked a variety of jackets, but this incredible penny-colored corduroy coat with a mandarin collar stood out for its simple splendor, and could've easily taken attention away from the woman of the hour onstage.
Chelsea Clinton's LBD obsession is also well documented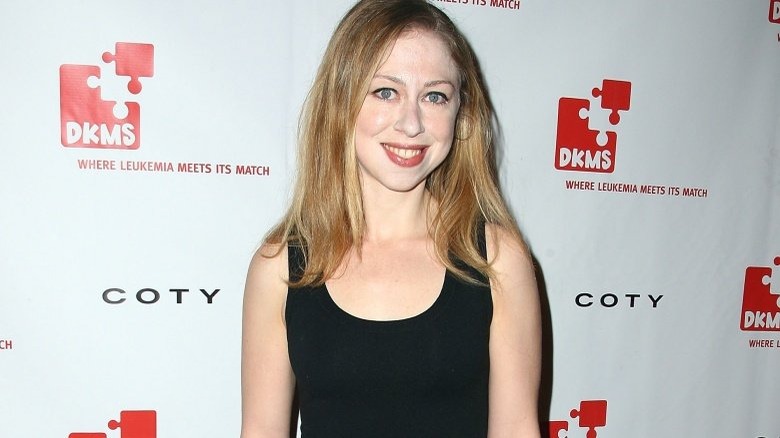 Getty Images
Whenever she's called to the red carpet, as with this 2009 gala appearance in New York, there's a good chance Chelsea Clinton will be showing up in a little black dress. There are examples aplenty of her penchant for the definitive dress style, and this fresh pairing of a tank blouse with a frilly A-line skirt and round heels (while dialing back on the extras) is a prime example of why we love when she opts for an LBD during a night on the town.
Chelsea Clinton's style has been unimpeachable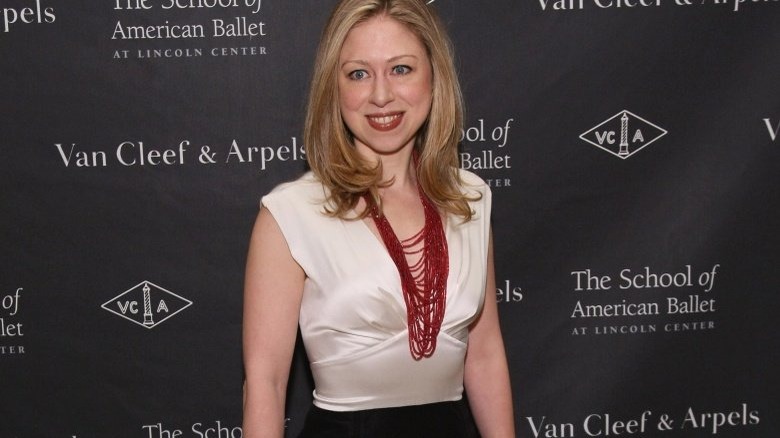 Getty Images
Chelsea Clinton has gotten professional wear down to a strict science during her time in the spotlight, but she's also gotten a clear handle on what works for her, as evidenced by this amazing ensemble she put together for the School of American Ballet's Winter Ball in 2012. Anything more on the accent piece front would've taken away from the beautiful fit and fabrics of her two-toned number, but anything less would've been too plain for such an event. Her stacked, deep red necklace was just the right touch and size to give the look the exact pop it needed, while remaining squarely within her comfort zone, so it was well-played indeed.
Chelsea Clinton's wearing it as well as the stars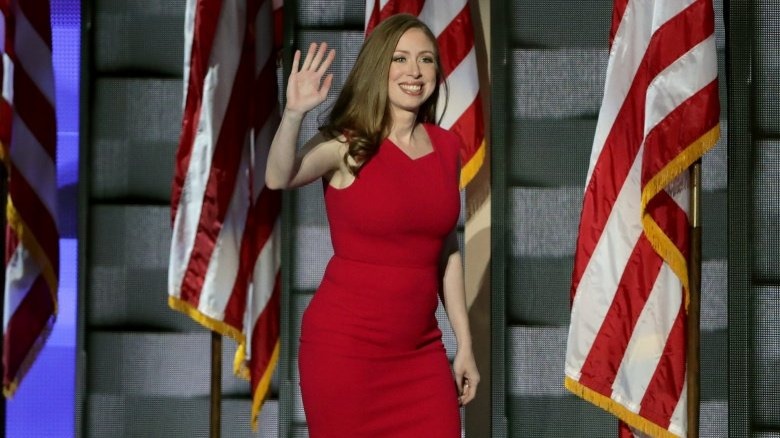 Getty Images
For Hillary Clinton's second run for the Oval Office, Chelsea Clinton, then a new mom herself, was once again busy supporting her mom's bid. For her sweet speech at the 2016 Democratic National Convention, she took the stage in a form-fitting red Roland Mouret dress that had the press buzzing about her trendy threads, especially since the same frock had been sported in light blue by none other than Jessica Alba just a couple of months earlier. Looking back at the biggest moments of Clinton's style evolution, it's clear she's been "in" for quite some time.
Chelsea Clinton's become bolder since the 2016 election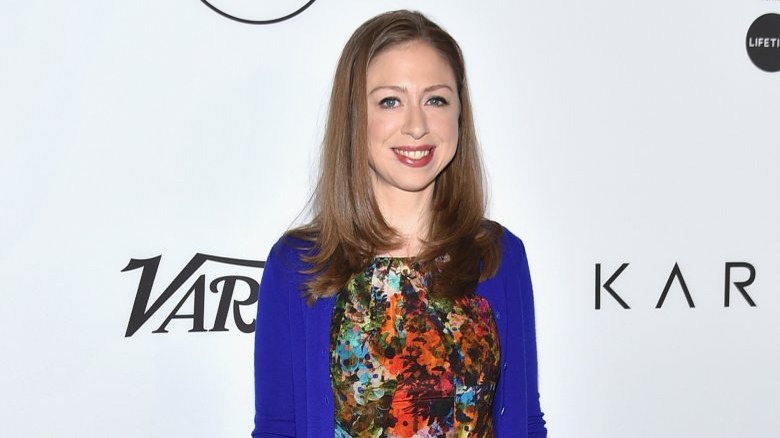 Getty Images
After the outcome of the 2016 presidential race, the Clintons took some time to grieve the loss, but have since picked themselves up and seem to be doing just fine. Chelsea, in particular, made headlines as there were mumbles that she may join the ranks of her parents and run for office. She quelled those rumors in a video she made with Variety. "I am not running for public office," Clinton said. "I really find this rather hysterical, because I've been asked this question a lot throughout my life, and the answer has never changed."
She emerged boldly from her family's loss in style, making appearances in bright colors and patterns — a shift from her prior outfits, which leaned toward neutral and classic. She grabbed our attention with this look, which she sported at Variety's Power of Women in April 2017, and hasn't let go. Though she doesn't plan to get into politics, she has already evoked change through a different route — by educating and empowering children.
In May 2017, Clinton published a children's book. "She Persisted" tells the stories of 13 women who faced immense opposition to their big goals, and yet they persisted. "I wrote this book for everyone who's ever wanted to speak up but has been told to quiet down, for everyone who's ever been made to feel less than," said Clinton in a statement.
Chelsea Clinton still stuns when dressing down
Chelsea Clinton attended Variety's Power Of Women event in 2017 in a bright ensemble, but she rocked a totally different look for the April cover of the magazine. In a fitted black jacket with zipper details, white T-shirt, and dark blue jeans, she looked laid-back, but still every bit a powerful woman.
Variety's behind-the-scenes video interview with Clinton was similarly relaxed. Wearing the same outfit as she did on the shoot, she kept her makeup minimal and her hair down. Because Clinton has been wearing her hair straight for so long, you may have forgotten how curly her hair used to be.
Back in 2015, she told Elle (via Racked) that her curls naturally "fell into waves" in her early 20s and admitted that she missed her ringlets. However, in Amy Chozick's book "Chasing Hillary," the author alleged that Clinton had actually gotten a keratin treatment to straighten her hair. Clinton squashed those rumors in 2018 with a tweet directed at Chozick. In it, the former first daughter revealed that she'd "never gotten" a "hair keratin treatment." Of course, it wouldn't be a big deal if she had. Her hair looks great regardless.
Chelsea Clinton's clearly a fan of staple solids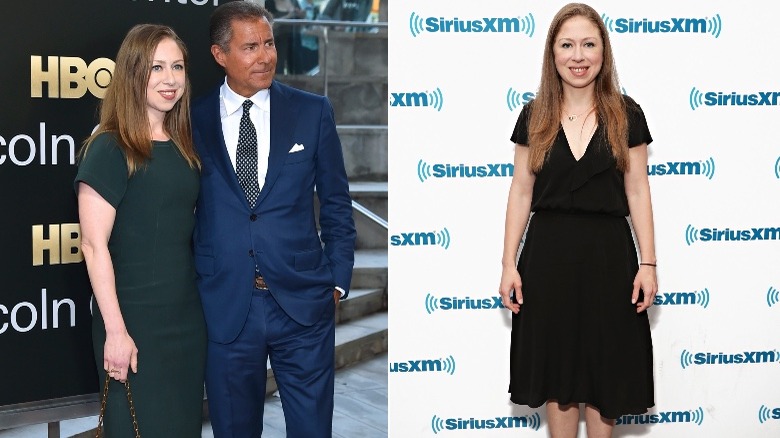 Getty Images
In the past, Chelsea Clinton didn't shy away from bold patterns. While she still rocks a colorful print here and there, you'll often see her in a solid-colored ensemble these days. In May 2018, when Clinton attended the annual American Songbook Gala to honor HBO's Richard Plepler, she chose a fitted forest green dress paired with nude pumps. Later that year, Clinton attended a SiriusXM Town Hall wearing what looks to be those same nude pumps, but, this time, she opted for a lower-cut black dress with ruffle detail on the bodice.
When promoting her children's book "Start Now! You Can Make a Difference" on The Hallmark Channel later in the year, she again wore a solid dress in a deep magenta color — proving that one-color outfits are anything but boring. In 2018, SheFinds predicted that a monochromatic style would be the biggest trend in 2019. It looks like Clinton was simply ahead of the curve.
Chelsea Clinton's chic maternity style
In an interview on "Good Morning America" in April 2019, Chelsea Clinton rocked her classic nude pumps once more — because, seriously, what don't nude pumps go with? — but this time she paired the heels with a similarly hued dress. Clinton, who announced in January 2019 that she and husband Mark Mezvinsky were expecting their third child, donned a stunning fitted blush pink dress.
We can't help but notice how her dress resembled the Brandon Maxwell number Meghan Markle happened to wear during her own pregnancy. Blush is not just a maternity trend, though. Vogue reported that a bevy of nude shades — or "50 shades of beige" — would be one of the "most important trends of the spring 2019 season." It seems both the duchess and Clinton got the memo. But unlike Markle, who paired her dress with a matching blazer, the activist and author added an unexpected pop of color to the neutral color palette: a cobalt blue cardigan — and it works!
Chelsea Clinton embraced business casual during the 2020 pandemic
Like many people who found themselves living a slower-paced lifestyle when the COVID-19 pandemic broke out in 2020, Chelsea Clinton adopted more relaxed fashion choices that year. Her laidback business casual look could be seen in interviews and TV appearances carried out via video call. For example, during a virtual appearance on "The Tonight Show" in September 2020, Clinton appeared in a simple navy blue top. The outfit seemed to be the same one she wore in an appearance on "The View" that aired the day before as well as one seen in a CNN appearance in August.
That's not the only outfit Clinton repeated in 2020. In March, she appeared in person on "Story in the Public Square," wearing a floral top under a gray blazer. Clinton was seen wearing the same top — sans blazer — months later in an appearance at the virtual National Book Festival in September and again during a virtual appearance on "Watch What Happens Live with Andy Cohen" the following month.
Clinton wore minimal makeup in 2020 and also adopted a relaxed hairstyle, wearing her hair down with natural waves in all of the appearances she made from her home.