7 Best And 7 Worst America's Next Top Model Makeovers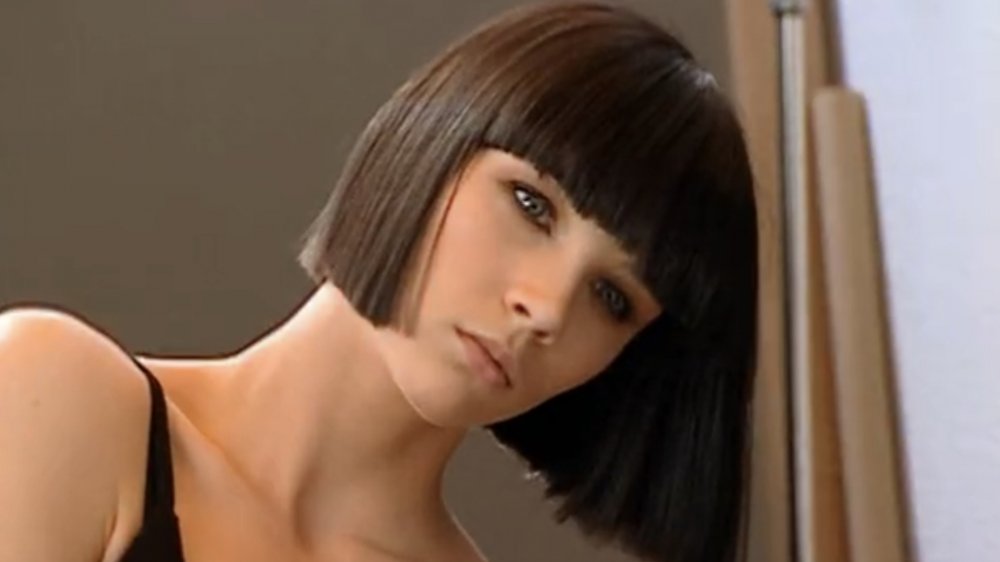 Hulu
Over the course of America's Next Top Model's many cycles, hopeful models-to-be go through photo shoots, modeling lessons, and lots of tissues. But if there is one aspect per cycle that stands out among the others, it's the makeover that each model goes through.
Each cycle, host Tyra Banks reveals to the contestants the changes in hair, makeup style, and sometimes even dentistry that she believed would take them all the way to the top. The cycles saw some outstanding stars whose natural beauty and confidence completely changed for the better due to the makeovers they received. But other contestants weren't nearly as lucky, with some enduring permanent adjustments and horrific weaves that got in the way of their Top Model success.
Have you ever wondered which makeovers have stood the test of time? Or which makeovers left the contestants crying and questioning everything? Wonder no more, as here are the best and worst makeovers in Top Model history.
Best: Bianca Golden's shaved head took her far on America's Next Top Model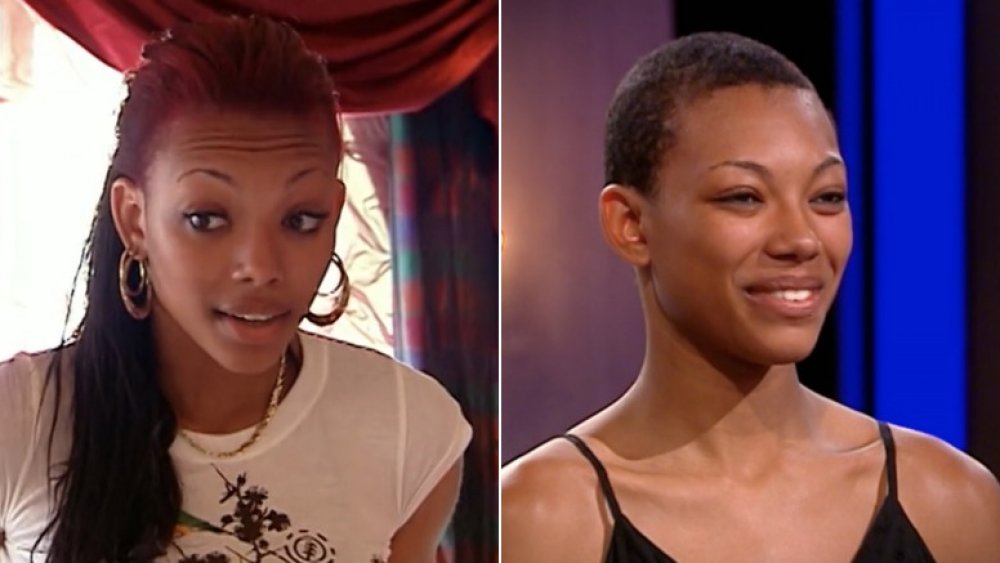 Hulu
America's Next Top Model's Bianca Golden took a seat in the Ken Paves Salon chair in Cycle 9, ready to fulfill Tyra Banks' vision of her as a Beyoncé-like blonde, only to be told that her natural hair was fully damaged. Despite the long locks she was supposed to have, Golden's hair was completely shaved off. 
"This is emotional, this is really hurting me," Golden said in the makeover episode. "I feel defeated." Golden went on to be told that her short buzz cut would make wearing wigs easy, which would "allow [her] versatility" in her modeling career. But when she put on a wig for the first time, she didn't feel good about it. Instead of the luscious locks that Banks had envisioned for this model, Golden took to her post-makeover photo shoot rocking her short hair. 
"It's a nice wig, but it just doesn't make me feel like myself," Golden said. "So for now, I'm just getting used to this look." Was it the easiest makeover process? No, but Golden looked stunning after her transformation. Plus, she made it all the way to the final four.
Worst: Cassandra Whitehead's haircut made her leave America's Next Top Model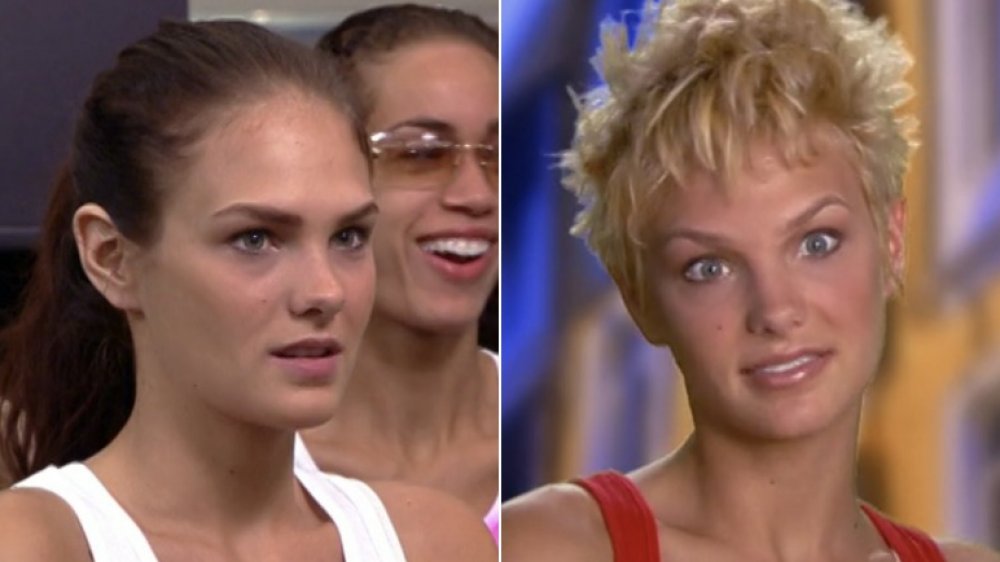 Hulu
Cassandra Whitehead was not the first America's Next Top Model contestant to receive a pixie cut, but her flat-out rejection of the look resulted in her departure from the show. After her makeover, Whitehead found herself on a photo shoot set, faced with a request from Jay Manuel, the shoot's art director: cut another inch of hair off. Whitehead would not budge.
"It wasn't just cutting an inch and a half of hair for me. It was the last straw of them completely trying to change who I was," Whitehead said in a Cycle 5 episode. The choice got her kicked off set, and she eventually left the competition. 
Shortly after, she told TV Guide that she saw her long hair as "a form of self-expression." She said, "I think [long hair is] classic and feminine and has a lot more versatility," adding, "You can do just about anything with it, whereas right now I'm stuck with hair that's difficult to do anything with." Her negative makeover experience and vehement rejection of the look solidified her as one of Top Model's least successful transformations. Despite her leaving the show, Whitehead went on to become one of the most successful America's Next Top Model contestants ever.
Best: America's Next Top Model's Kayla Ferrel went from everyday blonde to fiery redhead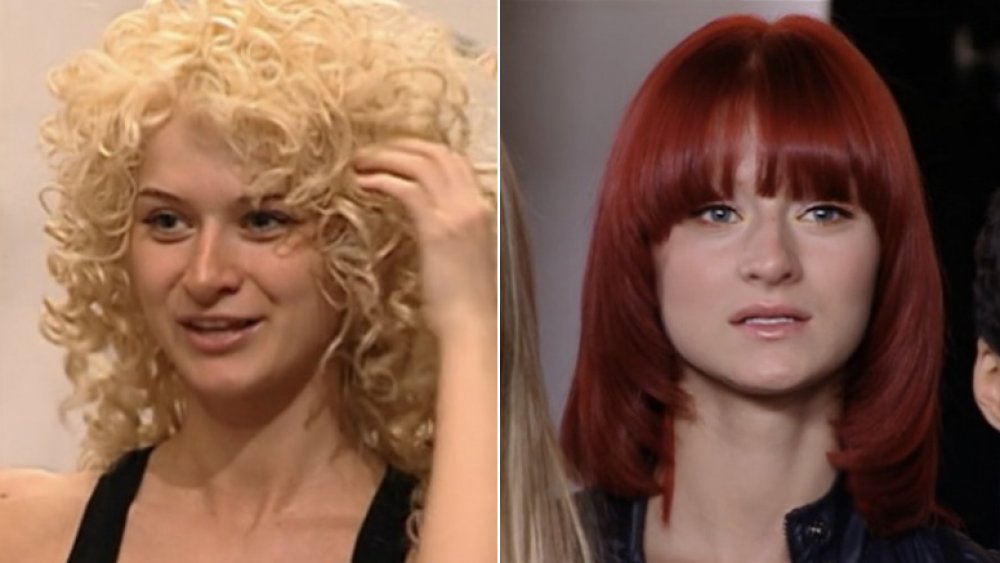 Hulu
Model Kayla Ferrel came to America's Next Top Model with two things: bouncy, blonde curls and strict makeover orders from her girlfriend. "My girlfriend had two stipulations. She said, 'Don't come home with red hair, and don't come home bald.' So I may be single after this," Ferrel said in a Cycle 15 episode, as her makeover turned her from an everyday blonde to a bold redhead with bangs. 
Unlike some of her fellow contestants and former Top Model hopefuls, Ferrel was convinced that the show-stopping transformation was worth it. "This is what's gonna to take you to the next level," she said during her makeover, as her hair was dyed and her eyebrows bleached. "I don't understand why people cry. I don't understand why people get upset." 
Ferrel's transformation was one of the boldest and most daring of her cycle, and her post-makeover photo shoot stood out from the crowd. "Personally, I love my hair," she said. "I think that the boldness, the brightness meshes perfectly with who I am." Ferrel made it far in the competition, and she eventually tied for third place with contestant Jane Randall.
Worst: Chelsey Hersley was given a tooth gap on America's Next Top Model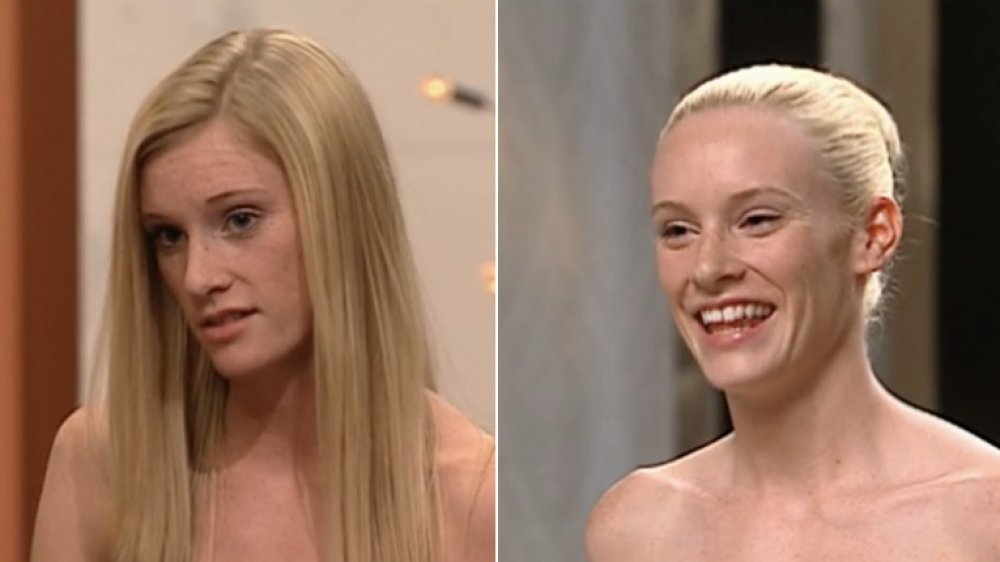 Hulu
Unlike her fellow contestants who received the entirety of their makeovers in a beauty salon, Cycle 15 competitor Chelsey Hersley began hers at a dentist's office. Tyra Banks saw Hersley not only as an icy blonde, but as a model with an intentional gap between her two front teeth. 
Hersley came to the competition with a slight gap between her teeth already, but Banks decided to go all in and sent Hersley to the dentist. She ultimately had a quarter of a millimeter shaved off of each front tooth, widening the small gap she already had. 
"I will do anything that she thinks looks good," Hersley said of Tyra Banks' decision in the cycle's makeover episode. "The competition is so big and intense, and the stakes are so high that I take it really seriously." But Banks' choice to permanently alter a contestant's dentistry has remained one of the most controversial choices in America's Next Top Model history. While a pixie cut, for example, will grow back and an ill-fitting wig or weave can come off or be redone, a widened tooth gap is forever.
Best: America's Next Top Model's Brittani Kline became runway ready with a bold, dark bob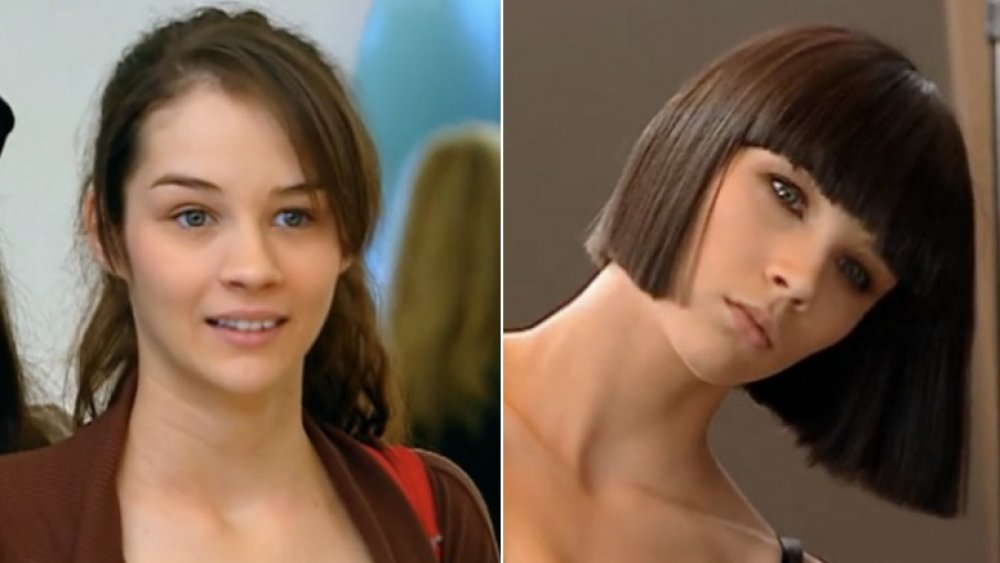 Hulu
In Cycle 16, models arrived at Privé Salon in Hollywood where stylist Laurent D. went to work making Tyra Banks' visions for each contestant a reality. And unlike some girls who experienced subtle changes or downright awful makeovers, Brittani Kline received one of America's Next Top Model's most iconic transformations. 
"Right now I'm just kind of plain Jane, and I blend in with everybody, and they know what it takes to make someone stand out and look like a model," Kline said. "I fully trust them." 
Kline went from small town girl to runway ready with an angular, bold cropped cut and bangs. She worked with the angle of her new haircut while posing for her photo shoot after her makeover, making a serious impression. "I definitely don't feel like myself anymore. I'm a whole new person," she said. Kline went on to win her cycle of Top Model, scoring a photo shoot with Italian Vogue and making it on the cover of the publication's Beauty in Vogue supplement, as noted by The Cut.
Worst: Molly O'Connell's America's Next Top Model weave disaster made our own scalps ache in pain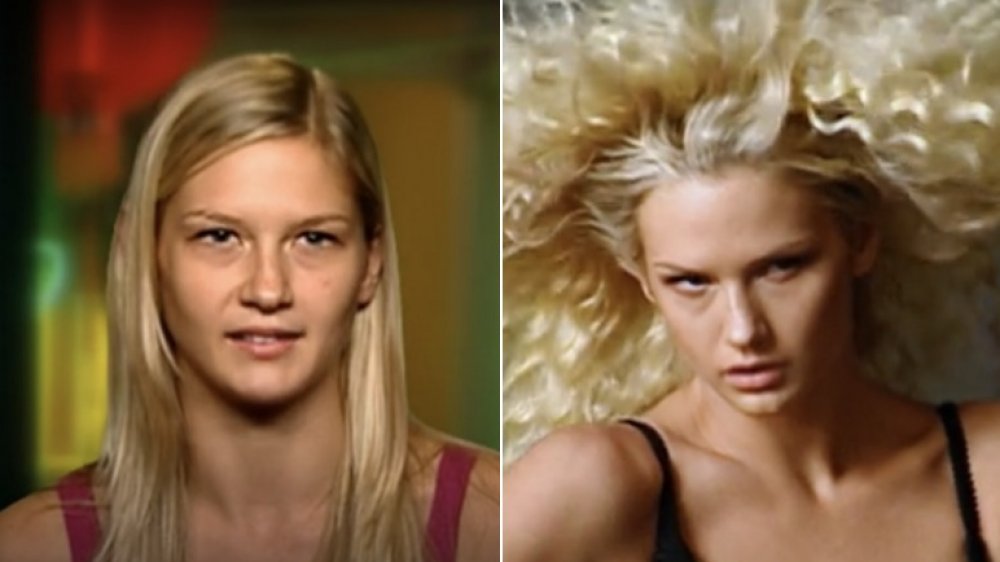 Hulu
It is no secret that the recipient of a weave needs to have a pain-tolerant scalp and hair ready to withstand the process. America's Next Top Model contestant Molly O'Connell did not fit the bill, but Tyra Banks wanted to create the "What if Diana Ross was a blonde?" look she had envisioned. O'Connell went along with it, but her slippery, fine hair was not ideal for a successful weave.
In light of the situation, the stylist created a specific net for O'Connell's hair and went ahead with the look. "I'm realizing that this is kind of looking a little weird," O'Connell said during the process. "It was just not looking like what a weave should look like." O'Connell revealed that she loved the idea of big, blonde hair, but the realities were not living up to her expectations.
"I'm not happy with it whatsoever," she eventually concluded. She later said, "My hair is disgusting. My whole head hurts." Despite the hair disaster, O'Connell didn't let it get her down. She was the runner up of her cycle, coming in second to Brittani Kline.
Best: America's Next Top Model's Shandi Sullivan took off her glasses and turned into a blonde bombshell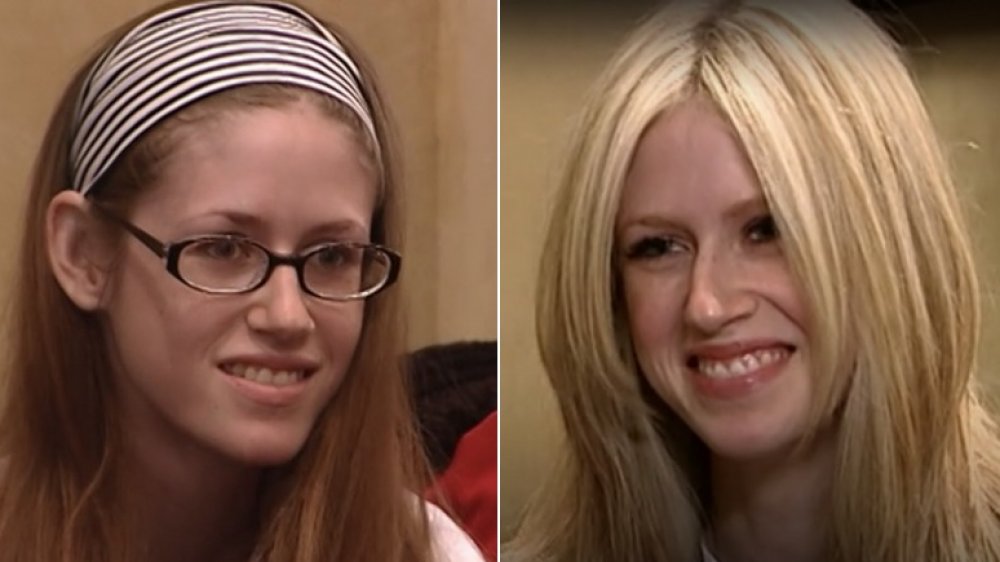 Hulu
Before her America's Next Top Model makeover, Shandi Sullivan looked like an awkward high school student. Adorned with ill-fitting glasses, a thick headband, and mousy brown hair, Sullivan did not look like she had what it took to make it far in the Top Model competition. But a daring makeover can change everything, and Sullivan experienced the works.
"Everything just looks so good, everything's come together, and I feel so pretty right now," Sullivan said as she emerged from her Cycle 2 makeover. With the help of Tyra Banks' imagination and vision, Sullivan went from your average girl next door to a bouncy, blonde bombshell. And with the help of contacts, Sullivan really transformed in front of her fellow contestants' eyes. 
Gone was any semblance of awkwardness, and Sullivan emerged as a gorgeous model and a real contender for the title. She eventually came in third in her cycle, and went on to sign a contract with Trump Model Management. She has since left the modeling business.
Worst: The pixie cut Jaeda Young got on America's Next Top Model did more harm than good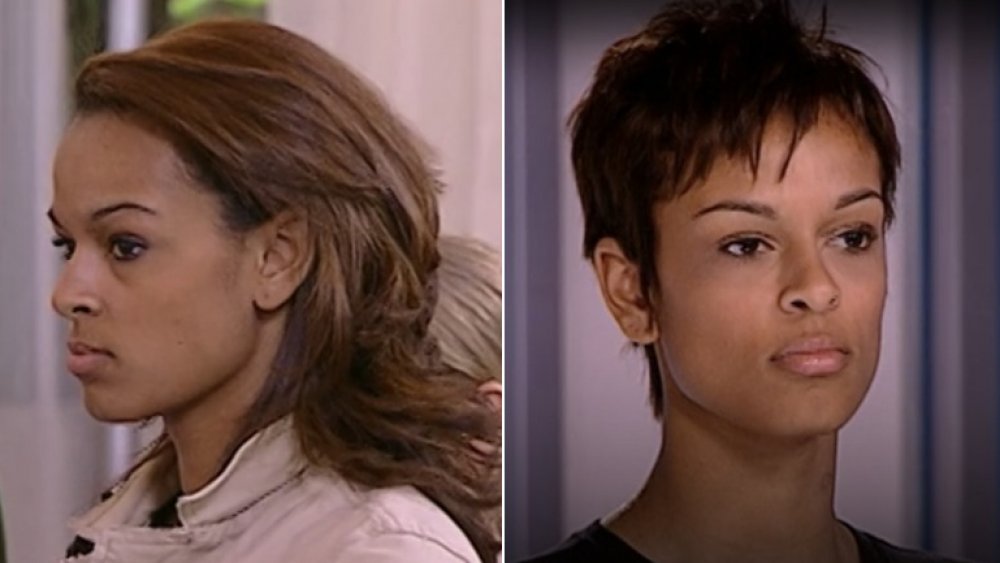 Hulu
Jaeda Young's shoulder-length brown hair was turned into a pixie cut, quickly becoming the subject of the seventh cycle makeover episode, aptly named "The Girl Who Hates Her Hair." Young sobbed as stylists cut her hair off, fearful of what the final result would look like. With bold features and a more square-shaped jaw, it was no secret that Young was apprehensive about a short hairstyle. 
But her fears were confirmed when she glanced at the look for the first time. "I just feel so masculine. I feel like I lost my girlish thing going on," she said, acknowledging that the short hairstyle did not compliment her features. 
When facing Tyra Banks and the other panelists during the America's Next Top Model judgment, Young admitted that she was still getting used to the cut, much to Banks' annoyance. "I don't feel like you're owning it. I feel like you're scared of that hair," Banks said. "I'm like 'I gave her something so dramatic. She can't handle it. Maybe she should just go home and count the days until her hair grows back.'"
Best: Samantha Potter totally pulled off a pixie cut on America's Next Top Model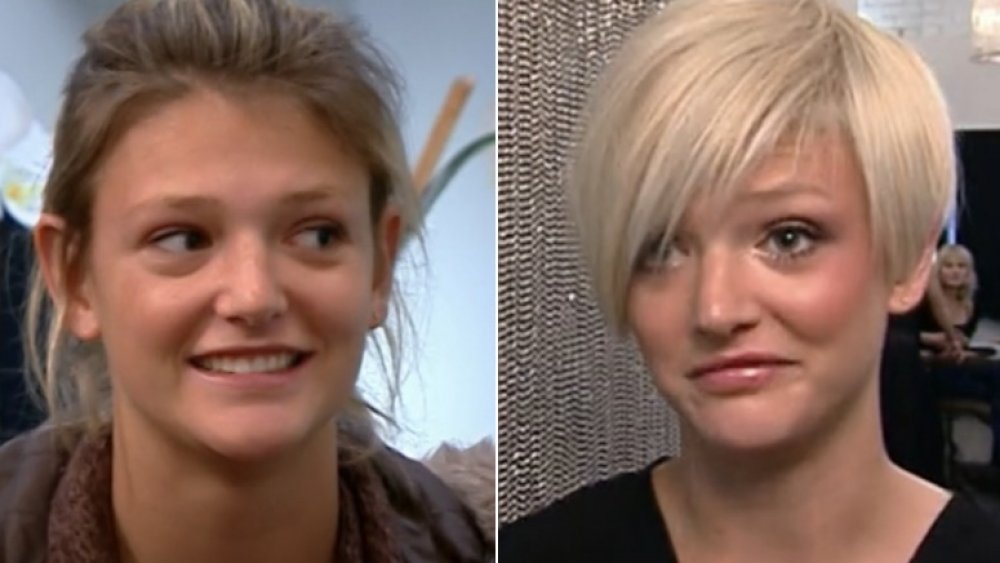 Hulu
America's Next Top Model Cycle 11 contestant Samantha Potter looked like any model a shopper would have seen wearing merchandise for Abercrombie & Fitch or PacSun. She radiated fun, girly energy, but Tyra Banks was having none of that. "Samantha looks like any girl walking in a mall with plastic earrings on. We've got to make her look more high fashion," Banks said, and the cut that Potter was given transformed her image. 
As her long blonde locks were cut off, Potter cried, but, to everyone's surprise, she let out a squeal of happiness when her final look was revealed. She rocked a daring, angular pixie cut that instantly elevated her modeling and on-camera attitude. 
"I know I look really, really fierce. I don't feel like girly-girl Sam. I feel like a model," Potter said after her transformation. Potter's look helped her get all the way to the finale, where she became the runner-up to contestant McKey Sullivan. According to PopSugar, Potter later signed a modeling contract with LA Model Management.
Worst: America's Next Top Model's Laura LaFrate's red and blue highlights were just too much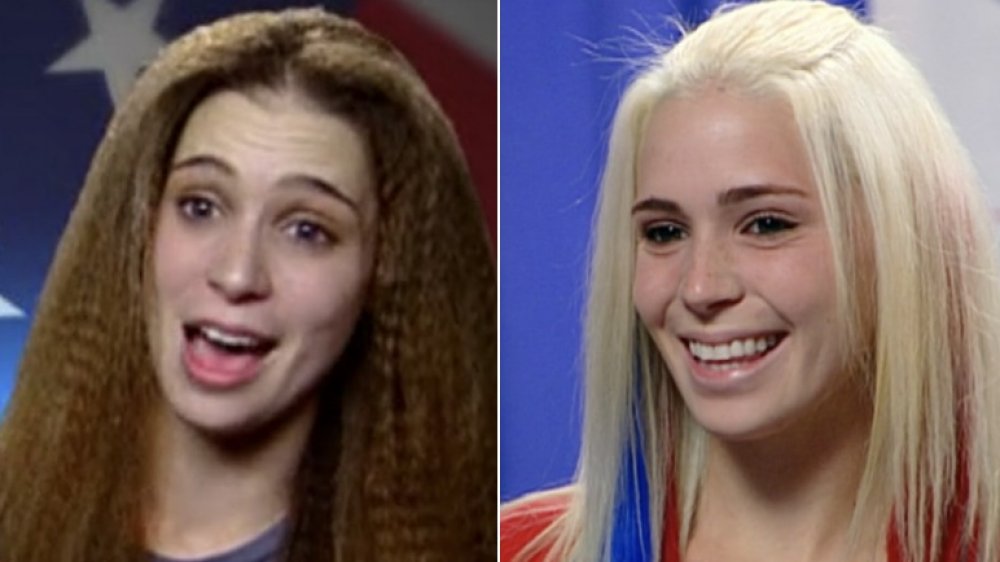 Hulu
The 18th cycle of America's Next Top Model pitted American and British models against each other, with each team vying for international domination. While some models received makeovers with cotton candy pink hair and or cuts, U.S. contestant Laura LaFrate was in for a hair disaster that took patriotism too far. 
Unlike her fellow competitors who managed to come out of the salon looking fashion-forward, LaFrate was the recipient of chunky clip-in red and blue highlights, all but making her hair an American flag. Her frizzy brown hair was dyed blonde, and the richly pigmented clip-in colors resembled hair pieces pre-teens bought at Claire's rather than a professional look.
Although the Top Model panelists said that LaFrate's look made her look like a rockstar bride, the makeover hasn't aged well and is the pinnacle of a mid-2000s hair faux pas. Despite the hair catastrophe, LaFrate went on in the competition and eventually placed second. 
Best: A short hair transformation turned McKey Sullivan into an America's Next Top Model winner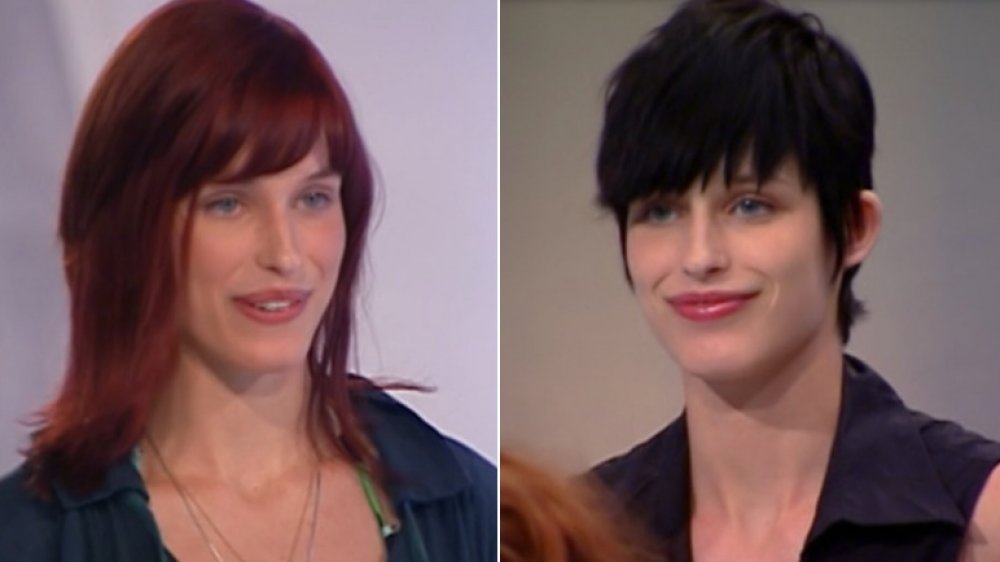 Hulu
A short pixie cut quickly became one of Tyra Banks' go-to looks for models who could bring the extra edge to the runway, and contestant McKey Sullivan was no exception. Her run-of-the-mill red hair was tired and not working in her favor. 
"McKey, our little rough girl with the red hair. She can have any hair in the world. Let's give her black short hair," Banks said in the Cycle 11 makeover episode, and her wishes were met. Sullivan's already-short red locks were chopped and transformed into a shiny black pixie cut that quickly elevated her from everyday girl to drop dead gorgeous model. 
Banks clearly knew what she was doing with Sullivan's look. The model wore her short hair all the way to the cycle's finale and became the winner. She left the competition with a stunning portfolio of work, and went on to participate in New York Fashion Week.
Worst: Denzel Wells' faux beard was an America's Next Top Model fail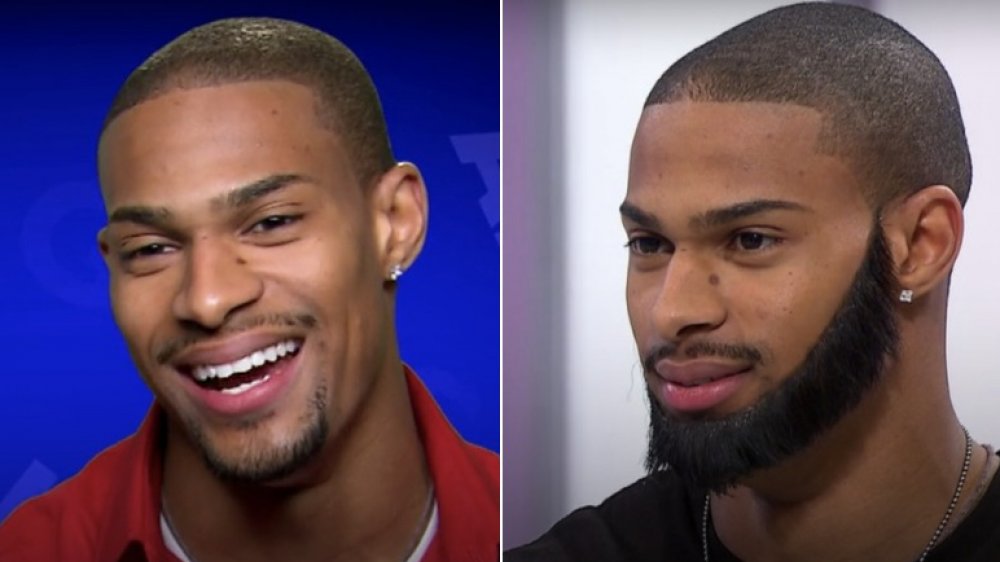 Hulu
The dramatic choice to give contestant Denzel Wells facial hair not only resulted in one of the worst makeovers in America's Next Top Model history, but the dramatics around the decision took over the 21st cycle's makeover episode, "The Guy Who Gets a Beard Weave." 
Wells was already known for having a thing for drama, as he had clashed with creative consultant Yu Tsai on set the previous day. But hoping to put the past behind him, Wells embraced his makeover. Maybe he shouldn't have.
"I'm sitting here and I'm nervous because everybody wants to know what this is going to look like," Wells said on camera. He embraced his new full facial hair fairly quickly, but the beard's obvious adhesion lines and overall fake quality made the look pretty cringe-worthy. Tyra Banks later admitted that the beard was not the right shape for Wells' face, which resulted in a do-over.
Best: Whitney Thompson won America's Next Top Model with the help of a hair color change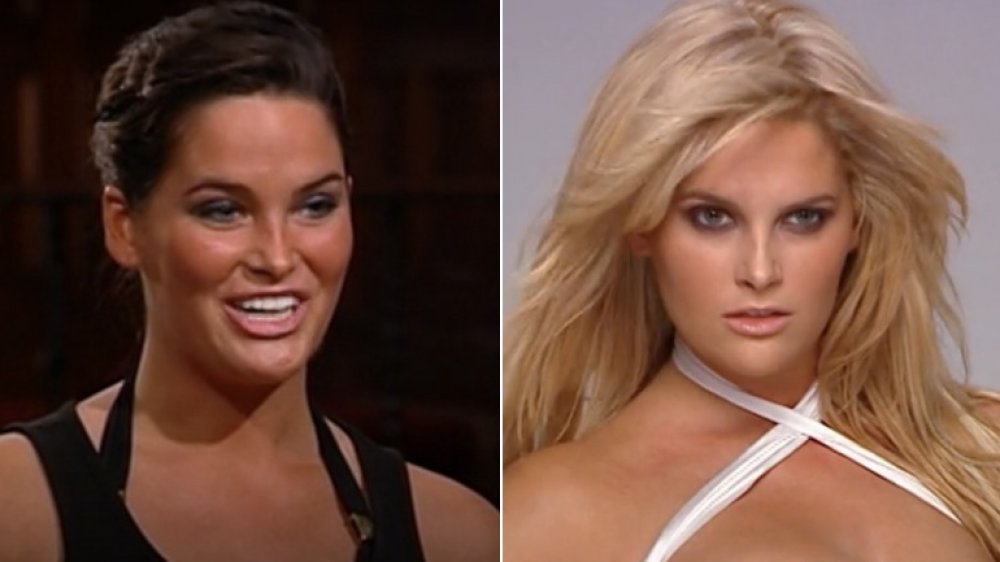 Hulu
Whitney Thompson made history on America's Next Top Model by being one of the only plus-size models to ever compete, and her bombshell look was made whole when her shoulder-length brown hair was transformed. Using a weave, Thompson was given luscious, bold blonde locks with a lot of volume, boosting her on-camera confidence. 
"This new look fits my personality," she said of her new hair in Cycle 10. "Inside I'm super bubbly and girly," she added, expressing her love for her show-stopping transformation. Without a doubt, Thompson's change was one of the most incredible transformations from America's Next Top Model makeovers.
Thompson ultimately became the first plus-size winner of Top Model. "When I won, Tyra cried. And I remember, this was maybe a year after her swimsuit photos surfaced and she was fat-shamed, thinking that my win personally affected her," Thompson told HuffPost in 2018.
Worst: Phil Sullivan's Jesus locks on America's Next Top Model just had to go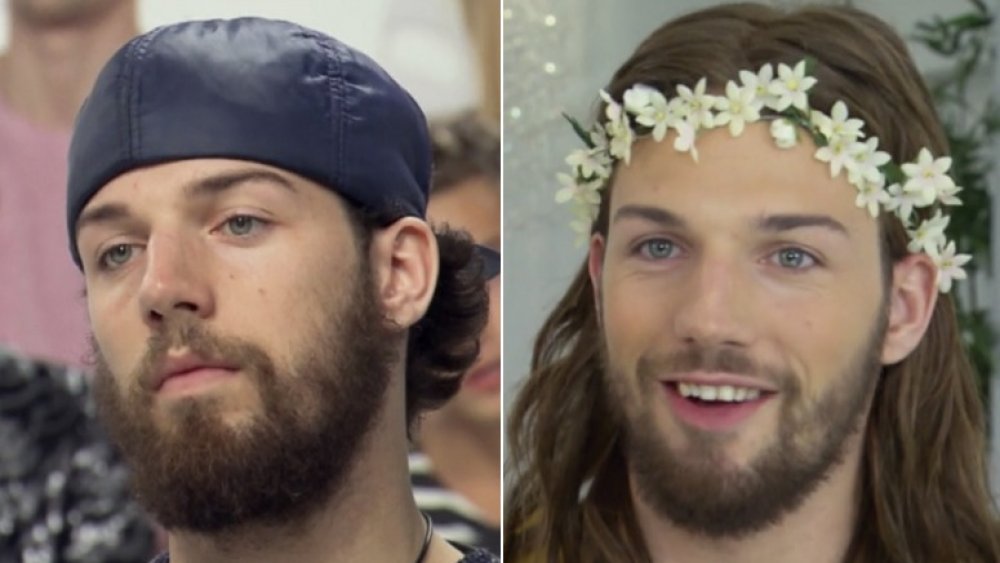 Hulu
When the Cycle 20 contestants rolled up to the Cristophe Salon on America's Next Top Model, the male models were curious as to what their makeovers would entail. Some got hair color changes, one received a completely shaved head, and some even endured leg waxing. But Phil Sullivan's look took the cake when the Top Model team decided to give him extensions. 
"They decided they would add hair and go with the Jesus look. Not good," Sullivan said on camera. He wondered, "What are they doing to me?" Things were not looking good during the transformation, and Sullivan was told to "be patient" and "breathe" through the makeover process. Although he was ultimately pleased with the "Jesus/Surfer/Tarzan" hairstyle by the end, the look quickly solidified itself as one of the worst Top Model makeovers due to its fake quality and unflattering shape. 
Sullivan went on to have a successful modeling career after leaving Top Model, and he traded his long locks for a now-iconic bushy beard. "I stand out everywhere I go," Sullivan told The Boston Globe. "People look at me funny. They say 'Dude, I love your beard.' Straight guys have man crushes and always want to touch my beard."