Details You Didn't Know About Jimmy Kimmel's Marriage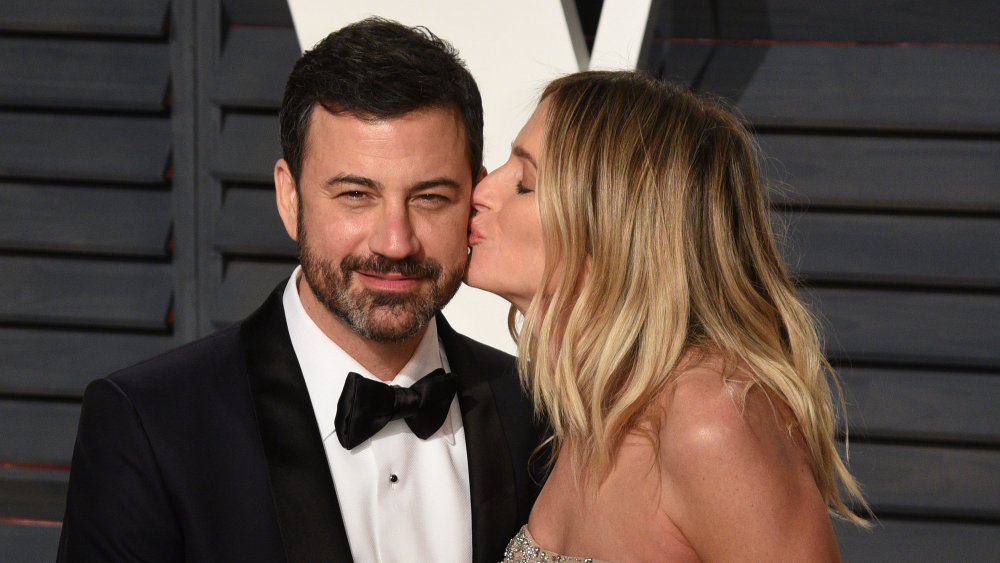 C Flanigan/Getty Images
Molly McNearney isn't just Jimmy Kimmel's wife. In fact, you can bet that Kimmel will rely on McNearny's expertise while virtually hosting the 2020 Emmys (via Deadline). What kind of expertise? You can thank McNearney, personally, for Jimmy Kimmel Live!'s "Celebrities Read Mean Tweets" (via Vanity Fair). The writer and actress usually just helps script and produce Jimmy Kimmel Live! But during the COVID quarantine, she also played cue-card holder, props master, graphics guy, hair, and makeup artist. "It would be time to shoot the show, and I'd say, 'Jimmy, do you even have an ironed shirt?' And then I would quickly find an iron, all while helping cover the bags under his eyes and pressing play on the ninth straight episode of PAW Patrol to distract the kids," McNearney told In Style. 
"He says he's my 'husboss,' but I refuse to call him that," McNearney said, describing the par's working relationship to Glamour, adding that when 10 a.m. hits "he's my boss, not my husband." McNearney and Kimmel make an undeniably endearing pair now. Their meet-cute, however, was less than charming. 
When Jimmy Kimmel Live's executive producer introduced McNearney as the new employee to Kimmel, McNearney says that Kimmel hardly acknowledged her. Then, the executive producer let on that McNearney did triathlons. "That is really stupid! What a waste of time," replied Kimmel. To be fair, when McNearney got the job she'd never seen the show. "I had no idea who Jimmy was," she admitted to Vanity Fair. 
Jimmy Kimmel won Molly McNearney with food, lots of it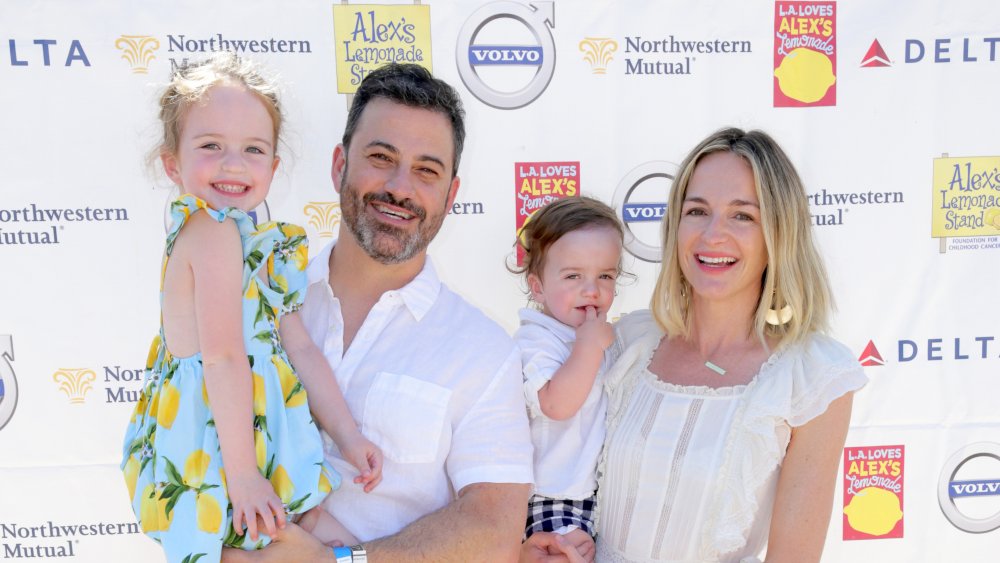 Rebecca Sapp/Getty Images
Molly McNearney wasn't always sure that things between her and Jimmy Kimmel would end in a happily ever after. "I remember telling Jimmy, 'If this doesn't work out, nothing in your life changes,'" she told The Hollywood Reporter, "but mine changes completely." McNearney and Kimmel started getting friendly around 2000, after spending more and more time socializing together with other writers after Kimmel's nighttime talk show ended (via Glamour). 
But it took a home-cooked meal for McNearney to realize "how incredibly thoughtful and generous" Kimmel really was. One day, Jimmy asked his staff to name their five favorite foods, McNearney listed pizza, gnocchi pasta, a BLT, crab claws, and a cheeseburger. Chance question? We think not. Shortly thereafter, Kimmel invited McNearney over. "I was very nervous. I mean, this is my boss. I was thinking, I gotta be careful here," McNearney remembered. "He opens the door, and the whole house smelled delicious. I walked in, and there was a pizza, a BLT, crab claws, cheeseburger, and gnocchi. He had made them all from scratch. I couldn't believe it."
To this day, Kimmel enjoys cooking for his family. McNearney admits to throwing together instant oatmeal breakfasts for the two kids she shares with Kimmel. It's Kimmel that fires up the stove. McNearney told In Style that when Kimmel wakes up in the morning he "makes coffee for me, thank God ... and ... whips up these elaborate pancakes" for the kids.

What's it like in Jimmy Kimmel and Molly McNearney's household?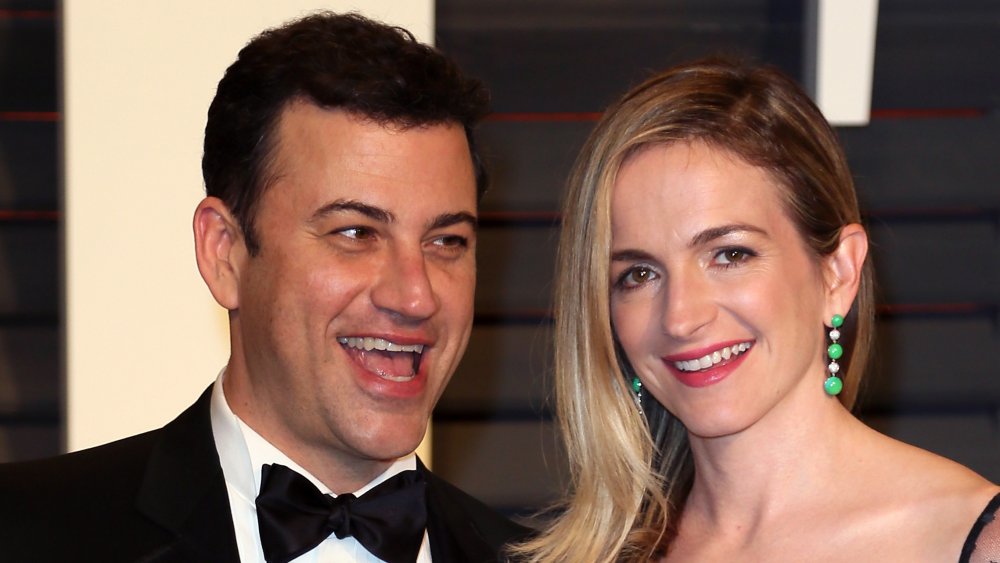 David Livingston/Getty Images
When Molly McNearney married Jimmy Kimmel in 2013, she got Gabourey Sidibe (who you might remember from Empire or American Horror Story) to prank walk down the aisle in her place. No one knew, not even my parents," McNearney told Glamour, "I was standing waiting to go down the aisle, and then Gabby appeared. My mom and dad looked up, and my dad said, 'Oh no, someone double-booked!' She was just hilarious and so wonderful."
From what we can glean off of Mcnearney's Twitter feed, comic relief is a mainstay in their relationship. Because you're clearly wondering, our top two tweets are from March 6, 2020 ("My husband just quickly pulled over for an ambulance and cursed at the cars that didn't and that's exactly why our marriage is still hot") and April 29, 2020 ("I've fully trained our 5 and 3 year old to say "Daddy did it" EVERY time they fart so yeah, I'd consider this time to be "productive.") 
Kimmel knows how to bite back. Remember that time that, while accompanying her friend, Jennifer Anniston on her 50th birthday party, McNearney climbed on a plane that made an emergency landing after a tire popped (via HuffPost)? McNearney texted Kimmel what might have been their final goodbyes. "I just signed up for Tinder but I promise not to activate it until we know what's what," Kimmel texted back (via Today).