President Trump Reacts To The Death Of Ruth Bader Ginsburg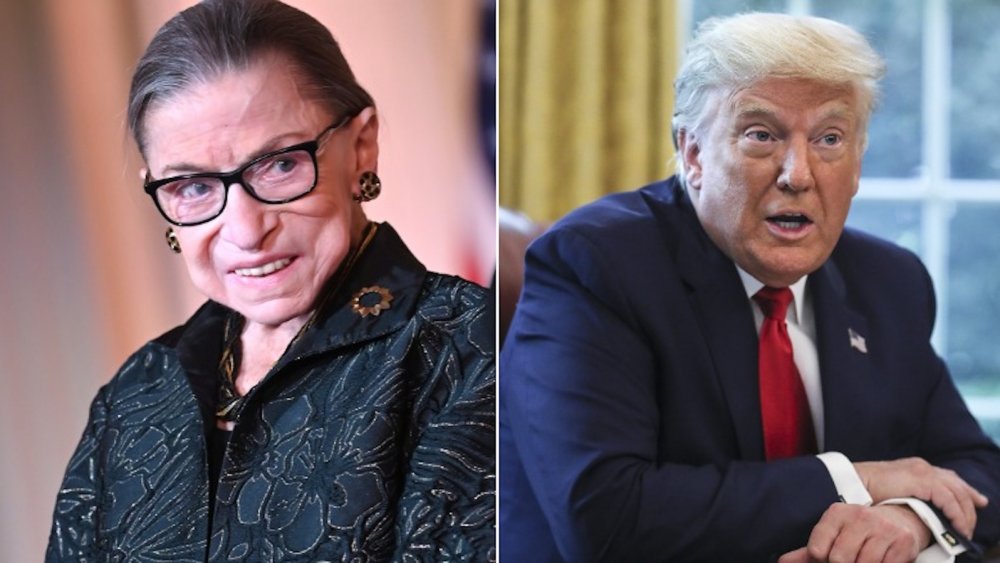 Shannon Finney, Pool/Getty Images
President Donald Trump has responded to the death of Supreme Court Justice Ruth Bader Ginsburg. The president was onstage at a campaign rally in Bemidji, Minnesota, when the sad news of the passing of the legendary Ginsburg first broke (per The Hill). As the second woman ever named to the nation's highest court, Ginsburg was both a legal and cultural icon, fighting tirelessly for gender equality throughout her lifetime — and especially during her 27 years on the Supreme Court, according to NPR. 
Known affectionately as the Notorious R.B.G., the liberal Ginsburg and conservative Trump had little politically in common. In fact, before the 2016 election, Ginsburg said she believed Democrat Hillary Clinton would be the next president (via CBS News). And when asked about Trump, she responded, "I don't want to think about that possibility ... "
However, when the president stepped off the stage after finishing his rally speech, he learned of her passing and put politics aside to honor the woman who achieved so much for so many.
President Trump calls Ruth Bader Ginsburg 'an amazing woman'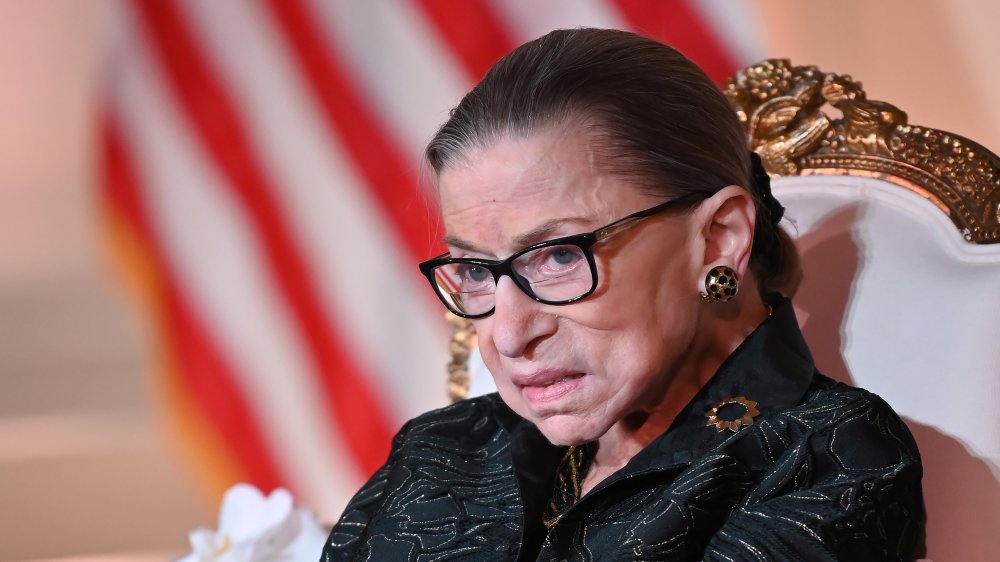 Shannon Finney/Getty Images
When a reporter alerted President Trump to the news, he responded off the cuff: "She just died? Wow. I didn't know that. You're telling me know for the first time. She led an amazing life. What else can you say? She was an amazing woman. Whether you agreed or not, she was an amazing woman who led an amazing life." He also added, "I'm saddened to hear that" (via The Hill). Trump then proceeded to board Air Force One for his return to Washington, D.C., according to The New York Times.
A short time later, the White House issued a formal statement from President Trump, which noted, in part: "Renowned for her brilliant mind and her powerful dissents at the Supreme Court, Justice Ginsburg demonstrated that one can disagree without being disagreeable toward one's colleagues or different points of view," he said on Twitter.
Undoubtedly, his administration soon will be considering their nomination for Ginsburg's replacement. In fact, just a couple weeks ago, they released a list of potential nominees, which will certainly be under intense scrutiny now (via The Boston Globe). However, the president should expect pushback from Democrats. Nemesis Chuck Schumer has already stated: "The American people should have a voice in the selection of their next Supreme Court Justice. Therefore, this vacancy should not be filled until we have a new president" (via Twitter).