Joe Biden Reacts To Donald Trump's COVID-19 Diagnosis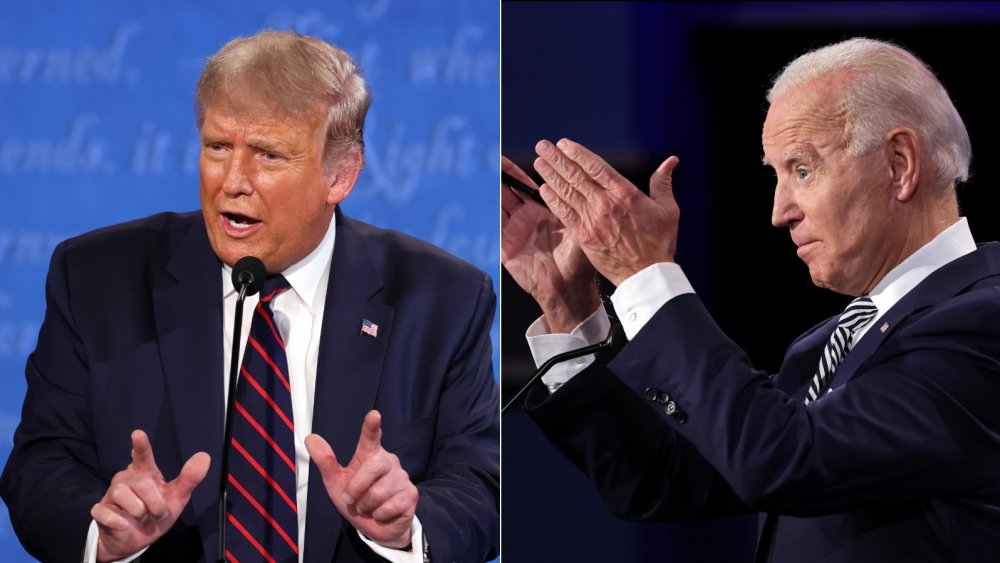 Win Mcnamee, Win Mcnamee/Getty Images
In the world of election politics, the night of October 1, 2020 was a tsunami. The day started out calmly enough. That morning, Trump surprised no one by declaring victory in the first presidential debate over Twitter. CNBC surprised no one by reporting that polls, in fact, named Joe Biden the debate's winner. That evening, Biden took to Twitter hammering in on one of his key campaigns messages, "Donald Trump will do everything he can to distract from the fact that because of his failed COVID-19 response," he wrote, noting, "Over 200,000 Americans have died, 26 million are on unemployment, and 1 in 6 small businesses risk permanent closure." And then, the tidal wave. 
Not two hours later, Trump shook the nation when he reported that one of his closest aides, Hope Hicks (who had accompanied Trump during Tuesday's debate) had tested positive for COVID-19. Hicks, wrote The New York Times, began exhibiting symptoms on Wednesday, September 30, while on Air Force One, en route to and from a Trump rally in Duluth, Minnesota. Thousands had gathered to hear him speak, reported the local CBS station. 
The world held its breath while Donald and Melania began quarantining, waiting on the results of their respective COVID-19 tests. And then, shortly before October 2 dawned, Trump took to Twitter again. "Tonight, @FLOTUS and I tested positive for COVID-19," he wrote. Stocks fell, and drastically (via Reuters). Twitter found a new trend: #TrumphasCOVID. Joe Biden wrote his second-COVID-related Tweet in a row. 
What Joe Biden said to Trump in the wake of his COVID-19 diagnosis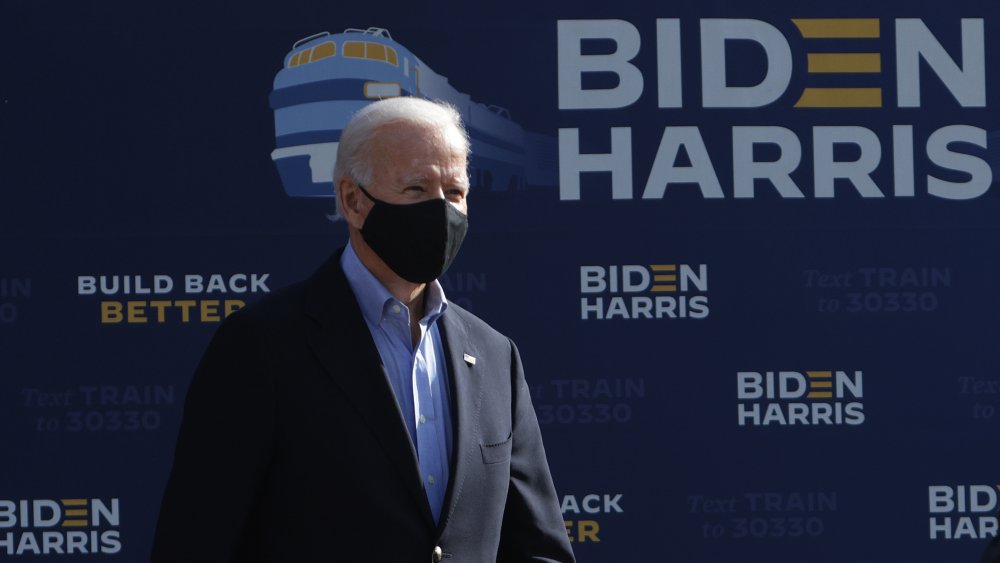 Alex Wong/Getty Images
The New York Times, speculating about what Trump's diagnosis implies for Trump's campaign, quoted a White House adviser calling the diagnosis a political "disaster." "Who takes over if Trump is too ill to work?," asked HuffPost in the tsunami's aftermath. And then, presidential candidate Joe Biden spoke. "Jill and I send our thoughts to President Trump and First Lady Melania Trump for a swift recovery. We will continue to pray for the health and safety of the president and his family," Biden wrote.  
Nothing that Biden writes 32 days before the election is, of course, interpreted neutrally. His tweeted well-wishes to President Trump are no exception. Tracing replies to his tweet serves, if anything, as further confirmation of just how polarized the country has become. A Twitter account that claims to be the voice of a Republican coalition of Biden supporters, tweeted, "This is what a decent human being and a real president sounds like. Everyone please #WearAMask." More of Biden's backers suggested, "I guarantee if you had Coronavirus, Trump would be calling you weak." Those in Trump's camp, however, are not amused. Amid an outpouring of Trump voters wondering why Biden had taken so long to respond to the crisis, Republican Congressional Candidate Buzz Patterson angrily responded, "You called him a clown a few days ago." 
What are the apparently undecided voters saying? At least one has used the opportunity to call for Kanye West to take center stage. 
Could Joe Biden also have COVID-19?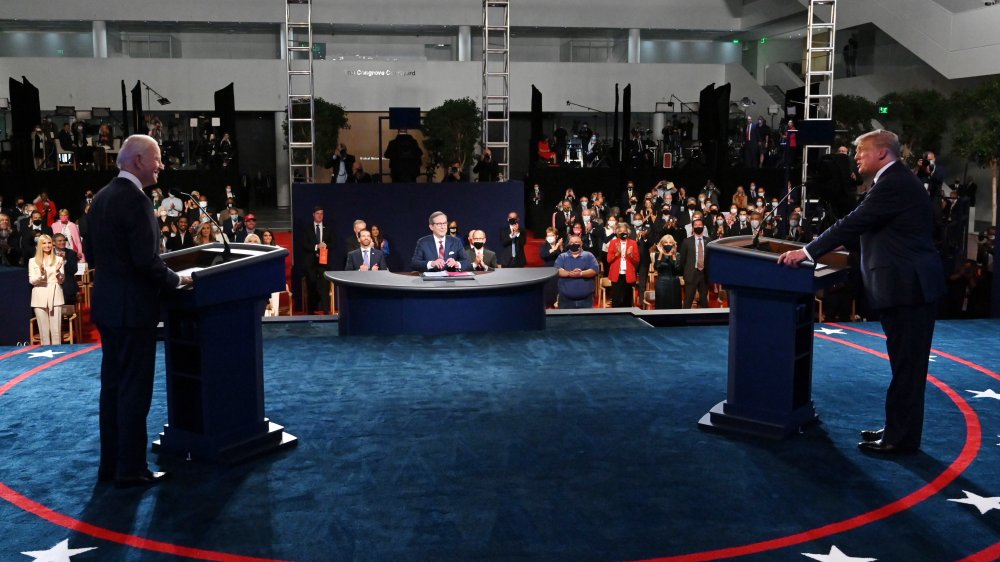 Pool/Getty Images
There is one aspect of Trump's COVID-19 diagnosis that affects Joe Biden personally. CNN's Chief Medical Correspondent Dr. Sanjay Gupta has just articulated what we've all been quietly thinking. Could the United States have not one, but two presidential candidates infected by COVID-19? Biden "needs to be immediately tested," Gupta said (via CNN), "He has come in proximity to someone that has COVID."  The Whitehouse reports The Guardian, began tracing Donald Trump's contacts on Thursday. Have they already reached out to Biden? 
That brings us, full circle, back to the first presidential debate, when Biden called Trump out on his campaign tactics. "He's been totally irresponsible in the way in which he has handled the social distancing, people wearing masks — basically encouraging them not to," Biden told debate watchers on Tuesday, September 29 (via Fox News). Trump, meanwhile, bragging about crowds number 30,000 to 40,000, insisted, "well so far we have had no problem what so ever." He also made fun of Biden's mask-wearing habits, stating, "I put a mask on when I think I need it... I don't wear masks like [Joe Biden] every time you see him, he's got a mask" (via CNN). Epidemiologist, Saskia Popescu, has since confirmed to The Guardian that it's "entirely possible" that Biden was exposed to the virus, as Trump could well have been infectious during the debate. Meanwhile, Twitter is holding its breath, waiting for a report on whether Biden has the virus or not.