This Is The Only Sister Wife Kody Brown Loved At First Sight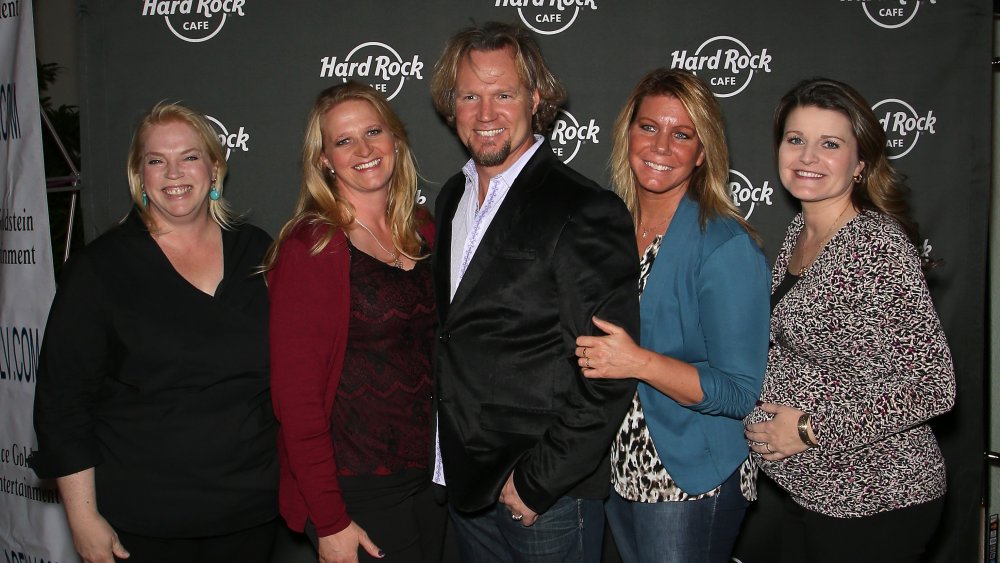 Gabe Ginsberg/Getty Images
TLC stalwart Sister Wives has been on the air for what feels like forever. The long-running show, which debuted all the way back in 2010, has proven to be endlessly fascinating to millions of viewers who likely won't ever experience the kind of unconventional marriage at its heart. Over the past decade, Kody Brown and his four wives, plus their combined 18(!) children, have endured several bouts of controversy, been forced to defend their lifestyle many times over, and were even forced out of their own church at one point.
Most of us couldn't imagine having four different partners (where does he get the energy!?) but Kody maintains that he has four equally healthy relationships with "spiritual wives" Meri Brown, Janelle Brown, Christine Brown and legal wife, Robyn Brown — even if he might never convince them to all live in the same house together with him like one big happy family. Every marriage has its ups and downs, of course, but the Kody stand to experience everything fourfold. As far as the proud patriarch is concerned, however, he was destined to fall in love with these four unique women. Crucially, though, it was only love at first sight with one of them.
Kody knew it was meant to be when he first saw Robyn
In the Brown family memoir, Becoming Sister Wives: The Story of an Unconventional Marriage (via Showbiz CheatSheet) Kody Brown went into detail about how each relationship began, describing how he fell instantly in love with Robyn, his fourth wife, whom the polygamist "spiritually married" in 2010, then later legally wed in 2014, per The Sun. When the pair met, Robyn was dealing with the effects of a traumatic divorce and was also a single parent. But, on a family visit to Utah, she spotted Kody across the room. As the Sister Wives star reminisced, "All of a sudden, he looked up and our eyes met. I'm not exaggerating when I say I felt as though I'd been shot through with a bolt of lightning."
Kody subsequently asked Robyn to dance at a church event, in a moment she described as making her feel as though they "were the only people in the world." Kody felt it too, describing himself as being "transfixed by her spirit." The proud patriarch admitted it was an instant spark, describing it as "deep and transcendent" and confirming it felt like "love at first sight." Sister Wives fans have long debated which of Kody's wives is his favorite, but he maintains it's simply love all round.