The Truth About The Relationships Between The Sister Wives' Kids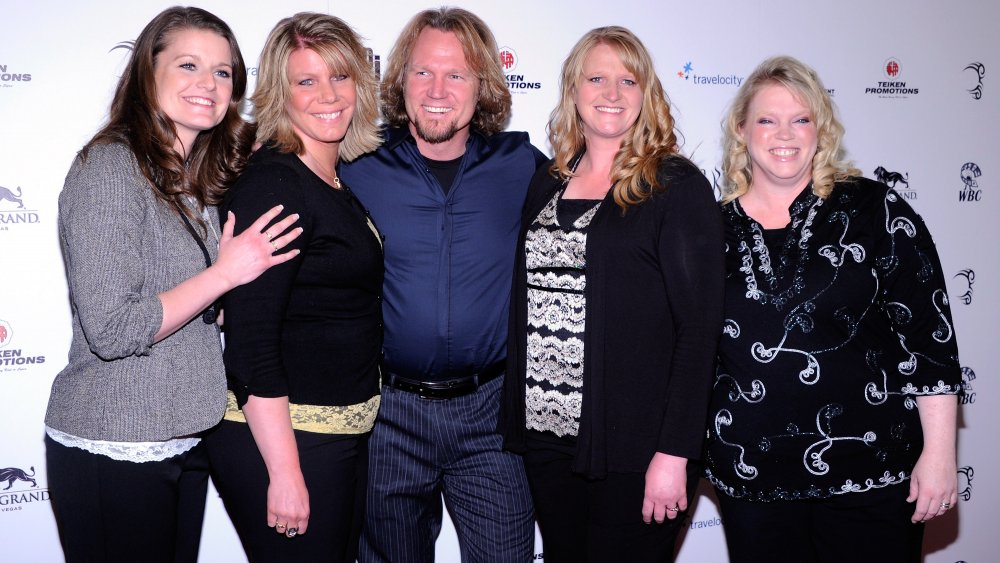 Ethan Miller/Getty Images
TLC's hit show Sister Wives follows the Brown family, i.e. Kody and his four wives, along with multiple kids and even a couple grandkids, as they navigate life as the very definition of a modern, blended family. Altogether, there are 18 Brown children. Several of the older kids are married and live elsewhere, but family bonding remains paramount to the super-religious polygamous family.
In fact, long-time fans of the show will be aware that Kody's greatest dream in life is to cohabit in one, presumably massive, home with all of his wives and their kids (or at least those still young enough to reside at home with their parents) living together as one big happy family. Whether that ever happens remains to be seen, but suffice to say he could have some trouble corralling them, considering the relationships between Kody's children aren't exactly the strongest.
The Sister Wives' siblings are not all close
Mykelti, daughter of Kody and Christine, conducted an Instagram Q&A session during which she answered questions about how close the siblings actually are. "The older kids are a little bit closer, well, sometimes," she revealed (per The U.S. Sun). As Mykelti elaborated, "When we were younger the older kids were really, really close. But the hardest part of maintaining a relationship ...is if you decide to move away."
The family previously relocated from Utah to Arizona, with Mykelti admitting the distance is difficult. She acknowledged, "I am close with most of my siblings. I wouldn't say all because I barely know Ariella and Solomon and Truly, because they're just so young." Mykelti confirmed simply that she's close with some, but not all, of her siblings, advising, "I'm best friends with a couple of them as well. But being far from people and having such different lives does put a strain on it actively. We're related so I have to love them."
Certain Sister Wives' kids are openly feuding
Paedon recently admitted that he and Mariah "can't stand each other," per The Hollywood Gossip. According to Cheat Sheet, Paedon and Mariah do not follow each other on social media (in fact, she allegedly doesn't follow any of her siblings through her public Instagram page). They don't interact with each other online much either, at least not publicly, which is in stark contrast to the Duggar kids, for example, who frequently comment and like each other's stuff.
However, Mykelti confirmed in her Q&A that she sees Paedon on a weekly basis and Mariah is not estranged from the wider Brown family. Still, if scuttlebutt on Reddit is to be believed, each of Kody's wives wants to operate as their own individual family, rather than one cohesive whole. If they're competing with each other, or butting heads on how to move forward, it may rub off on their kids, making it harder for the siblings to establish long-term bonds with each other.