The Truth About Ariana Grande And Doja Cat's Relationship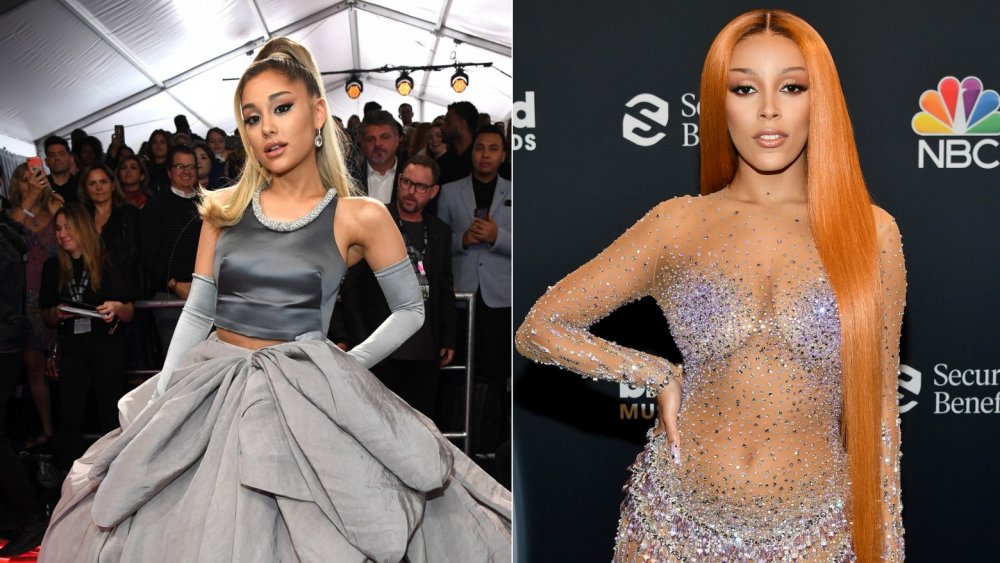 Kevin Mazur, Amy Sussman/bbma2020/Getty Images
Not only did Ariana Grande drop her new album Positions at midnight, but she thrilled fans with not one, not two, but three epic collaborations, as well! The Weeknd, who she had a previous duet with for "Love Me Harder," makes an appearance on "Off The Table," Ty Dolla $ign is featured on the "Safety Net" track, and the collab fans seem most excited about showcases rapper, singer, and social media star, Doja Cat on the "Motive" track (via Vulture).
In May, the Pop Princess told Billboard that she had recorded a song with Doja Cat earlier this year, and while they were both excited about it, they had no set release date in mind. In an interview earlier this summer with Apple Music, Grande hilariously recounted, "We did this song together towards the end of last year, and I love it so much. I remember when I first wrote it and sent it to her, she was in the shower, and she was like, 'B****, I love this. I'm in the shower. She was like, 'I'm doing it right now.' And I was like, 'Okay, there's no rush. I'm not putting out a project anytime soon, whatever'" (via Harper's Bazaar).
Thankfully, "I'm not putting out a project anytime soon," translated to later this year because fans can't get enough of this collaboration born from a friendship and mutual respect that many people didn't even know these two musicians shared.
At the time Motive was recorded Ariana Grande revealed it was her favorite track on the album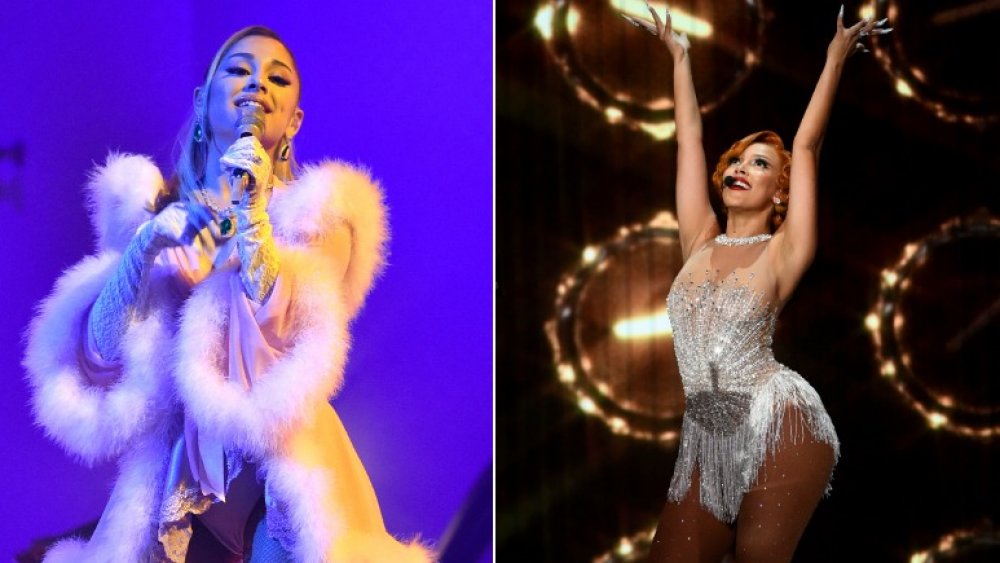 ohn Shearer, Kevin Winter/bbma2020/Getty Images
True fans have been calling for a collaboration from Ariana Grande and Doja Cat since February when, during an Instagram Live, Doja casually said of Grande, "That's my one... I love her." From tweets of "WE NEED THE COLLAB IMMEDIATELY," to the more dramatic, "i'll die happy if we get a collab," fans have been "shipping" this track and this alliance between the artists for a long time.
While the song was written by Grande, she admires Doja Cat so much she gave her full artistic discretion to take as much of the track for her own as she wanted, recalling, "And so she just goes off on it, and it's so much fun, and I love it." Apparently Doja felt the same enthusiasm for the track. After writing verses, Grande hilariously explained to Apple Music, "she was twerking to it, and her hair was falling off." She went on to amusingly clarify, "She twerked so hard that her wig fully flew off. She had a whole verse done, everything was done" (via Harper's Bazaar). Ariana Grande even went on to describe the track as her, "favorite so far," although since completing the album she diplomatically refuses to just pick one.
And if there was any doubt that this friendship wasn't just one born in the studio, Ariana gushed to Billboard about Doja Cat back in May saying, "I'm obsessed with her. I love her." Sounds like these artists had so much fun working together this might not be the last joint song fans get!