The Truth About Alex Trebek's Relationship With Sean Connery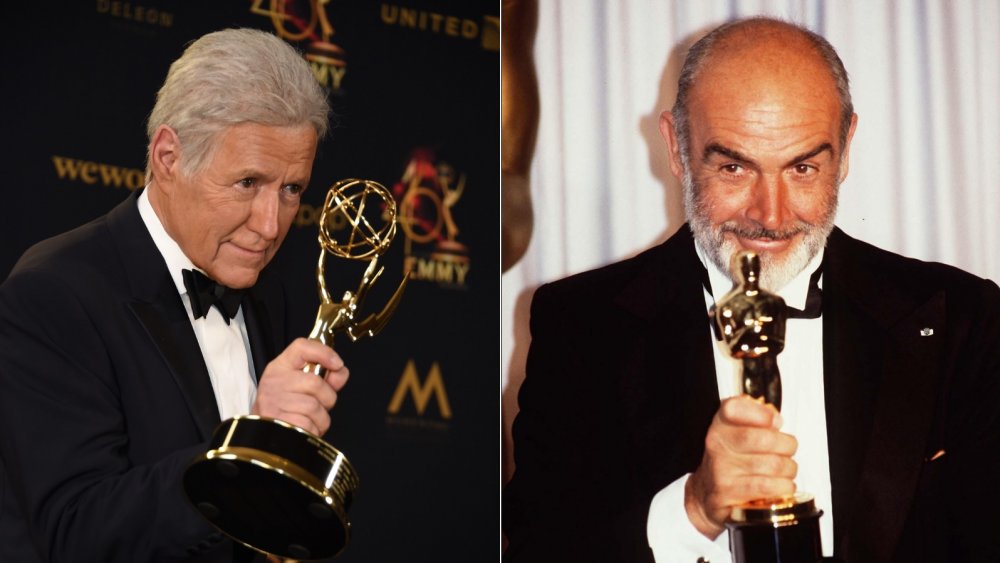 Gregg Deguire, Photoshot/Getty Images
In 2013, CBS dug up an Alex Trebek clip. In it, the late host of Jeopardy! asks a contestant, "Now of all of the actors who have played James Bond, who was the best?" The contestant doesn't think twice before responding. "Oh Connery, for sure," she says. "Really?" asks Trebek, disappointed. "Yeah," the contestant replies, unfazed. "Still Sean? " sighs Trebek, "I don't like Sean, for reasons that should be obvious to many of you who watch television on Saturday nights."
Trebek, of course, was referring to the Saturday Night Live Celebrity Jeopardy! skits, during which an often belligerent Sean Connery (played by Darrell Hammond) would bicker with and incessantly insult an increasingly flustered Alex Trebek (played by Will Farrell). The SNL rivalry became so beloved that when Sean Connery passed away in late October 2020, Vanity Fair wrote, that "a generation's perception of Connery's persona" was "shaped by" the sketch. "It wasn't supposed to be funny," Hammond later recalled, "Because who would believe that Sean Connery is stupid, [and] why does he hate Alex Trebek?" (via Vulture).
But it was funny. It was desperately funny. And now, after news that Alex Trebek has passed away of pancreatic cancer, the world is mourning not one, but two legends. The Twitterverse is busy posting memorials dotted with SNL clips of Hammond as Connery and Farrell as Trebek at each other's necks. Remember the time, that Hammond-as-Connery wages "suck it Trebek" on a final Jeopardy! question?
Did Alex Trebek ever meet Sean Connery?
"Somewhere in heaven here's hoping Alex Trebek and Sean Connery are having a laugh. May they both Rest In Peace," wrote one Twitter mourner. "Look, I know it was just a skit," wrote another, "But my heart is warm and full with the knowledge that Sean Connery got a week's head start to come up with fresh material for an eternity with Alex Trebek."
Which brings us to the obvious question. Did Alex Trebek and Sean Connery ever meet in real life? Trebek did meet Hammond-as-Connery when he made a cameo on SNL's Celebrity Jeopardy! skit (via YouTube). "But boy, oh boy, oh boy, those celebrities did not know the answer to any of your questions," Trebek tells Farrell, "No they did not. They were very stupid," says Farrell. Hammond-as-Connery comes up behind them. "Well, well, well," he says, "Two Trebeks, I feel like I'm in a Raisin Bran commercial."
Trebek once told the New York Post that he "absolutely" liked the SNL skit. "If they're spoofing you ... it's because you're part of American pop culture, and that's a good thing, I think," the beloved Jeopardy! host reflected. But as much as Trebek appreciated the skit, as far as we can suss out, he never had the opportunity to meet the real Sean Connery. "If I were ever to meet Sean Connery I would punch his lights out," he told a live audience in 2016 (via YouTube).