Twitter's Surprising Reaction To Reba And Darius Rucker At The CMA Awards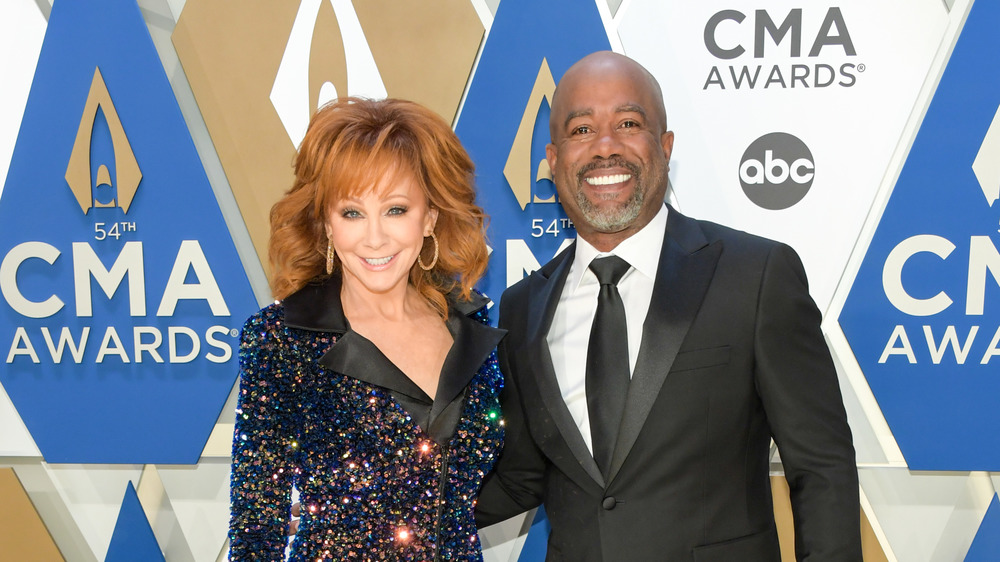 Jason Kempin/Getty Images
Tonight's "no drama" CMA Awards were hosted by possibly the least dynamic duo they could have come up with. While Reba McIntire and Darius Rucker are both great solo acts, together their chemistry just kind of... fizzled. Not even in an interesting baking soda/vinegar way, more like a science experiment where you plant five different kinds of seeds and none of them sprouts. From the jokes that fell flat, to the audience reaction that ranged from subdued to full-on zombie, not to mention all the last-minute performer cancellations, Darius and Reba had a tough row to hoe, but they managed to hoe it in the most ho-hum way.
It didn't help any that they covered the absolute sappiest Elvis song ever, either. One Twitter user said it "seems a little forced tbh," while another mentioned the awkwardness inherent in "playing 'in the ghetto' with a straight face in the year of our discontent 2020 on this award show. as their social consciousness bit." Or, as an even wordier tweet explained: "The history of mainstream country music: *insidious racism absurdly long overdue to be grappled with and honestly addressed in a way that leads to meaningful change* The CMA's: Here is Reba McEntire and Darius Rucker singing 'In The Ghetto.'"
While we don't really blame Darius or Reba for any of this, still, it's likely that many agreed with the fan who tweeted that she likes both performers individually, but "man I miss @carrieunderwood and @BradPaisley hosting this award show."
Some people loved Reba and Darius together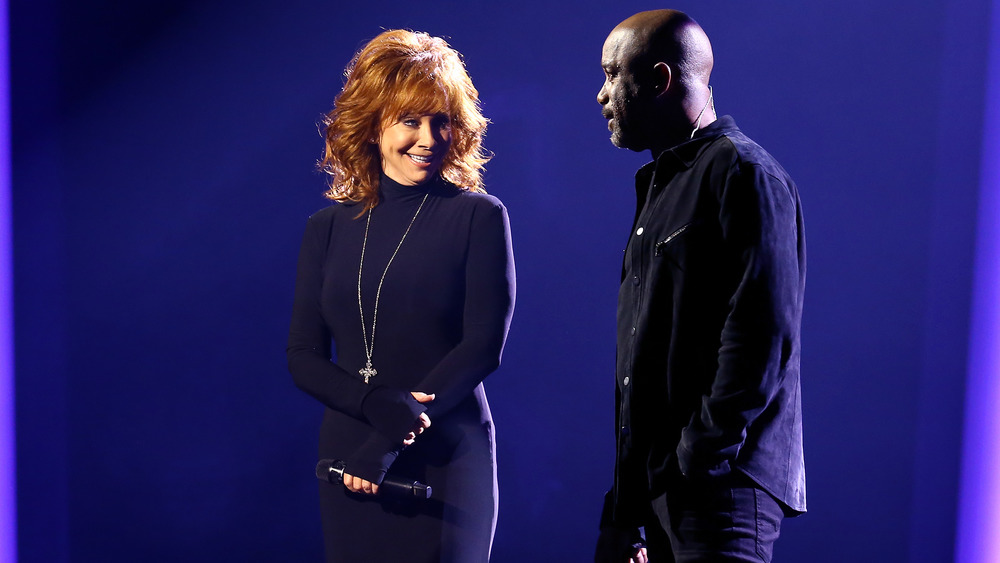 Terry Wyatt/Getty Images
Still, some fans were all over Rebarius. When Darius first broke the news that they'd be co-hosting, responses included "Oh Lord I wish it was tonight! Can't wait!! 2 of my absolute favorites hosting!!" and "Can't wait. So happy you and Reba are hosting." So were these fans disappointed? Well, perhaps the one who told him: "Better do an amazing job up there with Reba. No pressure." 
Quite a few fans, though, felt the Darius/Reba pairing was all they'd hoped for. When country music website The Boot asked Twitter users what they thought of the show's opening monologue (or duologue), they did get some negative feedback, but one response said it was "light and fun." Taste of Country characterized the jokes as "good and groan-worthy," while Country Chat with Dom replied: "I've been anxious at how it would be as we are so used to the banter between @carrieunderwood and @BradPaisley but @dariusrucker and @reba are nailing it tonight!"
Even the "In the Ghetto" duet earned accolades such as this tweet: "Reba and Darius doing 'In The Ghetto' was a SHOWSTOPPER" and this one: "I don't listen to much country music. That version of 'In the Ghetto' by Reba Mcintyre and Darius Rucker is one of the most beautiful things I've heard." So, yeah, one man's meat is another woman's tofu, or something. Some liked them together, some did not, but for once we're just going to agree to disagree and move on.