Why People Are Upset About Jennifer Lopez's AMA Performance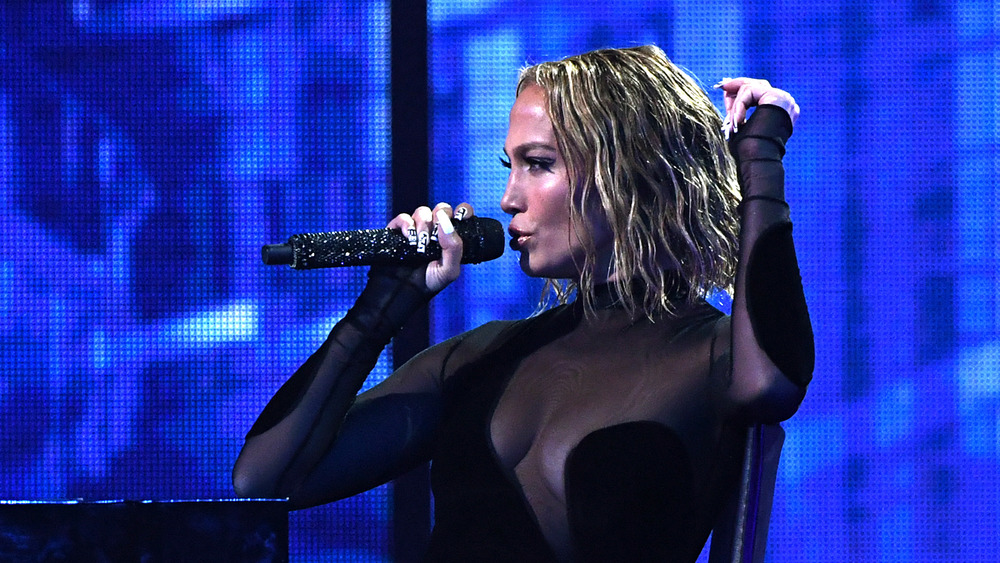 Kevin Mazur/ama2020/Getty Images
Jennifer Lopez never fails to wow audiences with her steamy, acrobatic performances — it's the main reason why she shined as scheming stripper Ramona in 2019's Hustlers – and her appearance on this year's American Music Awards was no different. The 51-year-old star, who continues to defy the aging process, took the stage with Maluma to perform their songs "Pa 'Ti" and "Lonely" (via Rolling Stone). The (socially-distanced) crowd in the Microsoft Theater in Los Angeles went wild.
The performance opened with a dramatic, cross-shaped spotlight slowly revealing Lopez's face, as well as a dance ensemble clearly inspired by Broadway's Chicago – specifically, the iconic "Cell Block Tango." The Tony award-winning Broadway show famously features women convicted of killing their lovers — behind bars and proclaiming their innocence. For Lopez's performance, dancers' hands grasped at prison-like bars as Lopez slinked around the stage in a revealing black leotard and sheer tights. "Omg I thought jlo was about to do cell block tango with those prison bars," Twitter user posted. Another tweeted: "JLO always serve her best performances at the AMAs omg so excited for PaTi/Lonely." And one obvious fan noted, "one thing about Jlo, she gon give you a performance!"
However, not everyone was thrilled with what went down on stage at the 2020 American Music Awards. In fact, social media also exploded with some cutting criticism of the dynamic performance — with Beyoncé fans leading the charge.
Fans think Jennifer Lopez ripped off a Beyoncé performance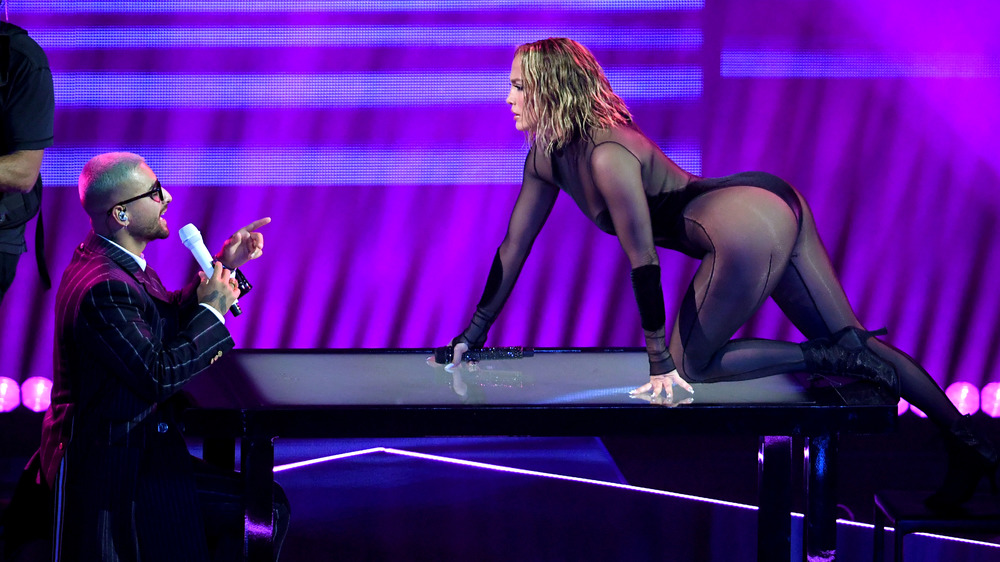 Kevin Winter/ama2020/Getty Images
While it's obvious that Lopez took inspiration from Chicago, fans are accusing her of copying Beyoncé's performance of "Drunk in Love" at the 2014 Grammys. There's no denying there are strong similarities in the two performances — both ladies wore tight, black bodysuits and tights, and Lopez even styled her hair in a similar cropped, wet-looking 'do. The lighting and stage sets were also strikingly similar. All of this has fans buzzing on social media, coming down hard on Lopez for allegedly ripping off her fellow songstress.
"Not JLo dressed the exact same way as Beyoncé did for her 'Drunk in Love' performance at the Grammys. Even down to the wet hair and the chair," one Twitter user noted. "I was literally just thinking that! Way to familiar," another replied. And echoing this sentiment: "Anyone else not getting Beyoncé drunk in love Grammy performance vibe with this JLO performance," tweeted a Queen Bey fan.
However, plenty of fans were also there to jump to Lopez's defense. "Beyoncé did not invent black swimsuits and wet hair bob type look," a Lopez defender posted. "That's just how Jlo looks in the MV for that song. Calm down." Others pointed out that artists take inspiration from each other all the time. "Y'all can't get mad at Jlo for copying Beyoncé. Beyoncé been copying Jlo forever," tweeted another user. "Are you guys going to pretend that Beyoncé never copied/took inspiration from others? Jlo did a great job," yet another fan wrote on behalf of Lopez. Whether Jennifer Lopez intentionally borrowed ideas from Beyoncé or not remains to be seen, but it surely won't stop Twitter users from fighting about it for the foreseeable future. 
Jennifer Lopez was accused of lip-syncing at the AMAs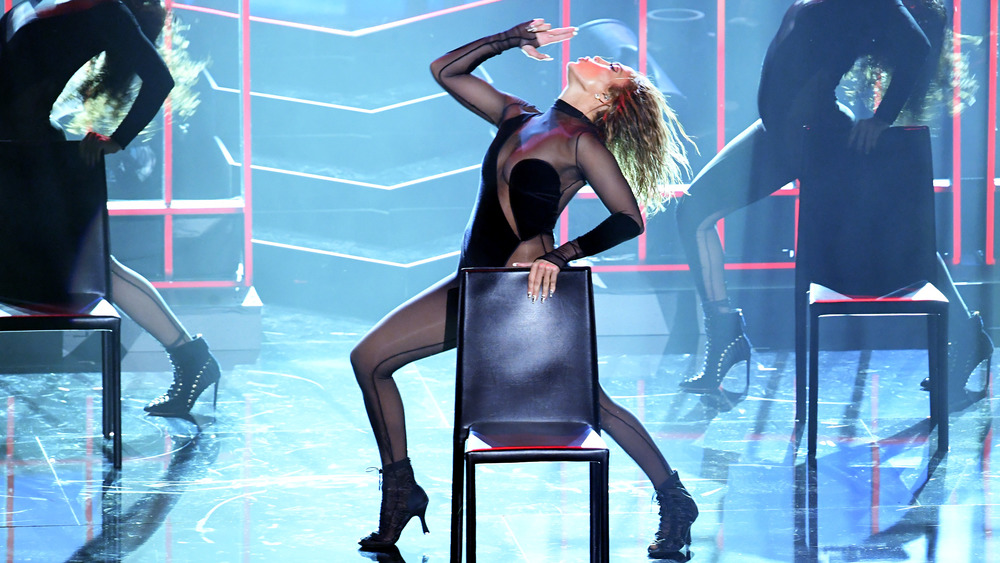 Kevin Winter/ama2020/Getty Images
What's more, the dance-heavy performance has fans wondering if Lopez was lip-syncing rather than actually singing. This is certainly possible, especially because the singer has been accused of this several times before — most notably, during her Super Bowl performance with Shakira in February of this year. Even Lady Gaga seemed to make a reference to Lopez's penchant for not singing live on stage. "I better hear no lip-syncing tomorrow!" she noted in advance of the 2020 halftime show (via the Associated Press). And similar accusations also were lobbed Lopez's way during her 2018 AMAs performance (via Twitter).
Viewers were quick to call out Lopez yet again at the American Music Awards (as well as Maluma) and speculate about whether she was actually singing, while also mastering her intricate dance moves. "Their lip sync job was terrible," one Twitter user posted. "@maluma and @JLo, but that lipsync though," another added. And finally, another less-than-thrilled fan summed things up with this tweet: "I lose interest when they lip sync. And I hate how every artist who performs with Jlo has to lip sync because she has too. Even her being hot isn't enough to make up for it anymore." 
Harsh words, but we're sure Jennifer Lopez will not let it phase her one bit.