Doja Cat And Bebe Rexha's AMA Performance Wasn't What We Expected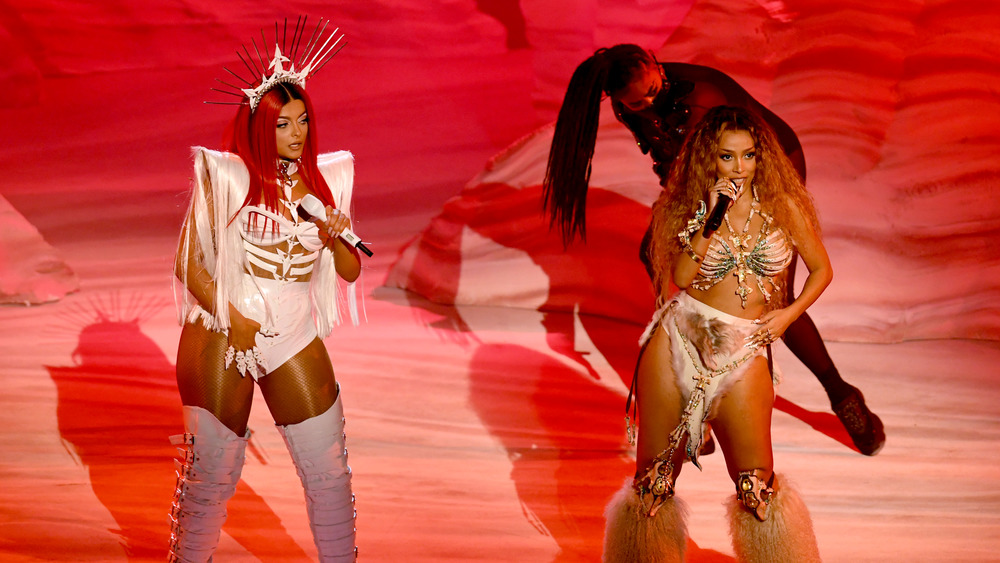 Kevin Winter/Getty Images
The American Music Awards has seen no shortage of jaw-dropping stage moments from all of our favorite divas. Doja Cat and Bebe Rexha's performance was certainly a highlight of the night. The duo treated the audience to "Baby, I'm Jealous", a track that Rexha released back in October.
We expected greatness, of course, but the chemistry between the two stars already has fans begging for more collaborations — which we are all for. It seems like that's a strong possibility, as Rexha only has favorable things to say about working with Doja Cat. In an interview with Elle, Rexha says, "It was so fun. She's very professional. She knows what she wants. She's a hard worker. She's there when I need her. And I knew I wanted a female on the song because I haven't had many girls on my songs. I was a really big fan of Doja because I love how she takes risks."
The concept behind the song also made the performance that much more empowered. In the same interview, Rexha said that she saw her boyfriend liking photos of "perfect-looking girls" on Instagram. "That made me somewhat insecure and I was like, "Am I not what he likes? Am I not his type?" she said. "I was speaking to my co-writers about it. They were like, 'Let's write a song called 'Jealous'", she continued. "We wanted to make it empowering. The whole album was kind of based off of insecurities and accepting them."
Fans can't stop talking about their outfits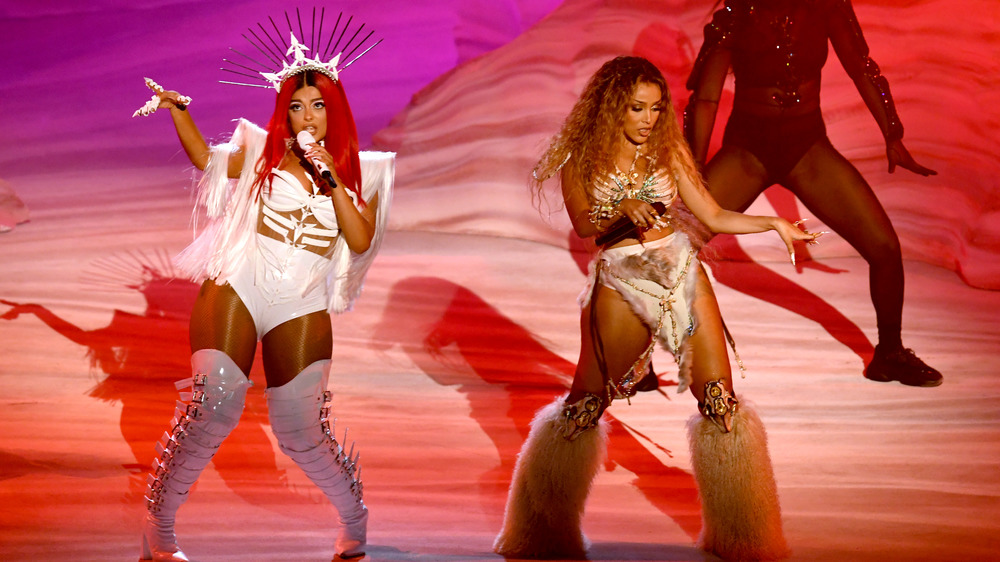 Kevin Winter/Getty Images
It's clear that Doja Cat and Bebe Rexha are not letting their insecurities get them down. The ladies strutted onto the stage in gorgeous, elaborate outfits that immediately had fans buzzing. Billboard dubs their stage style "cavewoman chic", and we can't help but agree.
Rexha rocked a white ensemble with structured shoulders and a large pronged crown, while Doja wore a bikini-type top with fuzzy-bottomed pants. The fashion, paired with the cavernous backdrop, was just as much a part of the performance as the ladies' talent. "Wow what a performance @BebeRexha and @DojaCat killed it that even had the best wardrobe ever," tweeted one fan. "Like I said best performers ever and they looked beautiful doing it love them both."
All of the right elements came together for an electric performance. "@BebeRexha and @DojaCat totally just slayed," posted another Twitter user. "Omg they both sounded amazing and can we looked about how they looked THEY LOOKED SO GOOD" The American Music Awards themselves tweeted: "Those moves, those vocals, that PERFORMANCE! @BebeRexha and @DojaCat, I am officially jealous."
However, one fan has a different take on Rexha's spiky headpiece. "Listening to Bebe Rexha say 'Jelly Jelly Jelly Jelly' and something about eggs with a bunch of straws in her head is like, nightmare brunch," a more critical fan added. To each their own.