The Truth About Alex Trebek's Final Resting Place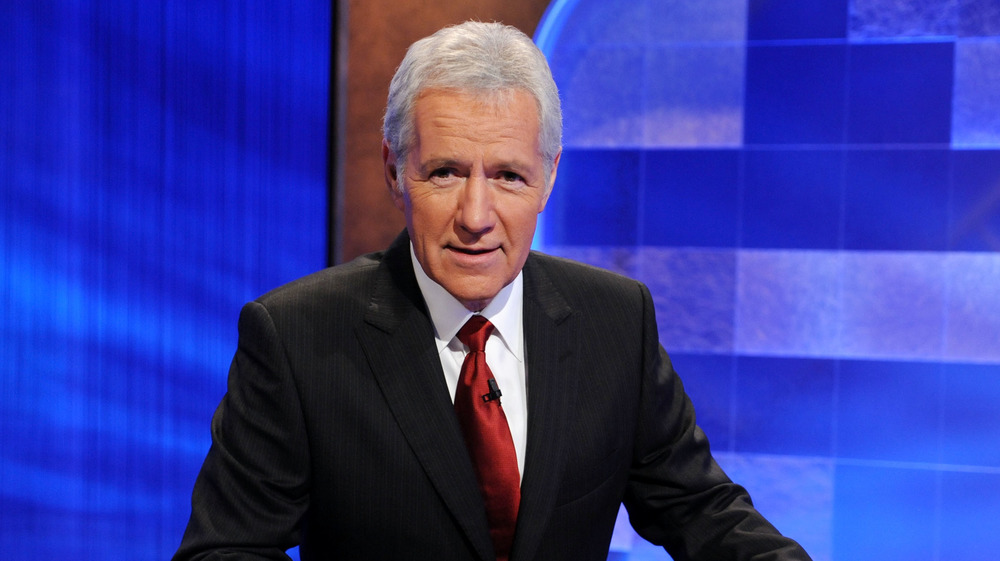 Amanda Edwards/Getty Images
Last week, the unfortunate news of Alex Trebek's death was announced, breaking the hearts of Jeopardy! fans everywhere. The cause of his death was pancreatic cancer, a disease he had been battling with relatively publicly. He was quick to share updates and attempt to evoke positivity in worried fans, making jokes about his treatment and the challenges of chemotherapy (via Today). He always made sure to thank his wife for her support and love during this trying time in his life, as well as inspire others going through cancer. In 2019, Trebek participated in the Pancreatic Cancer Action Network's PurpleStride walk in Los Angeles, and gave an inspirational speech that reminded cancer patients that they're all survivors, whether it's short term or long term (via Today).
It's no secret that Jeopardy! fans and contestants alike loved Trebek. He was the charming and witty host of the show for over 30 years (via AP News), and he became the face of this wonderfully loved game show. While he was in the process of getting his treatment, he still continued to host the show, which led to many contestants showing him their support and love.
His final resting place is a space that was very significant during Trebek's life
Trebek passed away on November 8th at the age of 80, and a week after the news of his passing, we've learned that he was cremated, and his wife Jean took home his ashes. His final resting place will be his and Jean's home in Studio City, California home (via Just Jared).
On Instagram, Jean posted a wedding photo of herself and her husband with the caption, "My family and I sincerely thank you all for your compassionate messages and generosity. Your expressions have truly touched our hearts. Thank you so very, very much." Trebek was married to Jean for the last 30 years of his life.
Trebek never faltered when it came to his optimism regarding his health, but still remained realistic with himself and fans. "We'll play it by ear and keep chugging along until we either win or lose," he said. "I'm not afraid of dying. I've lived a good life, a full life, and I'm nearing the end of that life ... if it happens, why should I be afraid of it?" (via Today).