Here's What Barack Obama Has To Say About Drake Playing Him On Film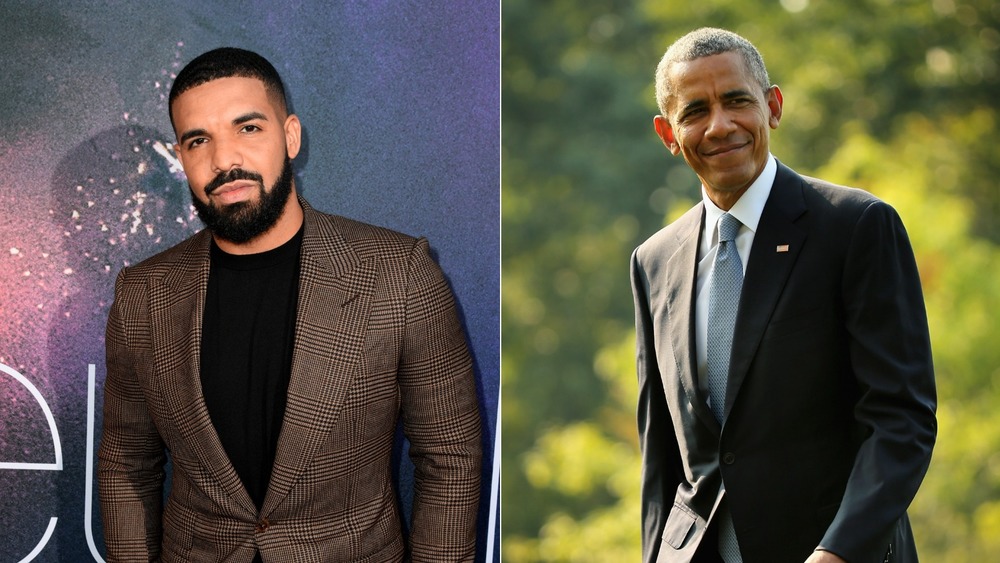 Kevin Winter, Chip Somodevilla/Getty Images
When Barack Obama left office, Drake had things to say. The rapper, dressed as Obama, posted a picture of himself on Instagram. "As a Canadian that calls America home for part of the year, I will always carry your words and the memory of your time in office with me as inspiration. Big up yaself O," he wrote. Was Drake auditioning for a role? Back in 2012, he made national headlines for giving the world his elevator pitch. "I hope somebody makes a movie about Obama's life soon because I could play him. That's the goal," Drake told VHI (via HuffPost). He further elaborated: "I watch all the addresses. Any time I see him on TV, I don't change the channel. I definitely pay attention and listen to the inflections of his voice. If you ask anyone who knows me, I'm pretty good at impressions."
Good thing that Drake didn't pass away on November 14, 2020, as TMZ had originally reported (via Snopes). Because former President Barack Obama has just given the Grammy-award winning artist a green light.  
Barack Obama gives Drake the thumbs up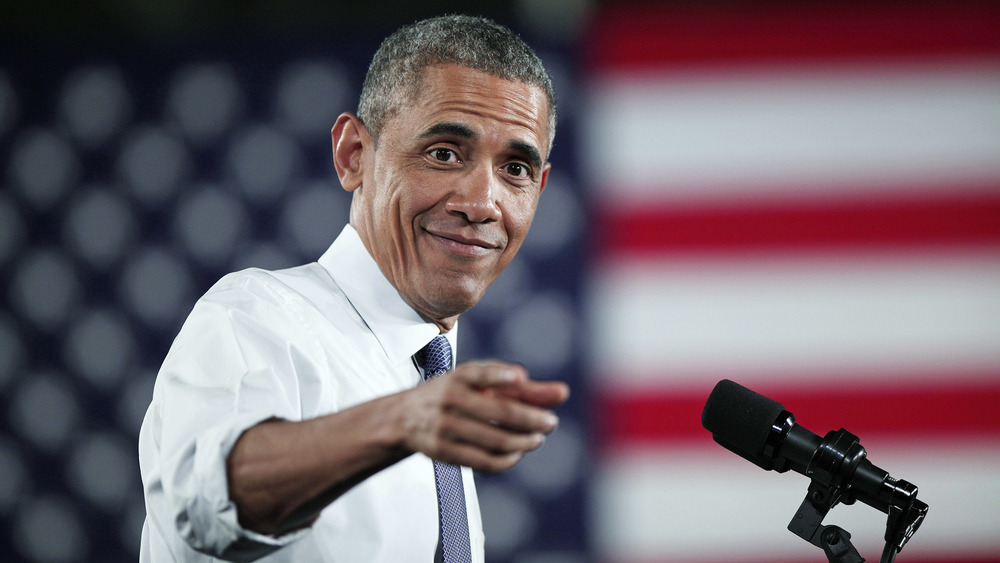 Bill Pugliano/Getty Images
That's right. As unlikely as it sounds, Barack Obama wouldn't say no to Drake representing him in a future biopic. He admitted as much on Complex's 360 With Speedy Morman earlier this week. "I will say this, Drake seems to be able to do anything he wants," Obama mused in response to Morman's question, "I mean, that is a talented brother. If the time comes, and he's ready ... Drake has, more importantly, my household's stamp of approval. I suspect Malia and Sasha would be just fine with it" (via NME).
We all know, of course, how much Sasha Obama likes to rap a beat. The TikTok video that she and her friends recorded rapping out Moneybagg Yo's "Said Sum" remix featuring the City Girls made national news after one of the song's singers, Rapper JT, shared the clip (via US Weekly). And, years earlier, Drake went out of his way to send Sasha Obama birthday wishes for her sixteenth birthday. Back then, Michelle and Barack Obama wrote him a thank-you note, which the rapper later posted to his Instagram stories. "We wanted to thank you for taking the time to send Sasha your best wishes at her sweet sixteen. We hope you know how happy we were to have your message included as part of the celebration. Again, thank you. You have our heartfelt gratitude," the Obamas wrote (via UPROXX).