Bill Barr Breaks With Trump In Surprising Comments On Voter Fraud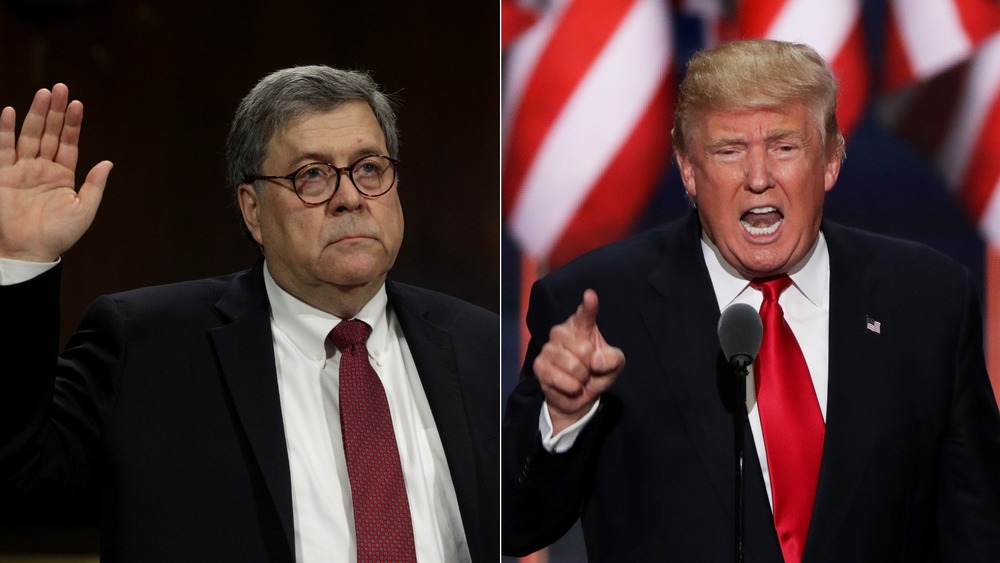 Alex Wong, Alex Wong/Getty Images
Donald Trump continues in his social media campaign, intent on convincing Twitter that there was, indeed, fraud in the 2020 U.S. elections. Rudy Giuliani continues to support him. But Attorney General William Barr, like conservative radio personality Rush Limbaugh, has radically changed his tune. It's a big retraction for Barr, who Mother Jones previously called "one of the biggest promoters of the voting fraud myth," and who came under fire in mid-November for ordering prosecutors to investigate "allegations of voting irregularities" before states certified results. He did so in direct defiance of DOJ policy (via CNN). 
Bet that as it may, in an interview with The Associated Press on Tuesday, December 1, William Barr backed down. "To date, we have not seen fraud on a scale that could have effected a different outcome in the election," Barr admitted to the media outlet. "There's been one assertion that would be systemic fraud and that would be the claim that machines were programmed essentially to skew the election results. And the DHS and DOJ have looked into that, and so far, we haven't seen anything to substantiate that," the attorney general elaborated. The latter comments directly contradict conservative attorney Sidney Powell's unfounded allegations that U.S. voting machines were indirectly manipulated by the deceased Venezuelan populist leader, Hugo Chavez. While the Trump administration has distanced itself from Powell, that didn't stop her from filing "typo-filled lawsuits" in Michigan and Georgia on behalf of the Trump campaign (via The Hill).
Trump supporters react to Barr's AP interview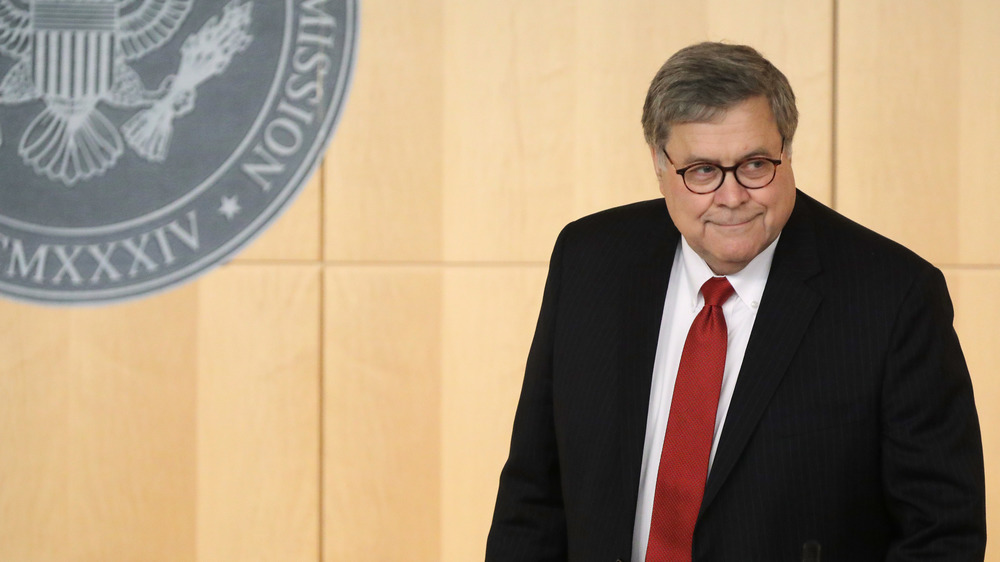 Chip Somodevilla/Getty Images
In the wake of Bill Barr's explosive AP interview, PBS News Hour White House correspondent, Yamiche Alcindor, talked to her sources. "Allies of Pres Trump have knives out for AG Barr," she confirmed via Twitter, further writing, "One source tells me Barr's AP interview is a 'complete betrayal' and says Barr has been 'a total failure.'" The conservative social media platform, Parler, also has its guns drawn. Twitter account @parlertakes was quick to record and share Parler reactions, most of which, amid copious amounts of swears, label Barr a deep-state actor.
Attorney General Barr, meanwhile, is preparing for a change of administration. Also on Tuesday, December 1, Barr sent a letter to The Committee on the Judiciary according to The Hill, notifying it that he'd named John Durham as special counsel into the Russia probe in order to investigate whether or not intelligence broke the law in their investigation of the 2016 Trump campaign. The appointment, says Politico, gives Durham the power to continue the probe even after president-elect Joe Biden takes office.