Harry Styles Has The Perfect Response For Critics In Newest Instagram Post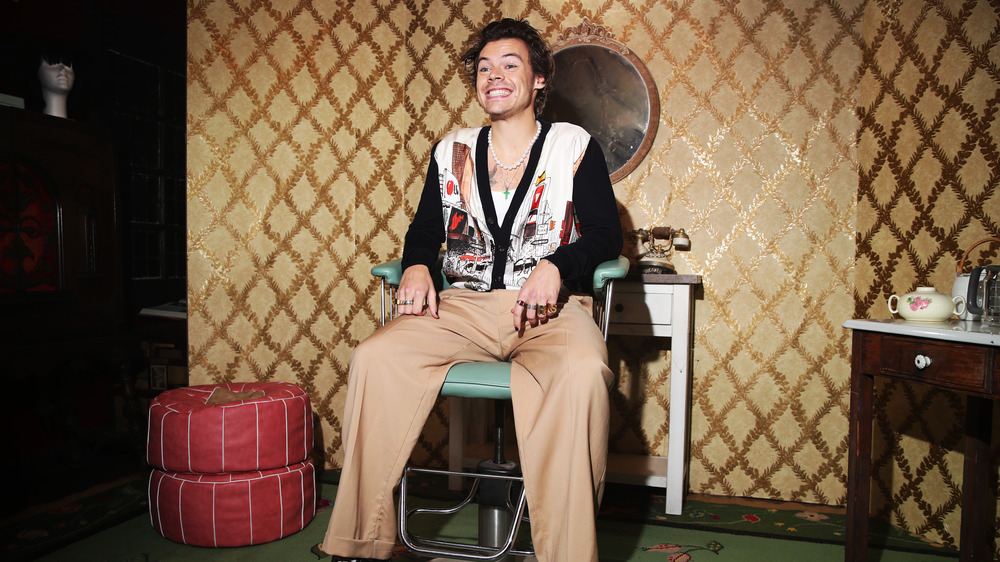 Rich Fury/Getty Images
At the time of this writing, it's been just hours since Harry Styles threw shade at conservative commentator Candace Owens via an Instagram post. Social media fans have already died, come back to life, and are in the middle of celebrating their resurrection. That's just the power that Harry Styles wields. While Complex is busy gloating over the singer's response to Owens' "dumbassery-laden slogan" (the one involving Owens seeing Styles' Vogue cover, deciding the apocalypse was coming, and demanding to "bring back manly men"), USA Today is celebrating that Styles "isn't letting the haters have the last word."
Honestly, it's hard not to rave over Harry Styles' genius. Remember how, in response to Owens' original seething tweet, The Good Place actress Jameela Jamil tweeted a picture of a heavily made-over man in garb probably from around the 1700s. Jamil pointed out, "this was at one time considered very manly. Wigs, make-up, tights, frills... maybe this is the comeback of the "manly man." Styles, it seems, took a page directly out of Jamil's book when he Instagrammed his response to Owens. 
Harry Styles' latest Instagram post is the epitome of manly
You're looking at it. Harry Styles is gorgeous in his latest Instagram photo, but it's more than that. He's dressed in a baby blue suit, vaguely reminiscent of men's 1700s court-wear, and chowing down on a banana. "Bring back manly men," he wrote, defiantly. As with everything that Styles posts, the world has stopped its routines, albeit momentarily, to fawn over him. Dark actress Lisa Vicari responded to the post with banana emojis. Not to be left out, MTV quickly wrote: "I identify with the banana." As for Queer Eye fashion designer Tan France, he's completely on board (obviously). "Yes please, if they look like this," he posted.
Meanwhile, Candace Owens herself is gloating over Styles' Instagram post. "When people try to tell me I don't have influence, and then @Harry_Styles dedicates an entire post to my tweet. I inspire global conversation," she tweeted, clearly unable to admit defeat.