Here's Where Taylor Swift Fans Can Catch A Sneak Peek At An Iconic Classic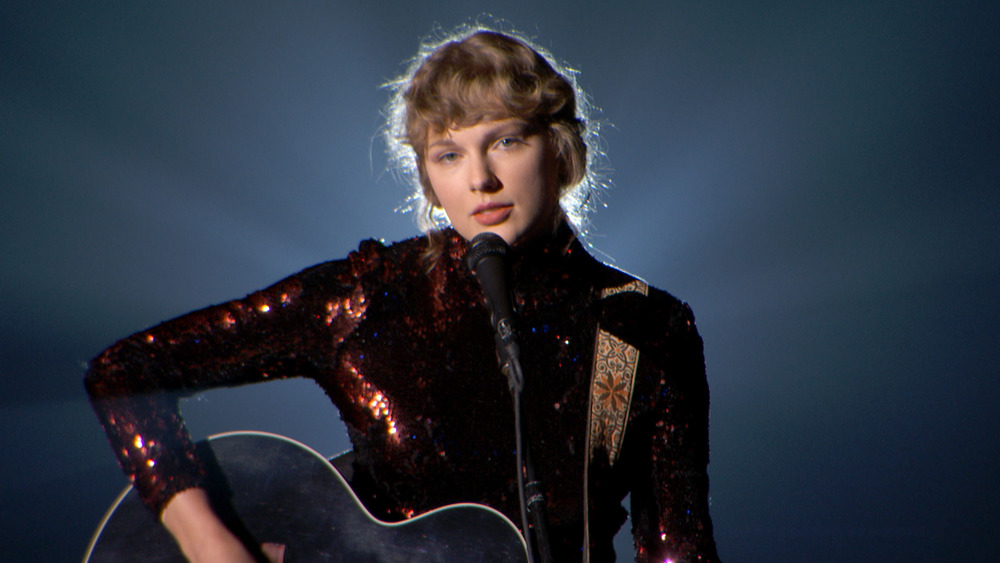 Acma2020/Getty Images
Taylor Swift is giving fans a deeper insight into the recording process behind her hit album, Folklore, with the release of her new Disney+ documentary, Folklore: The Long Pond Studio Sessions. In contrast to the Miss Americana documentary, which dropped on Netflix earlier in 2020, Swift's latest is almost entirely studio-bound, providing a fascinating behind-the-scenes look at her songwriting methods. The reviews have been universally great, with the film garnering a massive 100 percent to date on Rotten Tomatoes ("Balm for the soul" was how Decider described it).
Although she's more respected professionally than ever before, Swift has had a tough year overall, particularly with the ongoing feud between the singer-songwriter and controversial music manager Scooter Braun: He just recently resold the rights to the master recordings of some of her biggest and most profitable songs in a $300 million deal, after acquiring them from country music label Big Machine late last year. As a result, the Grammy Award-winner has been tasked with re-recording much of her back catalogue. 
Calling the process "exciting and creatively fulfilling" and her "only way of regaining the sense of pride [she] once had when hearing songs from [her] first six albums," Swift teased in a Twitter statement, "I have plenty of surprises in store." Although none of the new versions are available yet, fans can get a taste of what's to come in a very unlikely place.  
Taylor Swift's 'Love Story' 2.0 makes an appearance in a new commercial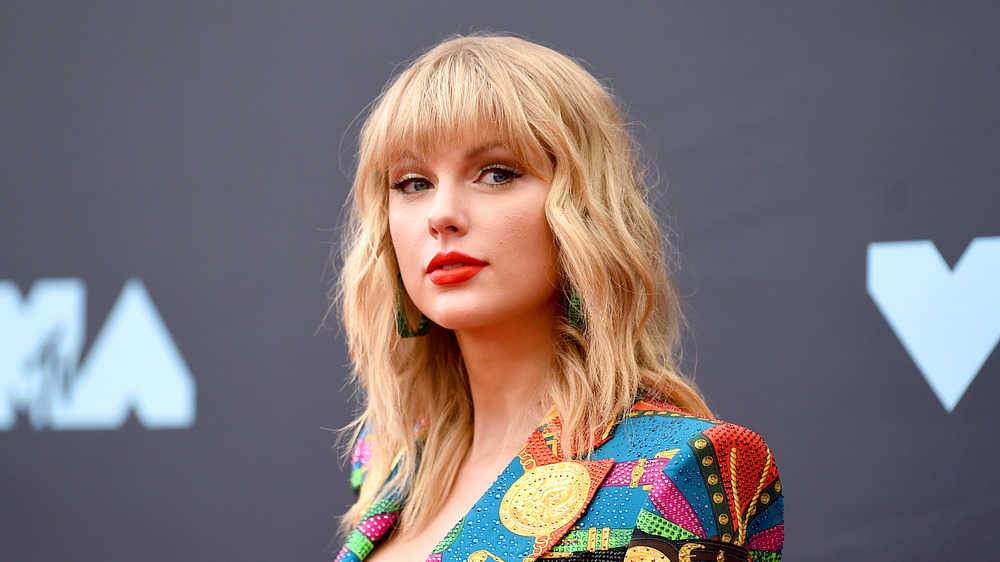 Jamie Mccarthy/Getty Images
On Dec. 2, 2020, Taylor Swift took to Twitter to share a hilarious new commercial for Match starring her friend, Ryan Reynolds. "Okay so while my new re-records are NOT done, my friend @VancityReynolds asked me if he could use a snippet of one for a LOLsome commercial he wrote," she advised. The music superstar then revealed, "Here's a sneak peak of 'Love Story!'" and reassured fans she's "working hard to get the music to you soon!!" 
The 2008 track remains one of Swift's biggest hits. The new ad showcases a real love story for 2020 as the Prince of Darkness himself, Satan, falls in love with his perfect woman. Eagle-eyed fans will notice a fallen scooter in the video, next to a wall with the number six inscribed on it, which could feasibly be taken as a nod to her feud with Scooter Braun (who was holding her first six albums to ransom).
In a subsequent interview with Good Morning America, Swift opened up about re-recording her old songs, revealing, "It's been the most fun doing 'Love Story' because the older music, my voice was so teenaged and I sometimes, when I hear my older music and my older young teenage voice, it makes me feel like I'm a different singer now." Swift added, "So it's been the most fun to re-record ones that I feel like I could actually possibly improve upon the song."