Olivia Jade's Comments About White Privilege Have Red Table Talk Viewers Furious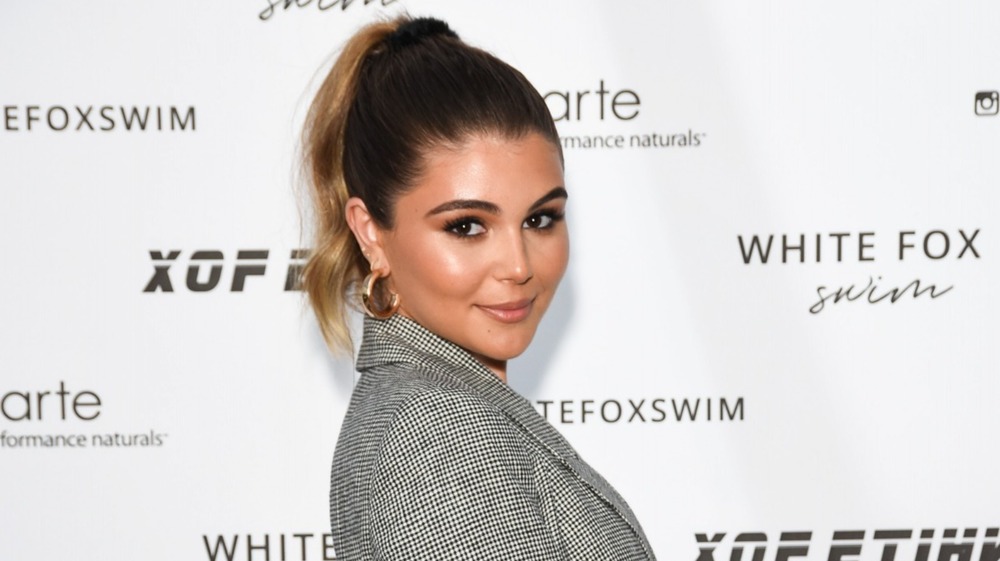 Presley Anne / Getty Images
Olivia Jade, the daughter of actress Lori Loughlin and fashion designer Mossimo Giannulli, who are currently serving a prison sentence for their part in the college admissions scandal, appeared on Red Table Talk today to discuss the controversy for the first time (via People). Red Table Talk is Jada Pinkett-Smith's Facebook Watch talk show which she hosts alongside her daughter, Willow Smith, and her mother, Adrienne Banfield-Norris.
From the very start of the show, Banfield-Norris expressed her disapproval of Olivia Jade joining them at the table, saying, "I just found it really ironic that she chose three black women to reach out to for her redemption story. Her being here is the epitome of white privilege for me," (via Facebook). Once the interview began, Olivia Jade appeared to own up to her shortcomings, admitting, "That's embarrassing within itself, that I walked around my whole 20 years of life not realizing, 'You have insane privilege. You're like the poster child of white privilege." The YouTube star noted, "I'm not trying to victimize myself. I don't want pity — I don't deserve pity. We messed up. I just want a second chance to be like, 'I recognize I messed up." It seems Red Table Talk viewers aren't quite ready to offer her that chance though.
Viewers don't think Olivia Jade deserves a platform
Lori Loughlin and Mossimo Giannulli were accused of paying $500,000 to help secure their daughters, Olivia Jade and Isabella Rose, a place at the University of Southern California (per People). Olivia Jade was accepted to the school and had posted now-deleted videos on her YouTube channel where she claimed, "I do want the experience of like game days, partying. I don't really care about school," (via HuffPost). It's that kind of flippancy and Olivia Jade's admission on Red Table Talk that she initially "didn't see the wrong" in what her parents did that seems to have viewers incensed.
Twitter user @JenVacca tweeted in response to the Red Table Talk interview, "I couldn't give a rat's a** about Olivia Jade. Her family bought their way into school of choice while children of color and children who live in poverty are routinely denied an education. She is getting a platform now because of her wealth! STOP." User @nilimaa_m noted, "Olivia Jade has clearly learned nothing from the college scandal. Her coming to the #redtabletalk to get people to sympathize with her when there are actual devastating things happening around the world just reeks of privilege." Perhaps @ohheyimrachael summed things up best by tweeting, "All I'm gonna say about Olivia Jade is that the absolute bare minimum of being a privileged, white, rich woman is to own up to it. Acknowledging your privilege does not absolve you from what you do with it."